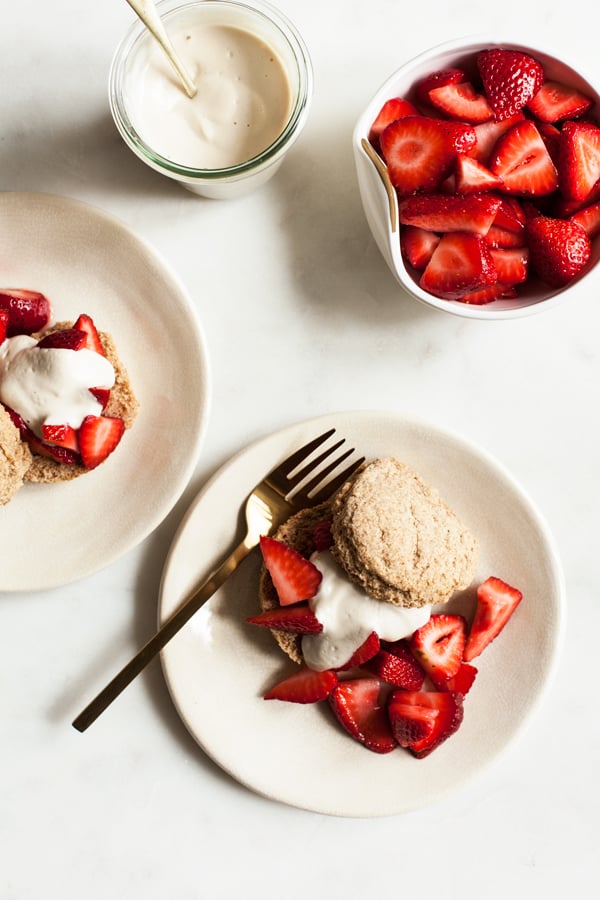 One of the loveliest parts of settling into summertime is the abundance of berries and fresh fruit. Right now I'm relishing strawberries in and with everything: with oats or overnight oats, with chia pudding, with baked oatmeal, in salads, in smoothies. Or I come home from class and eat them by the bowl, just as they are. Of course, strawberries also make for delightful summery desserts, and this vegan strawberry shortcake with cashew whipped cream is my latest favorite.
When I set about making vegan strawberry shortcake over the weekend, I realized that shortcake can be a matter of heated debate. First, there's the question of biscuit vs. pound cake. Me, I'm a biscuit person: the contrast of crumbly biscuit with juicy strawberries feels just right to me, while pound cake + fresh fruit seems a little mushy.
But even if you commit to biscuits, there are plenty of nuances to ponder. How much baking soda? Sugar or no sugar? Oven temperature? Baking dish or baking sheet? Traditionally, there's a debate about shortening vs. butter, and if you're vegan, there's the question of buttery spread (like Earth Balance) vs. oil (I offer both options in this recipe).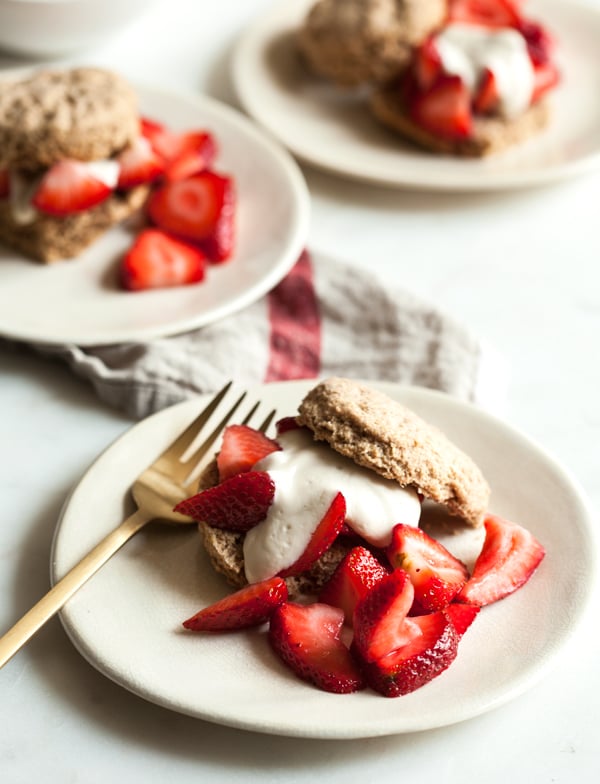 I'm sharing the recipe that's my personal favorite. The biscuits are a little sweet, but not overtly so, and I personally like to bake them in a dish, so that they rise upwards and get fluffy, rather than expanding out on a baking sheet. The recipe will work both ways.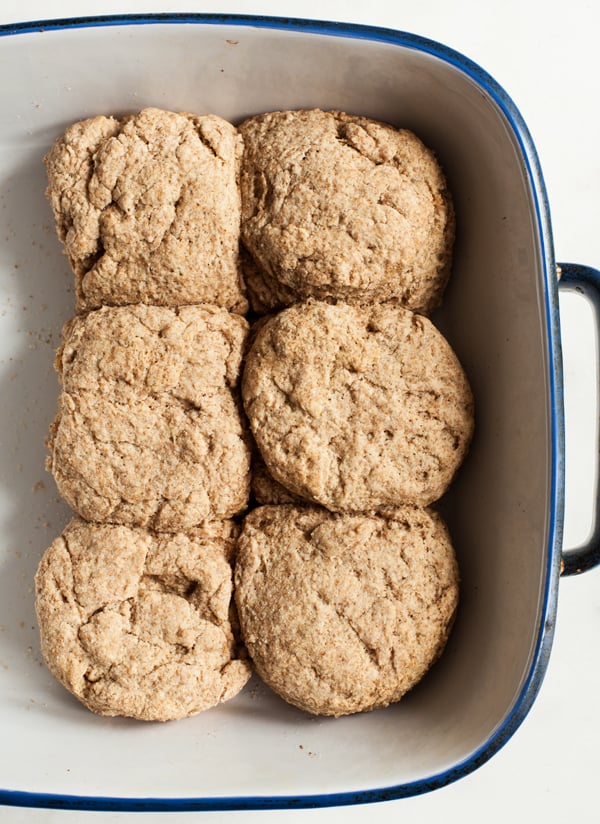 And in fact, it's a flexible recipe in other ways, too. I tested both with gluten free, all-purpose flour and with spelt flour. Steven and I enjoyed both versions, though the wholesome and slightly nutty spelt flavor was particularly nice. You can also use whole wheat pastry flour or all purpose flour, if you prefer. And while Earth Balance is definitely my preference for biscuits, I did test the recipe with coconut oil, too, and it turned out great (just a little less "buttery" tasting!).
The strawberries in this recipe are courtesy of the folks at Driscoll's, who have supplying berries to home bakers everywhere for over 100 years. The company is passionate about growing and sharing ripe, delicious berries, to supporting organics and sustainability, and to encouraging more folks to experiment with berries in their kitchens.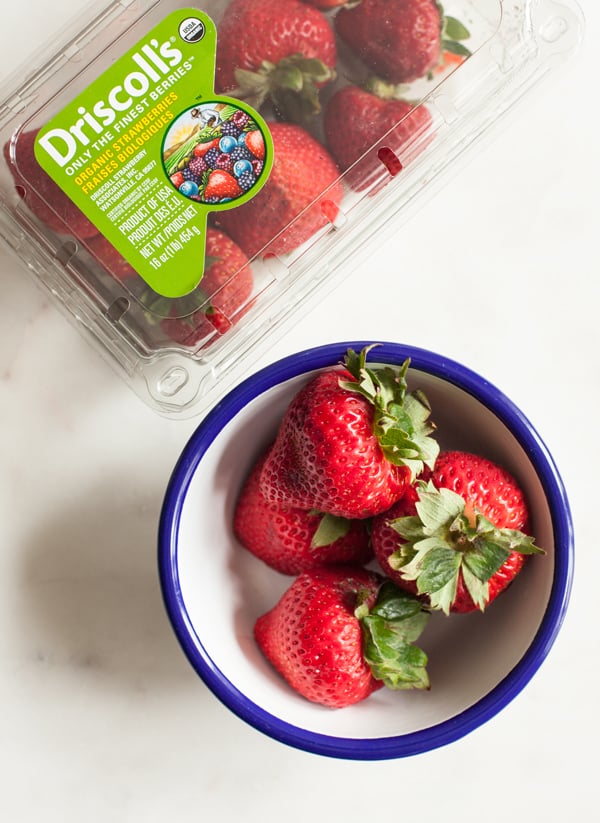 Today, in honor of National Strawberry Shortcake Day, I'm excited to be sharing this vegan strawberry shortcake recipe with them—and with you!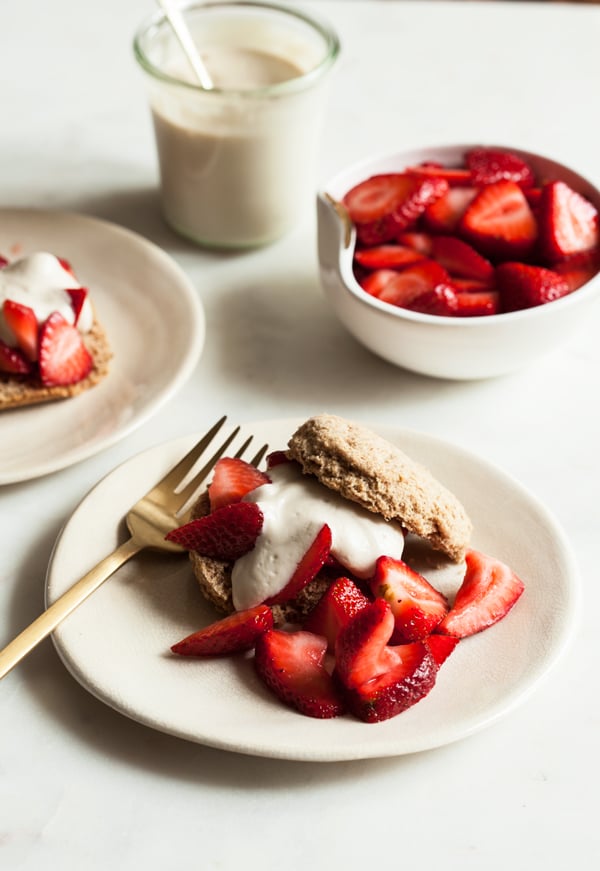 Vegan Strawberry Shortcake with Vanilla Cashew Whipped Cream
Author -
For the strawberries:
1

pound

1 package Driscoll's strawberries, hulled and sliced or quartered

1

tablespoon

maple syrup

agave, or organic sugar

2

teaspoons

lemon juice
For the whipped cream:
1

cup

cashews

2

tablespoons

agave

1/2

cup

water

1

teaspoon

vanilla extract

1/4

teaspoon

salt
For the biscuits:
3/4

cup

soy milk

2

teaspoons

apple cider vinegar

2

cups

light spelt

all purpose, or gluten-free all purpose flour

6

tablespoons

organic cane sugar

1

tablespoon

baking powder

1/4

teaspoon

baking soda

1/4

teaspoon

salt

use 1/2 teaspoon salt if you're using coconut oil, rather than buttery spread

6

tablespoons

vegan buttery spread

like Earth Balance or coconut oil

1

teaspoon

vanilla
Mix the strawberries with your sweetener of choice and lemon juice. Transfer them to the fridge to chill while you prepare the whipped cream and biscuits.

To make the cashew whipped cream, combine all ingredients together in a powerful blender and blend till smooth. Store in the fridge till you're ready to use.

Preheat the oven to 425. Whisk together the apple cider vinegar and soy or almond milk.

Place the spelt flour, sugar, baking powder, baking soda, and salt in a large mixing bowl and whisk to combine. Add the buttery spread or coconut oil. Use a pastry cutter to cut the buttery spread or coconut oil into the dry ingredients, until the mixture resembles a coarse meal. Alternately, you can use a food processor to make the dough: add the flour, sugar, baking powder, baking soda, and salt to a food processor fitted with the S blade. Add the buttery spread or salt and process until the mixture resembles a course meal. Return the mixture to your large mixing bowl. (I find that this makes the process easier.)

Add the vanilla extract to the milk mixture, whisk it together, and then add it to the dough. Use a spatula or spoon to combine everything evenly. Turn the dough onto a floured surface and use a biscuit cutter (or an empty can of beans!) to cut into 8 biscuits.

Place the biscuits in an oiled, 9 x9 baking dish or onto a parchment lined baking sheet. Bake for 15 minutes, or until they're gently browning at the edges and fluffy. Remove the biscuits from the oven and transfer to a wire cooling rack to cool.

Once the biscuits are cool, split them. Top each with about 1/3 cup each of strawberries and cashew whipped cream. Serve.
Leftover cashew whipped cream can be stored in an airtight container in the fridge for up to 5 days.
If you have another vegan whipped cream recipe that you love—coconut whipped cream, Soyatoo, whatever—go for it. In spite of how specific shortcake recipes can be, the whole point of this one is to offer you flexibility.
Steven and I loved this shortcake; it was hard not to gobble it up in a couple days. If you make it, you may want to double the berry quantities, simply so that you can have even more fruit to savor, along with the biscuits and cream.
Hope you enjoy it, folks. On Thursday, an easy pesto pasta recipe that you can savor all summer long!
xo
This post is sponsored by Driscoll's. All opinions are my own. Thank you for your support!