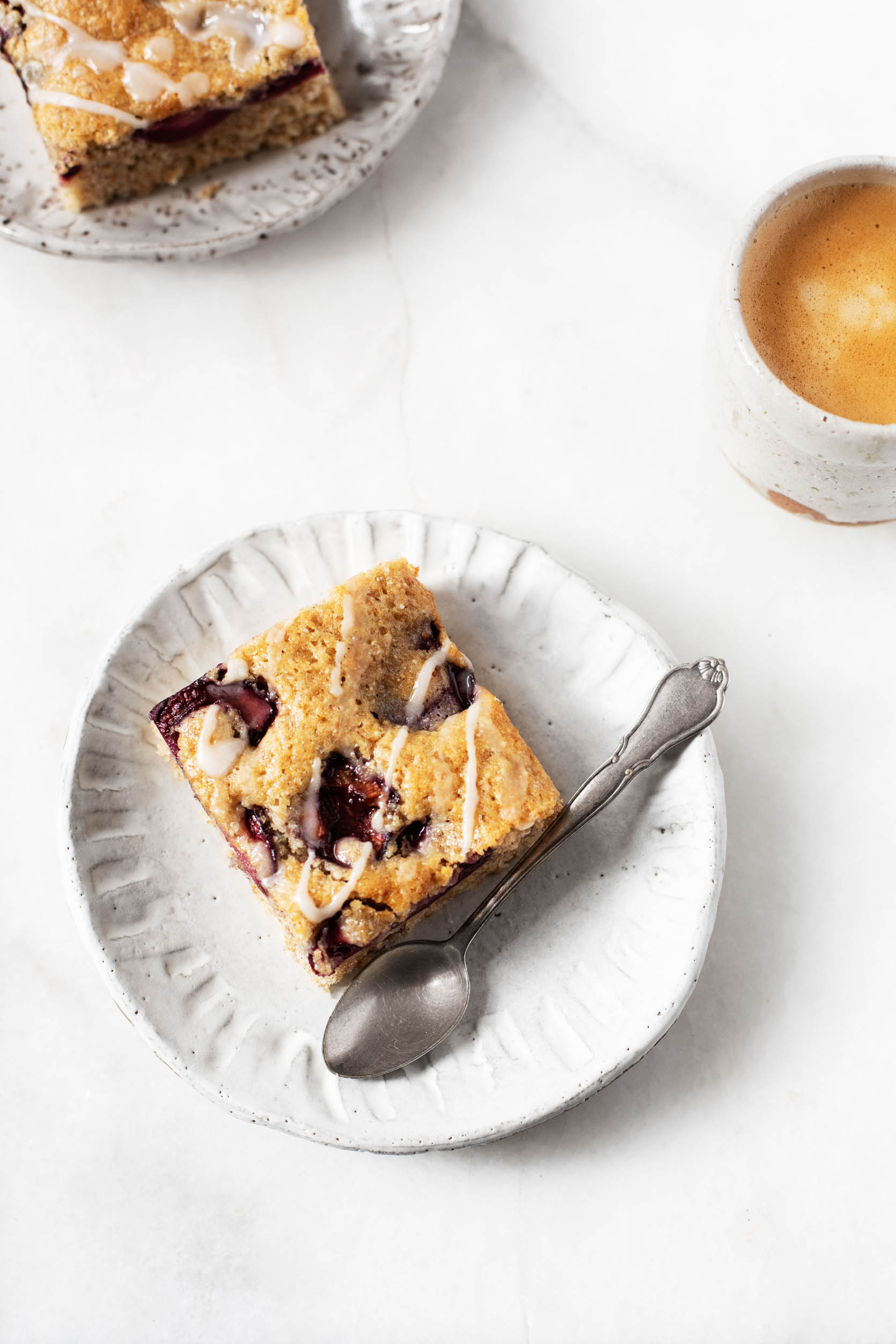 What better way to start a new year than with these vegan sweet cherry bars? Proof that delicious treats can feature nourishing ingredients.
This season can be loaded with messages about food and diet that are anything but wholesome. I don't like to enter into a new year with any focus on either elimination or excessive dietary strictness. But I do greet January as a time to consider how food can support my body. In that spirit, I'm thinking about the benefits of sweet cherries.
The benefits of dark sweet cherries
When the folks at NW Cherry Growers approached me about this campaign, I couldn't have been happier. I didn't reach for cherries when I was younger, but I've come to appreciate them over time. It really isn't until recently that I realized that tart cherries are a little too tart for me. On the other hand, I love the deep, almost candy-like flavor of sweet cherries.
My vegan sweet cherry bars feature dark, sweet cherries in all of their juicy goodness. They also feature the benefits of sweet cherries. These include (but aren't limited to) anti-inflammatory action, thanks to powerful plant pigments that function as antioxidants. Sweet cherries contain compounds that can help our bodies to combat the effects of stress and aging. The tryptophan, serotonin and melanin in sweet cherries may even help to regulate sleep cyclces!
You can make the vegan sweet cherry bars at any time of year with a bag of frozen sweet cherries. Better still, you can make them in the summer, when Pacific Northwest-grown cherries are in season. What a great way to celebrate the season!
Why I love these vegan sweet cherry bars
My favorite way to showcase sweet cherries is to bake with them. I've found that their deep, sweet flavor works beautifully with whole grain baked goods. My last favorite treat was this upside down cherry cake. It proved to me that the sweetness of dark cherries pairs beautifully with the nutty flavor of whole grain flours.
As we approach the new year, I wanted to create a baking recipe that was also rich in whole grain flour, for a little extra fiber. And of course I wanted it to show off sweet cherries in all of their colorful, nutritious glory.
These bars are it! They're not granola bars. They're tender and fluffy, reminiscent of coffee cake, right down to the sweet glaze. Even so, the level of sweetness here is basically sensible. In addition to having some whole grain flour in the batter, they call for olive oil in place of traditional butter. They're altogether totally suitable for breakfast or a snack—and of course they've got those powerful phytonutrients from dark, sweet cherries.
Yes, these are a nod to my undying love of cake (should I start a separate cake blog?!). But my own approach to balance is to celebrate all of the goodness that nature gives us while also celebrating the art of treating ourselves. Baking is part of that. Hope you'll enjoy this simple, anytime delight.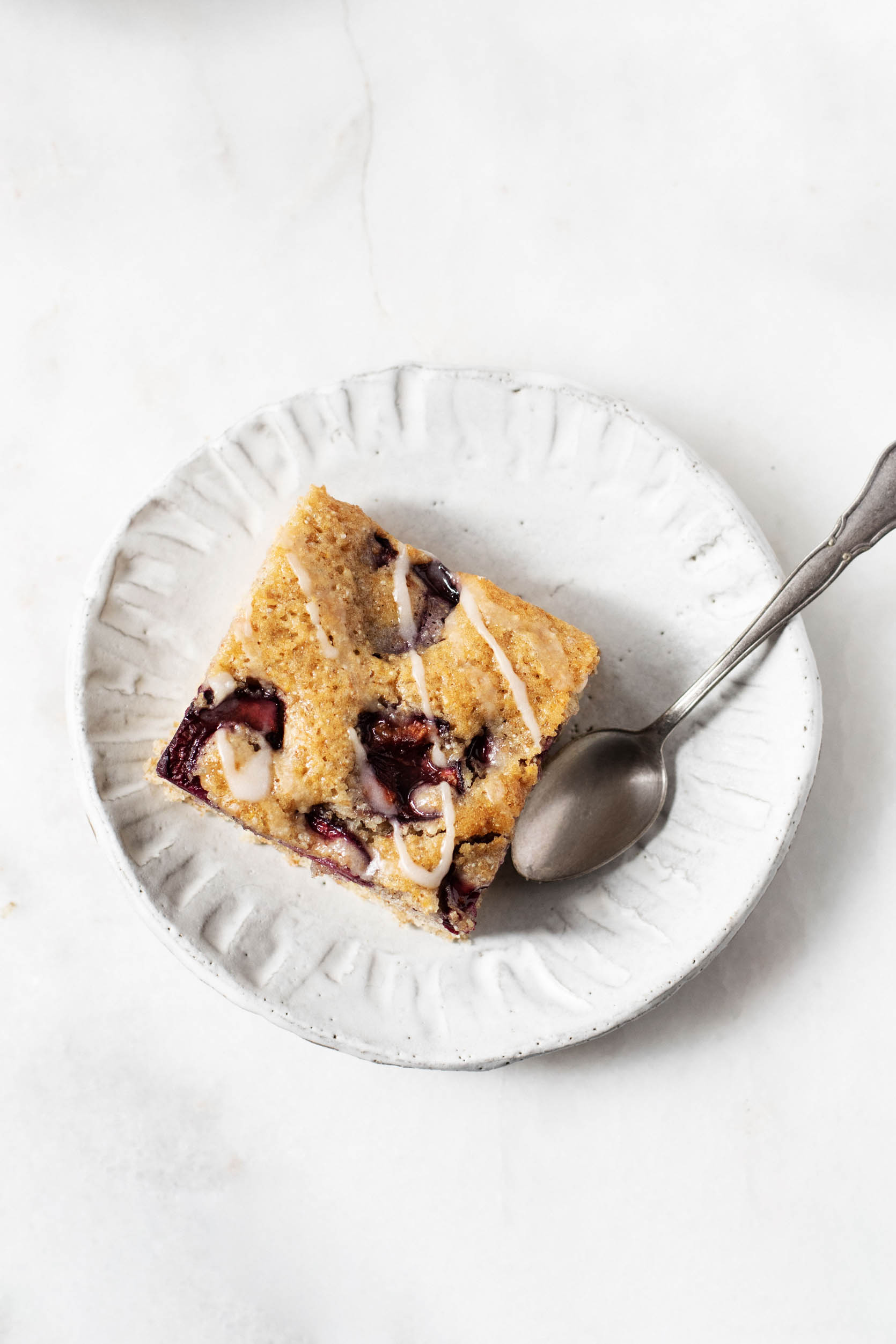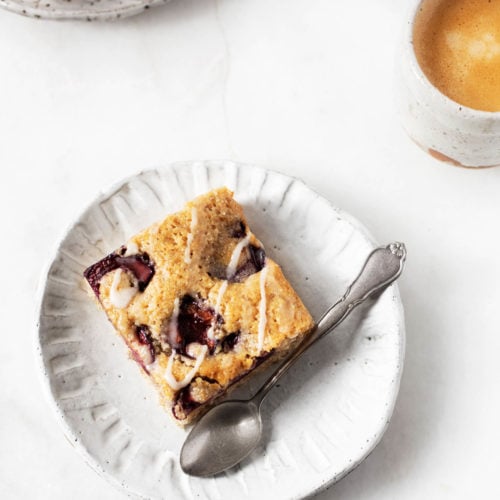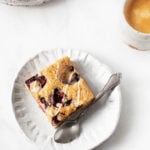 Vegan Sweet Cherry Bars
Author -
1

cup

rye, spelt, or whole wheat flour

1

teaspoon

baking powder

1/2

teaspoon

baking soda

1/2

teaspoon

fine salt

1/3

cup

olive oil

1/4

cup

cold water

2

teaspoons

vanilla extract

1

cup

cane or coconut sugar

1 1/4

cups

non-dairy milk

juice of 1 lemon

12-16

ounces

fresh or frozen sweet cherries, pitted and halved

Optional: 1 cup confectioners' sugar + 2 tablespoons non-dairy milk, whisked to create a glaze for topping the cake
Preheat your oven to 350F. Lightly grease a 9 x 13 rectangular baking dish and line the
bottom with a piece of rectangular parchment paper.

Whisk the flours, baking powder and soda, and salt together in mixing bowl (or the bowl of a stand mixer).

In the bowl of a stand mixer or in a large mixing bowl with an electric mixer, mix the oil,
water, sugar, and vanilla extract together until well-mixed. Add the non-dairy milk and lemon juice and mix well. Add dry ingredients in two additions, mixing on medium speed as you go. When the batter is well mixed (just when no lumps are visible), pour ¾ of the batter into your prepared baking dish. Cover this layer with the halved, frozen cherries. Use a spoon to drop the rest of the batter on top of the cherries. They should be mostly covered, with some still peeking out from under the batter.

Transfer the baking dish to your oven. Bake for 45 minutes, or until the edges are golden brown and the top is set. Cool the cake completely. If you'd like to glaze it, whisk together 1 cup of powdered sugar and two tablespoons of non-dairy milk till smooth, then pipe or drizzle it over the top of the cake. Cut into slices and enjoy!
Recipe yields 12 larger or 15 snack-sized pieces. 
Can these vegan sweet cherry bars be gluten-free?
Yes, they can! You can make the recipe with a gluten-free flour blend that you've used before and trust. If you do this, you'll want to swap out all of the flour (3 cups total) for the gluten-free flour blend.
You can also change the flour proportions here. Instead of using a mixture of all purpose and whole grain flour, you can use 3 cups of white whole wheat flour. I think it's the best bet for whole grain baked goods.
How do I store the bars? Can they be frozen?
Again, yes. Once you bake the bars, you can store them overnight in an airtight container. This is a good option if you plan to bring them to some sort of gathering. If you need to store them for longer than that, you should keep them in an airtight container in the fridge.
And if you need to freeze the vegan sweet cherry bars, that's fine! They can be frozen individually or as a batch for up to 6 weeks. I think freezing them preserves their texture better than keeping them in the fridge for more than 4 days. So if you need to make them in advance, you can make, freeze, and defrost when you're ready.
If you do that, you can glaze them after they've been defrosted!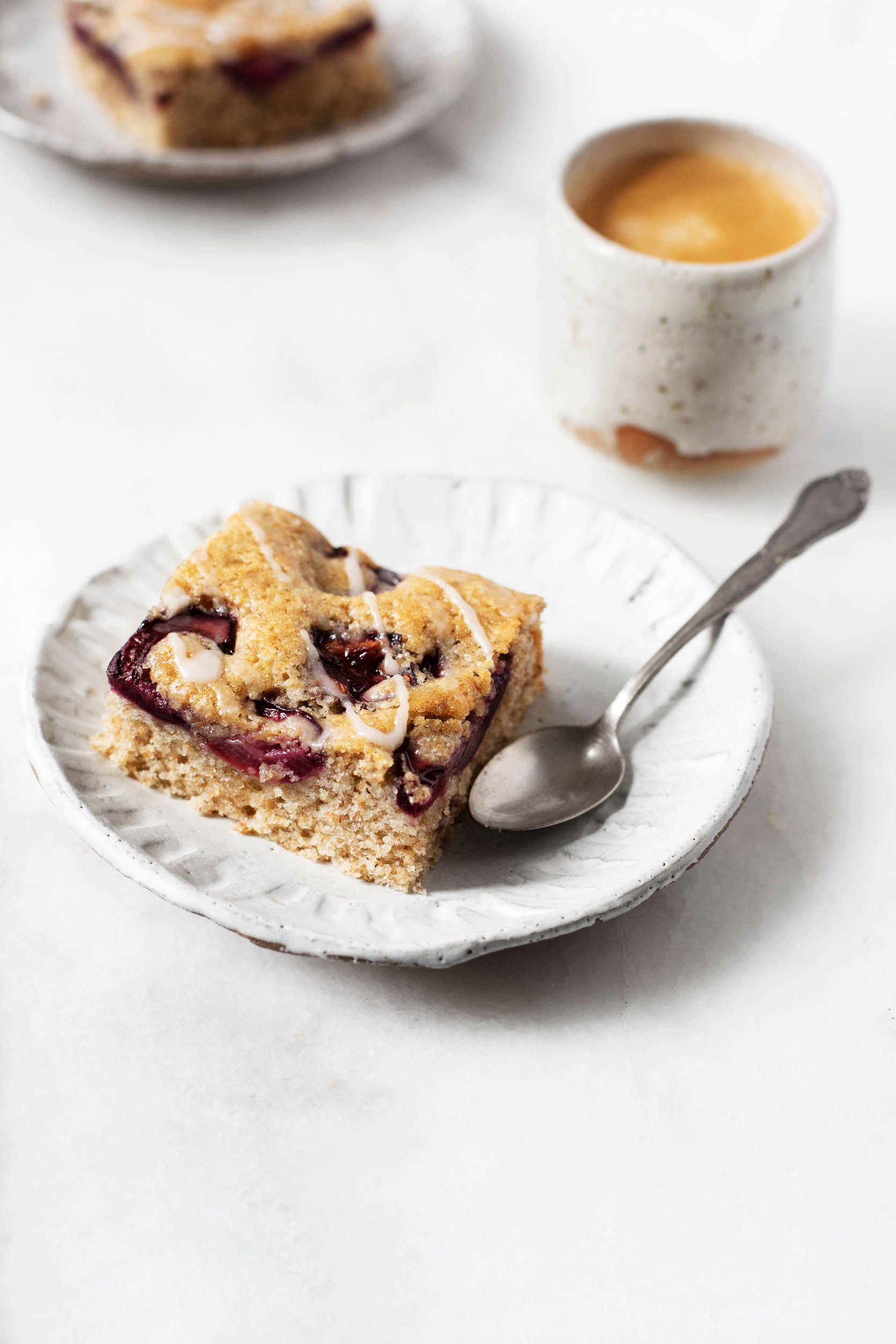 I love this with coffee or tea, and I hope you will, too. Here's to bringing in 2020 sweetly and healthfully, friends. See you soon, for weekend reading.
xo
This post is sponsored by Northwest Cherry Growers. All opinions are my own. Thank you for your support!