I'm partial to shepherd's pie. I think it dates back to childhood; my mom and I didn't eat too many casseroles or bakes when I was growing up, but she was a great fan of shepherd's pie, and so it was her meal of choice for special occasions or weekend meals. I inherited her love for the dish, though the shepherd's pie we ate when I was little was very different from the vegan sweet potato and lentil shepherd's pie that I'm sharing today!
The major difference, of course, is that this is a totally meatless spin on the classic. In place of meat, I use a hearty filling of lentils and mushrooms, which are simmered with onions, garlic, rosemary, and thyme. In place of traditional mashed potatoes, I include a mashed sweet potato topping that's buttery and rich in spite of being entirely dairy free. For me, the potato layer of shepherd's pie is what makes the dish, so you'll see that there's a pretty even ratio of lentils to potato here. The dish is filling, flavorful, and absolutely perfect for feeding a crowd.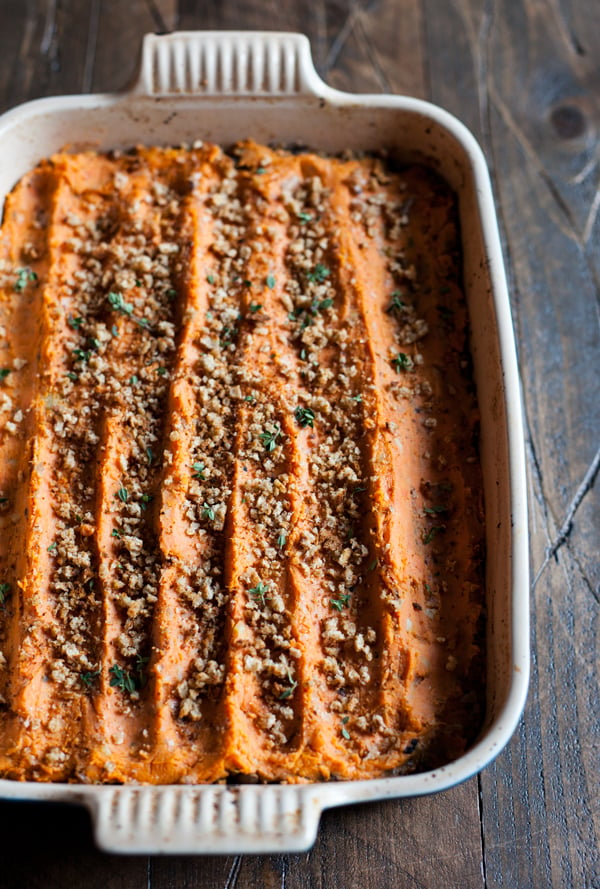 In other words, it's perfect for the holidays. So perfect, in fact, that I plan for it to be my own Thanksgiving contribution at a gathering with Steven's family this year.
As with many holiday centerpiece dishes, this one requires a little bit of time and prep work. I highly recommend spreading the process out over two days, if you can, and preparing the potatoes and cooking the lentils on Day 1. Keep both in the fridge overnight. On Day 2, you can simply create the pie filling by sautéing the lentils with onion, garlic, carrots, celery, and herbs, then pour it into your prepared baking sheet. Cover it with the potatoes, and then it's ready to go.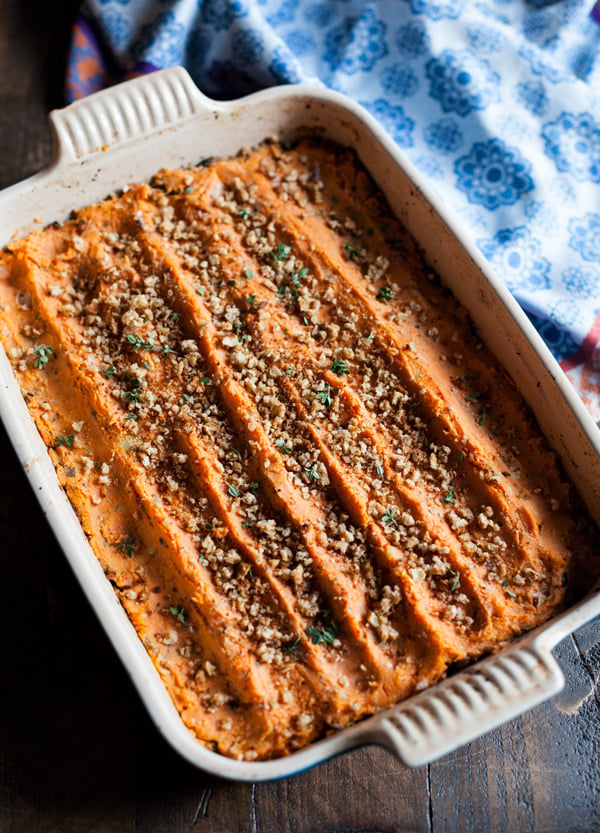 Prepared this way, the dish is actually very manageable. And if you do have to whip it all up in a single day, no worries: it's a bit of a kitchen project, but each of the steps is very straightforward. Here's how it all comes together.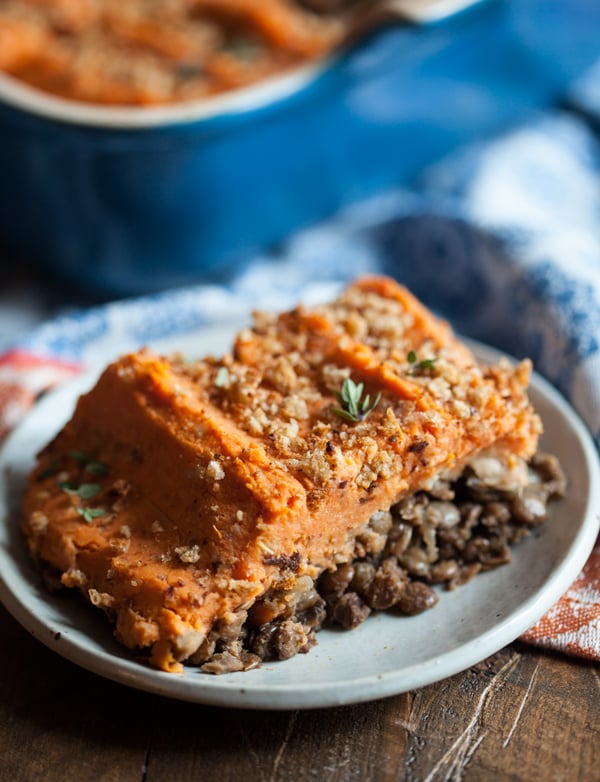 Vegan Sweet Potato and Lentil Shepherd's Pie
Author -
For the mashed sweet potato layer:
For the lentil layer:
2 1/4

cups

brown or green lentils

1

tablespoon

olive or grapeseed oil

1

large white or yellow onion

diced

2

large shallots

minced

2

cloves

garlic

minced

2

medium sized carrots

peeled and diced

2

medium sized stalks of celery

diced

10

ounces

button or cremini mushrooms

sliced

1 1/2

tablespoons

fresh thyme leaves

1

tablespoon

fresh rosemary

roughly chopped

1/4

teaspoon

rubbed sage

1

tablespoon

sherry or balsamic vinegar

Splash of red wine

optional, about 1/4 cup

1/2

cup

vegetable broth

Salt and pepper

1/3

cup

bread crumbs

optional, for topping
First, make the mashed potatoes. Bring a large pot of water to boil. While it's warming, peel the sweet potatoes and cut them into large cubes (about 1 1/2 inches). When the water is ready, add the sweet potatoes and boil for 15-20 minutes, or until they're very tender when pierced with a fork.

Drain the potatoes and add them to a large mixing bowl. Mash roughly with a handheld potato masher, and then add the salt, garlic powder, almond milk, and oil. Mash well, but leave a little texture. Season to taste and set the potatoes aside. You can do this up to three days in advance, storing the mashed potatoes in an airtight container in the fridge until you're ready to use them.

Preheat the oven to 350F and lightly oil a 9x13 casserole dish.

To cook the lentils, place them in a medium or large saucepan and cover them with 3 inches of water. Bring the water to a boil and reduce it to a simmer, then cover. Simmer the lentils for 20-25 minutes, or until they're tender but still have some chew; I recommend checking them at the 18 minute mark to be sure they don't get mushy. When the lentils are ready, drain them and set them aside. (This can also be done up to 2-3 days in advance.)

Heat the olive or grapeseed oil in a very large skillet or saute pan over medium high heat. Add the onions and shallots, along with a pinch of salt. Cook the onions for 5 minutes, or until they're becoming clear. Add the garlic and cook for another minute, or until it's very fragrant. Add the carrots and celery. Cook for 2-3 minutes, stirring often, and then add the mushrooms, thyme, rosemary, sage, and vinegar. Give the mushrooms another generous pinch of salt, and then cook for 7-8 minutes, or until the mushrooms have released all of their juices. Stir in the wine, if using, and allow it to cook off.

Add the cooked lentils and broth to the pot. Heat everything and mix it together. Check the lentil mixture for seasoning, and add salt and pepper as needed (I add about a 1/2 teaspoon salt and about 1/4 teaspoon pepper).

Remove the lentil/mushroom mixture from heat, and then pour it into your prepared casserole dish. Top it with the sweet potatoes, and then gently use a spatula to spread them out over the lentil mixture. If desired, top it all with 1/3 cup bread crumbs.

Bake the shepherd's pie for 40-45 minutes, or until it's crispy on top. Serve.
Leftover pie will keep for up to three days in an airtight container in the fridge.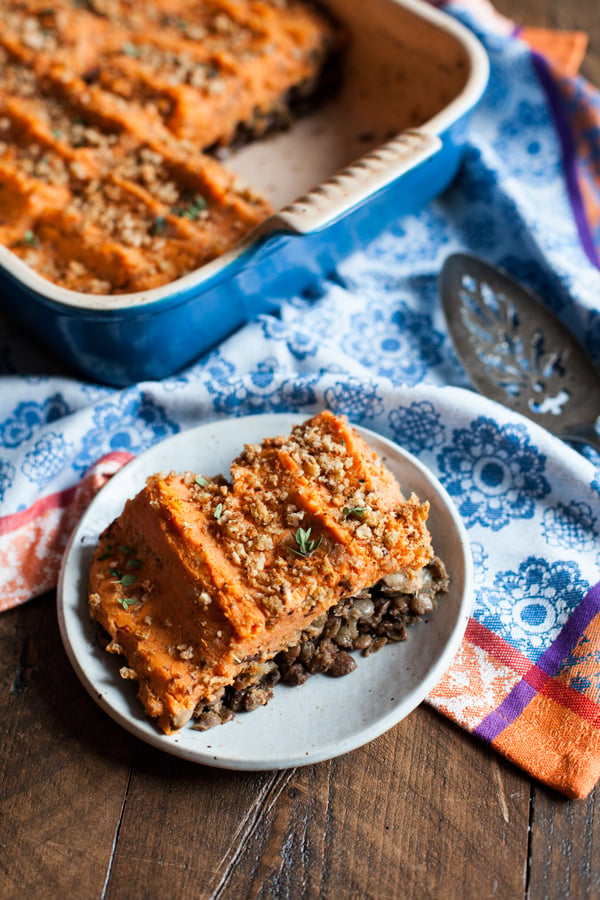 In addition to being very delicious and very satisfying, this dish is also very healthy. It boasts a ton of protein from the lentils and mushrooms, as well as iron and fiber. The sweet potatoes are rich in beta-carotene, which may help to support eye health. All things considered, it's pretty nourishing for a Thanksgiving meal.
I hope that you'll make it and love it. Having enjoyed the leftovers two evenings in a row, I already suspect that this recipe is going to become a regular holiday and winter celebration dish for me. And, if you prefer a slightly more traditional shepherd's pie, you can also check out my Food52 version from 2012. It also features lentils as a filling, but the top layer is a white potato and parsnip mash. Different, but also delicious.
I'll be back on Thursday with another holiday-appropriate recipe — this time a kale and brussels sprout salad that'll knock your socks off! And on Friday, I'll check in with a quick roundup of my vegan Thanksgiving picks for the year. Till soon 🙂
xo