Vegan sweet potato lentil shepherd's pie is the perfect hearty, filling, and wholesome main dish for your holiday table!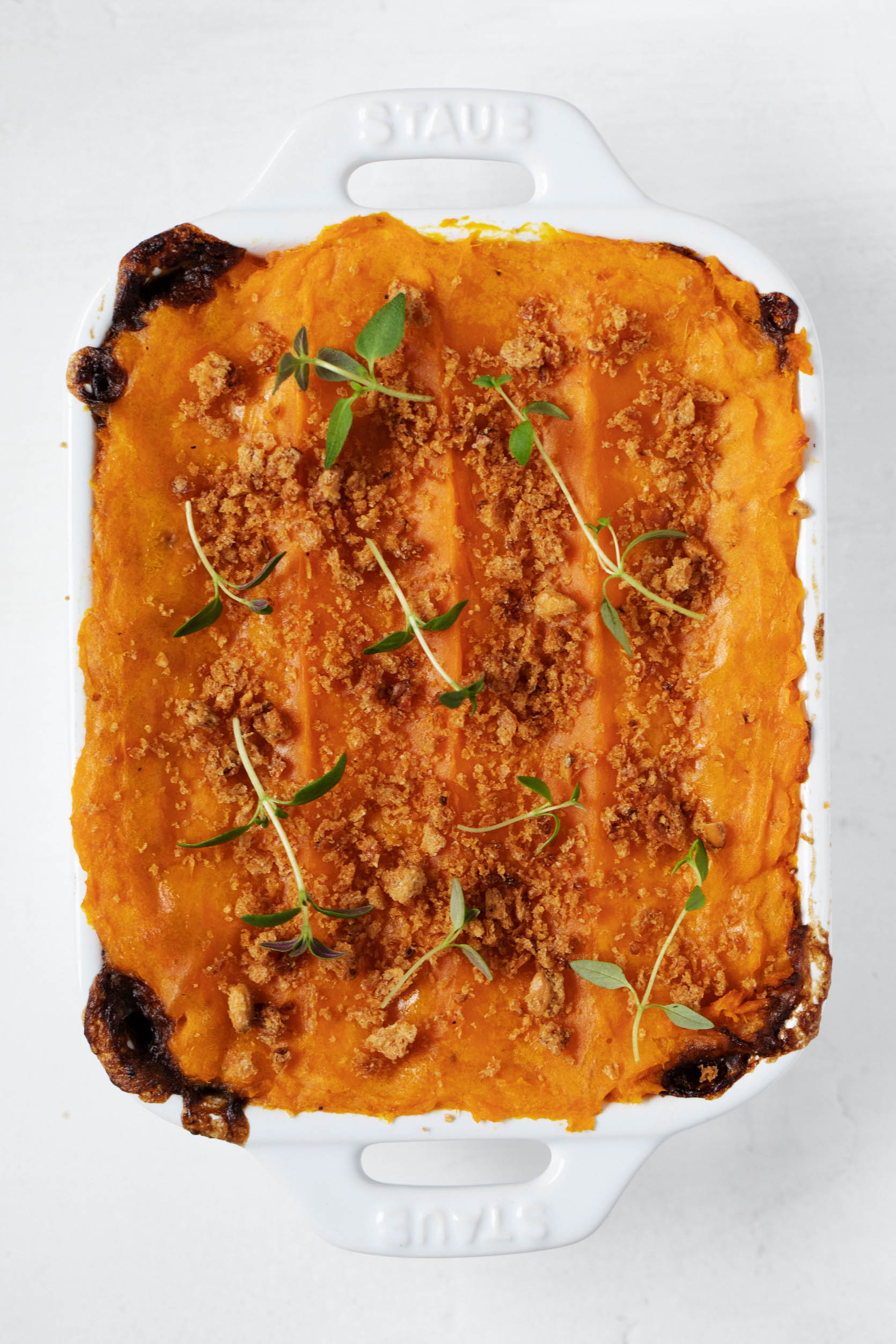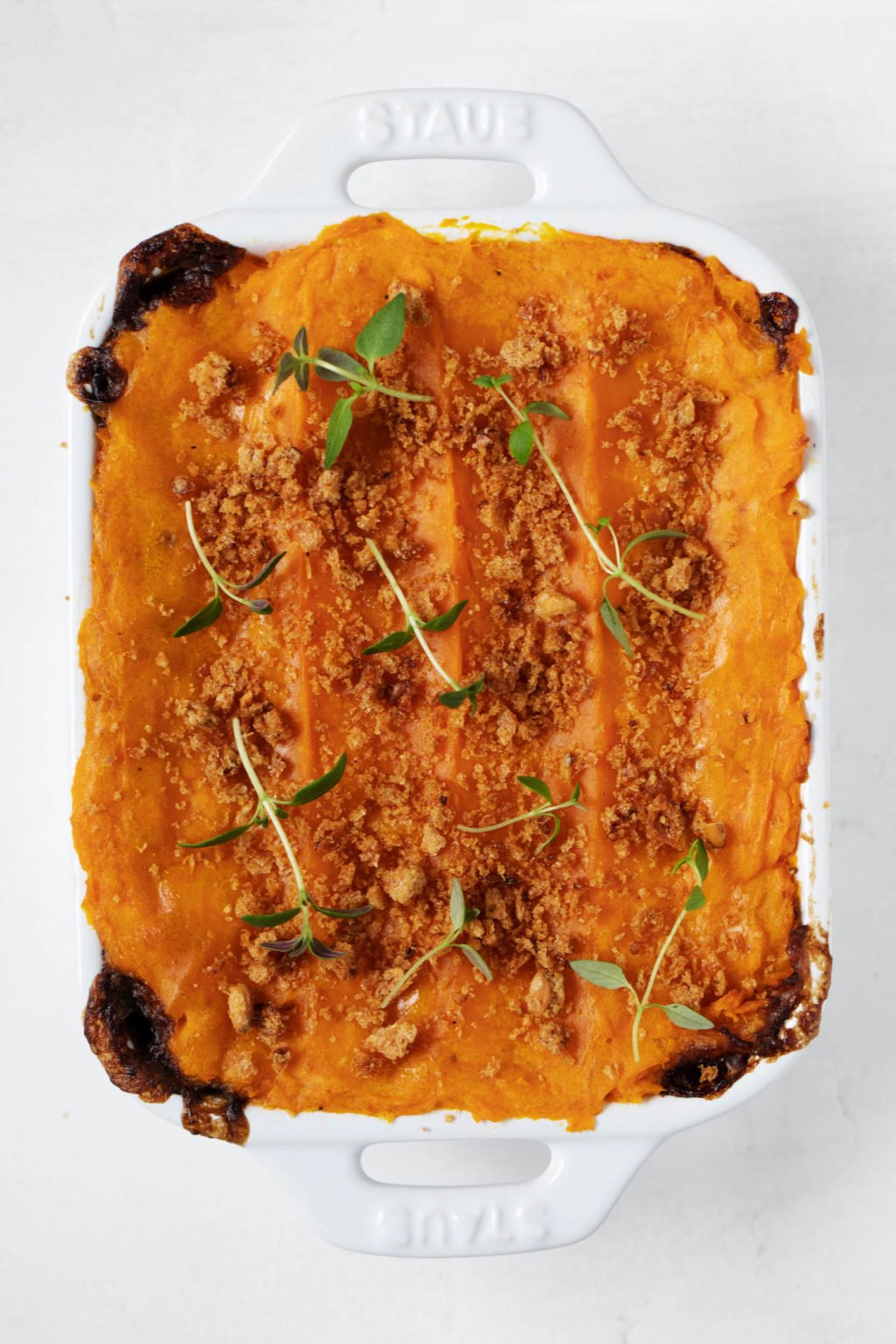 I'm very partial to shepherd's pie.
I think it dates back to childhood. My mom is a great fan of shepherd's pie. It was her meal of choice for wintery special occasions.
I inherited her love for the dish. But the meaty shepherd's pie that we ate when I was little is very different from the sweet potato lentil shepherd's pie that I'm sharing today!
Veganizing shepherd's pie
The major difference, of course, is that this is a totally meatless spin on the classic recipe.
In place of meat, I use a hearty filling of lentils and mushrooms. They're simmered with onions, garlic, rosemary, and thyme. The mushrooms give this dish umami, which helps to keep it as satisfying as the original.
In place of traditional mashed potatoes, I include a mashed sweet potato topping that's buttery and rich in spite of being entirely dairy free.
For me, the potato layer of shepherd's pie is what makes the dish. So you'll see that there's a pretty even ratio of lentils to potato here. The potato may even be predominant, which contributes to the recipe's comfort food power!
Preparing sweet potato lentil shepherd's pie
As with many holiday dishes, this one requires a little bit of time and prep work.
I highly recommend spreading the process out over two days, if you can. Prepare the potatoes and cook the lentils on Day 1. Keep both in the fridge overnight.
On Day 2, create the pie filling by sautéing the lentils with onion, garlic, carrots, celery, and herbs. Then, pour this mixture it into your prepared baking sheet. Cover it with the pre-made mashed sweet potatoes. You'll be ready to go.
Prepared this way, the dish is actually very manageable. And if you do have to whip it all up in a single day, no worries. It's a bit of a kitchen project, but each of the steps is straightforward!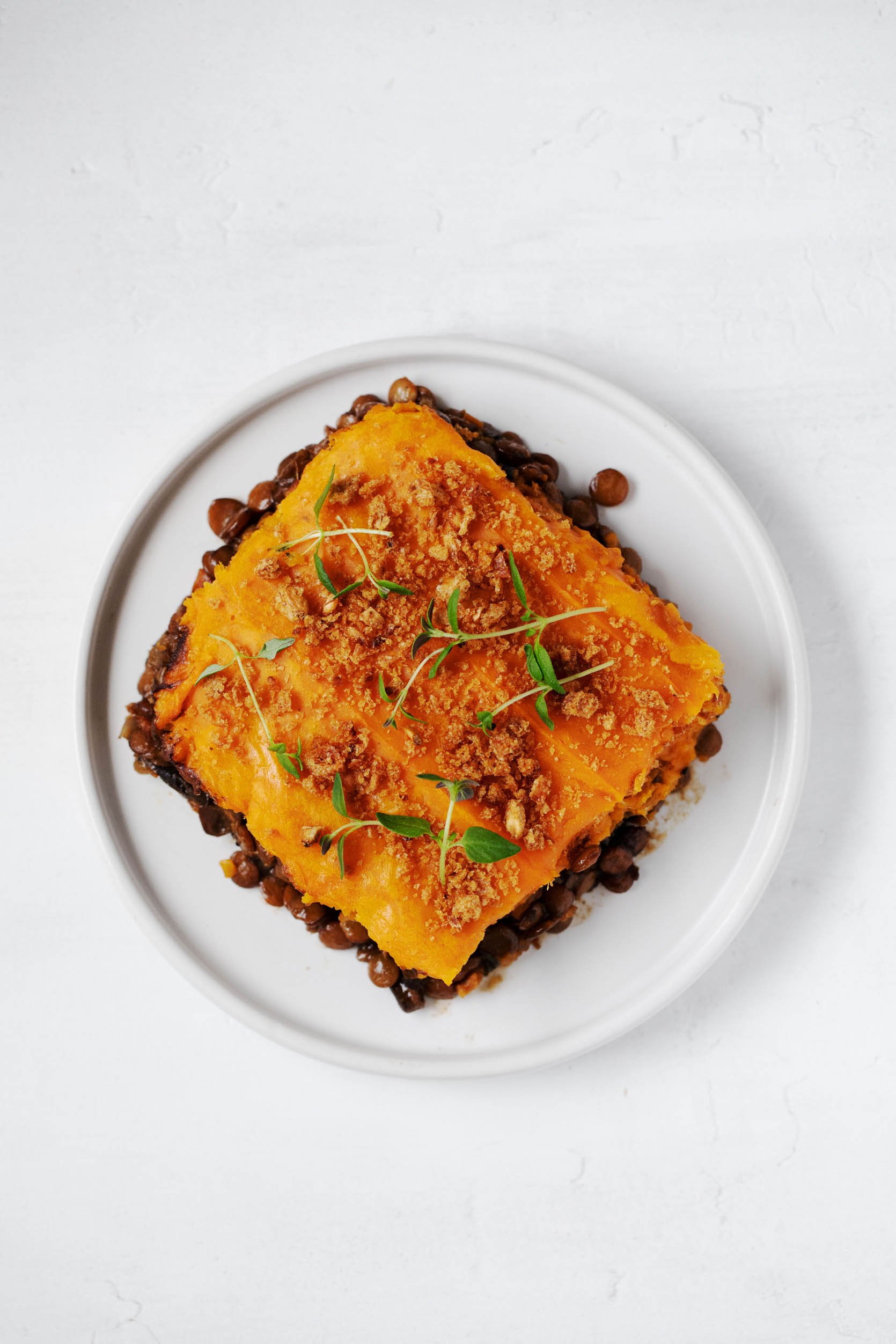 A nutrient-dense vegan main dish
In addition to being delicious and satisfying, sweet potato lentil shepherd's pie is also super wholesome.
It boasts a ton of plant protein from the lentils and mushrooms, which most definitely makes it a Power Plate.
The sweet potatoes are rich in beta-carotene, which may help to support eye health. The mushrooms are packed with phytonutrients that may prove protective against chronic disease, including cancer.
There are onions, carrots, and celery here, so the meal is packed with vegetables as well as legumes and healthful starch. Altogether, it's an especially nutritious meal. Those aren't standard during the holiday season—and they're not always as tasty as this one!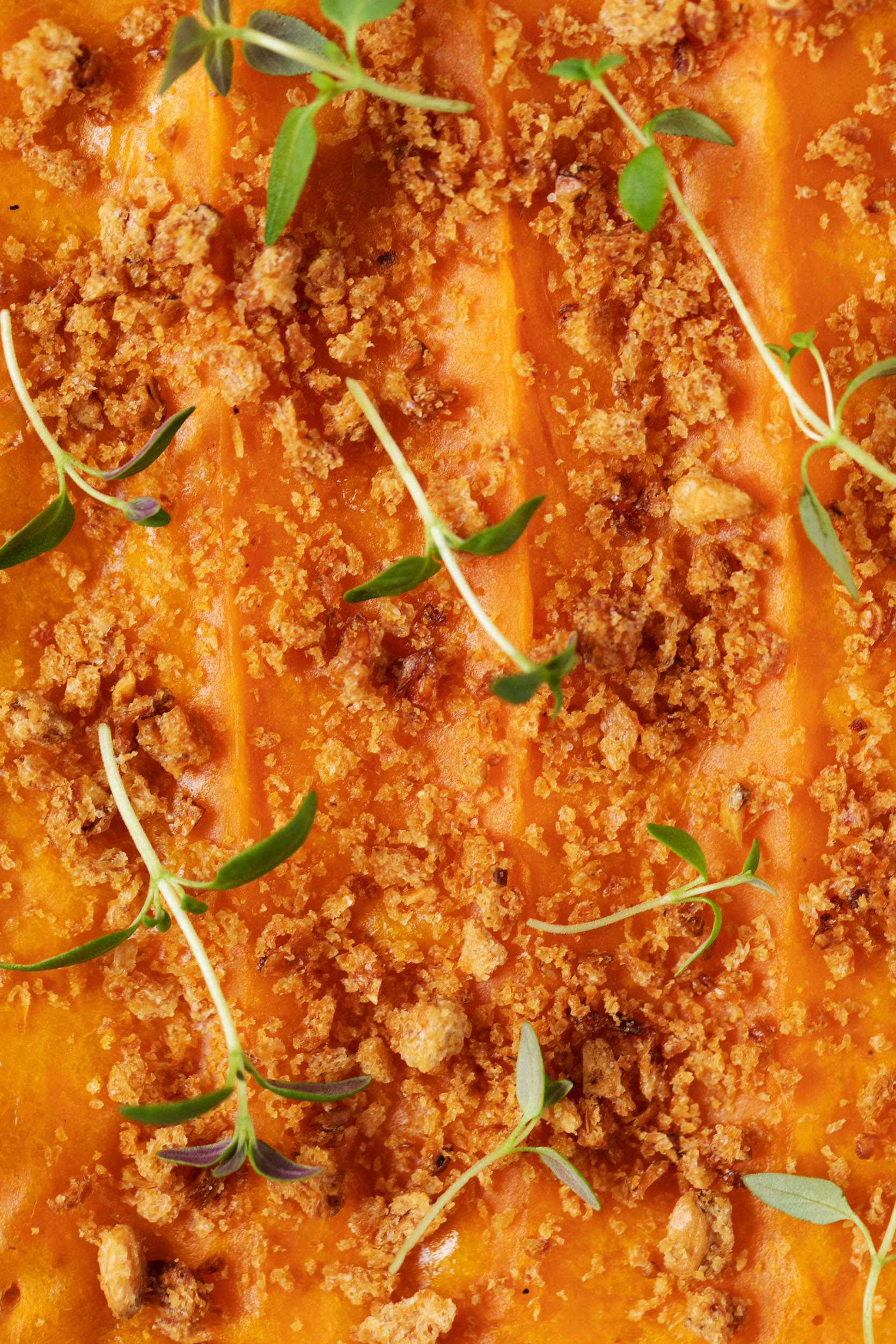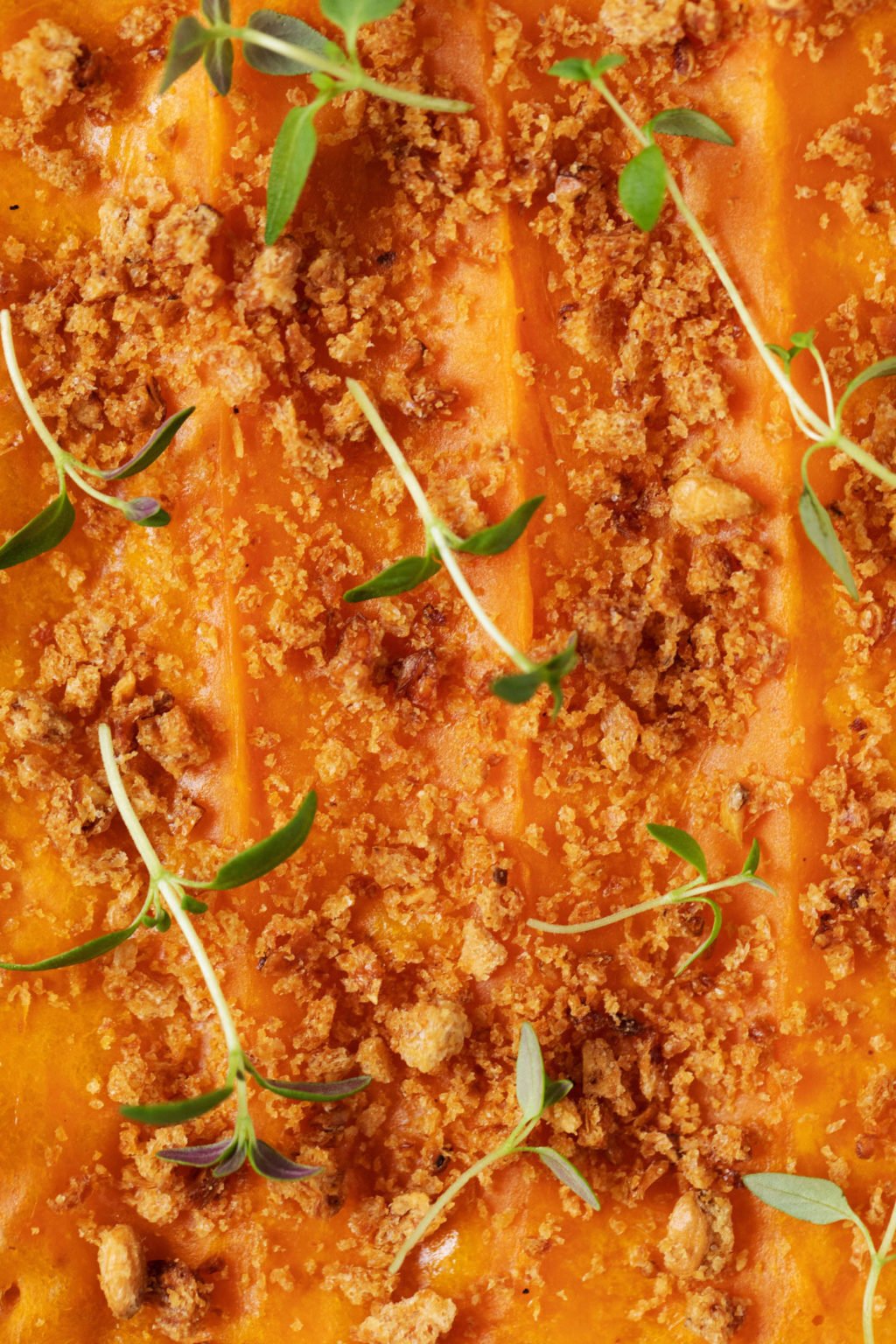 Storing and freezing sweet potato lentil shepherd's pie
There's nothing more valuable than a holiday recipe that can be made ahead of time. Sweet potato lentil shepherd's pie is most definitely one of them.
The cooked lentils, mashed potatoes, and/or the fully prepared lentil and vegetable filling can all be made one or a couple days ahead. The baked casserole can be prepared up to two days in advance and stored in the fridge.
And if you're wondering about freezing, yes: the entire pie (or squares of it) can be frozen for up to six weeks.
Serving options & sides
I definitely think of this sweet potato lentil shepherd's pie as being a holiday main dish. It's even more of a feast when served with a good side dish or two.
For example, the pie goes beautifully with a good salad. My Brussels sprout kale salad, maple mustard quinoa salad, and cauliflower kale pomegranate salads are all great options. If you'd like to think outside of the conventional holiday recipe box, try it with a delicious crispy broccoli Caesar!
Soup is a nice accompaniment to the sweet potato lentil shepherd's pie. I'd keep it simple, since the pie is so substantial. My super simple, very green soup and broccoli quinoa soup are nice options.
Alternatively, Brussels sprout hash (with coconut bacon!) is a lovely, warm accompaniment. And if you'd like to pair the pie with a traditional Thanksgiving side, you can try serving it with green bean casserole.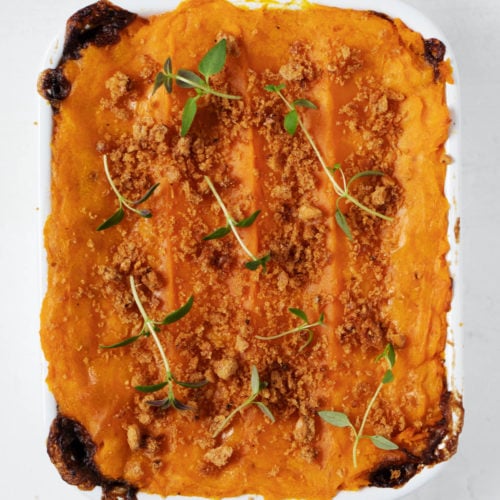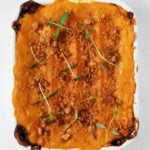 Vegan Sweet Potato and Lentil Shepherd's Pie
Author -
For the mashed sweet potato layer:
3 1/2

lbs

sweet potatoes

3/4

teaspoon

salt

1/2

teaspoon

garlic powder

3/4

cup

non-dairy milk

3

tablespoons

vegan butter
For the lentil layer:
2 1/4

cups

brown or green lentils

1

tablespoon

olive or grapeseed oil

1

large white or yellow onion, chopped

2

large shallots, chopped

2

cloves

garlic, minced

2

medium sized carrots, peeled and diced

2

medium sized stalks of celery, chopped

10

ounces

sliced white button or cremini mushrooms

1 1/2

tablespoons

fresh thyme leaves

1

tablespoon

fresh rosemary, roughly chopped

1/4

teaspoon

rubbed sage

1

tablespoon

sherry or balsamic vinegar

1/2

cup

vegetable broth

Salt and pepper

1/3

cup

bread crumbs (optional, for topping)
First, make the mashed potatoes. Bring a large pot of water to boil. While it's warming, peel the sweet potatoes and cut them into large cubes (about 1 1/2 inches). When the water is ready, add the sweet potatoes and boil for 15-20 minutes, or until they're very tender when pierced with a fork.

Drain the potatoes and add them to a large mixing bowl. Mash roughly with a handheld potato masher, and then add the salt, garlic powder, almond milk, and oil. Mash well, but leave a little texture. Season to taste and set the potatoes aside. You can do this up to three days in advance, storing the mashed potatoes in an airtight container in the fridge until you're ready to use them.

Preheat the oven to 350F and lightly oil a 9x13 casserole dish.

To cook the lentils, place them in a medium or large saucepan and cover them with 3 inches of water. Bring the water to a boil and reduce it to a simmer, then cover. Simmer the lentils for 20-25 minutes, or until they're tender but still have some chew; I recommend checking them at the 18 minute mark to be sure they don't get mushy. When the lentils are ready, drain them and set them aside. (This can also be done up to 2-3 days in advance.)

Heat the olive or grapeseed oil in a very large skillet or saute pan over medium high heat. Add the onions and shallots, along with a pinch of salt. Cook the onions for 5 minutes, or until they're becoming clear. Add the garlic and cook for another minute, or until it's very fragrant. Add the carrots and celery. Cook for 2-3 minutes, stirring often, and then add the mushrooms, thyme, rosemary, sage, and vinegar. Give the mushrooms another generous pinch of salt, and then cook for 7-8 minutes, or until the mushrooms have released all of their juices. Stir in the wine, if using, and allow it to cook off.

Add the cooked lentils and broth to the pot. Heat everything and mix it together. Check the lentil mixture for seasoning, and add salt and pepper as needed (I add about a 1/2 teaspoon salt and about 1/4 teaspoon pepper).

Remove the lentil/mushroom mixture from heat, and then pour it into your prepared casserole dish. Top it with the sweet potatoes, and then gently use a spatula to spread them out over the lentil mixture. If desired, top it all with 1/3 cup bread crumbs.

Bake the shepherd's pie for 40-45 minutes, or until it's crispy on top. Serve.
Leftover pie will keep for up to three days in an airtight container in the fridge.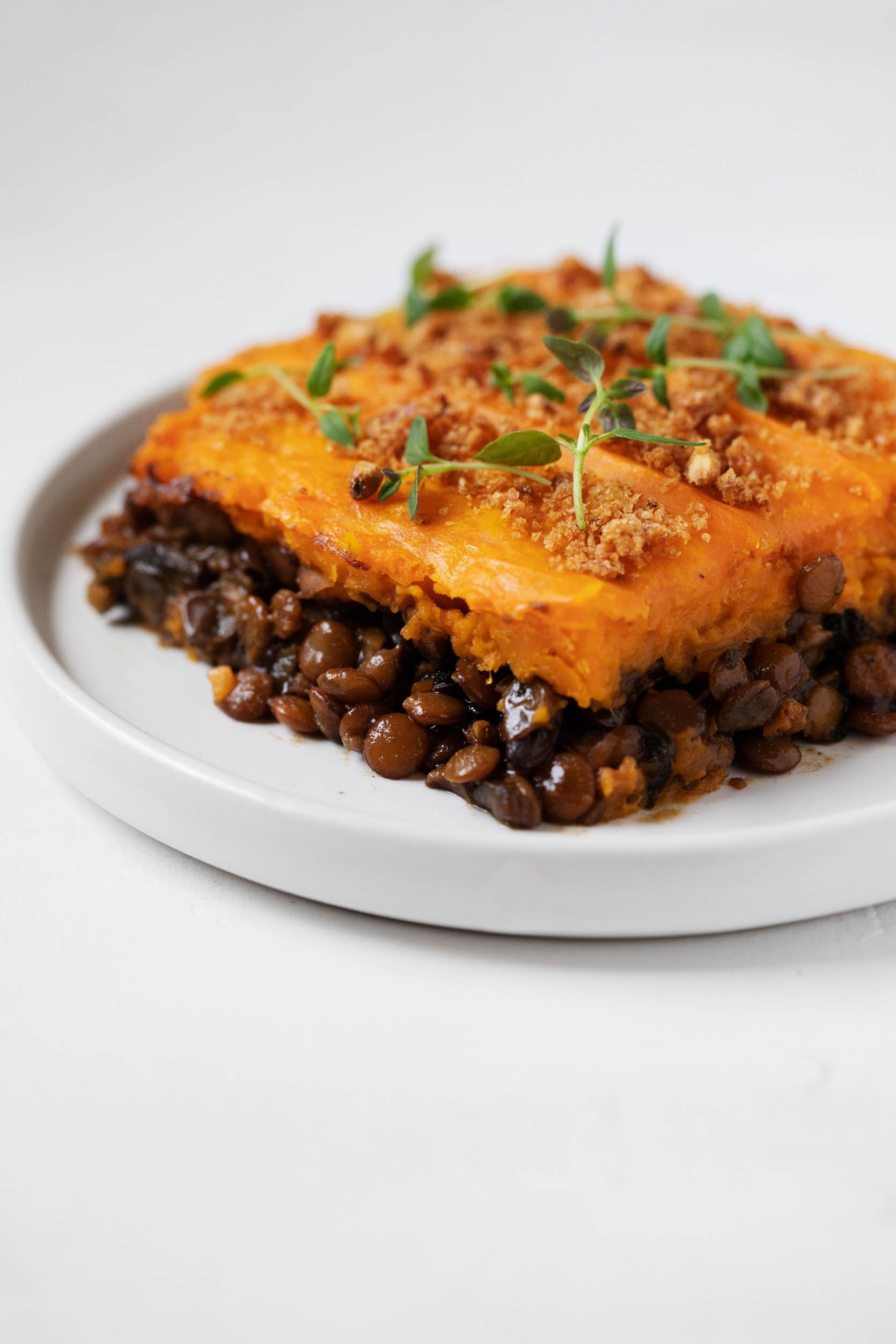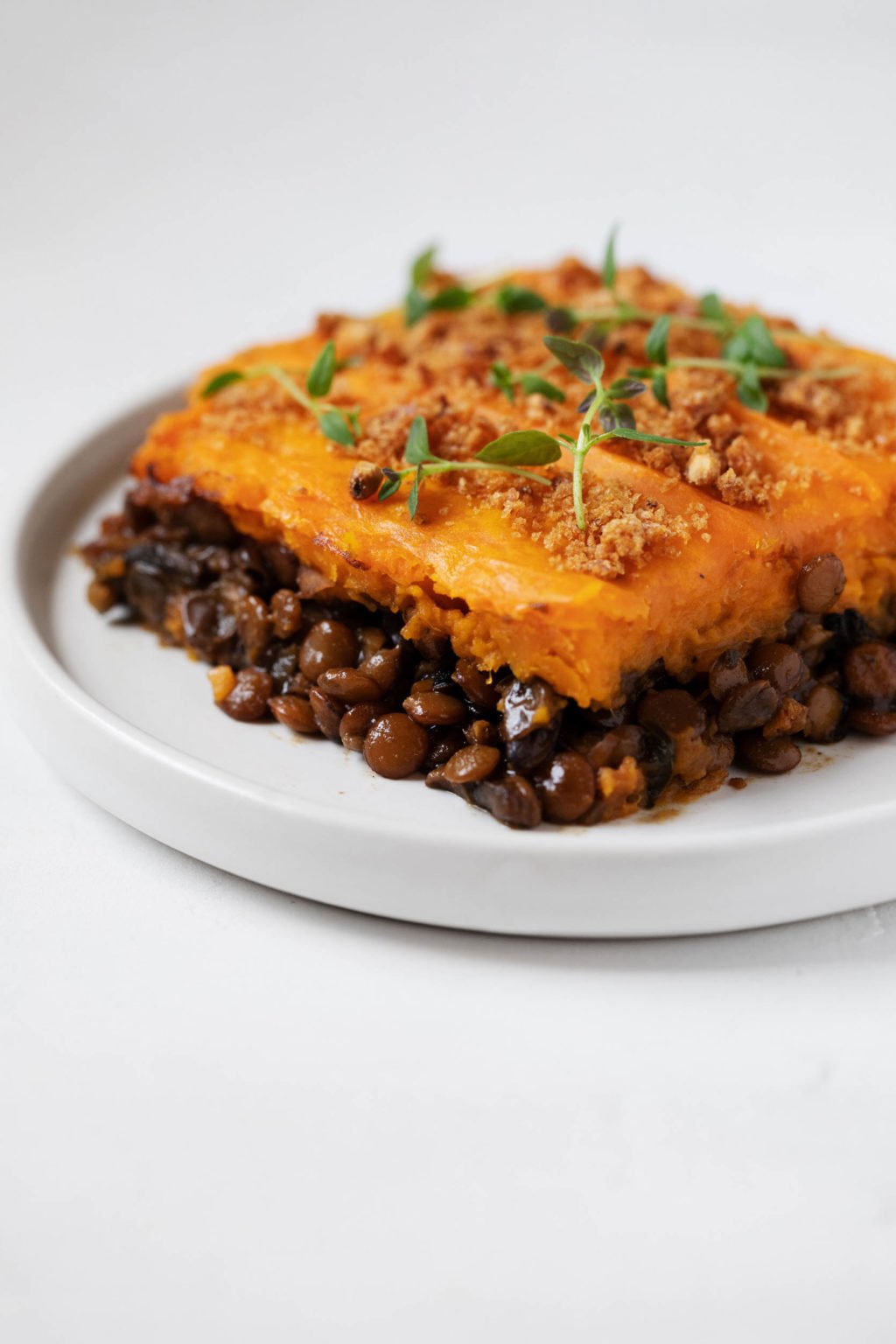 Hope this colorful, feel-good entrée will find its way to your holiday table sometime. And I hope you'll love it as much as I do. It's become a little November and December tradition for me, and I think it'll be that way for a long time.
xo