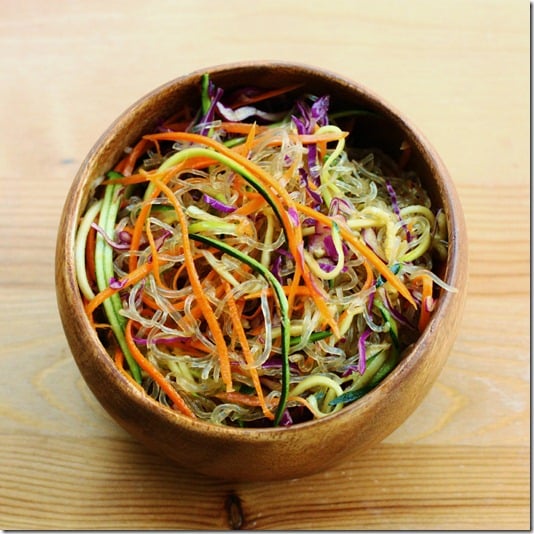 There's a certain tug-of-war I'm always engaged in as a food blogger. It's a battle between my desire to showcase cool and unusual ingredients, and my effort to feature food that is accessible. Lately, I've been thinking a lot about culinary accessibility, and how important it is within vegan activism. It's easy for me to locate specialty ingredients (like superfoods) in the DC area, and even though being a student again has changed the way I budget my groceries, I'm often lucky enough to be able to obtain complimentary samples of new ingredients through blogging. This isn't the case for everyone, everywhere, and I think it's important to demonstrate that veganism is possible, practical, and delicious with ingredients that are more commonplace: legumes, vegetables, nuts, grains.
That said, there's a lot of joy to be had in discovering a food or ingredient for the first time, and being open to new flavors is part of being a food lover/blogger. So I guess my goal is to focus primarily on the basics, and still give some attention to specialty ingredients when I'm lucky enough to obtain them. Fortunately, today's special ingredient, tamarind paste, is new and exotic to me, but it's not new or exotic generally speaking. It is a common ingredient in many global cuisines. Best of all, it's both reasonably priced and relatively easy to find in Asian or Indian food markets.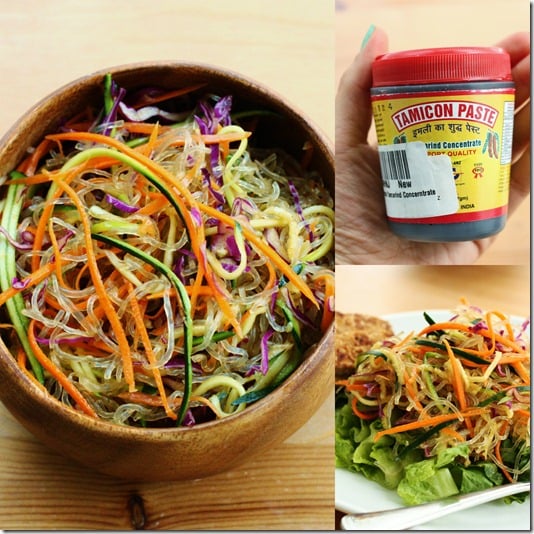 Tamarind is indigenous to tropical Africa, but it is often produced in Southeast Asia or Mexico. You may have tasted it in Indian or Thai recipes. The best way I can think to describe it is very, very tart, with some sweet hints as well. As a lover of all things tart, acidic, and sour, I'm surprised it took me this long to try tamarind out. I'd tasted it in a dressing at Pure Food and Wine some time ago and loved it, but I'm happy that I decided to explore it at home.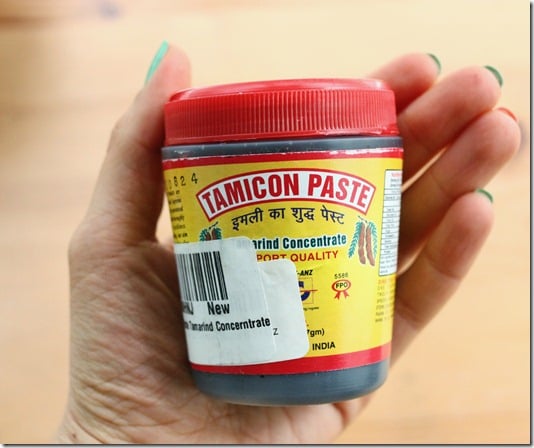 I've seen tamarind paste in Chinese markets, but I've read online that Indian markets and Mexican markets sometimes carry it as well. This time around, I found mine on Amazon. It was not inexpensive ($7.99), but certainly not too pricey, either. And because the flavor is incredibly robust, a little goes a long way.
I wanted to use the tamarind paste in a dressing of some sort, and I had a thought to put it over kelp noodles and carrot ribbons. I'm very happy with how the resulting "noodle bowl" turned out—and the tamarind lent such a lovely, sweet and sour flavor to the dish. I'll definitely be making the dressing again, and I'm also now mulling over new ways to use the ingredient. Anyone have a good suggestion for me?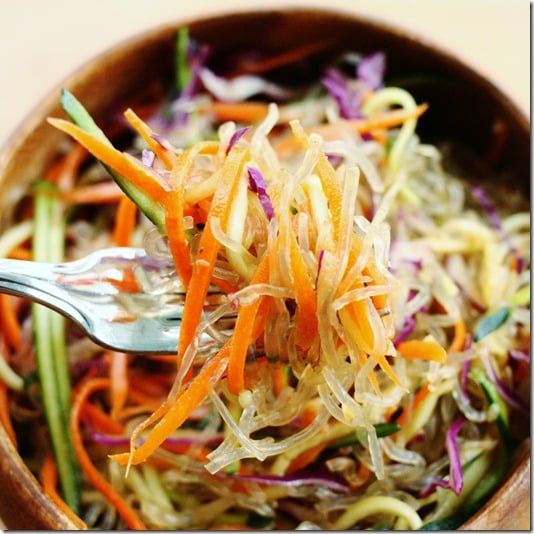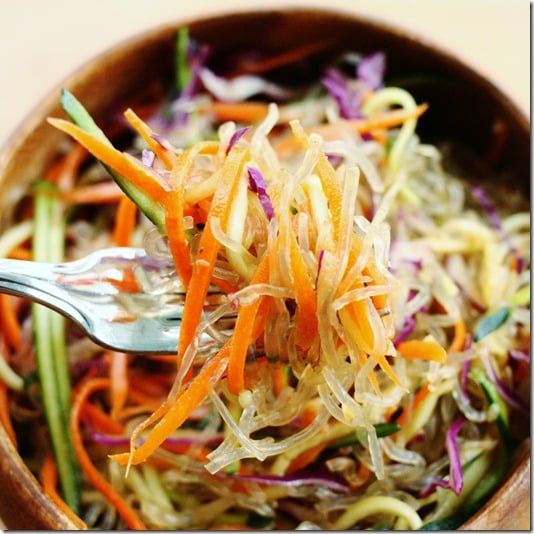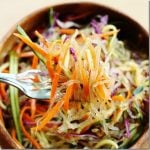 Vegan Tamarind Noodle Bowl (vegan, gluten free if you use tamari or coconut aminos)
Author -
8

oz.

kelp noodles

1

small zucchini

sliced into thin ribbons (you can use a spiralizer, mandolin, peeler, or a grater)

1

medium carrots

sliced into ribbons or grated

1/2

cup

shredded red cabbage

1

tbsp

tamarind paste

3

tbsp

olive oil

1

tbsp

lime or lemon juice

I like lime, but use what you have

1

tbsp

agave or maple syrup

1

tbsp

low sodium tamari

or Bragg's liquid aminos, or nama shoyu, or coconut aminos

1/4

cup

cilantro

optional
Mix together the kelp noodles, carrots, zucchini, and cabbage.

In a blender or with a small whisk, blend the tamarind paste, oil, lime juice, agave/maple syrup, and tamari.

Massage about 3 tbsp of the dressing into the noodles. Add more dressing as needed. Transfer salad to two bowls and top with cilantro, if desired. Makes 2-3 servings.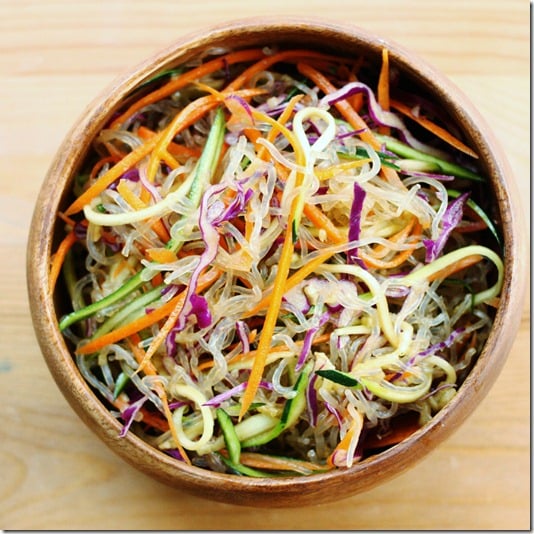 The salad is so bright and lovely to look at! I think it would have been even prettier with some fresh cilantro over it…but I forgot

I would serve this salad with some legumes (toasted chickpeas, maybe?) or edamame. This week, I'm doing a fun tempeh tutorial in my New Veganism column for Food52. So I had some exceptionally tasty seared tempeh to serve my salad with!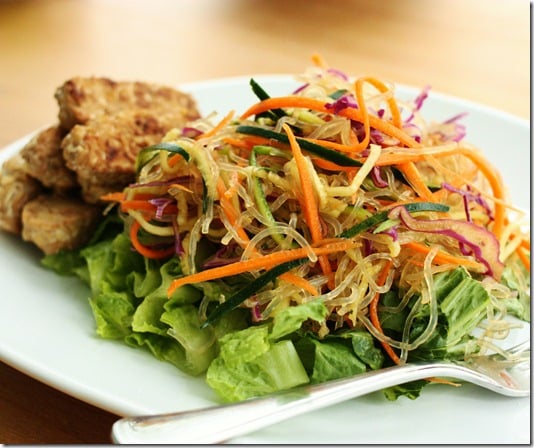 I hope you enjoy the salad. And please feel free to share your tamarind ideas with me (Janet, I know you'll have some).
I've gotten some wonderfully enthusiastic feedback on my raw, vegan "deviled eggs"—thanks to everyone who made them this weekend and commented or tweeted to give me a thumbs up! I'm so happy you enjoyed them.
xo