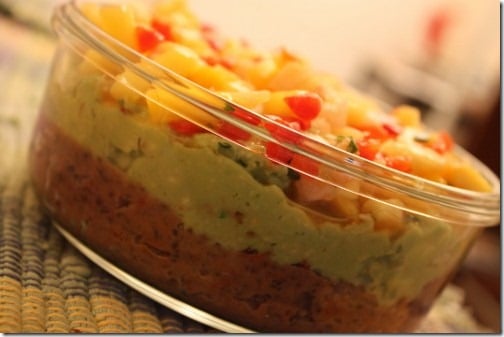 I've never been a sports lover. Which means that I've never entirely gotten into the superbowl craze each year, in spite of the fact that most of my loved ones are rooting for one team or another, with gusto.
Still, I can appreciate Superbowl Sunday as a day on which to savor food and good company. and in that spirit, I've created a vegan three layer dip that's perfect for sharing with family and frients on game day. It's healthy, it's flavorful, and if you prep one or two of the components ahead of time, it's easy, too.
I love this sort of dish because it easily falls into the category of "vegan food that no one thinks to consider as being vegan." This isn't to say that I don't make and share vegan dishes with pride. But it can be nice to gently show one's family and friends that a lot of popular dishes–refried beans, gaucamole, and salsa among them–are already vegan. Most of us know and savor a lot of vegan food already–whether we're associating it with veganism or not.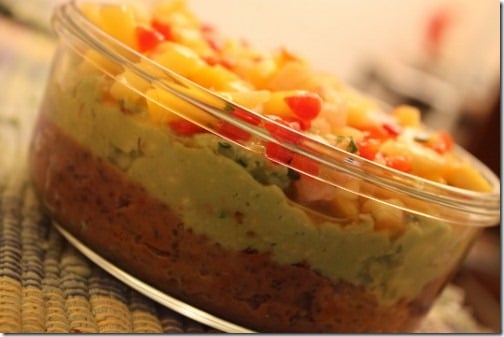 Vegan Three Layer Dip
Cuisine:
vegan, gluten free, soy free, nut free
Author:
Prep time:
Cook time:
Total time:
For the black bean layer:
1 1/2 cups cooked black beans (1 can beans, drained and rinsed)
1 clove garlic, minced
1/2 cup roasted red bell peppers (homemade or from the jar)
4 sundried tomatoes, pre-soaked and drained or oil-packed
3/4 teaspoon ground cumin
1/2 teaspoon salt
2 tablespoons lime juice
Black pepper to taste
For the guacamole layer:
2 Hass avocados, pitted and chopped
1/3 cup chopped cilantro
3 tablespoons lime juice
1/4 cup finely diced red onion
1/2 teaspoon salt
For the mango-jicama salsa
2 ripe ataulfo mangoes, diced
1 medium beefsteak tomato, diced
1 small jicama, peeled and diced
1/2 red onion, finely chopped
1/3 cup fresh cilantro, chopped
1 small jalapeno pepper, seeded and finely chopped
2 tablespoons lime juice
1/2 teaspoon salt
2 teaspoons olive oil
Dash crushed red pepper flakes
To prepare the black bean layer, place all ingredients into a food processor fitted with the S blade. Process till everything is evenly incorporated, but the mixture still has some texture to it. Add a few tablespoons of water as you go, until you have reached a desired consistency. Season to taste.
To prepare the guacamole, place the avocado into a medium sized mixing bowl and gently mash it with a fork. Fold in all additional ingredients and season to taste.
To prepare the salsa, toss all ingredients together and season to taste.
To prepare the dip, place the black bean layer on the bottom of an 8 x 8 baking dish or round or oval serving dish. Top with the guacamole, then the salsa. Serve with corn chips.
The salsa can be prepared up to two days in advance and stored in an airtight container in the fridge. Mix well before using in the dip.[br][br]The black bean dip can be prepared up to 3 days in advance and stored in an airtight container in the fridge. [br][br]Leftover dip will keep overnight in an airtight container in the fridge.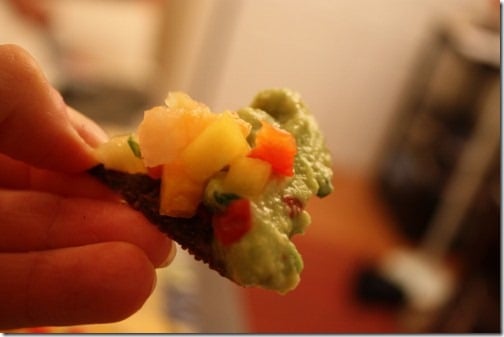 I know that the dip looks like quite a bit of work, but as you can see, the black bean portion and salsa can be prepared a couple days in advance to make for easy assembly. It's also worth saying that each component of the dip is really tasty in its own right. The salsa is perfect for summer dipping, and the black bean layer is really great for easy tostadas at home. As for the guac…well, I never lack for ideas on how to enjoy guac! I can eat it on or in just about anything.
Sporty readers: what are your favorite things to eat as a sports spectator? I'd love some additional vegan game day ideas!
xo