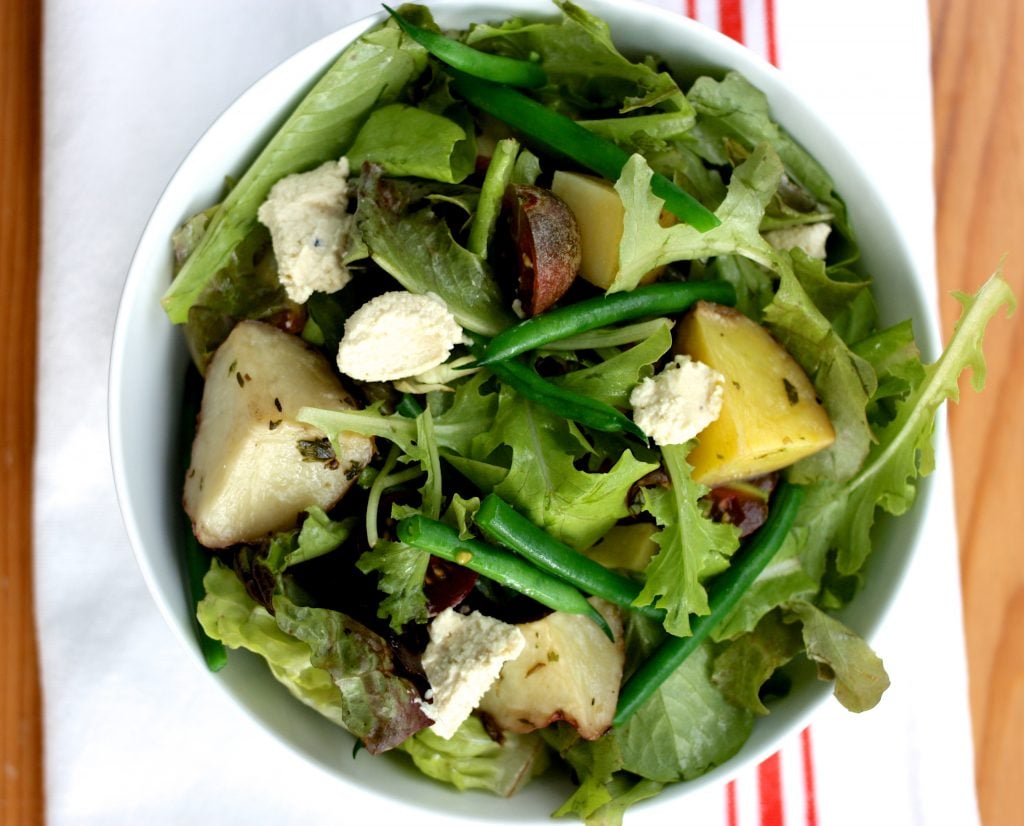 OK, maybe "Nicoise" is a stretch, since the star of Nicoise salad is probably the tuna (along with the Nicoise olives, which I totally forgot to add and mention. Thanks for pointing it out, Rachel!). But when I whipped up this salad over the weekend–a mix of farmers' market greens, roasted new potatoes, blanched green beans, cherry tomatoes, and vinaigrette, along with a dollop of cashew cheese–I couldn't help but think of the traditional French lunchtime classic.
I'm always insisting that making replacements in vegan dishes isn't all about coming up with exact replicas; it's about figuring out what a non-vegan ingredient contributes to the dish (salt? protein? umami? creaminess? crunch?) and then adding a vegan ingredient that'll do the same thing. Usually, I replace anything fishy in a recipe with kelp or dulse flakes (check out my raw tuna salad for an example), but for me, what tuna always added to a Nicoise salad was umami and salt. And that's what the cashew cheese is doing right here.
I can't get enough new potatoes lately: I love how easy they are to roast, and how nicely the absorb herbs and seasonings. Sweet potatoes are wonderful and all, but more often than not what you taste when you roast them is sweetness. New potatoes and fingerling potatoes, both seasonal stars at the moment, are much more of a blank canvas, and they're so easy to toss into salads, zucchini pastas, or soups.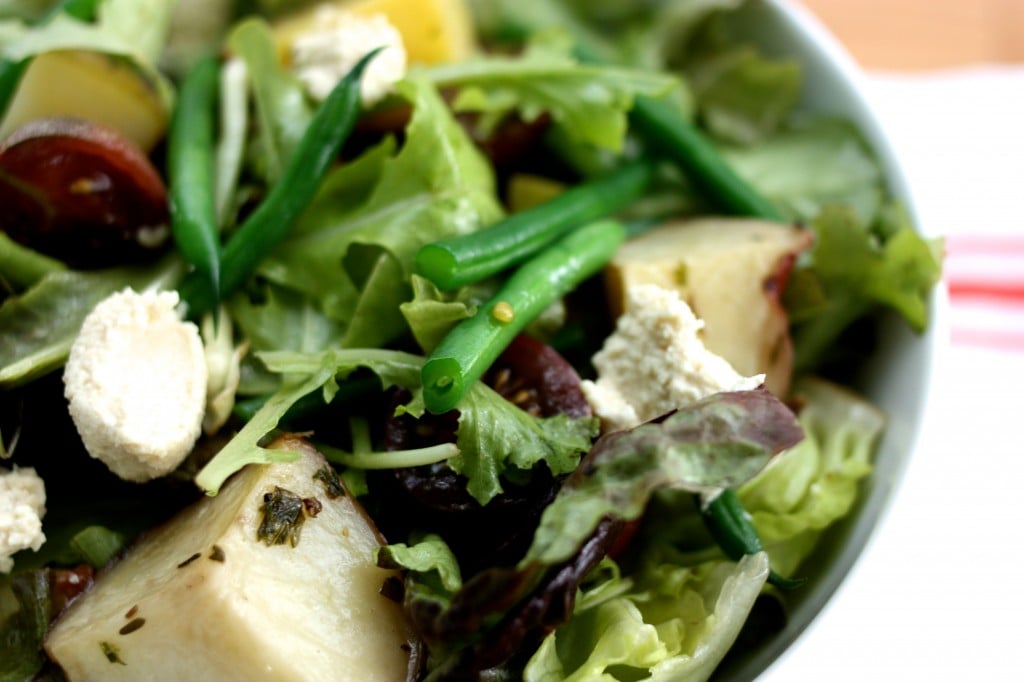 Any vinaigrette will work in this salad, but I used my standard lemon/dijon/olive oil mix. Get creative: creamy dressings, apple cider vinegar dressings, and balsamic vinaigrettes will all work very well.
Vegan Tuna-Less Nicoise
Author -
2

cups

new potatoes or fingerling potatoes

quartered

1

tablespoon

olive oil

2

tablespoon

fresh rosemary

chopped

Sea salt and pepper to taste

2

heaping cups green beans

trimmed (thinner ones work better in salad, I think)

1 1/2

cups

cherry tomatoes

halved

6 to 8

cups

mixed greens

arugula, mesclun, butter lettuce, romaine, kale--whatever you've got

2

tbsp

olive oil

Juice of 1 lemon

1

tsp

dijon mustard

1/2

cup

basic cashew cheese

see this post for recipe
1. Preheat oven to 400. Toss the potatoes in the olive oil. Spread on a foil or parchment lined baking sheet, and top with rosemary, sea salt, and pepper. Roast for 35 to 40 minutes, or until potatoes are golden brown. Remove from heat and allow them to cool. (This step can be completed a day or two in advance.)

2. Bring a medium pot of water to boil. Add green beans and cook for 1 to 2 minutes, or until beans are slightly tender but still have bite. Drain them and immediately rinse under cold water to stop cooking. Shake them dry and set aside.

3. Place the mixed greens, tomato, beans, and potatoes in a large salad or mixing bowl. Whisk the oil, lemon juice, and mustard together, and season a little bit with salt and pepper. Pour dressing over the salad and toss to combine. Divide into four serving bowls, and top with two tablespoons cashew cheese.

Makes 4 Servings.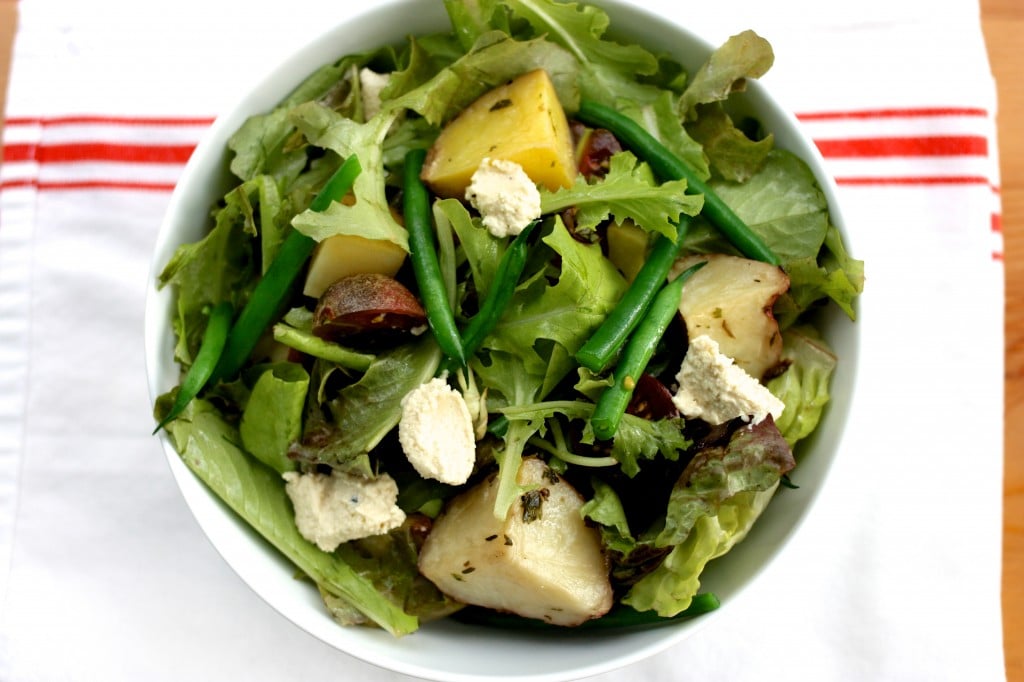 On first inspection, all this roasting and blanching and mixing seems like a heck of a lot of work for a salad, but if you make the cashew cheese in advance (I tend to make a batch every single weekend, and use it through the week) and roast the potatoes the day before, it's of course very easy to throw together. A lot of the recipes I love–salads with lots of ingredients, zucchini pastas with cashew cheese and other toppers–involve a lot of components, so I tend to prep the components on the day I get groceries for the week ahead. When I'm ready to mix and match, it's as simple as reaching in the fridge. I've mentioned my standard "component" staples before, but they tend to include:
1 to 2 dressings

1 batch cashew (or other nut/seed) cheese
1 batch nut/seed pate
1 batch hummus
1 to 2 trays roasted seasonal veggies
1 batch (1 dry cup before cooking) prepared quinoa
1 batch (1 dry cup before cooking) cooked legumes
Sometimes I can do this all on a single day (the grains and legumes happen in my rice cooker, which makes life easy). Sometimes, it gets spread out over a couple of days. The dressings, nut pate and/or cheese, and roasted veggies are more hands on, so I carve out space when I can.
Anyway, that's a small glimpse into my process! A lot of you ask about how I stick to healthy food when I'm busy, and this is how, though I should mention that I absolutely do not hesitate to purchase some canned beans or a container of prepared hummus when things are really hectic. It's important to be realistic about how much you can handle.
I hope you enjoy this salad; it'll make a great appetizer for summer entertaining. And feel free to halve the recipe if you're a fellow solo dweller, though it certainly won't hurt to make all of the called for potatoes; if you enjoy them as much as I do, it won't take you long to gobble them up!
Before I go, announcement time: I'll be teaching an Intro to Raw Foods class at the Whole Foods Market in Tenleytown in D.C. this wednesday at 6pm. Tips, tricks of the trade, a live telling of my raw foods love story, and lots of tasty food samples will be included! If you're local, it would be great to see you. You can register here. Come one, come all!
xo