I don't write about wine (or any other spirits) on my blog too much. For one thing, I'm hardly an expert: I'll know really great wine when it crosses my path, but for the most part, I've got a less-than-discerning palate. More importantly,  I didn't drink for a long, long time, including the first few years I was blogging. This was mostly driven by personal stuff (family stuff), and partly driven by my lingering orthorexia. But, as I often joke to friends, one doesn't survive a pre-med post-bacc without the occasional cocktail. And so I've welcomed wine back into my life, and I'm happy that I can enjoy a healthy relationship with it nowadays.
People are often shocked when I tell them that wine (and other alcohol) often isn't vegan. Obviously, it's not common to find animal products in wine, per se (though dairy and honey do show up in other kinds of alcoholic drinks), but animal products are often used in the filtering of alcoholic beverages. Isinglass (fish bladder), gelatin, egg whites, and sea shells, among other things, are common in the fining of wine and other spirits. What's more, these substances are rarely ever listed on ingredient lists, so it's quite hard to know what alcohol is vegan friendly and what isn't.
Fortunately, there is the incredible website Barnivore, which includes 17,965 wine and spirit entries. You can look up any brand and find out whether it's vegan or not. You'll probably learn that a lot of your favorite wines aren't vegan, but you may be surprised at which brands are; who knew, for instance, that Yellowtail red is vegan-friendly? You can also download a couple of mobile apps that make finding vegan spirits easier; I like the Vegan Alcohol Guide and Drink Vegan.
Or, if you'd like a fantastic online retailer that features a rich selection of high quality vegan wines from small Vineyards, you should get to know Vintners' Alliance.

Vintners' Alliance is an online marketplace for exceptional wines. Recently, the site has developed a wonderful list of vegan wines that it offers to consumers. The wines are available at 1¢ shipping with no minimum. The wines range in price from $13.00 to $40.00 per bottle, and they cover a wide range of whites (sauvignon blanc, pinot blanc, chardonnay) and reds (pinot noirs, cabernets, and so on). I was given a chance to try some of these wonderful wines last spring, and I thought they were all special. But I really got to know Vintners' Alliance and its wonderful wines at my book party this summer.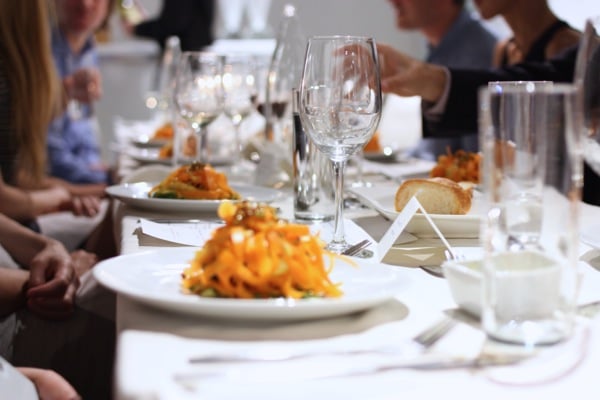 For this special evening, Vintners' supplied all of the wines. The company hand-selected wines to be paired with each course of food, as you can see: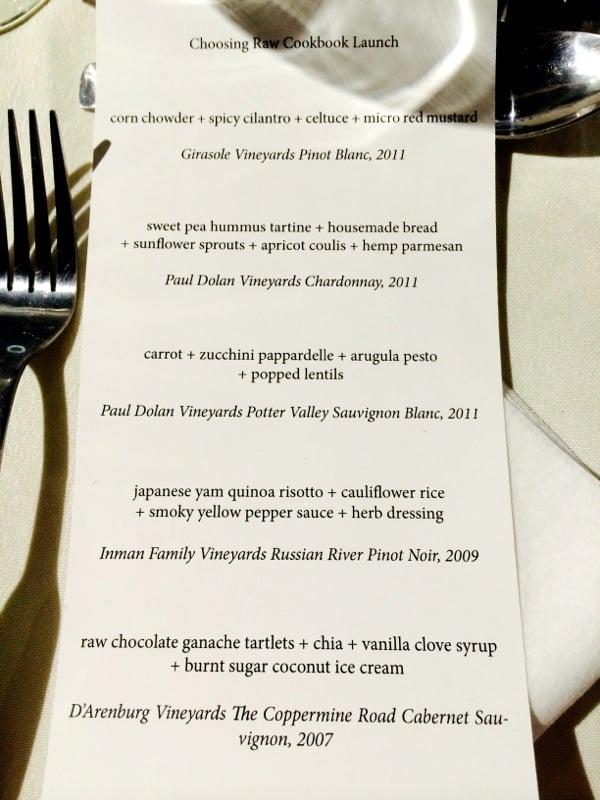 They were all wonderful, but my two favorites were the Paul Dolan Sauvignon Blanc (fruity and citrusy) and the incredible Inman Family Vineyards Russian River Pinot Noir. Everyone at the table raved about this wine. As you can see, my boyfriend kept it close to his hand throughout the meal.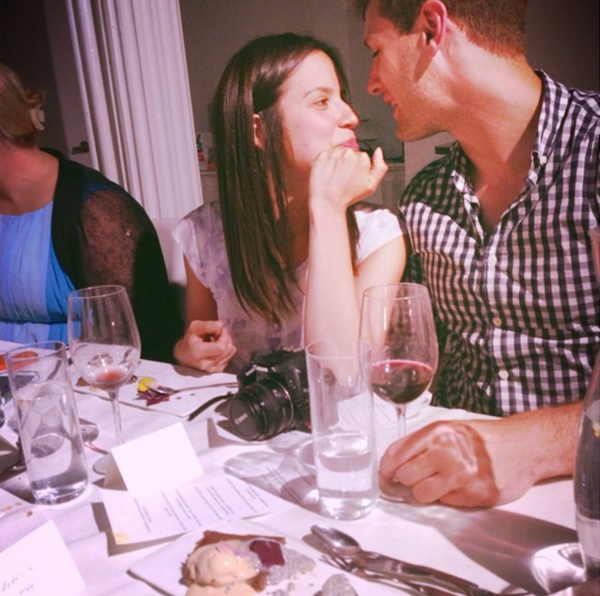 If you're looking for a great vegan wine resource, I definitely recommend checking Vintners' Alliance out and supporting them as they grow their vegan collection. I personally love that a well respected wine marketplace is making such an effort to serve the vegan community, and my boyfriend and I will definitely be ordering from Vintner's Alliance again. The incredibly reasonable shipping (with no minimum) certainly sweetens the deal.
Tomorrow, an easy, late summer raw recipe. Till soon!
xo