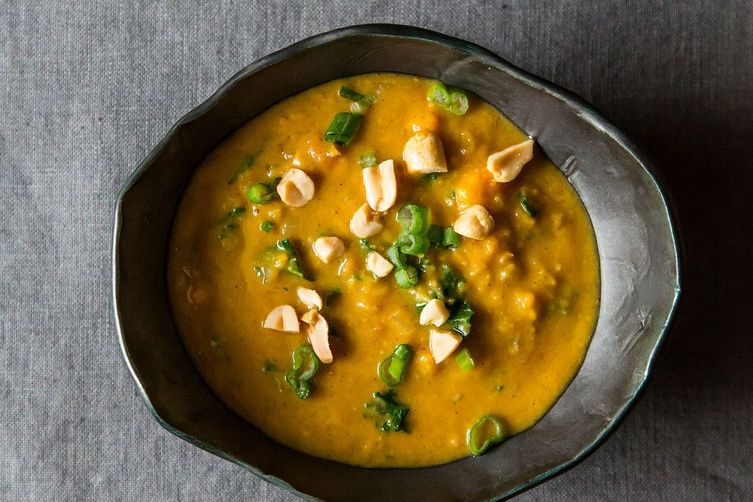 All photos © Food52.
Well, it had to happen sooner or later: winter is upon us. As a self-proclaimed cold weather gal, I'm not complaining, though it did occur to me as I bundled myself into a parka at 6 am the other morning that my love of cold weather may be more ardent in theory than in practice. Regardless, when temperatures drop, I like to take refuge in warming spices and comforting foods. For me, comfort food is epitomized in the sweet, spicy, and nutritious vegan yam and peanut stew with kale that I'm sharing today on Food52.
The title of this post is a little misleading, since most of us who make this soup will do so with sweet potatoes. Sweet potatoes are moist, sweet root vegetables, while yams—native to many parts of Asia, Africa, and the Caribbean—are actually tubers, and have drier, starchier flesh. We call sweet potatoes yams in the US as a matter of convention, and I do it too, but it's a slightly misleading moniker.
That said, yams and sweet potatoes have a lot of interchangeable properties in cooking, which means it's easy to use sweet potatoes in place of yams when we explore hearty, fragrant West African recipes. Yam and peanut stew is traditionally attributed to West African cuisine, and it is one of my favorite vegan soups. The spices are alluring and the texture is hearty, but what I love most is the unusual pairing of tomatoes and peanut butter, which create a rich and delicious broth.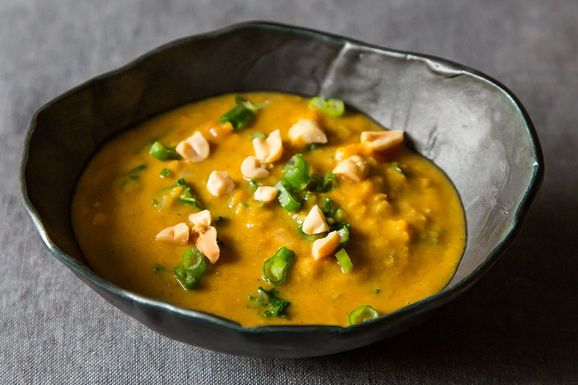 Though kale is not necessarily a traditional ingredient in the stew, I think it makes it all the more tasty and nutrient dense, so I always add some. You can explore my recipe for yam and peanut stew with kale—a vegan one pot wonder—over at Food52 today! Along with it, you'll find some of my tricks of the trade for making vegan soups and stews sing. I hope you'll all enjoy it, and be inspired to whip up something warming tonight!
xo