Imagine this: you have a bunch of friends who live all around the country. You know their hobbies, their partners' names, where they grew up, where they hang out, what they do, and even what they ate for dinner today. But the funny thing is, you rarely ever see them, and it's totally possible that you've never so much as shaken their hands. That's blogging. Once a year, or once every two, you may be fortunate enough to stand at the intersection of online community and real life. And that's Vida Vegan Con.
My first VVC experience was, no joke, life changing. It was life changing because I made so many close friends. Until VVC in 2011, JL and I had never met (we both think it's hilarious that, after living in New York for years, it took a trip to Portland to turn us into friends). I'd never met Lisa in person either, though I had admired her from afar from a long time, and VVC was the first time I got to know Jasmin, too. These are only a few examples; that conference was full of first time "IRL" meetings that yielded deeper friendships. Naturally, I've spent the last two years eagerly waiting for round two.
VVC began dramatically for me this time. As I mentioned in my last post, I arrived with a nasty ear infection and an immune system that had been zapped by seasonal allergies. On Thursday morning, I woke up feeling off–not yet sick, but not quite myself, either. I hoped a little yoga would put the spring back in my step, so I headed to Yoga Pearl for a vinyasa class and some tasty fare from Prasad (which I loved on my last trip).
Yoga Pearl offers vinyasa, hatha, power vinyasa, and yin yoga classes. This was my first time practicing at the studio, and I had a wonderful power vinyasa class experience with Nikki, who was energetic yet calm, and offered a very challenging sequence with some fun inversion and arm balance practice (some of which I passed on, unfortunately, since my energy was low). After class, I grabbed some food to go at Prasad (check out the restaurant's awesome menu here).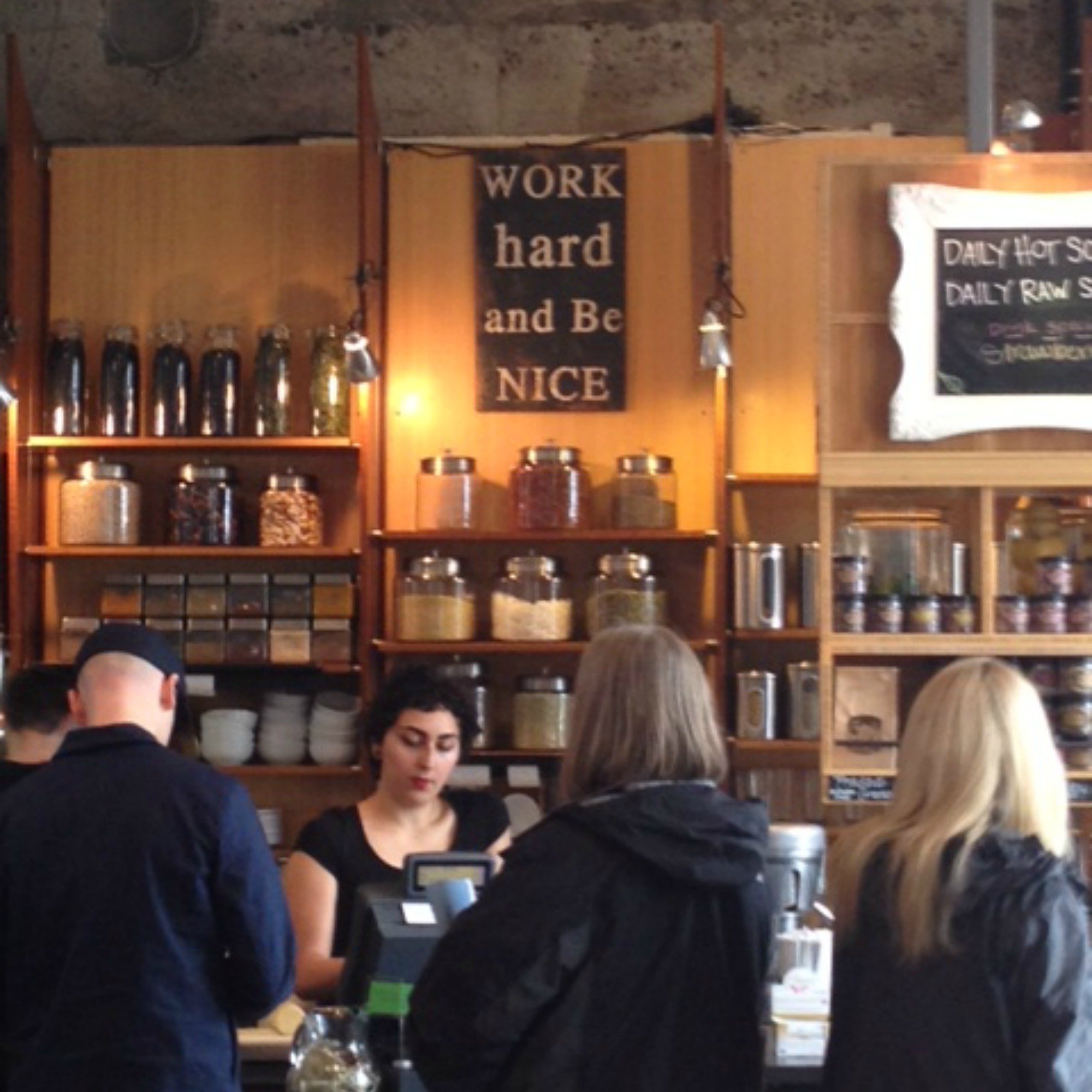 I chose the El Dorado salad (spinach & mixed greens, yam rice, walnut taco crumbles, avocado, sun-dried tomato, scallions, cilantro, jalapeno cashew cheese and red chili vinaigrette) and got a cup of quinoa on the side. I ate them back at my hotel room, but only after stopping on the way to admire Portland's food trucks.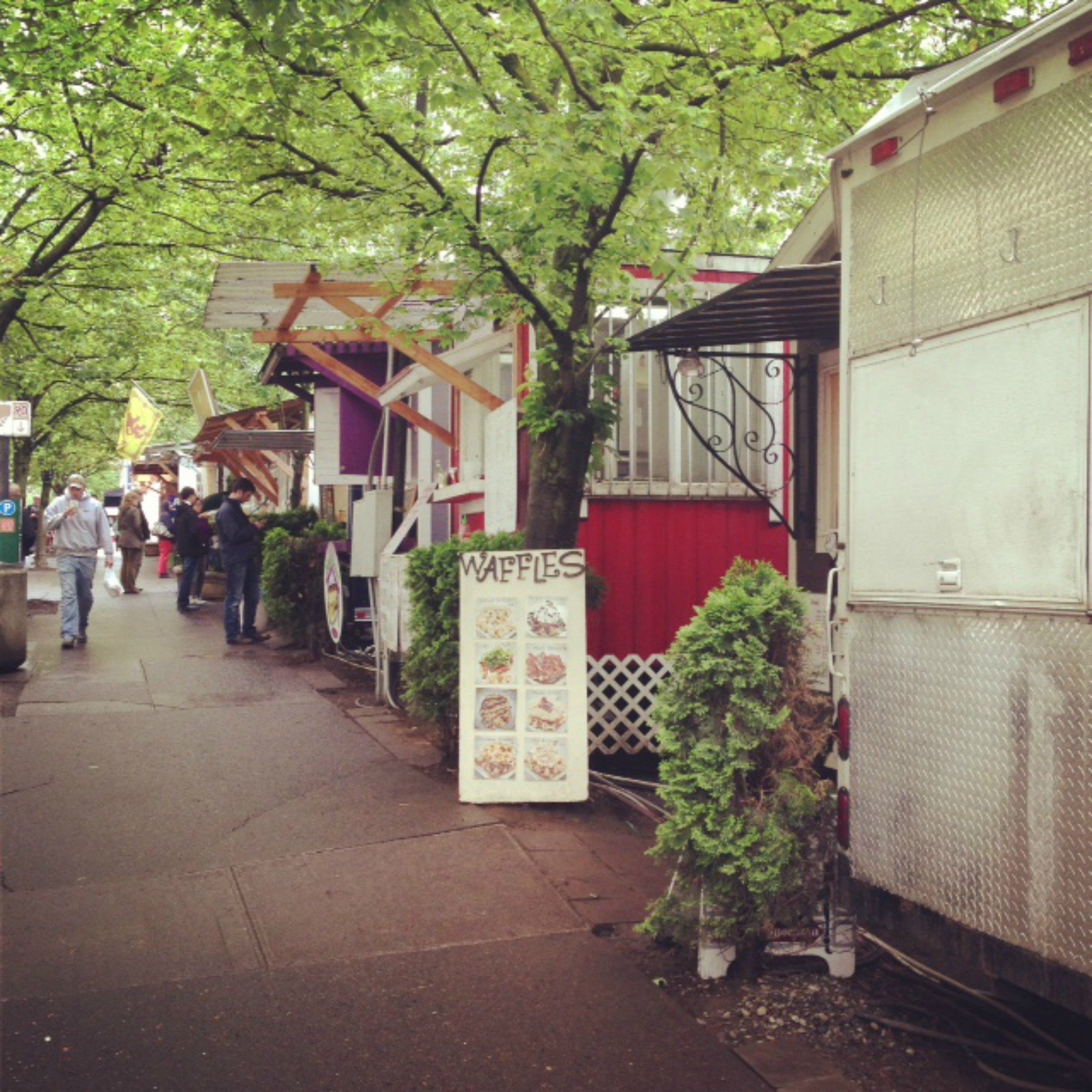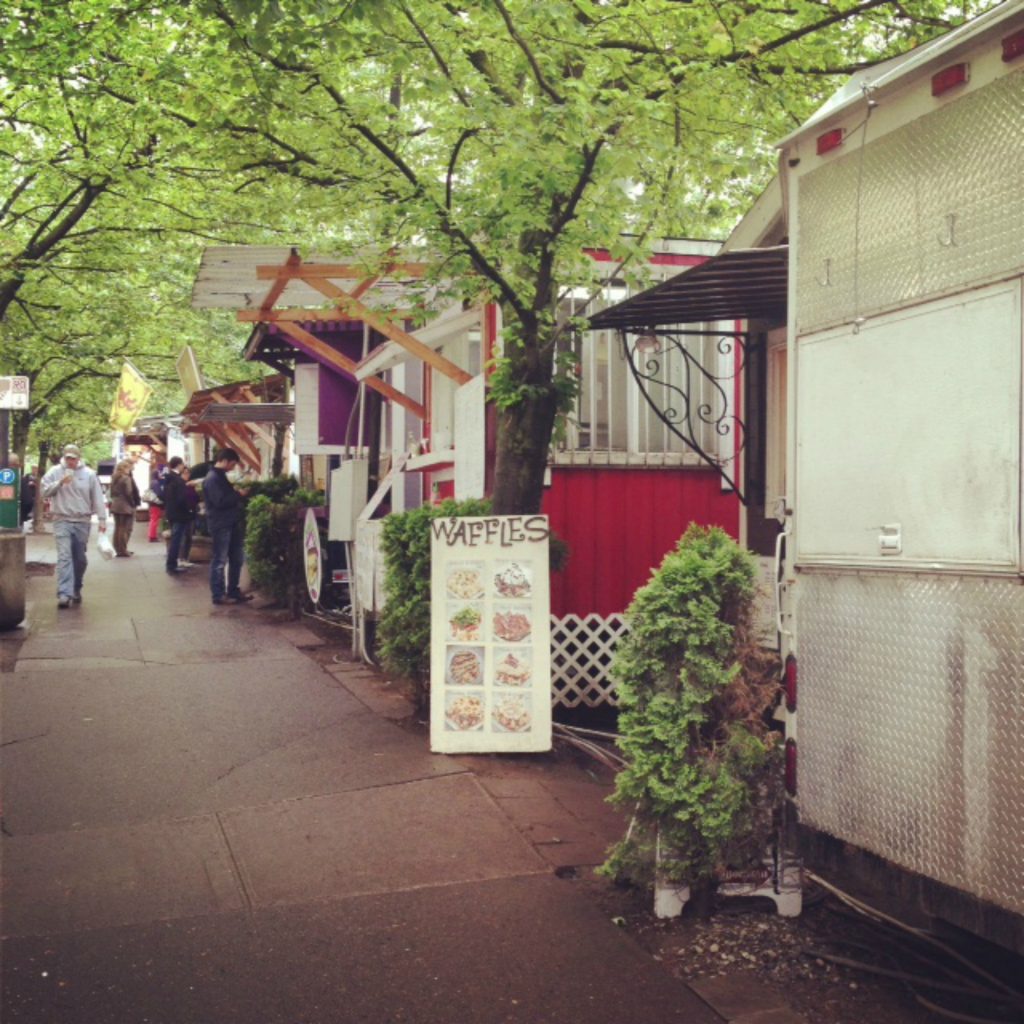 Yam rice! At the last VVC, I did a special diets panel on which I basically swore that potatoes are a food never to be eaten raw. This dish has inspired me otherwise. I'll have to try my hand at yam rice–though I doubt very much I'll be able to make it as delicious as Prasad's was.
Lunch was delicious, but later in the day I started to feel really under the weather. When I went to visit Jasmin's room (we were staying in the same hotel — vegan slumber party!) she urged me to check out ZoomCare, affordable walk-in clinics in the Portland area. There was one right near the hotel, fortunately, and I was able to get an appointment with a FNP right away. She was wonderful, and made a quick diagnosis. A few hours later, having already taken my meds, I was feeling much, much better–well enough to go to the welcome drinks event at the White Owl Social Club!
As soon as I got there, I saw my girl Sayward (whom I last saw in New York). It was so good to catch up, and we may or may not have gotten goofy in the photo booth.
I also saw the ever fabulous Bianca–whose blog I've been reading since long before I was blogging myself. The three of us took a moment to say "Teese!"
I got to meet Melisser, whose book, The Vegan Girls' Guide to Life, I contributed to, and I was reunited with my dearest Lisa and Nicole. Last but not least, I saw Katie, who is not only a friend, but also a contributor to Green Recovery.
After some schmoozing, my friend Ami and I headed off to a solo dinner at Canteen. I missed Canteen on my last trip, and I'm so happy I got to go this time. The menu is awesome, the space is intimate and adorable, and the prices are reasonable. Total winner. It's now a favorite vegan restaurant of mine, and I can't wait to return at some point!
For my meal, I chose the Portland Bowl (quinoa/black beans/baked maple tempeh/NW sauce/kale/carrots/chopped oregon hazelnuts). The "NW sauce" was some sort of insanely tasty noochy concoction. Right up my alley. I also got a side of steamed broccoli, because I was craving warm greens.
Happy girl.
This nourishing bowl of food was totally what I needed after a day of not feeling my best. Ami has always been so generous with me when I visit PDX, and I love our chats about yoga, life, personal evolution, and blogging. It was great to catch up.
I got home and made it to bed early so that I could be in fine shape for Friday. I was presenting one of the first VVC panels: Blog Writing as Writing. In my next VVC recap, I'll go over the panel, highlighting the main points and recounting some of the great questions I received. But since one of my main points of emphasis was on self-editing, I think it's best I bring this already ambling post to a close. Stay tuned for #VVC2013, part two–after I share a new recipe. I'm fighting a big case of the post-conference blues today, but it does feel nice to return to my little kitchen.
xo