Oh man. This was going to be my final VVC post, but…it became epic. Too epic. So the final installment of Portland adventuring will arrive at the end of this week. Next time, I'm going to have to figure out a way to describe the conference without writing #VVC2013: A Novel.
On Saturday, I woke up looking forward to a juice date with the lovely Angela. We hadn't had a chance to hang out since 2010, so we were delighted to catch up. We went to Kure, an incredible juice and smoothie bar in Portland. I made my way there several times during the conference. On the first few trips, I got the "lovely Lisa," which was a hot carrot/green juice with cayenne. A perfect antidote to feeling poorly. By the time Ange and I sat down to eat, I was well on the mend, so I went with a green smoothie (pineapple, banana, green powder, hemp milk) and a side of hemp granola.
Delightful–almost as delightful as the company
Saturday was full of encounters with blog friends. My first event of the day was watching Sayward moderate a panel on privacy lines/oversharing. I thought it was a really interesting exploration of safety and privacy issues. My takeaway was that bloggers need to make conscious choices about how much they share and what the implications of sharing are. And once we set a precedent, we need to be prepared to deal with its consequences.
After the panel, I had a chance to catch up with Carrie, who was smiling brightly and sweetly as always. She caught a cute photo of me, her, and Angela together:
Later that day I saw Dreena, who is without a doubt one of my blog heroes (read my review of Let Them Eat Vegan here). She is so lovely and kind, just as I knew she would be. Here we are (Dreena's pic!).
At lunch, over delicious plates of quinoa and greens and tempeh, I caught up with a group of admirable, inspiring women: my friend Ricki Heller, smart and soulful Heather Nauta, superstar chef Christy Morgan, Dreena, my soul sista JL Fields, and (to my right) the hilarious and talented Tess Masters. I already miss these ladies!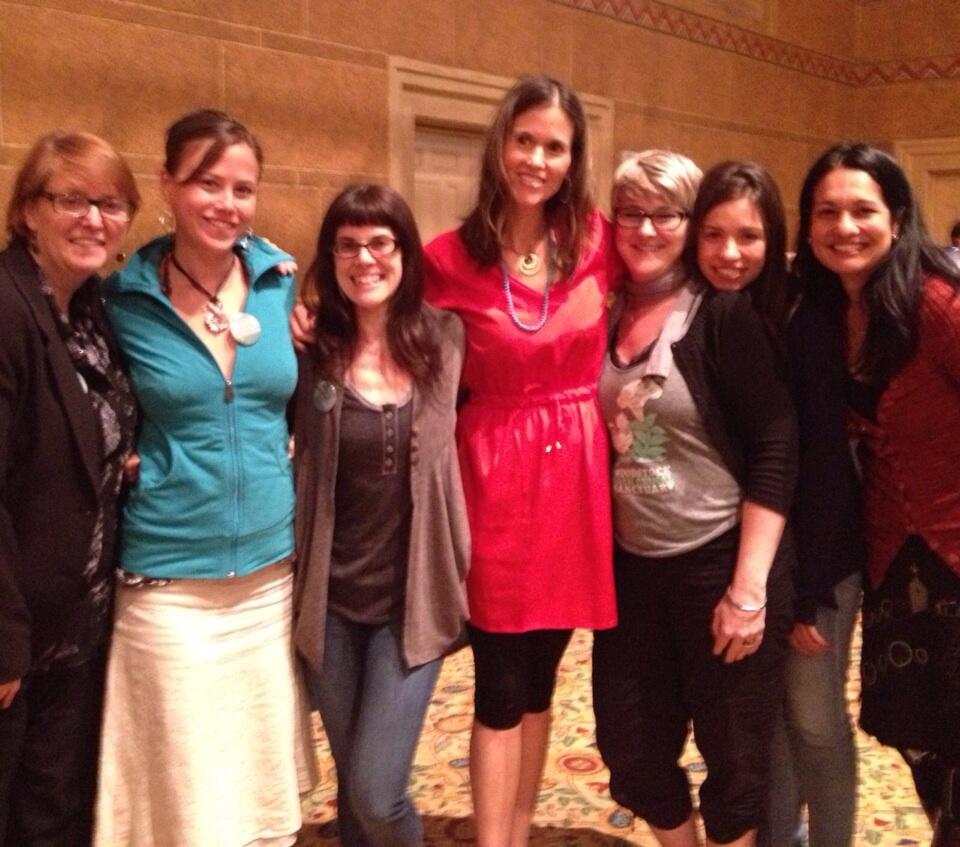 After lunch, I had two back-to-back panels. My first was on blog/life balance and time management. My co-panelists were Jamie Hagen and Kelly Peloza. So nice to get to know these dynamic blogger/writers!
Some takeaway tips from the presentation include:
Set realistic goals, rather than setting goals that will overwhelm you or make you feel badly about yourself.
Don't get too caught up in downloading organizational apps to help you do everything; a lot of these will go unused, and then you'll feel badly about not using them! Pick one or two that are truly helpful, and use them selectively (I just use my iPhone reminders). And I use an academic planner for school stuff–a good old fashioned bound book. Works like a charm.
Connect with others who are in the same boat, through forums, blogging, and the like. Get inspiration and tips from friends.
If you're a PC user, blog in Windows Live Writer. Period. End of story. It's a lifesaver.
Treat blogging like a professional commitment or an appointment; mark out time for it in our calendar, so that it doesn't seep into your whole day. When you don't create boundaries, it's easy to get overwhelmed. I put blogging, preparing food, and photography into my calendar, along with academic deadlines and schoolwork. Everything gets scheduled–including free time! Which brings me to our next point:
Do things for pleasure. If you say no to everything fun, you'll go nuts. If scheduling breaks and social time (anything as minor as ten minutes of deep breathing or as significant as a night out) helps you do it, then schedule them! But don't forget to nurture your non-work/blog life.
My next panel was on sensitivity and trigger words. Boy, was this one interesting! My copanelists were Gabrielle Pope and Chelsea Lincoln. I met Gabrielle when she was working with VegNews, and I've admired Chelsea's work since the last VVC. We had immediately decided that we were interested in talking about eating disorders and the triggers/sensitivities they create, body image, and fat shaming within the vegan community (which I tend to think is on the rise lately). We also wanted to talk about privilege, class, race, gender, and a slew of other topics, so we knew going into the panel that we'd have more ideas and discussion than time.
I think the panel was very thought-provoking. It stands to reason that it wasn't always comfortable; talking about triggers and sensitivity can, of course, be triggering! But so many good points emerged. I'll try to sum up both questions and comments:
Questions:
How do we draw the line between being sensitive to others and stifling our own creative voice? How can we choose words carefully while also sounding like ourselves?
What particular sensitivities/triggers have we each become aware of from blogging?
How can we discuss fitness goals while also being respectful of body image triggers? Can we write about personal health goals without making others feel poorly about themselves?
Here were some of the takeaway points:
Language should be chosen carefully. Be aware that not all readers have the same perspective as you–socio-economic, gender, sexuality, shape, health, race, etc.–so don't use words that imply broad generalizations.
If you want to write about fitness or your body, try to focus on how reaching goals makes you feel, rather than numbers or measurements. If you do want to talk about measurements or numbers as a part of your weight loss or fitness journey (which is totally understandable) it may be wise to offer readers a disclaimer ("warning: I'm about to talk numbers. If you find this triggering for any reason, skip the next graf"–or something like that!).
Words that feel totally innocuous to you might not come across that way to others. Jason Das noted that "lame" is an ablist term. I must say, I use the word all the time. It was interesting to hear it framed this way.
Health enthusiasm within the vegan community can often take the form of fat shaming. You guys know my thoughts on this one, but it bears repeating. It's a wonderful thing to celebrate the health possibilities of a vegan diet, but we shouldn't identify health with any one particular size or shape.
It was an emotional 45 minutes, but I emerged more conscious, and consciousness is always a good thing. In my years as a blogger, I've uttered just about every foolish or insensitive thing I possibly might have. I've said things that (I'm sure) reflected all sorts of bias and privilege. And I've certainly said a lot of things about health and food, especially in my early blogging days, that I wish I could take back (more on this on my personal evolution and blogging responsibility post). I cringe when I think about this, but I also realize that the best any of us can do (whether we write blogs or not) is to learn, learn, and learn some more from our mistakes. Panels like this are important to me, not only because I think that open dialog around these issues matters, but also because they encourage me to always think harder and do better in my writing.
After that, my long day was done! I left the conference and went back to my hotel room to change for dinner with my gorgeous galarama date, Sayward!
Sayward and I met at Prasad for a long chat about life, love, blogging, and all the rest. In the short time since we met "IRL" in New York (we've read each other's blogs forever), Sayward and I have become really close friends. Her intelligence, humor, and capacity for self-reflection always really impress me.
For dinner, I ordered the Dragon Bowl (quinoa, beans, sea vegetables, avocado, steamed greens, sesame seeds, scallions & red cabbage) and ate it with lemon ginger sauce. It was delicious.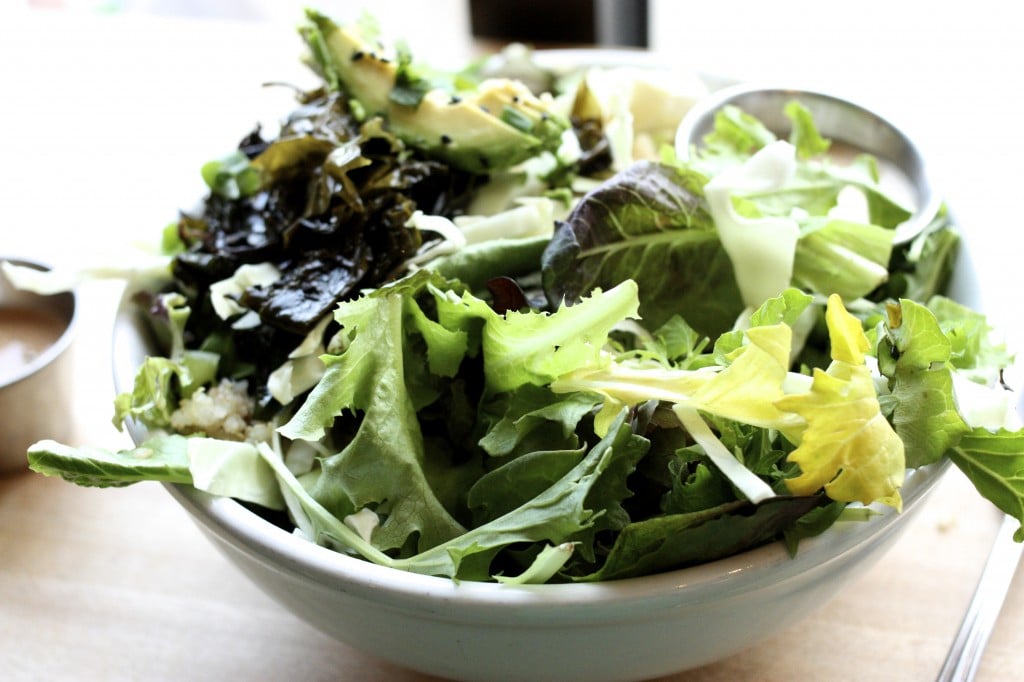 And with that, it was off to the galarama we went! What fun: desserts, dresses, a silent auction, and more quality time with Christy and Dreena:
Jared and Ange: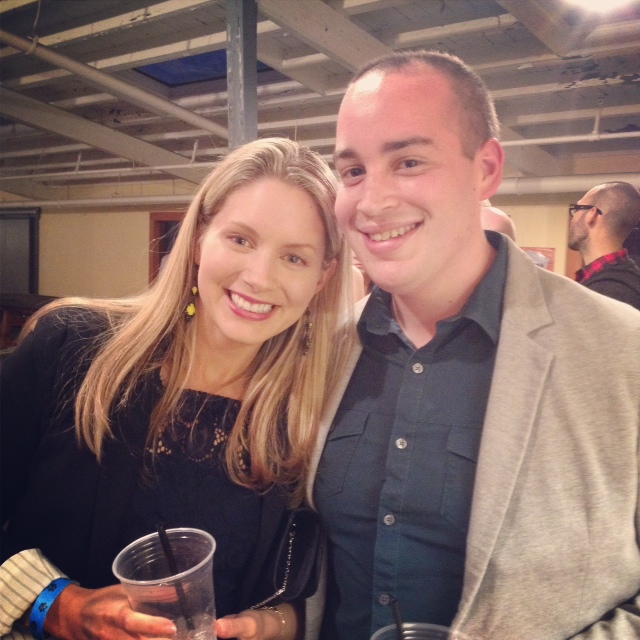 Lovely and eloquent Amber:
New besties Kristy and Chris, as well as Cadry (whom I was so psyched to meet!) and her husband, and the peerless JL:
So. Fun. And JL and I may or may not have hit the dance floor when "These Boots Were Made For Walking" came on.
And that was the end of VVC Saturday. One more day–and one more post–to come soon. But right now, I'd love to hear your thoughts on the panels and the topics covered. You know how I value your feedback!
xo