I'll admit it: I'm not good with titles. I spent four years of college studying English, and another six editing books, and I never managed to acquire a knack for naming. When my authors used to consult me about potential book titles, a lump formed in my throat: heck if I knew. Coming up with clever titles—for books, essays, or even emails—is an art, and I'm not that kind of artist.
Thankfully, M happens to be the more creative in our partnership. And so on Saturday, while we were pondering a name for the incredible and nutritious new soup I'd made, he suggested the gently amusing "wall of green." It couldn't have been more apt, because this soup, which contains green split peas and no less than five heaping cups of green leafy vegetables, brings a new level of texture, taste, and harmony to your standard blended green food. It's delicious, and if you gave me a choice of this soup, a green smoothie, a green juice, or even my standard blended salad, this would win in an instant.
Appropriately, the idea for this soup was also M's. Thanks to my weekly grocery run and his grocery box, we had about five pounds of bok choy, lettuce, kale, and spinach in my fridge. I knew it would be tough to finish them before the weekend ended, and so did he, which is why blending the greens seemed so smart.
At first, I wasn't sure how I'd pull off a soup that was delicious, but also incorporated so many leafy greens. After a little brainstorming and some inspiration in the form of this recipe from my friend Susan, I came up with the following. Using my pressure cooker made it super quick and easy, but you could absolutely cook it the regular way, too; I'll give you both instructions below. In the end, you should have a thick, creamy, piping hot pot of soup that'll help you to max out on your leafy green intake for the day without even the slightest of grimaces.
"Wall of Green" Soup (Vegan, Soy Free, Gluten Free)
Serves 3 for a meal or 4 for a small appetizer
2 small white potatoes, skinned and quartered
3 shallots, chopped
3 carrots, roughly chopped
2 stalks celery, roughly chopped
1/2 cup green split peas, rinsed
5 cups vegetable broth
5 cups of washed and chopped green leafy vegetables (eyeball it; you can add a little more or a little less)
1 cup white button mushrooms, chopped
2 tsps oregano
1 tsp thyme
Handful fresh parsley, chopped
1 tbsp almond, coconut, or cashew butter (I used coconut butter)
1/2 cup almond milk
1 tbsp lemon juice
1/4 cup nutritional yeast
Salt and pepper to taste
1) Place the potatoes, shallots, carrots, celery, split peas, and broth in a pressure cooker and bring to pressure. Cook on high pressure for 8-10 minutes; then release pressure (manually or by letting the pressure come down on its own).
Alternately, bring the ingredients to a boil and then simmer for about 35-45 minutes, or until split peas are very tender.
2) Blend all ingredients with an immersion blender or pour it into a regular blender and do it that way, till it's well pureed.
3) Add greens and mushrooms to the blended soup, cover, and bring to a gentle simmer. Let it simmer for 25 minutes or so.
4) Add the parsley, lemon, nut or coconut butter, almond milk, and nutritional yeast. Using an immersion blender or a regular blender, blend the soup a second time.
5) Warm the soup over a gentle flame once more, and season to taste with salt and black pepper.
Note that you can use any combo of greens in this soup. I used bok choy, spinach, and kale, but broccoli, chard, and even zucchini would be great, too.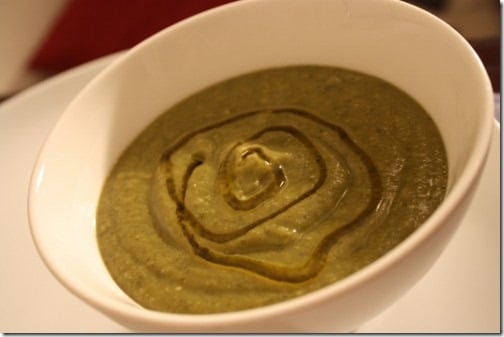 As you can see, I served ours with a nice drizzle of flax oil. On the side we had sprouted grain buns and a lovely salad of lettuce, warm russet potatoes, button mushrooms, olive oil, lemon, a touch of agave, salt, and pepper. It was a hearty and tasty and healthy dinner.
Over dinner, the topic turned momentarily to protein, and how easy it is for vegans to adequately meet their protein needs. I realized that this dinner was in fact a perfect example of that fact: split between three, it delivers almost 20 (yes, 20!) grams of protein (split peas, nutritional yeast, potatoes, and leafy greens go a LONG way). Split between four people, it delivers about 14.75 grams.
And of course, this is to say nothing of how incredibly nutrient dense the soup is otherwise: it's bursting with vitamins A and K, folate, magnesium, iron, a full spectrum of B vitamins (including B-12), and healthy fats. It's one of the most nourishing meals I can think of, and for that reason I think it's destined to become a student favorite of mine. Now more than ever, I need optimal plant fuel that demands little time and work; this soup, which is easy to transport and makes great leftovers, fits the bill perfectly.
And if I had to be honest, I'd say it's a little more palatable than blended salad.
What's your favorite nutrient dense meal? What does it provide, and why do you love it?
Happy Monday!
xo