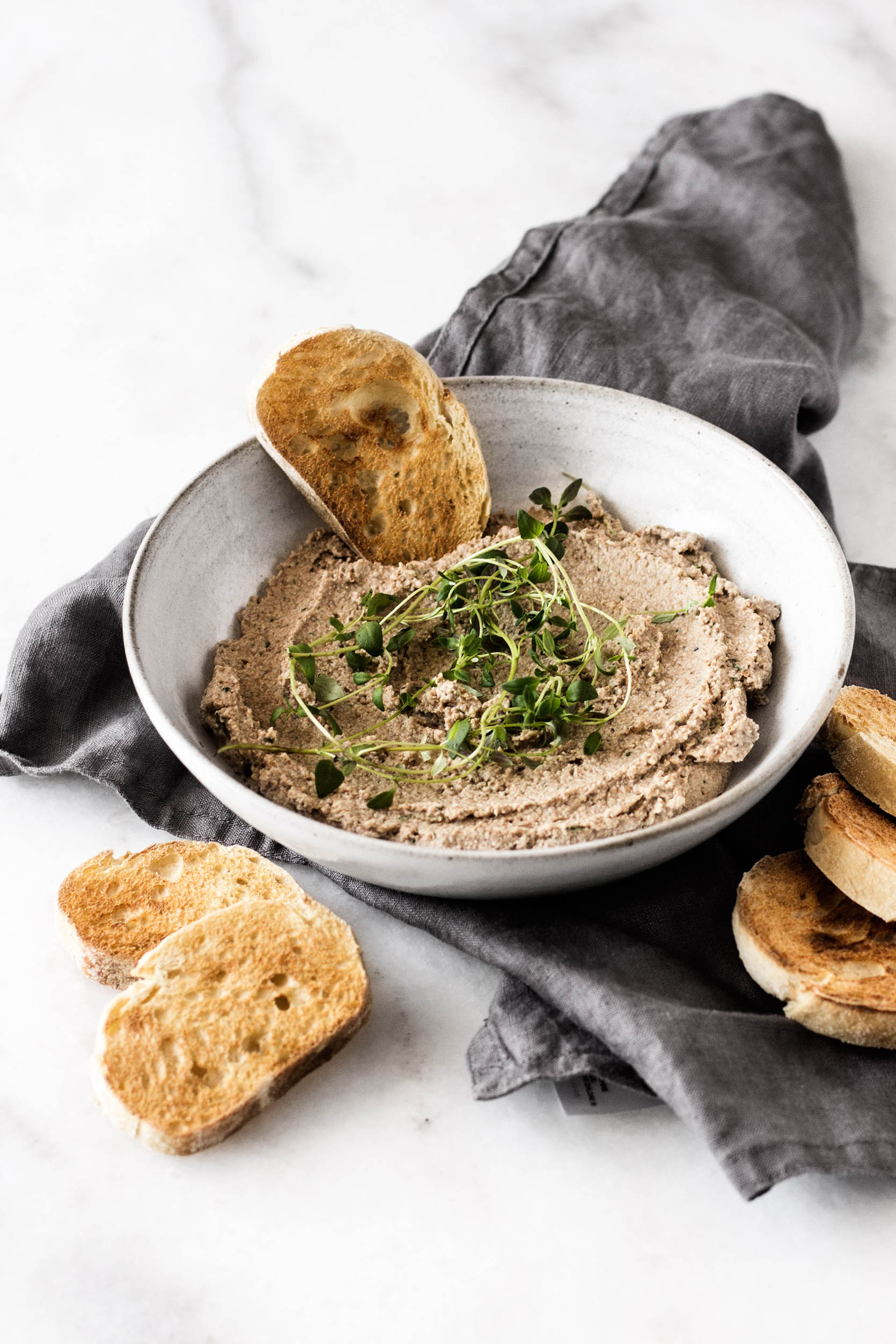 Savory dips and spreads are one of my favorite snacks, but like a lot of us, I tend to fall into the trap of reaching for hummus again, and again, and again. That's why I'm so glad to be sharing this vegan walnut lentil pate. It's creamy, savory, and packed with umami.
The pate was inspired by a signature appetizer at Angelica Kitchen, an iconic vegan restaurant in New York City that is (sadly) closed. Angelica was memorable for many reasons—the wholesome, simple bowls, the giant bowls of noodle soup, the macrobiotic-inspired desserts, always served with a dollop of tofu whip. But when I sat down to eat there, I was always excited to dig into the many dips on the menu. The walnut lentil pate, served with endive leaves and crudités, was my favorite, and I near always placed an order for it.
How to Make Walnut Lentil Pate
Making walnut lentil pate is similar to making hummus or another bean dip. A food processor does the heavy lifting, breaking down the cooked lentils and walnuts and whipping them into a creamy, spreadable dip. A high-speed blender (like a Vitamix) will also work for the recipe, though I find that a food processor allows you to combine the ingredients without having to add a lot of liquid or get frantic with a tamp attachment.
I cook lentils before making the dip, and those instructions are included in the recipe. But you can certainly use a 14.5-ounce can of lentils instead, which is about 1 1/2 cups cooked.
Walnut Lentil Pate Ingredients
I've used both toasted and raw walnuts in the recipe. Toasting the walnuts adds a little extra depth of flavor, but it's definitely not necessary. As for the lentils, any type of lentil is really OK here. I usually use green, brown, or pardina lentils, but I've used both beluga and red lentils in a pinch. The texture and flavor is the same!
I keep the seasonings relatively simple here: miso for umami and depth, garlic, lemon and cider vinegar for brightness and acid. Thyme is my favorite herb, but you could certainly add chives, parsley, or another herb that you love.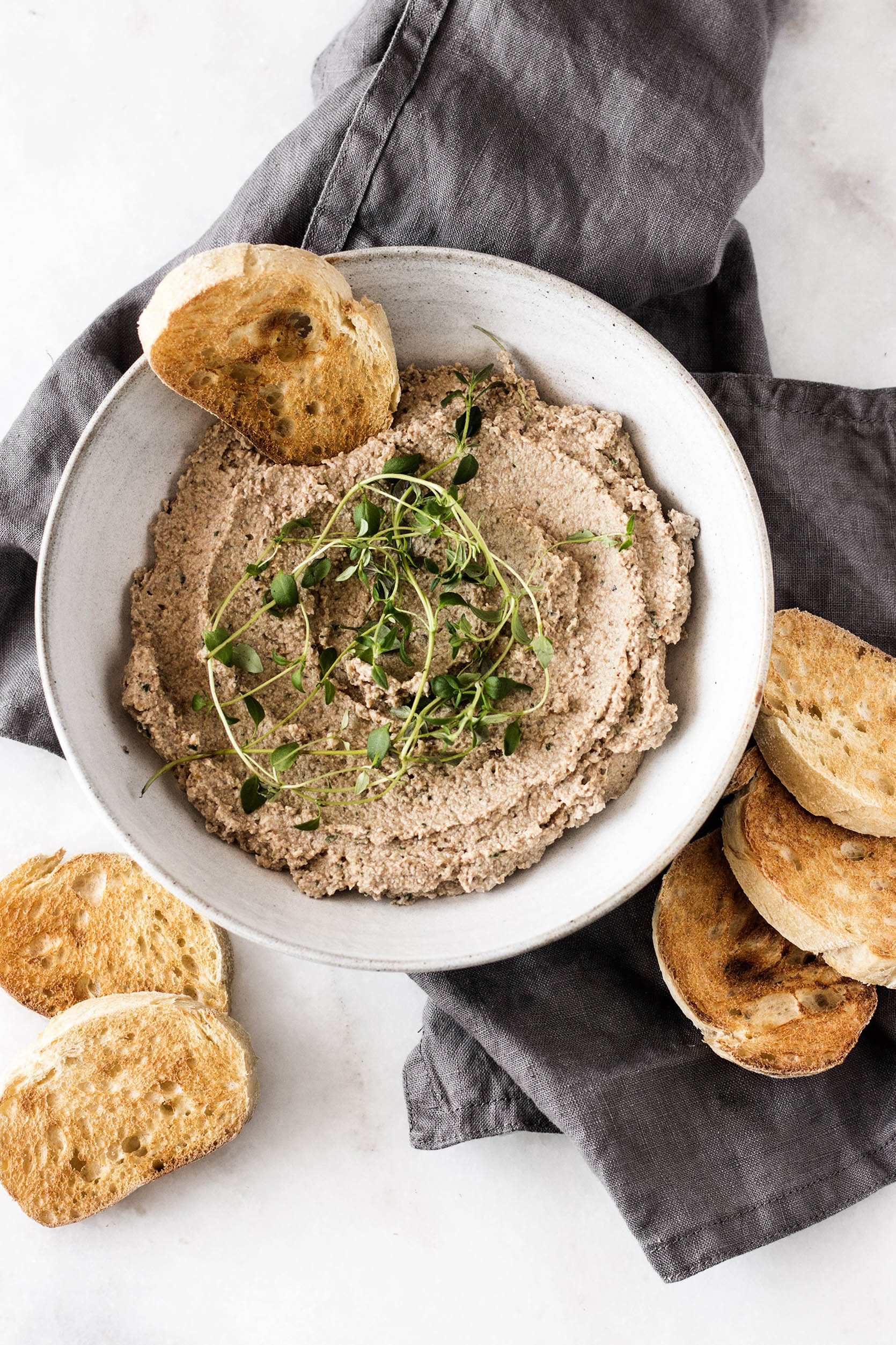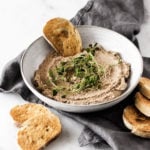 Walnut Lentil Pate
Author -
3/4

cup

dry brown or green lentils (or 1 14.5-ounce can lentils, drained)

3/4

cup

raw walnuts

2

teaspoons

olive oil (substitute 2 tablespoons vegetable broth)

2

shallots, chopped

2

cloves garlic, chopped

2

teaspoons

fresh thyme leaves (or 1 teaspoon dried thyme or rosemary)

1

tablespoon

apple cider vinegar

2

teaspoons

freshly squeezed lemon juice

1/2

teaspoon

salt

1

tablespoon

white miso (optional, but if you omit, add an extra 1/4 teaspoon salt)

1/4

teaspoon

Freshly ground black pepper
Place the lentils in a medium sized sauce pan. Fill the pan with enough water to submerge the lentils by a few inches. Bring the water to a boil and reduce to a simmer. Simmer for 20-25, or until the lentils are tender but not watery or mushy (I always do a first check at the 18-minute mark). Drain the lentils and set them aside.

While the lentils cook, heat a medium sized sauté pan over low heat. Add the walnuts. Toast the walnuts for about 5 minutes, stirring constantly, or until they're lightly browned and smell nutty. Remove the walnuts from heat and set aside.

Return the pan to the stovetop and increase the heat to medium. Add the olive oil and shallots. Cook the shallots for 2 minutes, stirring constantly, and then add the garlic. Cook the garlic and shallots for another 3 minutes, or until everything is soft and fragrant. Add the lentils and combine ingredients well. Remove the pan from heat.

When the lentils are cooked and drained, add the toasted walnuts to your food processor, along with the salt. Process until the walnuts form a fine meal. Add the lentil mixture and all other ingredients, along with 1/3-1/2 cup water (as much as you need to get a thick, yet smooth and spreadable consistency, similar to hummus). Process the pate till smooth, stopping occasionally to scrape the bowl down. Serve the pate with toast, crackers, or vegetable crudités.
Leftover dip will keep in an airtight container in the fridge for up to 5 days.
Serving Walnut Lentil Pate
Angelica tops its pate with a wonderful, dill-infused tofu sour cream, which I didn't make myself when I was making this recipe. But you could definitely serve it with a dollop of cashew cream, tofu cream cheese, or even a drizzle of herbaceous tahini dressing. Toast, crackers, and raw veggies are all a good accompaniment.
And of course, the pate can be enjoyed in more ways than dipping! It's great in sandwiches, and it can even be a savory scoop addition to a grain bowl. One of the nicest things about the pate is the fact that it's rich in plant protein and healthful fats, so it's a good way to enrich any meal.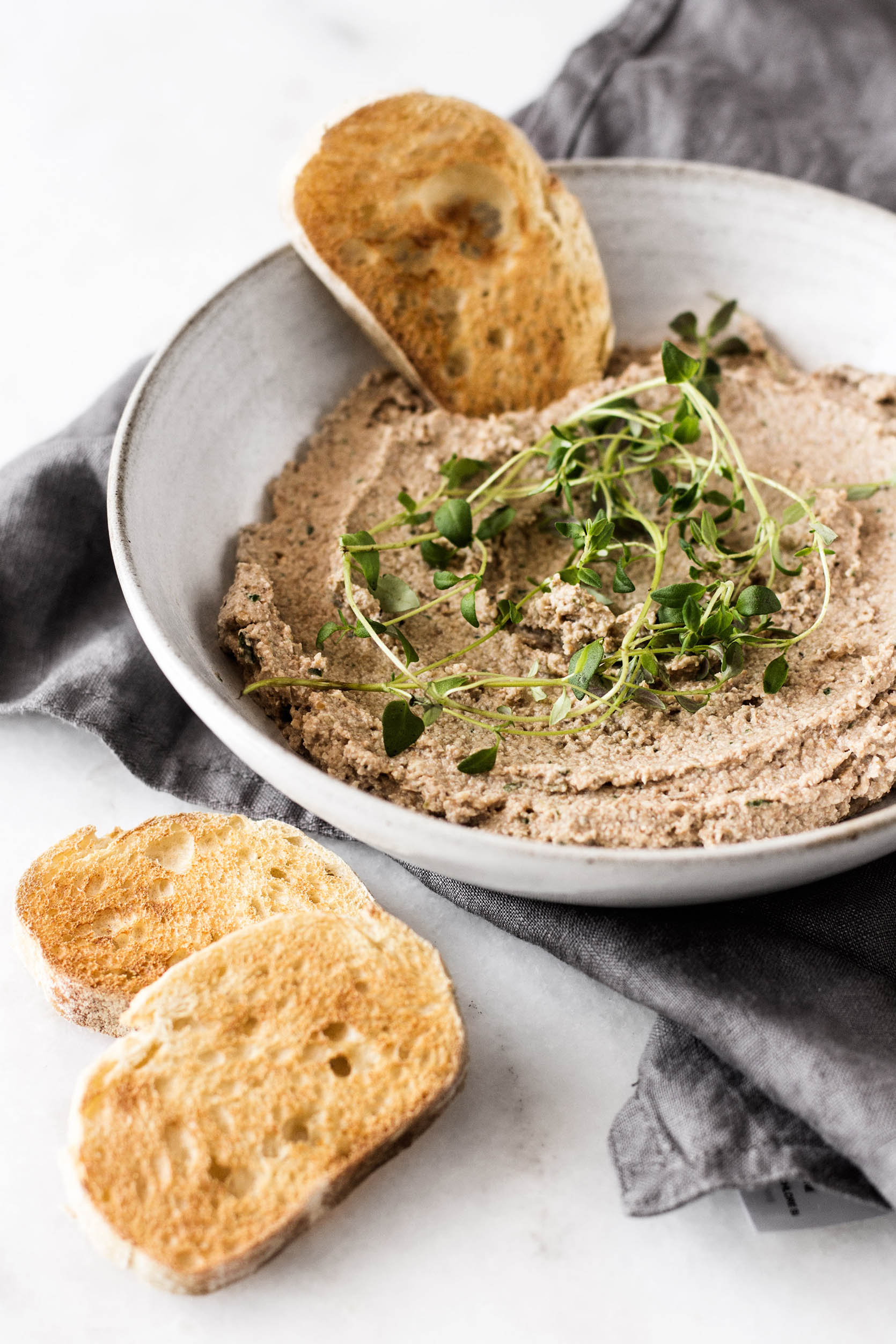 This is one of my favorite dips so far, and I hope you all get a chance to enjoy it soon!
xo