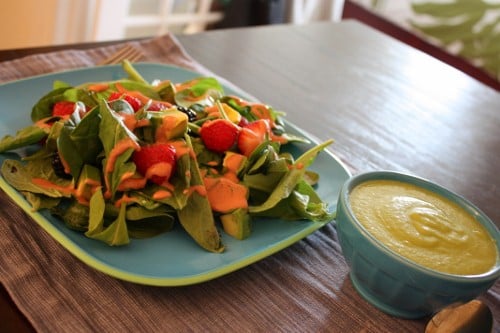 The winner of the Hippocrates video giveaway can wait no longer. Jenny, it's you. Email me your address ([email protected]) to get your gift!
Fair warning: I may not do another giveaway for a while. I'm traumatized by my own negligence.
A few days ago, a friend and I had a comically animated (OK, most of the animation was coming from me) conversation about Fuji apples. They are, we concluded, the best apples in the world. There are other great varieties (Macoun, Jonagold, Granny Smith) as well as some not so great ones (the offensively mealy Red Delicious), but Fujis have the perfect combination of sweetness and crispness.
It's been a while since I made a raw soup. Over the weekend, I happened to spot my first Fujis of the season at my Sunday farmer's market. They weren't quite as giant and perfect as I know they will be in a few months, but they were there, and I was elated. Since I hadn't made a raw soup in quite some time, I decided to put them to good use in a new soup concoction: Fuji apple and spinach soup. Sounds a little weird, I know, but it was refreshing and totally delicious. I think this one will be a mainstay between now and the end of summer! Here's the recipe: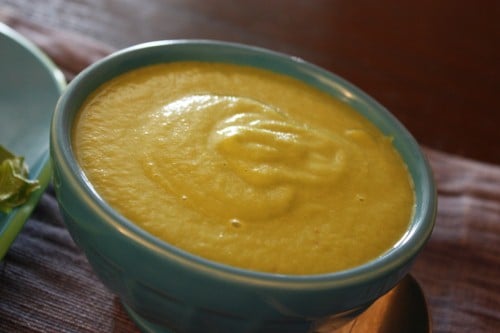 Fuji Apple and Spinach Soup (serves 3)

1 Fuji apple, peeled, cored, and diced
1/2 large avocado
2 stalks celery
1 cup raw spinach
1 1/2 cups coconut water (I used fresh, but packaged is fine)
1 tbsp lemon juice
1 tbsp nama shoyu or tamari
2 tsps flax oil
Blend all ingredients but the oil on high till well mixed. Add flax oil in a thin drizzle to emulsify the soup. Serve immediately, garnished with mint sprigs if you like.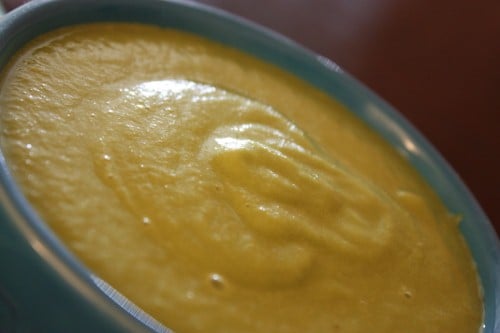 I wanted something equally summery to go with my soup, so I decided to make a berry dressing, which a couple of readers have requested. I've never really liked raspberry or strawberry salad dressings, which is why it's taken me some time to comply, but it was hard to say no with a fridge full of strawberries that were destined to get mushy if I didn't use them soon. I decided to throw together a spinach, berry, and avocado salad and top it all off with a creamy strawberry dressing. I loved the results!
Strawberry Blush Vinaigrette (yields 1 1/2 cups)
2 cups strawberries, tops removed
1/4 cup orange or apple juice
1/4 cup olive oil
2 tbsp apple cider vinegar
1 tbsp balsamic vinegar
1/2 tsp sea salt
Blend all ingredients in a blender till the dressing is smooth. Serve over any salad, but in particular over the summer berry salad, below.
Summer Berry Salad (serves 1, but can be easily doubled)
1 cup baby spinach
1 cup baby arugula
1/4 cup each strawberries (sliced), raspberries, and blackberries
1/4 avocado, chopped
Toss all ingredients with a few tablespoons of the blush vinaigrette and serve.
Together, the soup and salad were a perfectly light and refreshing lunch!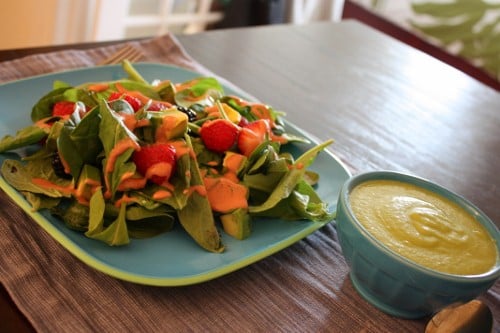 I rounded the meal out with some leftover black beans I had (leftover from making Susan's black bean and corn salad!) mashed onto some sprouted toast.
There you have it, guys. Sunday lunch. I love using ingredients that are summery (berries) and autumnal (apples) all at once!
I'm trying to think of a terrific question to end with, and I can only think of this: what's your favorite apple? It's hardly the stuff of philosophical debates, but we're all foodies here. If the topic of Fujis can put me on the edge of my seat, it's probably worth asking.
xo