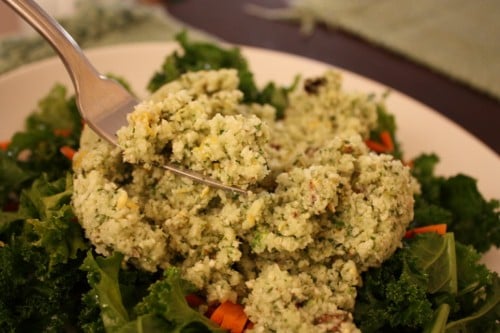 What's your favorite meal? One of my favorite poets counted lunch as his. He even devoted a collection of poems to it. Sadly, too many of us spend our lunches rushed, distracted, or chained to our desks, caught up in the wear and tear of the workday.
In my many years of blog reading, one particular food chronicle has always impressed and inspired me. It's Cafe VegNews, which is a weekly journal of the incredible lunches prepared and eaten by the Vegnews Magazine staff. Let me put it this way: these meals make the food in the oh-so-famous Conde Nast dining room look–at least to me–like gruel. And they have on more than one occasion made me think to myself: "Hmmm. It wouldn't be SO bad to live on the West Coast, now would it?"
I've always done my best to photograph some of my office lunches for you guys, and you know by now what they usually look like: nutrient dense salads, collard wraps, leftovers. Don't forget, too, that I typically have at least one or two business lunches each week. But it's my weekend lunches that I most enjoy, because I get to prepare new dishes that I'm excited about, and because I get to eat them in a leisurely and photogenic home environment. In fact, I'll often pick out special recipes for weekend lunches well in advance.
As a little nod to my friends at VegNews, I'm going to start sharing my weekend lunches with you all (at least the ones I eat at home). Some will be scrumptious, and others will be ho-hum, but they'll all be eaten with appreciation for the fine tradition of midday dining — that brief moment when we stop what we're doing and appreciate the tastes and textures of good food and good fuel. I hope Frank and the VegNews staff would be proud.
Today, it was a spin on a raw favorite: cauliflower "rice." Cauliflower rice is, like nut pates or zucchini pasta, open to endless variation. You've seen my Middle Eastern version; this is a lighter, brighter, more summery spin on the dish.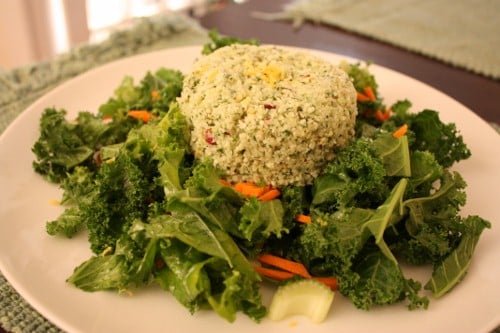 Cauliflower Pistachio Mint Rice (serves 1)
5 oz cauliflower
1/2 oz pistachios
1/8 cup (packed) EACH basil and mint
1 tsp lemon zest
2 tsp lemon juice
1 tbsp raisins
Break the cauliflower into smallish pieces and toss into the bowl of a food processor fitted with the S blade. Pulse till the cauliflower is broken into rice-sized pieces. Add pistachios and pulse a few more times; add all the remaining ingredients and pulse a few times more, till the mix is even and well combined.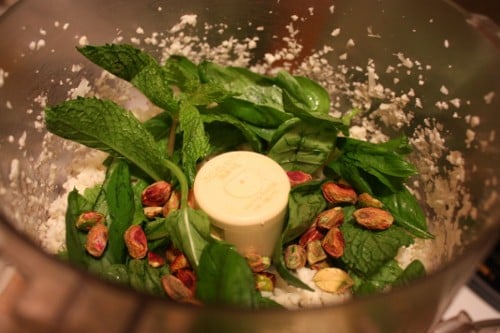 Serve over a salad or with steamed vegetables, and garnish with lemon zest (why does lemon zest make everything so much better?).
Atop the customary greens, this was lunch fit for a queen: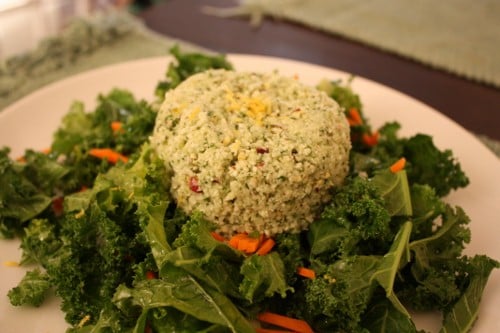 Or just a Gena: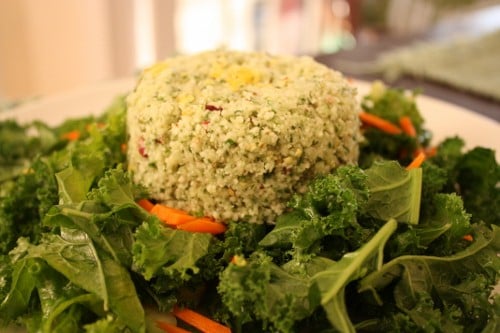 …and a trip to see Toy Story 3 with a friend made for a pretty good dessert.
Are you guys fans of lunch? What's on your midday menus this weekend?
xo