As the Golden Globes light up TV screens tonight, let's go ahead and give the award for "worst vegan food blogger" to me. I'm sorry, friends. I know I've been MIA, and that it's been a while since I shared a worthy recipe. This was one of those weeks in which life just got in the way of blogging. Rest assured that there is so much I want to do with and for this blog in 2014, and do it I shall. I'm trying to find ways to enjoy my gap year–which means more time away from the computer, immersed in work and in life–while also giving Choosing Raw everything I can. It's a balance, and I'll find it.
In the meantime, how about some weekend reading?
A bright, flavorful, and colorful dish for these chilly days: Kari's raw zucchini noodles with a spicy peanut sauce.
If you're craving something denser, Erin's shitake risotto is gorgeous.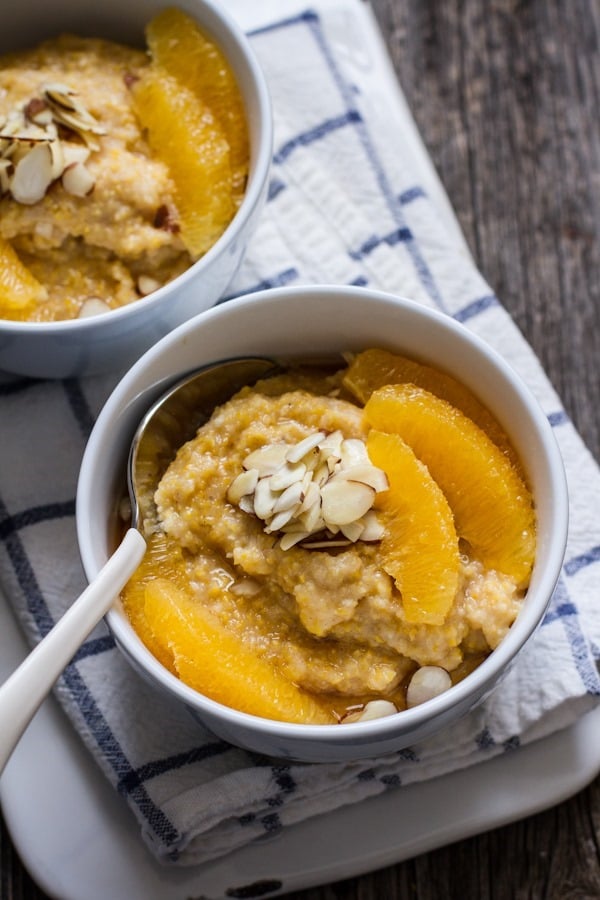 Stuck in a breakfast rut? I suggest you gaze at Ashley's beautiful orange maple polenta porridge.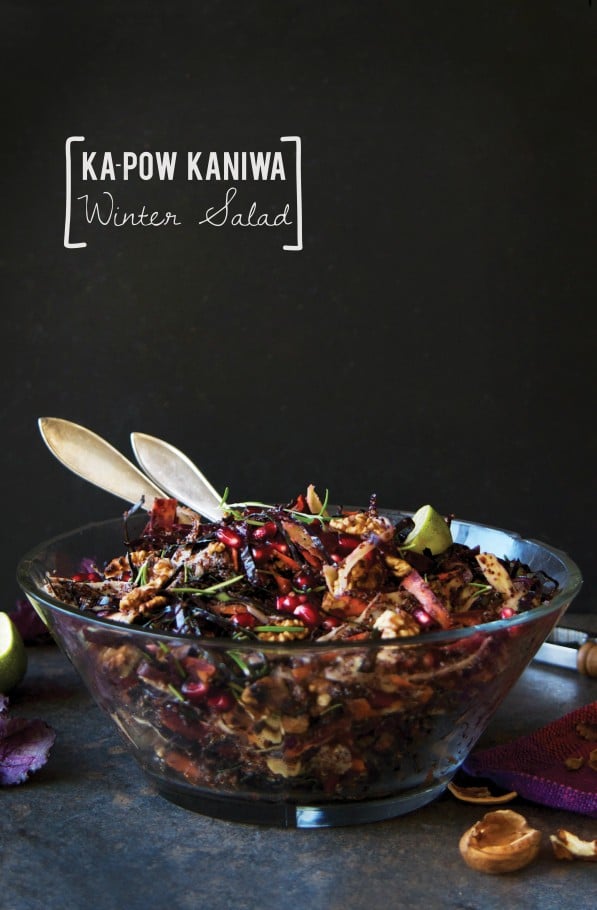 The lovely Elenore has created a perfect winter salad–featuring Kaniwa, an ancient grain that sounds a bit like (and looks a lot like) quinoa.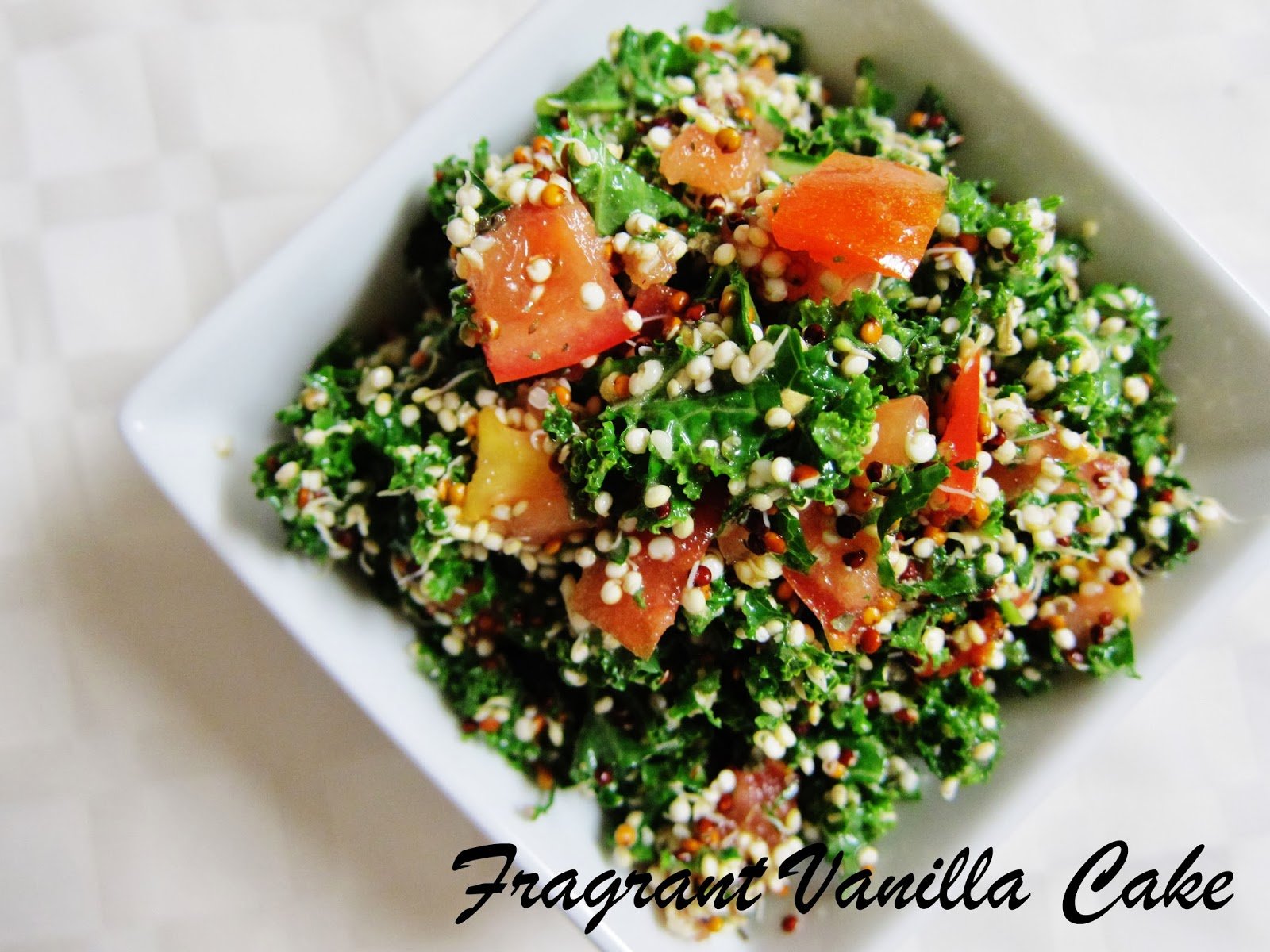 And since we're on the topic of salads, I must direct you to Amy's scrumptious raw kale-bouli.
Reads
1. I sometimes joke with friends that, when I'm one day looking back at my life, I'll have endless photographs of what I ate, and almost no photos of what I did, or who I was with, or what I wore. I'm incredibly camera shy (blogging has helped me to get over it), and I rarely think to take photos when I travel, go out, or hang out. An ex boyfriend teases me that I don't have a single photo of us together, and guess what? He's totally right.
Anyway, I sometimes ponder the strangeness of documenting my meals, and I wonder whether all the photos I've shared on this blog will evoke memories of what I was up to and where I was in life when I sat down to eat. I hope so. As an avowed food lover, I want to remember my meals–their tastes and textures. How they made me feel. But I'd also like to remember who I was with, what I was thinking, what I'd gone out and done that day.
I got to thinking about all this when I read Rose Lichter-Marck's essay and interview on the way that photography affects the brain.
2. Fascinating look at how a physician's approach–including demeanor, language, and interactions with parents–can impact a patient's experience, and even have a palliative effect.
3. Mary MacVean makes a list of 21 new year's resolutions that are totally realistic, and along the way she reminds us to be patient and compassionate with ourselves. I like it.

4. Discover Magazine covers an interesting experiment in which more than 700 subjects were asked to report on where certain emotions (pain, happiness, pride, disgust) seemed to manifest in the body:
More than 700 participants in Finland, Sweden and Taiwan participated in experiments aimed at mapping their bodily sensations in connection with specific emotions. Participants viewed emotion-laden words, videos, facial expressions and stories. They then self-reported areas of their bodies that felt different than before they'd viewed the material. By coloring in two computer-generated silhouettes — one to note areas of increased bodily sensation and the second to mark areas of decreased sensation — participants were able to provide researchers with a broad base of data showing both positive and negative bodily responses to different emotions.
You can see some of the findings in the image above. An interesting contribution to our understanding of how emotions and physical sensation interact.
5. Psychology Today has published Rachel Clark's passionate response to the upwelling of outrage and concern that has emerged since the release of Blackfish (which, if you haven't seen it yet, is well worth your time). She writes,
Because what's happening here has far more to do with fact than opinions, and what SeaWorld fails to see is that the opinions of the American public are changing fast because they are getting the facts: facts that become intolerable against the love and reverence so many people have for the majestic beings that are arguably more highly evolved than humans, have far tighter family bonds, forage for wild food over dozens or hundreds of miles, and who are regularly and systemically brutalized by captivity no matter how "healthy" or "educational" SeaWorld paints their "sea" worlds of concrete.

David Kirby recently considered whether SeaWorld succeeds at its professed mission to educate people about killer whales, and had this to say:

"I went to SeaWorld several times to research my book, and attended both the "Believe" and "One Ocean" Shamu shows, where I heard virtually nothing that would educate people about killer whales in the wild, how long they live, their social bonds, their hunting patterns, and ways to conserve their threatened natural habitats.

Instead, I "learned" that whales like blaring music, roaring crowds, back-flips and French kissing. When I left, instead of hearing people talk about saving wild whales, they were talking about the 'Shamu whales.' That's bad education, which is worse than no education at all."
And that, my friends, wraps things up. I look forward to getting back into the swing of things this week. Thank you all for bearing with me.
xo