Happy Sunday, all! So glad you enjoyed the little sneak peek into Steven's and my home cooking routine (if you missed it, my boyfriend shared a roundup of his 10 favorite vegan recipes). I'm in Chicago, waiting to fly back to NYC before a blizzard hits. Here are the recipes and reads that are keeping me company.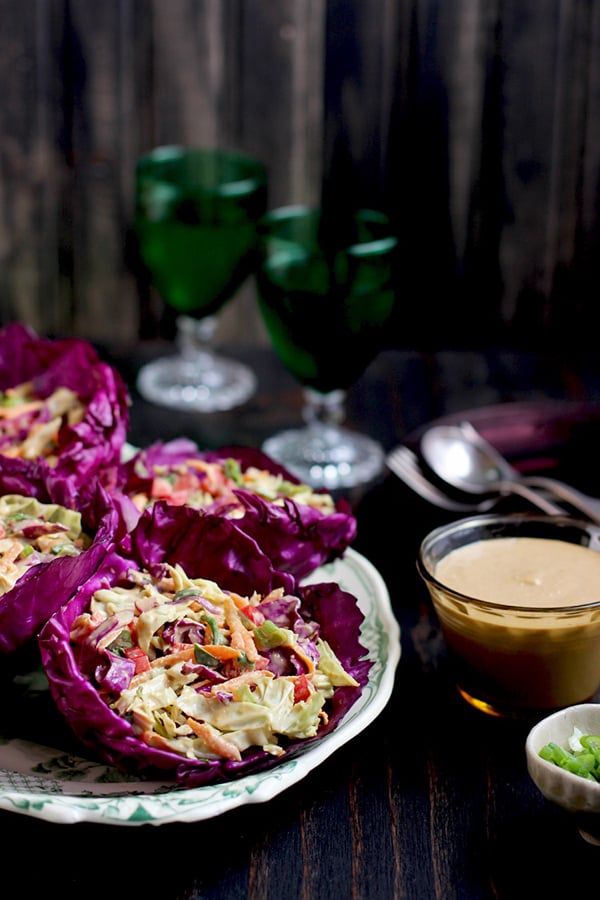 I'm loving this simple, yet brightly colorful Asian style peanut slaw, and the lovely cabbage cup presentation!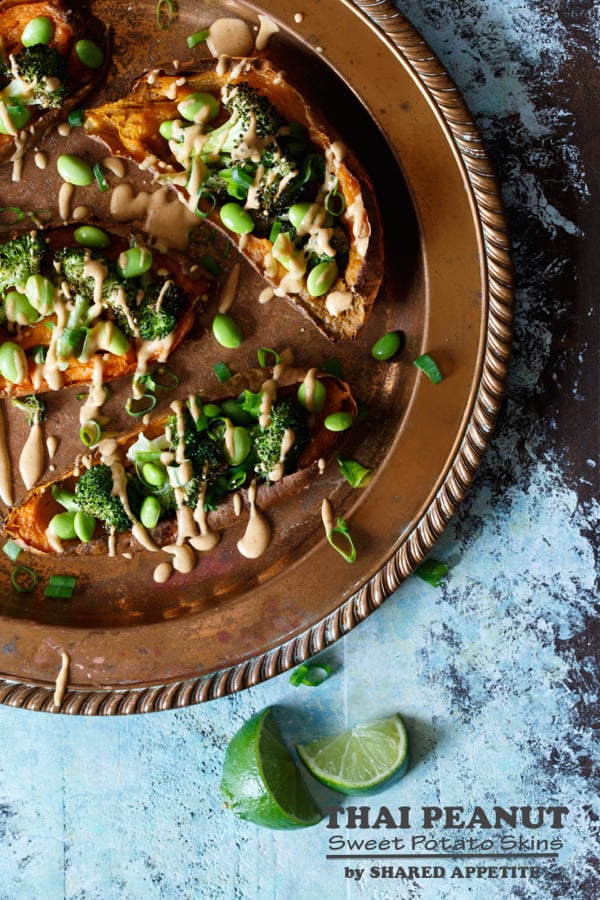 Speaking of peanuts, these Thai peanut sweet potato skins are making me drool. So good!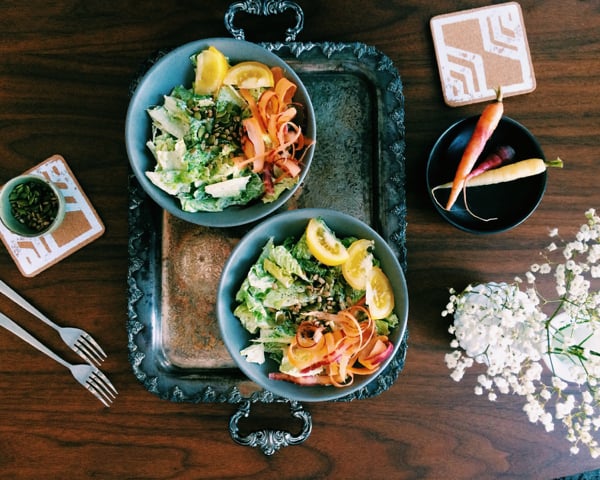 There are a ton of recipes for vegan caesar salad out there, but this one–with its bright colors and simple instructions–really caught my eye.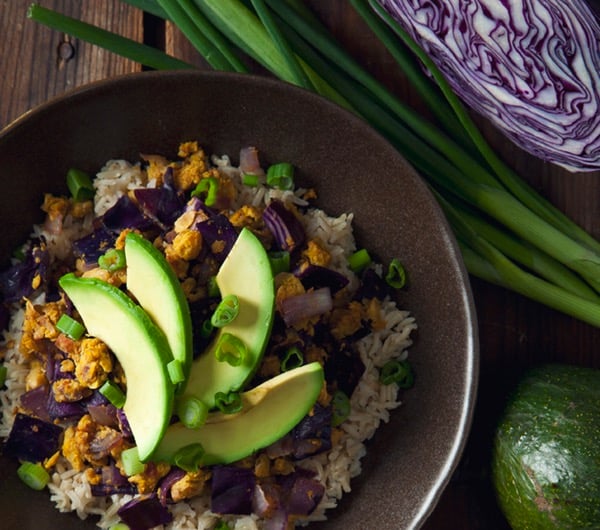 A perfect winter concoction from my friend Amanda: chickpea scramble red cabbage brown rice bowls. Perfect comfort food.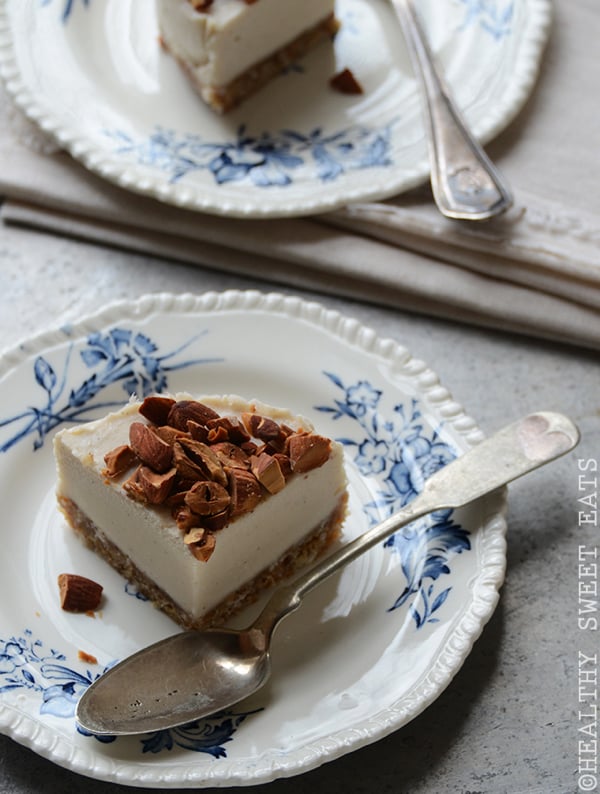 And who could forget dessert? These no-bake, raw vegan mini vanilla almond cheesecakes from Faith of Healthy Sweet Eats are divine.
Reads
1. This is a provocative review of what seems to be an equally provocative book: a critique of the "wellness" movement in our day and age. While I think it's probably a bit overly simplistic and critical, I must confess that much of this review resonated with me, starting with the allegation that our concept of "wellness" has become somewhat monochromatic and constrained. Rather than acknowledging that wellness can take infinite shapes and forms, depending on the individual, we try to codify wellness, capturing it in apps, footstep monitors, fitness regimens, and particular diets.
The second thing that struck me about the authors' thesis is their allegation that our culture of wellness can often turn into a culture of blaming and lack of compassion. I quote from the review:
"Our concern," the authors explain in general, "is how wellness has become an ideology." And this is particularly revealing in "the prevailing attitudes towards those who fail to look after their bodies. These people are demonised as lazy, feeble or weak-willed. They are seen as obscene deviants, unlawfully and unabashedly enjoying what every sensible person should resist." The common answer in our day is all too revealing: the poor and degenerate don't deserve decent housing or a basic income; they just need to be taught how to cook.
Indeed, the authors point out, the ideology of wellness shares with the controversial movement in psychology called "positive thinking" the twin assumptions that: a) you can be whatever you want to be; and therefore b) if anything bad happens to you, it's no one's fault but your own. In this way, the apparent optimism of the public encouragement to "wellness" hides a brutal, libertarian lack of compassion.
This resonates with me a lot; it's part of what I've been trying to articulate with some of my posts about the culture of health shaming. There is a balance between sensible public health initiatives and a celebration of healthy eating and a culture that turns wellness into a kind of monolithic moral imperative. Hopefully we can find it.
2. A horrifying article (with some graphic images, be warned) about animal experimentation in the quest for more profitable farming.
3. Roma tomato sushi? Believe it.
4. NYC may be (officially) instituting Meatless Monday! Hip hip hooray.
5. Fascinating: the transfer of a peanut allergy from one individual to another following a lung transplant.
That's all they wrote for tonight, friends. In the time I spent drafting this post, I made it home safely, and now I'm preparing myself for snow 🙂 Have a great night, and I'll return soon.
xo