I've been feeling pretty connected in the last year or so, and especially in the last few weeks. So it came as a surprise to me when I was hit by a sudden and intense wave of loneliness late last weekend.
With the loneliness came fear of more loneliness. Just as I was starting to spiral a bit, I came across a line of poetry by Ocean Vuong:
The most beautiful part of your body
is where it's headed. & remember,
loneliness is still time spent
with the world.
They were the best possible words for me to read at that moment.
I thought about this notion that loneliness is still time spent with the world. When I'm lonely, I almost always feel as though I've been removed from the world. Time doesn't stop, work doesn't stop, but my sense of being part of and belonging to the world around me does stop.
Maybe I'm more in the world than I think I am in these moments. As I watch from a place of solitude, feeling the familiar mix of longing and detachment, it may be that those very emotions are an indication that I somehow still belong.
When I was anorexic, I watched TV shows on the Food Network and read cookbooks obsessively. There wasn't any Instagram or TikTok back then, but if there had been, I'm sure I'd have been glued to both of them.
Looking at this through a clinical lens, I know that the obsessive food-gazing (without food-partaking) was part of the eating disorder pathology. Many, if not most people with anorexia have this habit. People who don't have anorexia nervosa, but are starving, have been known to collect recipes and read cookbooks, too.
Intuitively, though, I know that the habit wasn't only a disease symptom. It had greater meaning, and was more connected to my eventual healing, than that.
Looking at food and reading about food was my way of remaining connected to my  desire to eat, even as anorexia kept me from acting on that desire. The part of me that loves food now and loved food then was fighting to stay alive.
Sometimes we experience things through longing when we're unable or unready to experience them in any other way.
I've been selling some of my things as I prepare to move, which is of course bringing up memories of my eight years in this space. They were some of the most isolated I've had. Not surprisingly, I experienced the worst depression of my life here.
But even in my deepest moments of alienation, I felt glimmers of longing for connection. I watched shows and read books and poetry about love and family. I looked back at old photos and read old emails that reminded me of what it was like to feel seen, held and understood. I thought about things I'd do and places I'd go if I ever felt like me again.
That longing may have been more profoundly meaningful than I realized. It may have been my lifeline, the one part of human connectedness that I could hold onto until I was better.
Perhaps it was my way of spending time in the world, even as I also retreated from it.
The title of that Ocean Vuong poem is "Someday I'll Love Ocean Vuong." I don't know what Vuong's meaning in choosing that title was. For me, it brings to mind the difficult journey of figuring out how to be alone without being lonely, at peace with one's own company.
Maybe someday I'll love Gena Hamshaw.
I think I may be getting a little closer.
Happy Sunday, friends. Here are some recipes and reads.
Recipes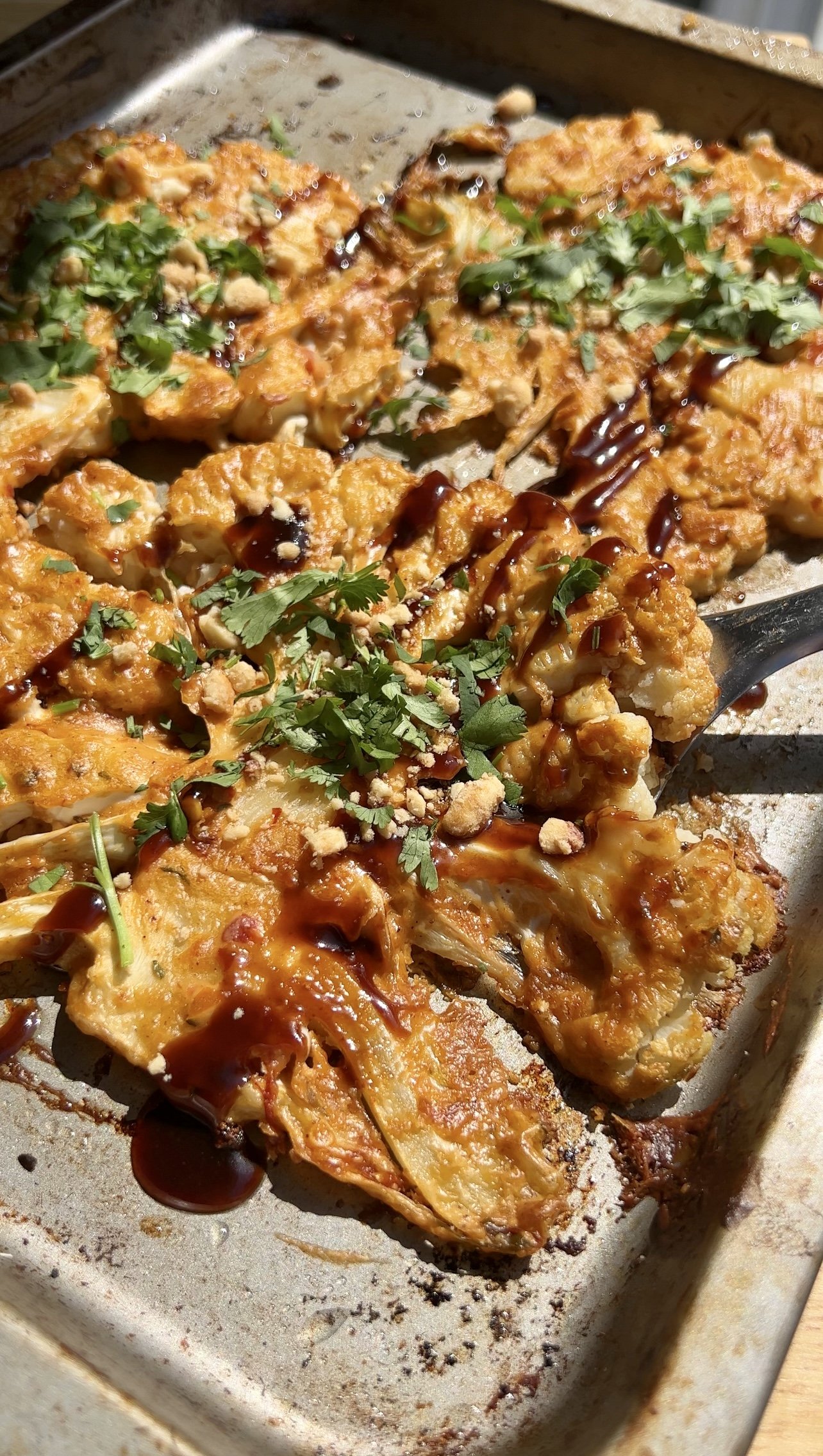 Now these are some great-looking cauliflower steaks.
I've never even thought about trying to recreate Bitchin' sauce, because it's just. so. perfect.
But Melissa is the intrepid soul who's undertaken that task, and now I really want to try her homemade version.
It's not exactly soup season, but who am I kidding? I don't have a season for soup. I'll eat Eva's white bean wild rice soup at any time of the year.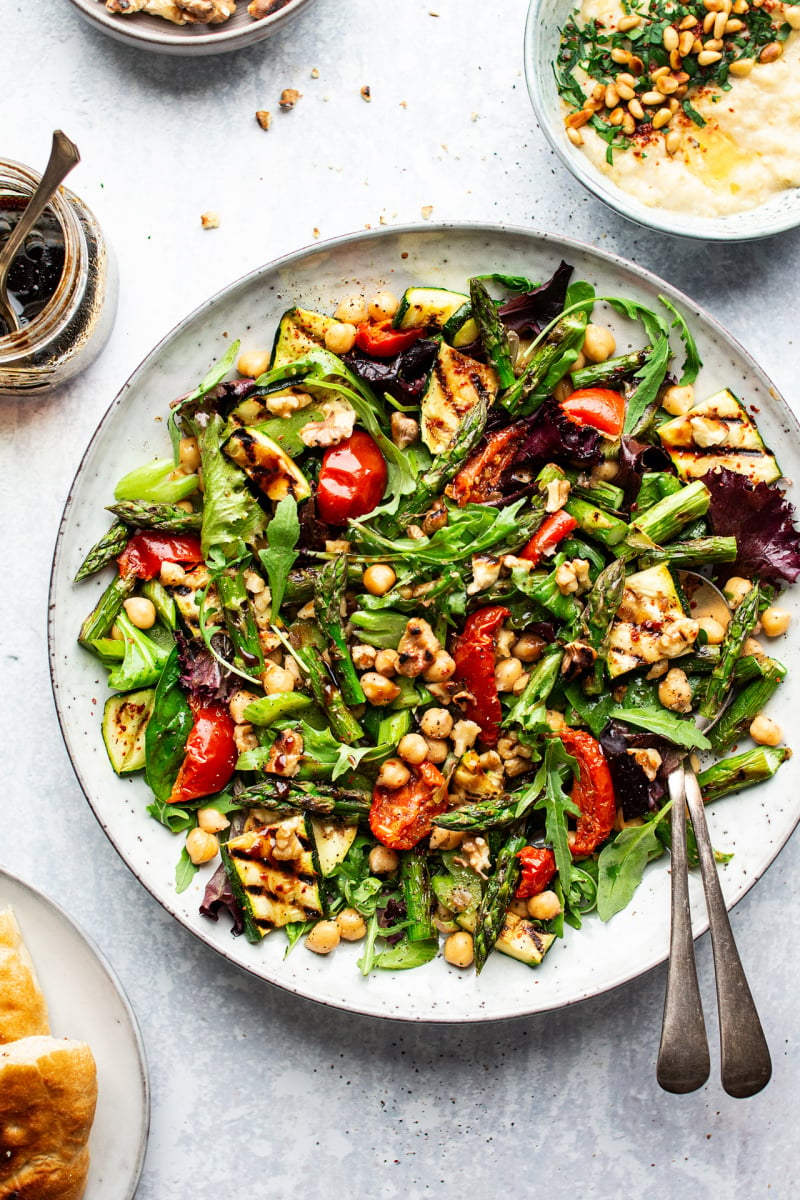 I love all things veggie + BBQ in the summer—lately, I can't get enough of my crispy BBQ soy curls—and now I really want to try Ania's easy vegan BBQ salad.
I've made plenty of chocolate zucchini loaves, but chocolate zucchini cake?! Even better.
Reads
1. I was so unexpectedly moved by this essay about one woman's quest to get naked outdoors, in the company of others. To say much more might spoil its insights and surprises, but here is a tiny snippet that captures its spirit:
Taking my clothes off with others wasn't the exercise in courage or cutting loose that I thought it would be. It was an exercise in faith. To be naked, I had to believe that the world could be good. And tonight it feels like it can be.
2. Are you watching The Bear? It doesn't stress me out, which is the reaction most people are having, but I'm definitely engrossed. It's intense and well-acted and feels like a pretty real depiction of life in the restaurant industry. I thought this review captured it pretty well.
3. Until I read this article I didn't even know what a dome cake was, but, cake lover that I am, I'll now be following the trend.
4. Practically every subject was a struggle for me when I was a post-bacc student, but weirdly, I loved (and somehow excelled in) calculus. I enjoyed reading about Alec Wilkinson's experience of learning calculus at sixty-five.
5. As an eating disorder dietitian, I work with a lot of adolescents and their families, and I love it. I enjoyed reading this article about the adolescent brain and the opportunities that exist for healing and growth in that time of life. But I'd add that adolescents are such good teachers exactly as they are and regardless of who they'll become. I learn so much from my teen clients.
On that note, it's time to wind down a little. I hope that this week will be full of promise for all of us.
xo