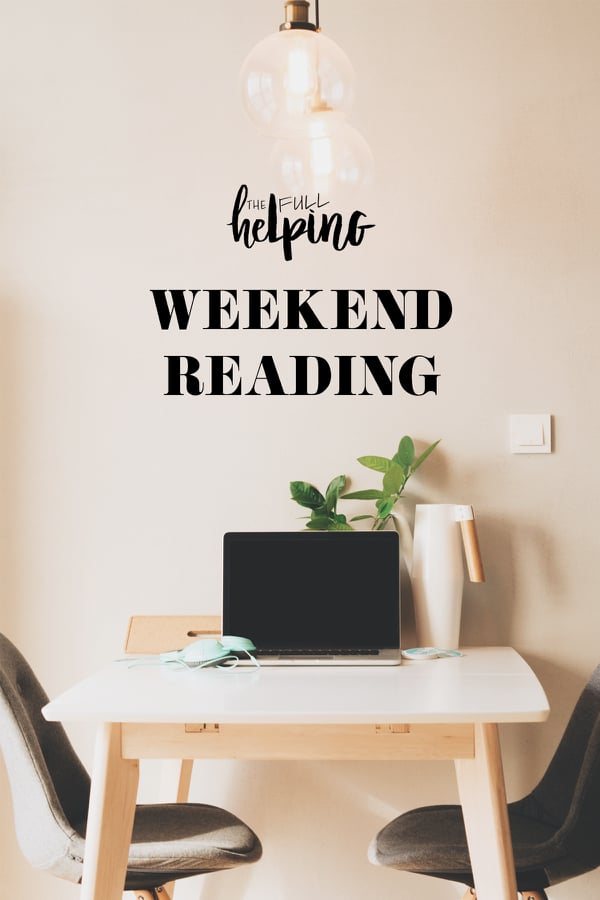 There are a lot of things that should have gotten more of my attention than they did this past week. What got most of my attention instead was my bread baking. A set of new loaves every morning.
Bread baking has been a part of my life since the spring of 2017, when I was limping my way through a breakup and found Ali Stafford's Bread, Toast, Crumbs. Soon after, I found Emilie Raffa's Artisan Sourdough Made Simple, and my love affair with homemade sourdough began. Together, these books gave me a foundation to start baking bread every week, and since then, I've continued to hungrily read more, research more, and learn more about the process.
There's not a lot of instant gratification with bread making. It takes time and patience and the willingness to mess up or try things you won't want to repeat with the next bake. But that's good for me. Bread baking plays to some of my inborn qualities; it's methodological, it demands planning, and there's a fair amount of science woven into the learning curve. But it also requires me to be a person more interested in process than in mastery. That's not easy at all, and it's exactly what I need.
Beyond that, baking in general—not just bread, but all of the other vegan treats and desserts that I love so much—is something that I can, and do, give myself over to. It's immersive, it's fun, and there are always new skills for me to learn.
I need that right now. I think part of why the depression monkey has been on my back since the summer is that my internship, no matter how exhausting, was all-encompassing. It didn't give me much time or space to dwell on my stuff, and that was a relief for me, an overthinker who has a hard time getting unstuck from pain. There's a lot of work on my plate right now, but the schedule doesn't compare to how things were a year ago.
I guess I'd like to be more at ease with stillness at some point, but until that day comes, I need to be pragmatic, too. For better or worse, I fare better when I'm either busy or immersed, and if I can be immersed in things I love, like baking, that feels like a meaningful way to stay afloat.
It's also nice to be immersed in a hobby for a change, rather than in work. I guess all food preparation could fall into the category of work for me, but baking is only a small part of what I write about on the blog. For the most part, it's a personal passion, something I do for myself, my neighbors, and my friends. Growing up, and all through my early adulthood, I shied away from activities that wouldn't somehow pertain to either academics or work and my success in those areas. It's taken me a long time, but I'm starting to appreciate the importance—and the pleasure—of a cherished hobby.
Wishing you the warmth and satisfaction that baking gives me through whatever activities give it to you. Here are some recipes and reads.
Recipes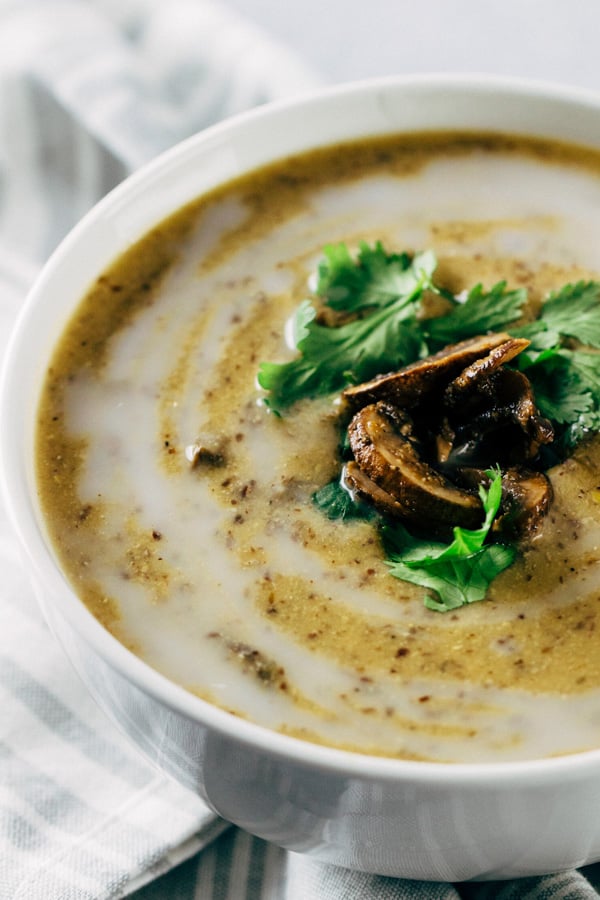 A simple and savory mushroom soup for the season.
Miso glazed sweet potatoes are a genius idea!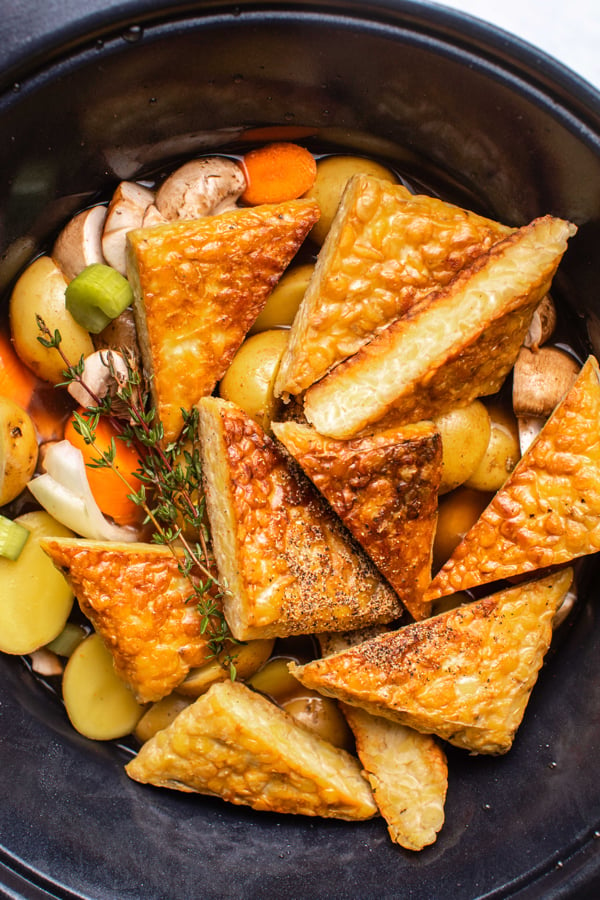 I love the idea of a tempeh pot roast, and this one gets bonus points for coming together easily in the slow cooker.
This kabocha brown rice soup looks so cozy and comforting.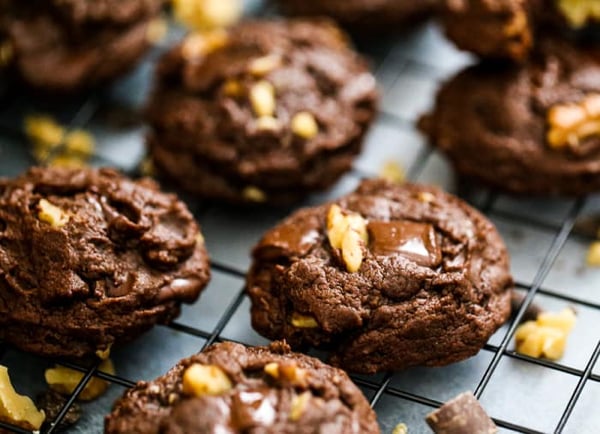 And speaking of baking, some droolworthy vegan chocolate chip walnut brownie cookies.
Reads
1. I found this article on eating disorders in queer communities so nuanced and thoughtful. It's encouraged me to become better informed/aware for my work with transgender and non-binary clients who struggle with EDs and body dysmorphia.
2. Looks like sesame may finally join the "big eight" food allergens (milk, eggs, wheat, fish, shellfish, soybeans, peanuts, and tree nuts) in getting FDA-mandated food label disclosure.
3. I've worked with some clients with gastroparesis, and I'm always struck by how difficult it can be to manage and also how little mainstream attention the disorder gets. So I was pleased to see this article by an RD, with good best practices for symptom management.
4. Frank Bruni has done some incredibly raw writing in the past year or two about a sudden decline in his vision and the possibility of losing it altogether. This essay follows suit, not only as a perspective on what it's like to participate in a clinical trial, but also as a consideration of acceptance in the face of a health challenge.
5. I like to think of veganism as a dietary choice, rather than a dietary restriction, but I know that it gets grouped in with specialized eating styles—like food allergies—that aren't a matter of choice. I'm happy to share a sense of camaraderie with any and all eaters whose plates look different than the norm. And I liked Parade magazine's article on accommodating friends with dietary restrictions/preferences at Friendsgiving. I was especially impressed at how sensitively and thoroughly it tackled issues like cross-contact.
Speaking of Thanksgiving and Friendsgiving, I was proud to contribute a classic vegan bread stuffing recipe to the New York Times cooking section this week! You do need to be a subscriber to get it, but if you aren't, this cornbread stuffing is also a favorite. Hooray for stuffing, right?
Have a lovely evening, friends. I'll be back this week with a nutritious holiday side dish.
xo