Hey everyone! Happy Saturday. It's been a chilly weekend here in NYC, and I've largely spent it bundled up at home, catching up on the things that fell behind while I was studying for exams this past week. It feels great to have them behind me, and only my finals remaining for this semester.
I'm also starting to feel a true sense of holiday festivity, with Thanksgiving right around the corner, and I'm excited to plan some of my own dishes for this year's feast. I'll be with Steven's family, and I hope I can create something that everyone will enjoy! The following recipes are great inspiration.
First up, a super healthy and hearty vegan main dish option for your Thanksgiving feast! This cranberry maple lentil loaf from the lovely Lindsay of Cotter Crunch is packed with chia seeds and cranberries, in addition to lentil and oats. It sounds awesome, and I also imagine that it would be fun to crumble up the leftovers over a salad or a grain bowl (and smother them with tahini, of course). Yum.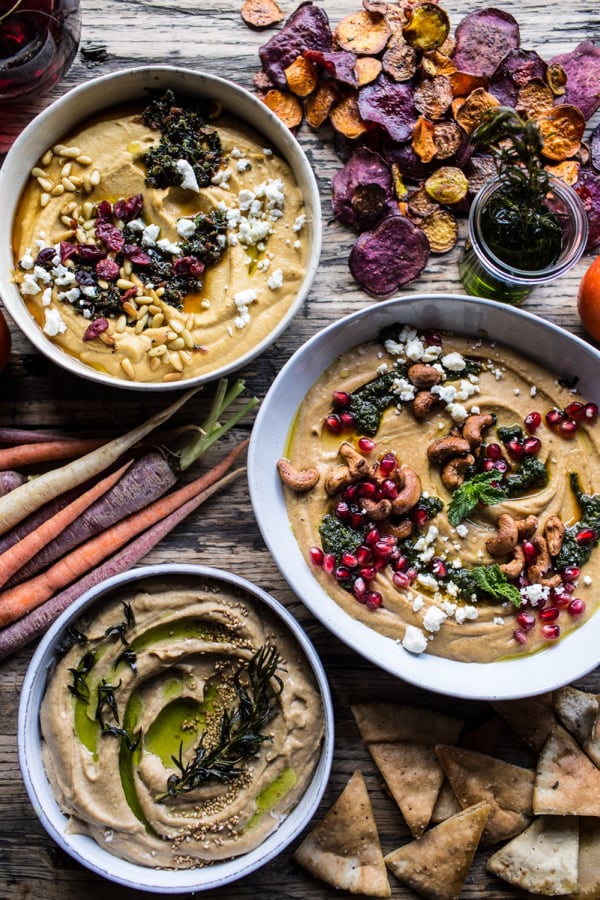 If you have any appetizer plate plans for holiday guests, you may want to rethink them. The traditional appetizer plate or board gets an incredible, creative makeover from Tieghan of Half-Baked Harvest. Her big holiday hummus board with roasted root veggie chips is beautiful, abundant, and enticing, and it's a guaranteed crowd pleaser. Simply swap out the non-vegan ingredients Tieghan suggests to make it entirely vegan.
I have a thing for kabocha squash, and I also love risotto. Never have I thought to combine the two, though, until now, thanks to the lovely Rika of Vegan Miam. Her kabocha curry with chard and spiced pepitas looks cozy, filling, and absolutely delicious. Such a great wintertime main dish.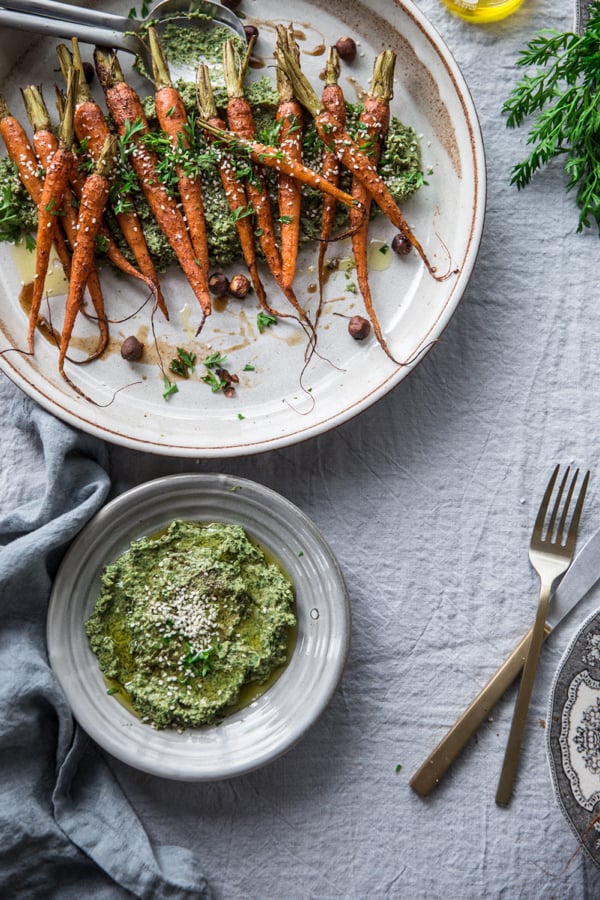 Looking for a tasty holiday side dish that also shows off the art of root-to-stalk cooking? Look no further than Sneh's excellent maple roasted dutch carrots with garlicky carrot top hummus. I love the way Sneh uses the carrot tops in this beautifully green and textured hummus, and then scoops it right over her sweet, oven-caramelized root veggies. A perfect dish for entertaining!
Finally, I absolutely love Abby's super-simple, yet oh-so-pretty vegan Dutch baby with caramelized apples and pears. Fancy enough to be a dessert for a dinner party, but light enough to be a special holiday breakfast, too.
Vegan
1. First up, some important news in the world of nutrition debate: 183 scholars and scientists have gathered, via the Center for Science in the Public Interest, to ask the BMJ to retract it's "investigation" of the Scientific Report of the 2015 Dietary Guidelines Advisory Committee. That report, authored by Nina Teicholz (an outspoken proponent of high-protein, high-animal-fat diets), has been found to contain numerous errors, some of which have already been corrected. The CSPI letter is a call for acknowledgment that the study is riddled with scientific errors, many of which are misleading for consumers.
2. A provocative and interesting article in Aeon from Elizabeth DeVita-Raeburn & Vincent DeVita, authors of the upcoming book The Death of Cancer. In short, the authors argue that new research and new theories into carcinogenesis have drastically reduced the inevitability of cancer-related deaths, but bureaucracy and outdated ways of thinking about cancer and its treatment are impeding vital progress.
3. This 11-minute video (also via Aeon) is an inspiring glimpse into the recent work of mental health advocate Chen Wei. Wei, who was diagnosed with bipolar disorder in 2003, felt that the services and resources available to him were lacking. In spite of the fact that an estimated 6 percent of China's population of 1.2 billion people suffer from depression, there's still widespread stigma about mental illness. Wei has now founded Shanghai Tulip, China's first depression support group, and his efforts are no doubt an important step toward greater cultural understanding and support.
4. A really interesting look at changing ideals of body shape in America, starting in the 1800s and continuing to the present day. The authors make clear that, while today's emphasis on thinness does certainly encourage poor self-esteem and disordered eating, our society has always tried to dictate ideas around shape and size, if not ones that are specifically focused on being slender. They write,
"Girls today might complain that they're under far more pressure to have a perfect, fit body than women were in the 1950s, but ladies back then were just as sexualized and pressured. Take pin-up girls, for example: glamourous models or actresses whose photos were mass-produced and meant to be "pinned up" on a wall. Pin-up girl photographs were also turned into illustrations that were highly retouched and stylized — the (likely male) artist would elongate legs, tuck in the waist, plump up breasts, similarly to what Photoshop does now, creating an unreal, unattainable human form. The ideal female body may have been heavier back then, but it was just as scrutinized, criticized, and retouched as it is now.
Ironically, these years also saw society shaming skinnier girls in the same way mass media shames fat figures now. Advertisements from the 1940s and 50s depicted skinny women as being hopeless in romantic pursuits, noting that gaining weight was their only hope to attract a suitor. There were certainly no such thing as thigh gaps or "thinspiration" in this era."
So, ideals and standards have shifted, but the existence of a socially-mediated and often oppressive ideal of female beauty and sexuality has not. In addition to being a powerful reminder of historical context, the article invites us to continue doing what we can to overturn our society's habit of glorifying of one single body shape, at the expense of embracing the many shapes and sizes that women's bodies naturally take.
5. Finally, perhaps some of you saw this New York Times op-ed from one of my professors, Pamela Koch, and NYU's Hans Taparia. It's called "A Seismic Shift in How People Eat," and it reveals the ways in which big food corporations are being forced to adapt to the growing consumer demand for real food. To name just a few examples:
"General Mills will drop all artificial colors and flavors from its cereals. Perdue, Tyson and Foster Farm have begun to limit the use of antibiotics in their chicken. Kraft declared it was dropping artificial dyes from its macaroni and cheese. Hershey's will begin to move away from ingredients such as the emulsifier polyglycerol polyricinoleate to 'simple and easy-to-understand ingredients' like 'fresh milk from local farms, roasted California almonds, cocoa beans and sugar.'"
The authors see these changes as evidence that "[c]onsumers are walking away from America's most iconic food brands," but they're quick to note that companies will have to do more than tweak ingredient lists:
"To survive, the food industry will need more than its current bag of tricks. There is a consumer shift at play that calls into question the reason packaged foods exist. There was a time when consumers used to walk through every aisle of the grocery store, but today much of their time is being spent in the perimeter of the store with its vast collection of fresh products — raw produce, meats, bakery items and fresh prepared foods. Sales of fresh prepared foods have grown nearly 30 percent since 2009, while sales of center-of-store packaged goods have started to fall. Sales of raw fruits and vegetables are also growing — among children and young adults, per capita consumption of vegetables is up 10 percent over the past five years."
Clearly, much progress remains to be seen, but these are promising signs of a different kind of food ethos emerging, one in which Big Food is greeted with a certain amount of inherent skepticism.
On that hopeful note, I wish you a lovely Sunday and rest of the weekend. I'll be back tomorrow with the usual weekly menu plan, and on Tuesday, a great new recipe that serves a crowd and is perfect for Thanksgiving gatherings!
xo