 Happy Sunday, everyone. Hopefully this post finds you settling back into the swing of things after a busy holiday weekend, and if you're traveling today, I hope those travels are safe and speedy.
The two weeks before Thanksgiving were so hectic that I haven't had much time to soak in the start of the holiday season, but I can feel the excitement growing. For me, getting excited about the holidays always means getting excited about holiday cooking, holiday food gifting, and celebratory recipes. I'm excited to share a few new ones with you this coming month. In the meantime, here are some of the recipes that are inspiring me from around the web.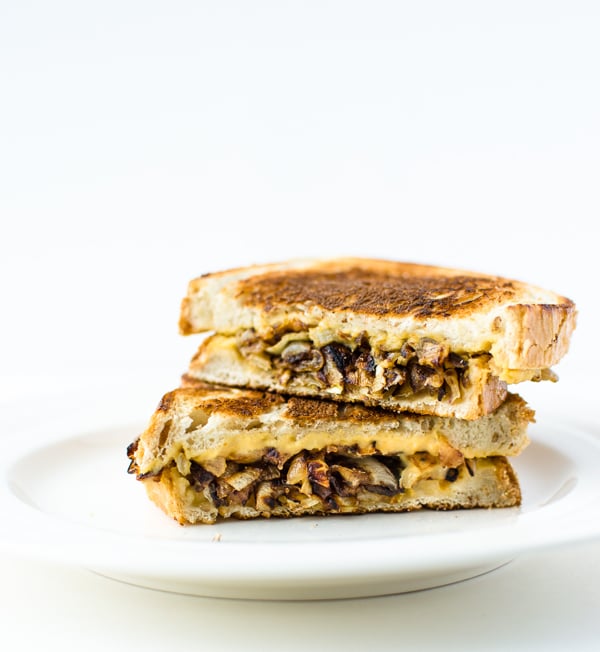 First, some straight up comfort food. How absolutely wonderful does this grilled hummus and caramelized onion sandwich from Katy of My Dish is Bomb look? I bet it would be killer with a bowl of tomato soup.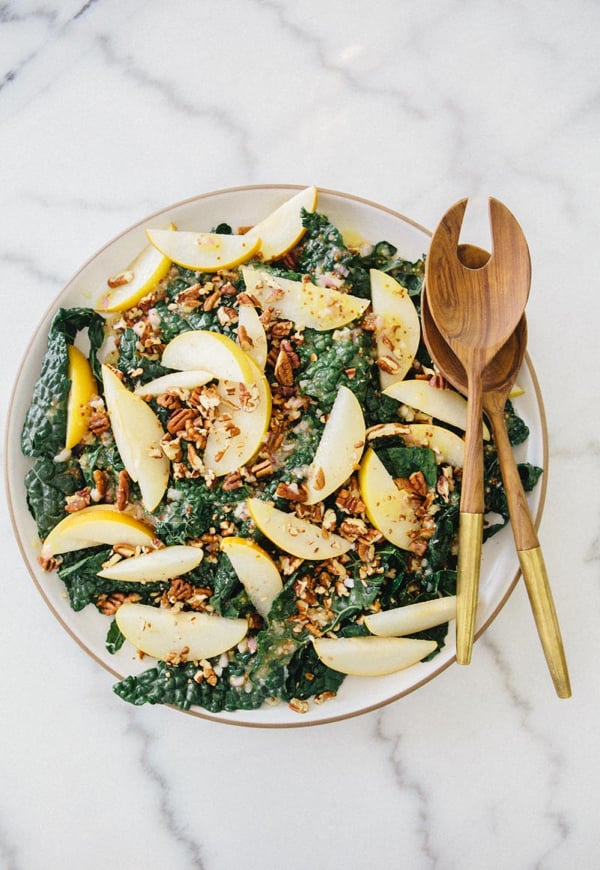 I can never seem to get my fill of kale salad recipes, and this kale and Asian pear salad from Sarah of A House in the Hills has it all: sweetness, crunchy, and a tart vinaigrette. Delicious.
It's been ages since I made cauliflower rice, but Nicole's gorgeous dolmas salad with roasted cauliflower rice is inspiring me to chop up a bowl of it soon. I love the briny flavors here, not to mention the idea of deconstructed dolmas, which is pretty ingenious in the first place.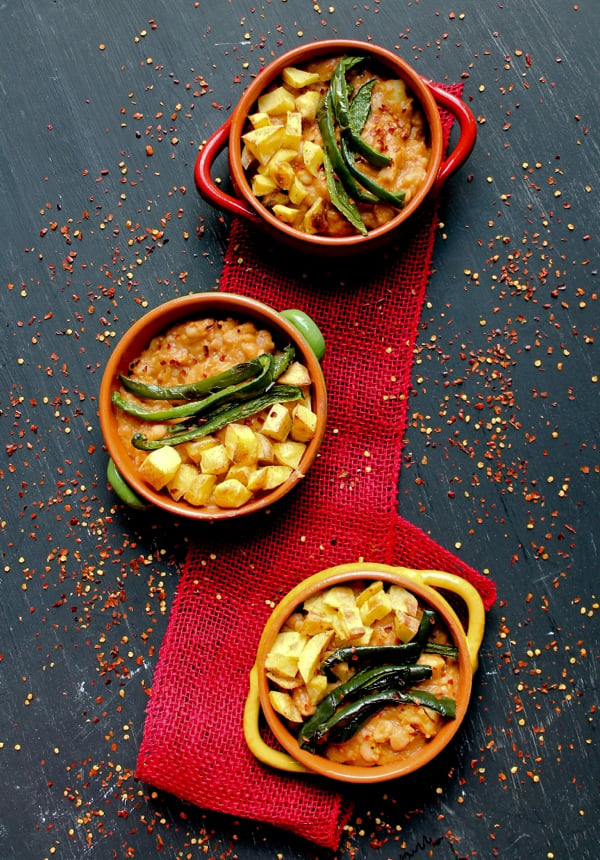 I can always count on Brandi of The Vegan 8 for hearty, healthy, simple, and oh-so-comforting comfort food dishes, and this smoky white bean potato stew with broiled poblano peppers is a perfect example. Can't wait to dig into a bowl.
And for dessert, let's kick the holiday cookie season off with these lovely, simple vegan cherry chocolate oatmeal cookies from the wonderful Jack & Jeanine of Love & Lemons. Yum!
Reads
1. First up, a great profile of Bryant Terry, who has recently been named the Chef-in-Residence of the Museum of the African Diaspora. Many of you know Terry as a super talented vegan chef, and the author of Afro-Vegan. But Terry is also a passionate and outspoken food justice advocate. He argues for more just distribution of our food supply as a means of addressing hunger around the world, and–in this profile especially–he works to address "upper middle-class judgment against the dietary preferences of working-class people, loaded with the presumption that poor personal choices are what make people poor in the first place."
In demonstrating that African, African-American, and Southern cuisine are far more complex and diverse than many people imagine, Terry is helping to break stereotypes and call celebratory attention to cuisines that have been historically overlooked or disregarded.
2. I love this: in response to a growing number of patrons who suffer from food sensitivities, Dominic Teague, the chef at London's Indigo restaurant in Covent Garden's One Aldwych hotel, made his a la carte lunch and dinner menus gluten and dairy free a few months ago. The fun part? No one noticed, mostly because Teague has taken the time to craft such appealing new specialties as a samphire and onion bread made from buckwheat flour. It just goes to show that so much of our resistance to dietary change–whether in response to ethical concerns, health concerns, or environmental concerns–is rooted in fear of change. The truth is that reimagined dishes are often impossible to distinguish from the originals, or they're even better!
3. A fascinating article, written by novelist Karen Russell, about the promise of rehabilitative video games that may help to treat stroke patients.
4. I'm super inspired by this profile of Tulane University School of Medicine's groundbreaking teaching kitchen, where first and second year med students learn how to cook as a part of their curriculum. The program helps future doctors to give real-world health and nutrition advice to their patients–and it sets them up to embrace healthy eating in their own lives, in spite of the stresses of medical training.
5. Also on the topic of education, I was very interested in this article about a school in Singapore that is employing a teaching method called productive failure (pdf). Pioneered by Dr. Manu Kapur, the method hinges on the idea that floundering and failure are useful learning tools. The article describes productive failure like this:
"Students who are presented with unfamiliar concepts, asked to work through them, and then taught the solution significantly outperform those who are taught through formal instruction and problem-solving. The approach is both utterly intuitive—we learn from mistakes—and completely counter-intuitive: letting kids flail around with unfamiliar math concepts seems both inefficient and potentially damaging to their confidence."
Kapur maintains that struggle activates parts of the brain that trigger deeper learning. Students have to figure out what they know, the limits of what they know, and exactly what they do not know.
While I understand that too much floundering runs the risk of making students feel defeated or discouraged, the article resonated with me. I've been an adult student for about five years. My first few years back in grad school, as many readers know, were remarkably challenging. Suddenly thrust into the world of the hard sciences, I often found myself struggling to understand unfamiliar concepts. The more often I sought out answers at the outset of a problem solving experience, as a means of directing my work, the more poorly I absorbed concepts. I learned most efficiently after long, sometimes maddening struggles, because by the time the answer became evident to me, I knew not only what it was, but why it was. My post-bacc also taught me–the hard way–to lean into failure and confusion, rather than fearing them.
So, I can see the value in Kapur's methodology, no matter how counterintuitive it may seem.
And that, friends, is it for today. I'll return tomorrow with a new menu plan for the week, and on Tuesday, a delicious new recipe for a dip/appetizer that'll be perfect for holiday entertaining. Till soon.
xo