Happy Sunday, friends. I hope you've had festive and restful weekends. If you missed it, don't forget to check out my raw pecan sandies, which were part of Kristy's fabulous vegan cookie swap party this weekend!
And now, some weekend reading links.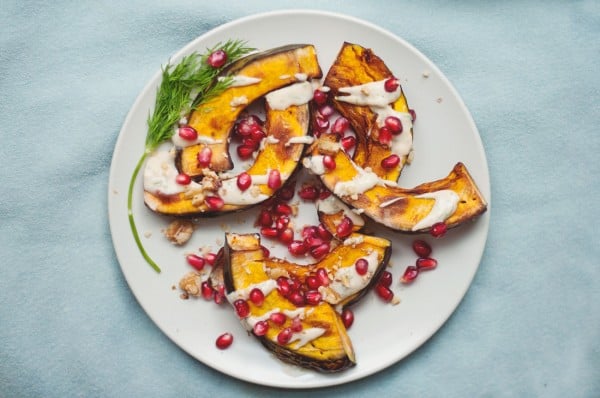 Of course I'm drooling–drooling, I say!!–over Cady and Maddie's  kabocha squash recipe with miso tahini dill sauce. My lord.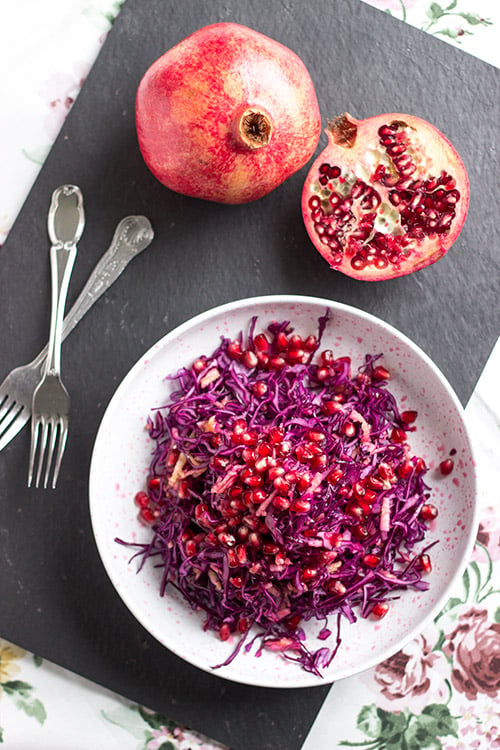 This purple cabbage salad with pomegranate seeds is so spectacularly colorful!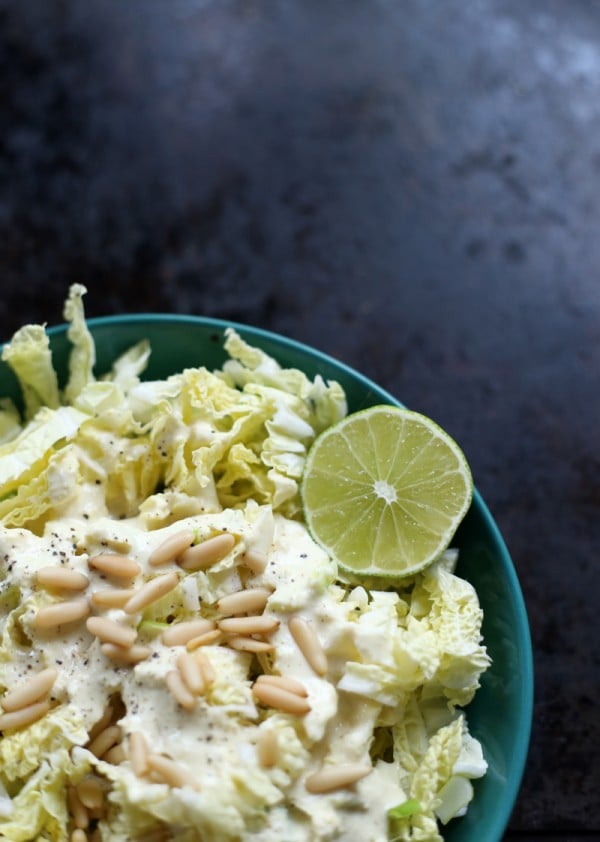 Did someone say vegan caesar dressing? With pine nuts? Sign me up. Now.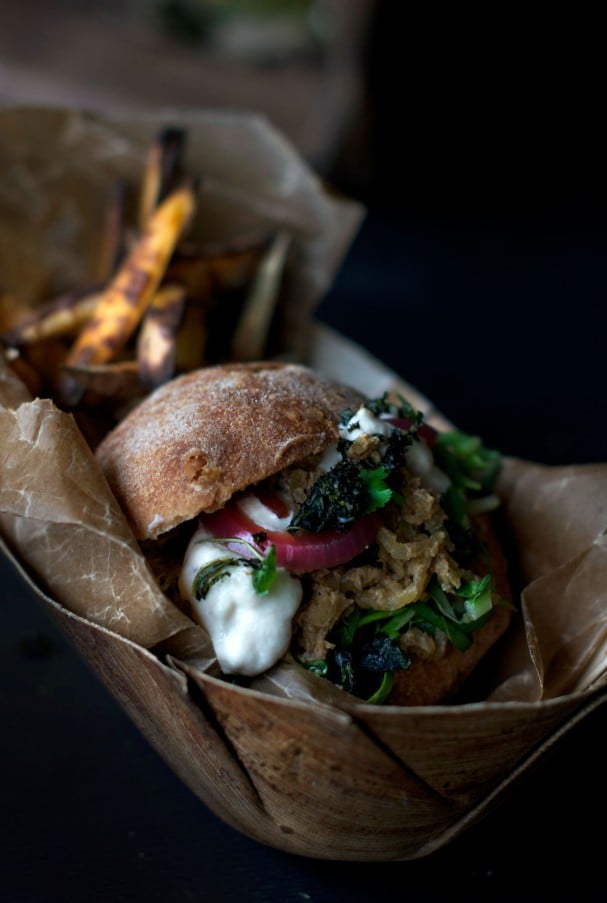 Elenore's pulled pumpkin burgers are delicious, hearty, and gorgeous, to say nothing of creative. Must try!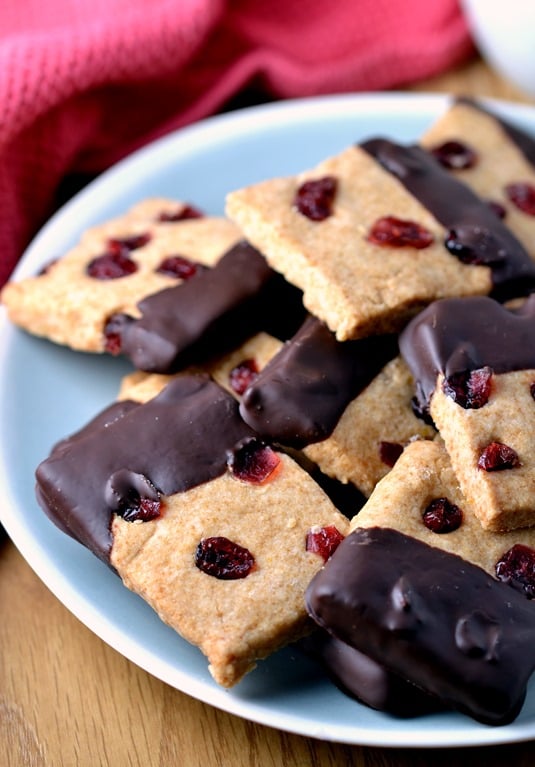 And for dessert? Ms. Emma's contributions to the vegan cookie swap: chocolate dipped lemon cranberry shortbread. Yum!
Reads
1. A great article detailing new archeological findings that call into question how and where the capacity for creative thought–embodied in the use of symbolism in cave art–began. Homo sapiens began to emigrate from Africa between 60,000 and 125,000 years ago, and it's thought that the species reached Europe approximately 40,000 years ago. Because there is an abundance of Paleolithic art in Europe and very little of it in Africa and Asia, many 20th-century archeologists assumed that man's creative spark was turned on upon arrival in Europe.
New archeological digs, however, have unearthed symbolic art in Indonesia and South Africa. The former dates back to 40,000 years ago, which means that what was happening in Europe was happening in Asia, too.
"'There has always been the belief that a light switched on in Europe, and there was this efflorescence of creativity,' says Brumm, a research fellow at Griffith University. 'That's not the case. On the other side of the world, the same thing was going on at the same time.' Indeed, it might have happened earlier. Brumm and a growing number of archaeologists are ready to abandon longstanding Eurocentric views regarding the origin of human imagination. Like so much that makes us human, symbolism appears to have emerged early on in Africa and spread from there."
Fascinating stuff.
2. An interesting article on whether or not it's possible to exercise too much. The specific focus is on endurance athletics and their impact on cardiac health. The article stops short of suggesting that there's a particular amount of exercise that's too much, for good reason: no upper limit has really been established. But it does suggest that recovery time between endurance events is vital. We read so much about the danger of exercising too little; it's important to at least mention that excess of anything (even something so vitally important as exercise) is problematic, too.
3. This article from The Guardian, on the mythology surrounding "detox" diets. A little harsh, a little flip, and even a little facile. But I'd rather read this than read about the latest liquid diet.
4. Really interesting article on the battles over the patents for CRISPR, a new form of DNA editing.
5. I loved this article about millennial career jugglers. The article profiles a collection of young professionals who make a living by combining several different professional pursuits, or who support one professional pursuit (for example, DJing) with another.
My professional life often feels a little modular: I'm a practicing nutritionist, a seemingly perpetual part time student, a blogger, a food writer, an occasional freelancer. Since I quit my life as a book editor, I've struggled with the fact that my professional life can't be summed up neatly with a title or a short description. Part of it is ego, and part of it is fear at the recognition that it's up to me to craft an untraditional and composite professional identity. Med school rejection was heartbreaking on many fronts, and frightening on others; having assumed that I'd have a single, all-encompassing, heavily structured path ahead of me, I felt adrift when I realized that I'd have to reshape my professional future, and that it would be far less concrete than what I'd planned on.
But I'm learning to appreciate the freedom that my life as a food blogger, nutritionist, and aspiring health professional gives me — the freedom to shape my work and my choices. I'm even getting comfortable with identifying myself as a writer. I'm also realizing that my work is more cohesive than I've given it credit for in the past: it's all united under my two great passions of writing and food. Funny how it's taken me so long to understand this.
And that, friends, is that. Tomorrow I'll return with a new chia pudding recipe, a seasonal one, just in time for the holidays. Till soon!
xo