Ever have one of those moments in which you seem to be pretty solid, and then you come crashing suddenly into all of your old nonsense?
That's exactly what happened to me yesterday.
Since I sent out my end-of-November newsletter, I've been thinking very intentionally about the time that remains in the rest of 2022 and how I'd like to show up for it.
I've been working steadily, but not excessively, and staying connected without getting socially exhausted. I'm working on getting my apartment set up. I used up a bunch of stuff in the freezer, creatively and intuitively turning leftovers into new suppers.
I'm spending good time with my yoga community, writing in my little gratitude journal, and even trying to meditate.
Most importantly, my attitude has been good. Strong. Resilient. I'm trying to think optimistically without being Pollyanna-ish or toxically positive.
And then there was yesterday.
I'm not really sure what happened. I guess you could say that the day got off to a lousy start: it was raining all day, I had an allergy headache, my yoga practice was a slog.
I tried to test some new recipes, and all of them were busts on the first try. Suddenly it was about 4pm on the Saturday that had seemed to stretch promisingly before me when I woke up, and I didn't know where the time had gone.
This would have been a great moment to stop working, curl up with a book, and take it easy, so that I could get re-centered.
Instead, I kept trying to work, unsuccessfully. And when the evening came around, I thought about everything I'd failed to do, the promises I'd made to myself and broken.
It wasn't long before I started thinking about the holiday season—specifically, the fact that I'm spending another Christmas without a partner.
I felt the particular loneliness that only happens in December, compounded by the loneliness that sometimes creeps in when it's dark outside and I'm home by myself and it's so, so quiet.
I had envious fantasies about my friends' lives, other peoples' lives.
After dinner, I ate too many of some chocolate chip cookies that I'd made this week. I felt guilty and gross about it. And guilty about feeling guilty.
I wallowed for a while, and then I went to bed.
I'm writing about this not because this was the Worst Day Ever™. It can get a lot worse than loneliness, self-pity, and too many cookies.
But the evening did remind me of how easy it is to slip back into what's old and familiar, and it was painful in the moment.
I always tell my clients that growth isn't measured by how long we go without engaging in problematic or unhelpful behaviors. It's measured in how quickly and effectively we're able to bounce back.
I also tell them that recovery is all about loving yourself when you like yourself the least.
This morning, I woke up. I made coffee and breakfast. I went to yoga. The teacher had a very nurturing energy, which Little Gena, so to speak, needed.
I retested one of the recipes when I got home, and it was good.
I made lentil soup.
At the exact moment when I thought I could retest the other recipe, I thought about the fact that I was probably overreaching in terms of what was realistic for the afternoon, and I stopped myself. I sat down and wrote this post instead.
A good friend asked me if I could come over this afternoon and spend a little time with her daughter, who's in high school. She has a test this week on cell biology, and she's anxious about it.
My instinct was to text back, "um, sure? lol," because we all know that I wasn't a star science student.
But I knew that I could be helpful simply by being supportive and reassuring, because discouragement is the most dangerous thing of all.
I hope I made her feel a little more confident.
Happy Sunday, friends. Here are some recipes and reads.
Recipes
I love the idea of roasting parsnips with mustard.
Stuffing meatballs! Seems like a stroke of genius to me.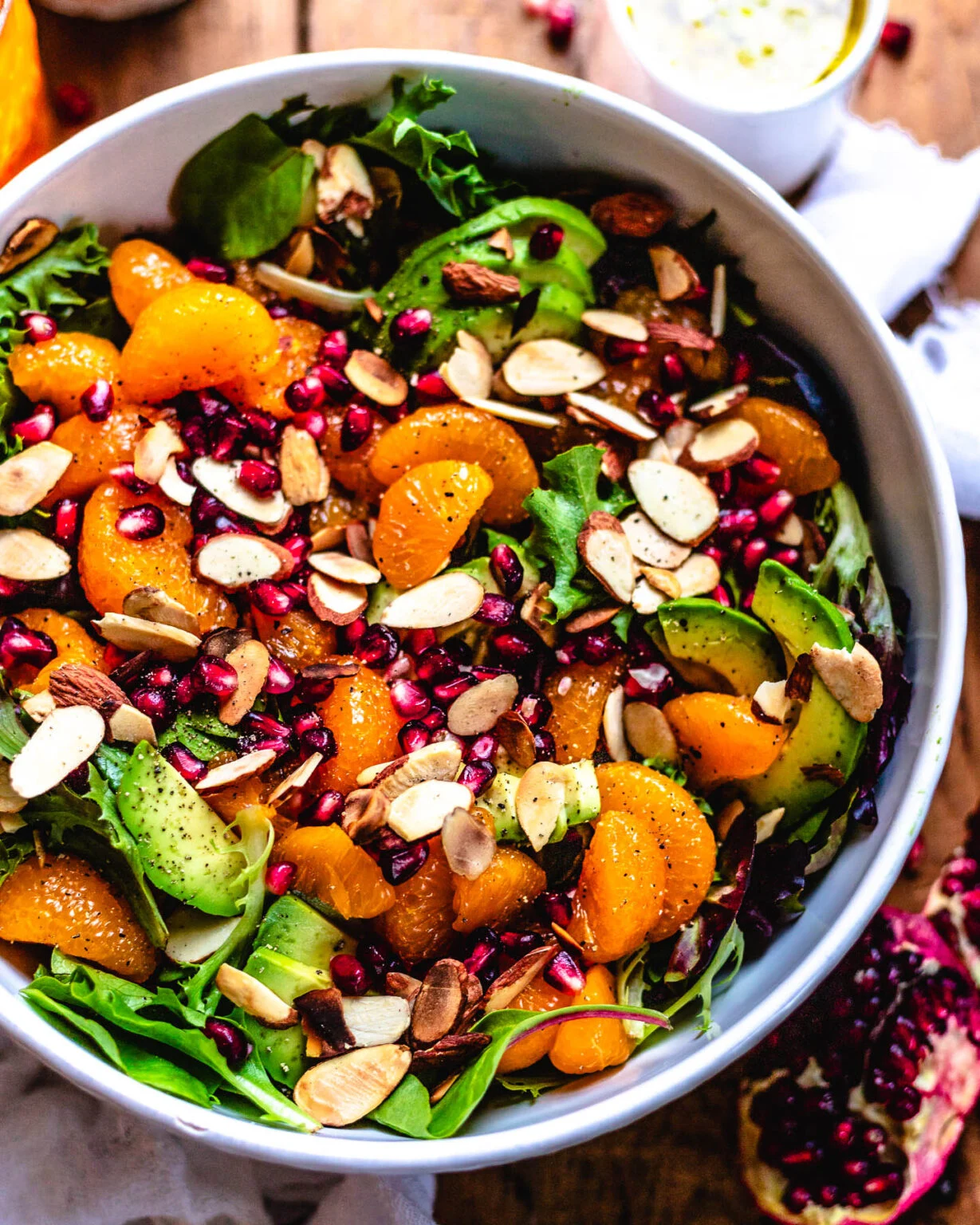 The most festive holiday salad from Two Spoons.
What a perfect stack of vegan latkes this is.
Finally, how cute are Francesca's eggnog cakelettes?
Reads
1. Americans are lagging in their whole grain consumption, which is a shame, because whole grains rock—nutritionally and culinarily!
I feel so glad that so many of my readers cherish cooking with whole grains as much as I do. This article has a few ideas on how you can add more of them to your diet.
2. The glorious baguette gets added to the UN's cultural heritage list.
3. This is illuminating (probably less so to those who have done it): what it really takes to breastfeed a baby.
4. "One of the truest and most sublime rights we possess in a trash-strewn city of 8.5 million is to cry in public unbothered," writes Molly Osberg.
It's a humorous take on something I've done many a time, which is to have an ugly cry in a very public and busy spot. The fact that I can do this with some anonymity is a small yet very liberating thing about the city in which I live.
5. Can't help myself, especially today: NASA captures a photo of the happiest sun ever.
I'll be able to share some recipes that weren't a bust with you this week.
Till then, be good to yourselves.
xo