Happy Valentine's Day, friends. It's the coldest Valentine's on record here in NYC, and I've been listening to a howling wind outside since I woke up this morning. I'll be staying inside as much as I possibly can today, catching up on school and work, probably baking something sweet for me and Steven as part of our Valentine's Day at home, and whipping up a batch of my lentil sloppy Joe's for a date night dinner. I hope everyone who's reading from the Northeast is keeping safe and warm today!
In the meantime, here are some of the reads that have caught my eye on this frozen morning.
Recipes
I'm sharing Molly's delightful pita ribollita first today, because it's precisely what I'd like to be eating in this weather. I love the addition of cannellini beans, and you could easily substitute vegan yogurt for regular yogurt or labneh.
Sofia's spicy thai sweet potato wedges are also perfect cold weather food, thanks to the hearty, starchy, comforting slabs of potato and the nice dose of heat from chili paste. Yum.
Lisa's new zucchini noodle bowl with peanut coconut sauce is so full of texture and flavor, and that sauce?! I already want to drink it with a straw, and I haven't even made it yet.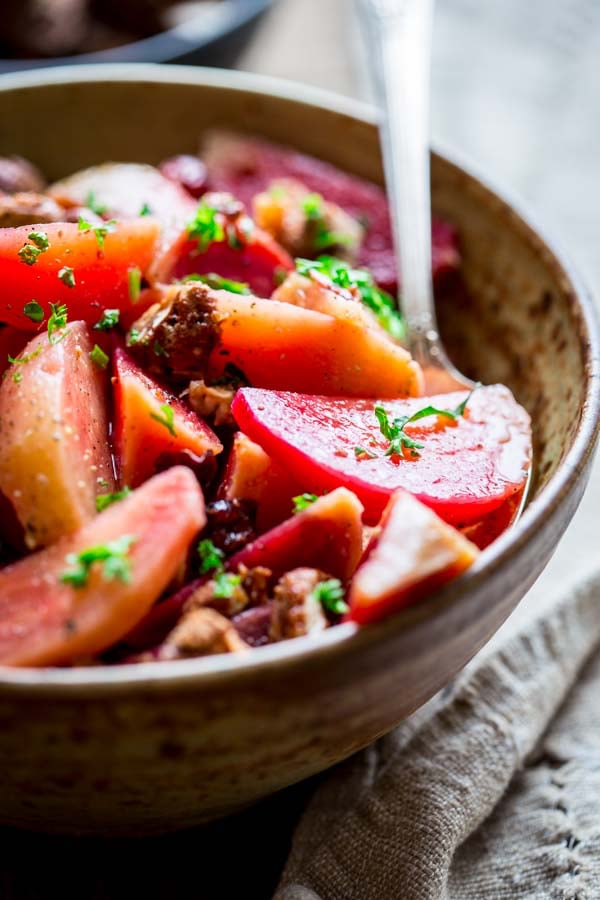 For a perfect wintery side dish, check out Katie's colorful, cheery beets with cranberries and spiced nuts. I love the sweet and savory notes here!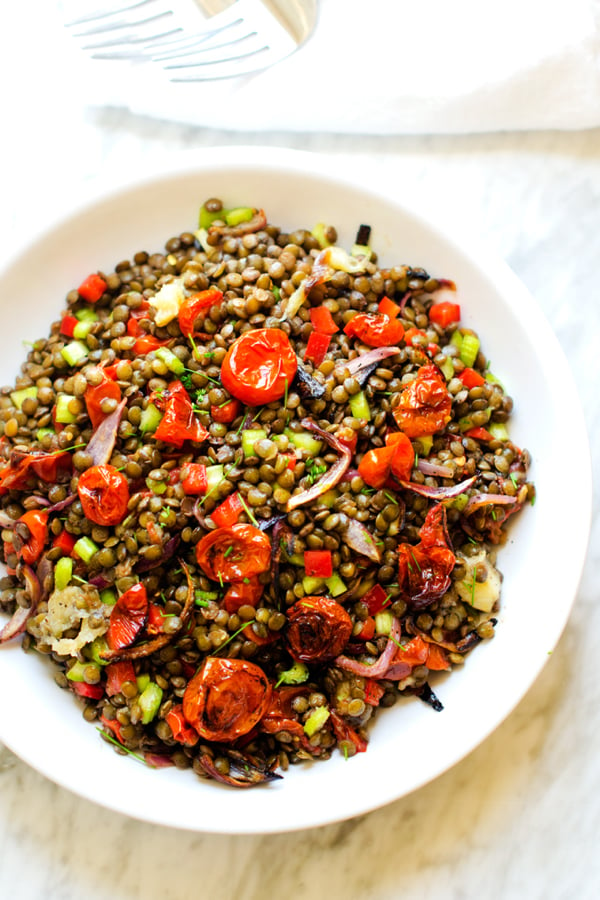 Finally, a burst of color with Wendy's lovely roasted garlic tomato lentil salad. Roasting garlic is a perfect way to fold tons of flavor into what is otherwise a simple, humble lentil dish, and I love the addition of soft, sweet roasted cherry tomatoes.
Reads
1. To begin with, a look into many pairs of eyes in the animal kingdom. This National Geographic article examines the physiology of seeing across a host of different species, with particular focus on evolution and adaptation. The photographs are mesmerizing, and the article itself is fascinating.
2. I really loved Charles Siebert's New York Times Magazine article about the unexpected bond between traumatized veterans and abandoned parrots. As Siebert makes clear, the parrots have experienced their own kind of profound trauma:
"Abandoned pet parrots are twice-traumatized beings: denied first their natural will to flock and then the company of the humans who owned them. In the wild, parrots ply the air, mostly, in the same way whales do the sea: together and intricately. Longtime pairs fly wing to wing within extended, close-knit social groupings in which individual members, scientists have recently discovered, each have unique identifiable calls, like human names. Parrots learn to speak them soon after birth, during a transitional period of vocalizing equivalent to human baby babbling known as ''subsong,'' in order to better communicate with members of their own flocks and with other flocks. This, it turns out, is the root of that vaunted gift for mimicry, which, along with their striking plumages and beguilingly fixed, wide-eyed stares, has long induced us to keep parrots — neuronally hard-wired flock animals with up to 60-to-70-year life spans and the cognitive capacities of 4-to-5-year-old children — all to ourselves in a parlor cage: a broken flight of human fancy; a keening kidnapee."
Unlike most articles about animal-assisted therapy, this essay truly focuses on the experience and inner lives of parrots, rather than presenting them as instruments by which human beings heal. The article is about a special kinship between sentient beings who have suffered, and about what Siebert calls the "expansive anatomy of empathy."
3. Almonds are getting a lot of attention lately because they are such a water-thirsty crop. It seems difficult not to ask ourselves whether or not almond milk is a sustainable commodity in the midst of so much water shortage in California, where almonds are grown (though it's worth noting that animal agriculture consumes far more water than almonds, and that alfalfa, which is grown for animal feed, is an even more water-intensive crop).
For this reason, I was interested to read about the farming of Palestinian almonds that are adapted to to low water. The article is also an interesting portrait of a new farming enterprise that might help marginalized, rural farmers.
4. If you're nervous about antiperspirant use in the context of potential breast cancer risk, this article does a very good job of synthesizing the evidence, which demonstrates little if no causation in the end. I certainly understand unease with parabens, and it's worth saying that most vegan-friendly deodorants and antiperspirants are paraben free as well, which eliminates potential concern. But the article is a good reminder to place most of our focus and concern about disease likelihood on probable causes. In the case of breast cancer, these would include age, genetics, obesity, race, and alcohol consumption.
I'm a person who has an increased risk of developing breast cancer, thanks to family history, very dense breast tissue, and the fact that I will almost certainly not have a child before the age of 35, if I have one at all. I do what I can to manage risk factors that are within my reach–such as drinking moderately, doing breast self-exams every month, and reading up on new research. But I've also learned over time to focus on prevention broadly whenever possible. No matter how you choose to fold prevention into your lifestyle, I think that articles like this one have a place in helping to underscore the big picture.
5. Finally, while I didn't exactly agree with this article on hunger, I found it interesting. The author's main point is that hunger is a primarily psychological phenomenon, and he sees this as evidence for the failure of most diets, which involve denying the "hunger mood."
While psychology is certainly a part of hunger (as are lifestyle, habit, culture, and many other non-biological factors), I wouldn't go so far as to say that hormones and blood sugar aren't also a very substantial part of the phenomenon, too. In that sense, I take issue with author Michael Graziano's premise, which to some extent suggests that weight maintenance is all about mind over matter. However, I do firmly agree that most diets are so profoundly at odds our biochemistry and psychology that they end up backfiring. In any case, it's an interesting read.
And that's it on this chilly day, everyone. I look forward to checking in tomorrow with a new menu plan for the week and an update on the SNAP challenge. Till soon!
xo