Happy Saturday, friends. If you happen to be reading in the DC area, I hope you've been enjoying this wave of springtime weather! It's lovely outside today. Here are some links that have piqued my interest this week.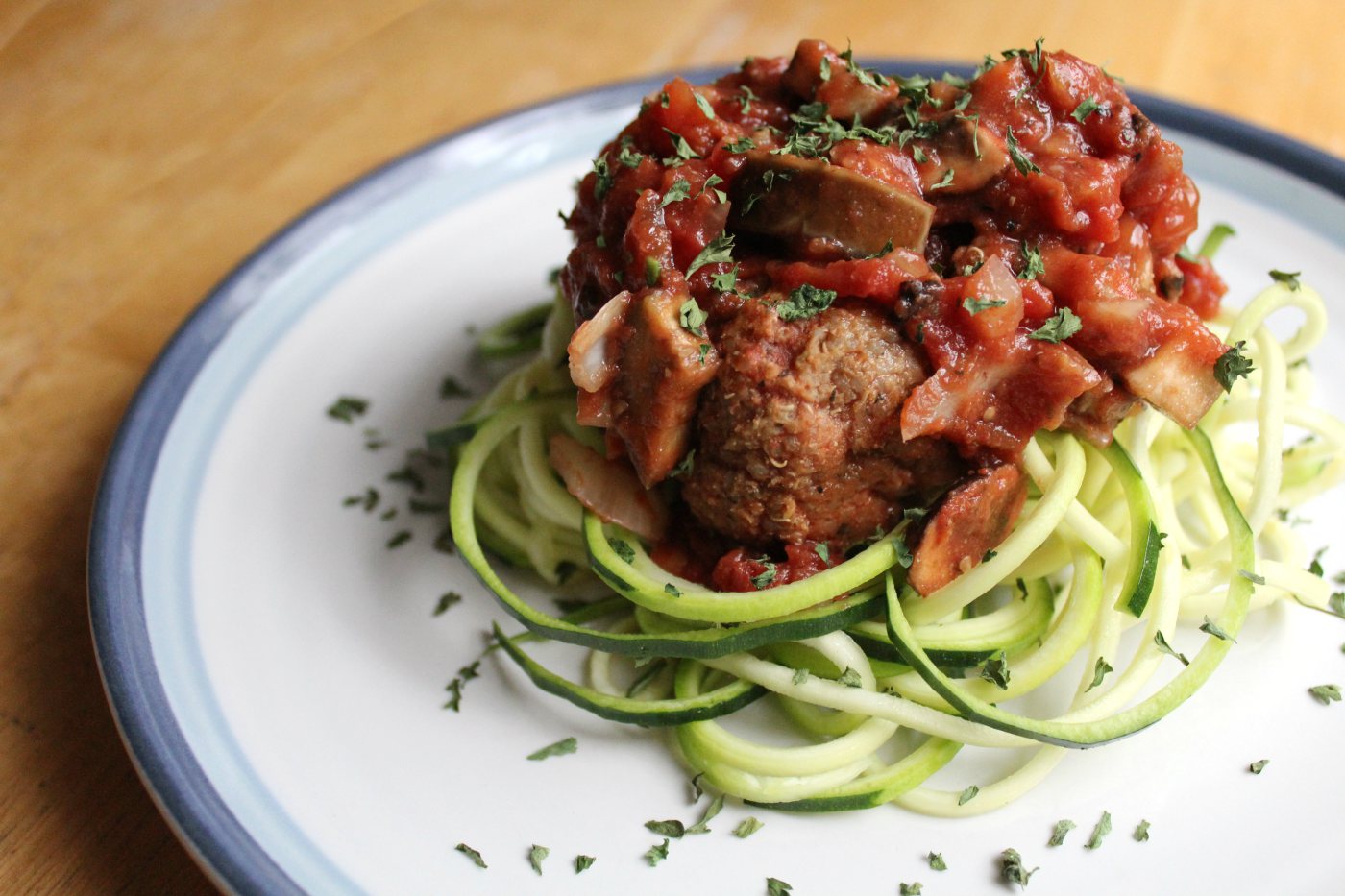 To start things off, this lentil quinoa meatball bolognese over zucchini noodles looks like a fantastic combination of refreshing and hearty.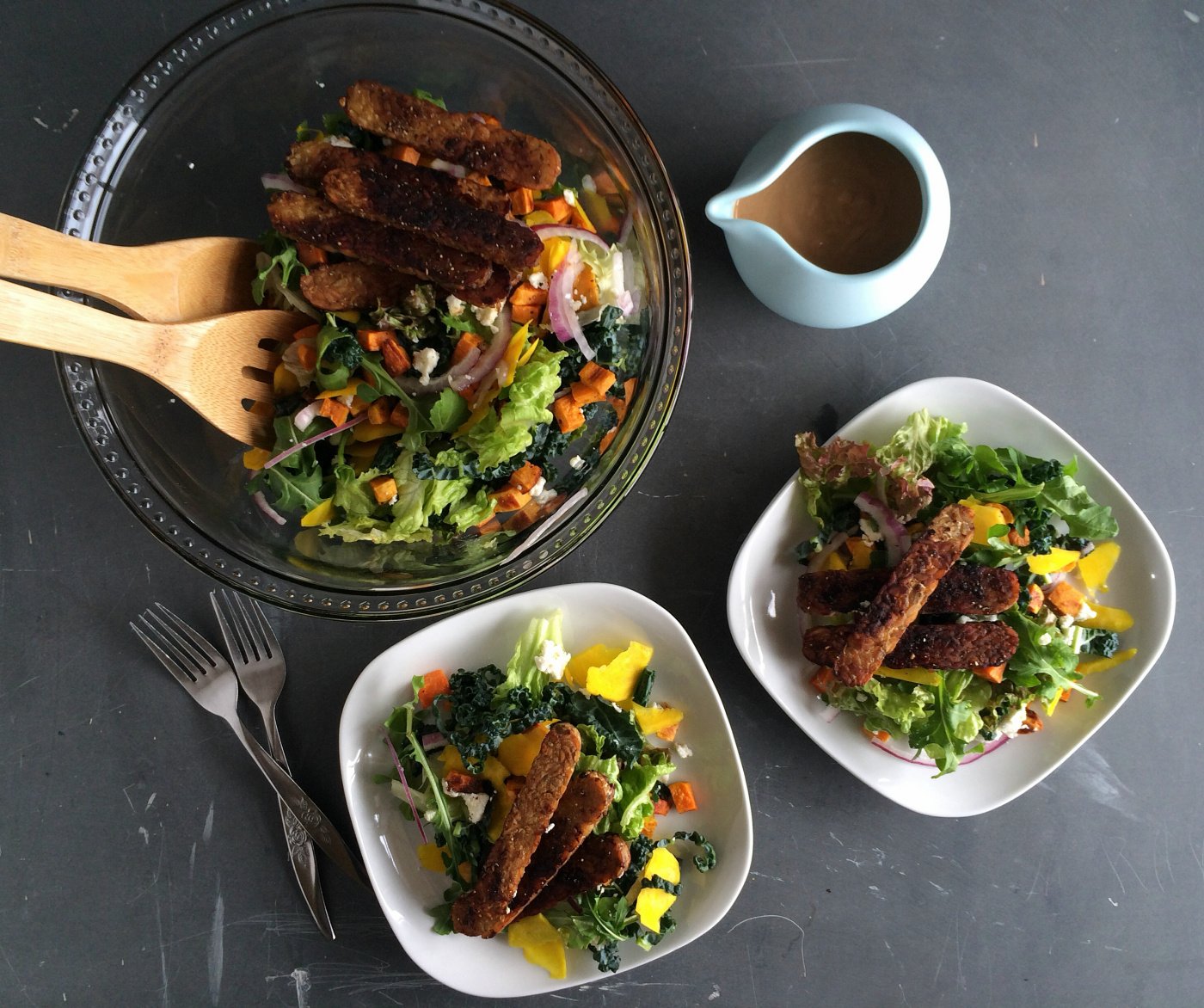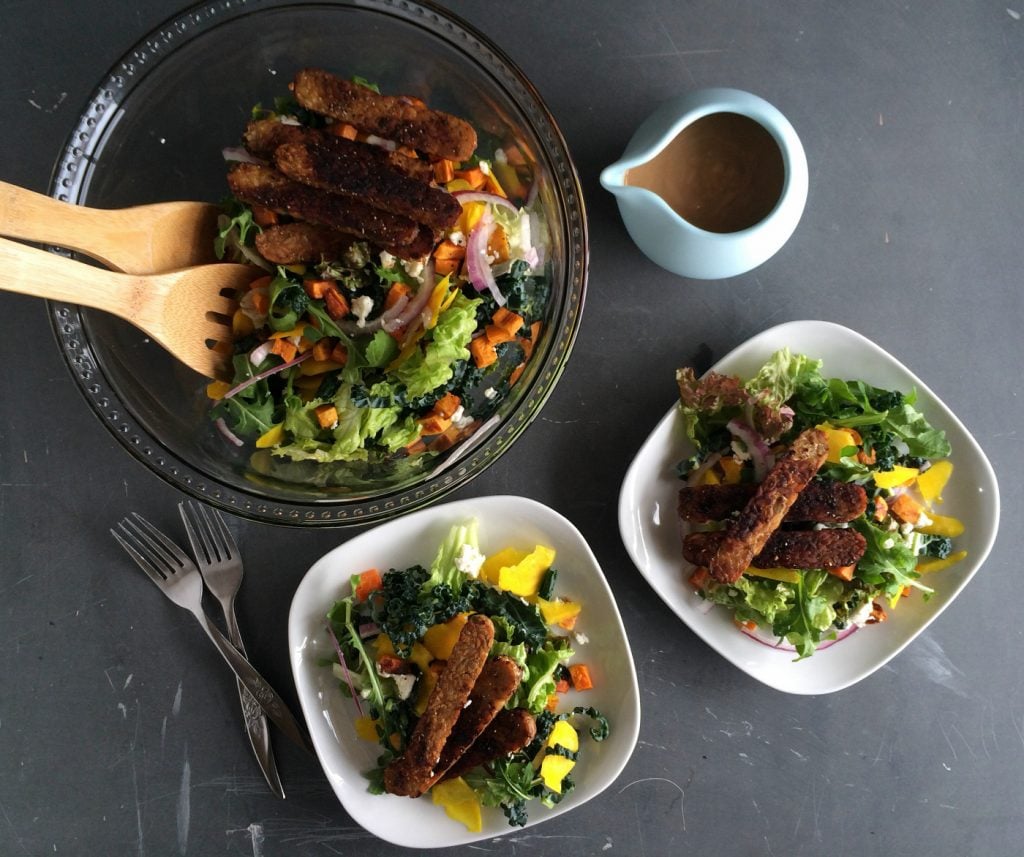 I'm still on a tempeh high from this week's tempeh chili. This salad recipe–roasted sweet potatoes, greens, and tempeh sticks with barbecue balsamic dressing–looks like a perfect way to continue celebrating one of my fave vegan proteins.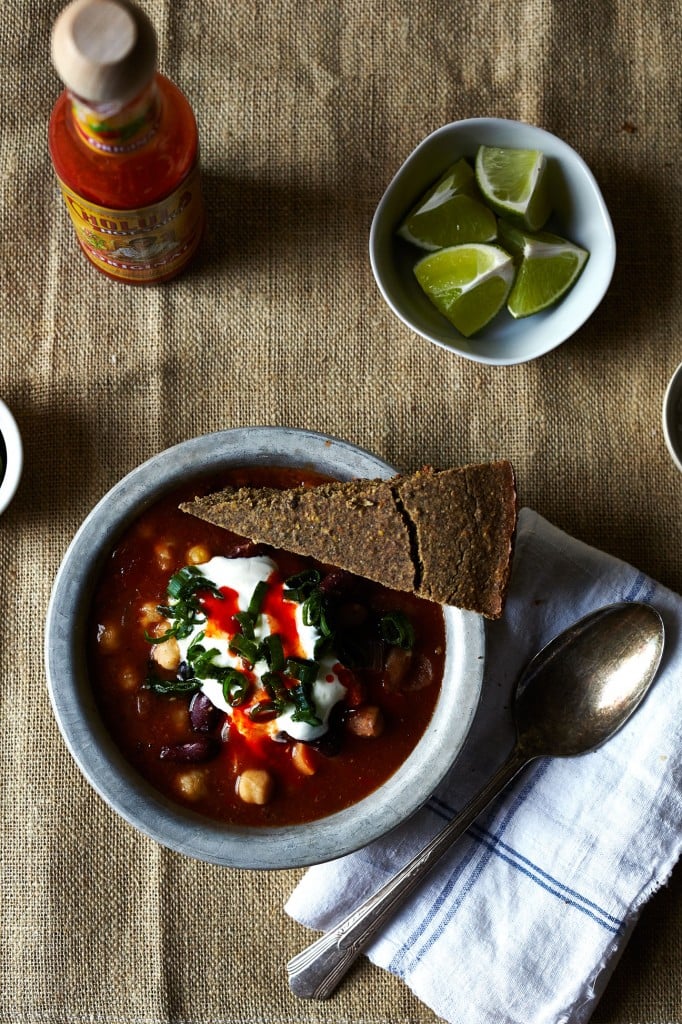 Speaking of chili? Julia of Sassy Kitchen has far outdone herself with this bowl of vegan chili (served with buckwheat cornbread–not vegan, but veganizable fo sho).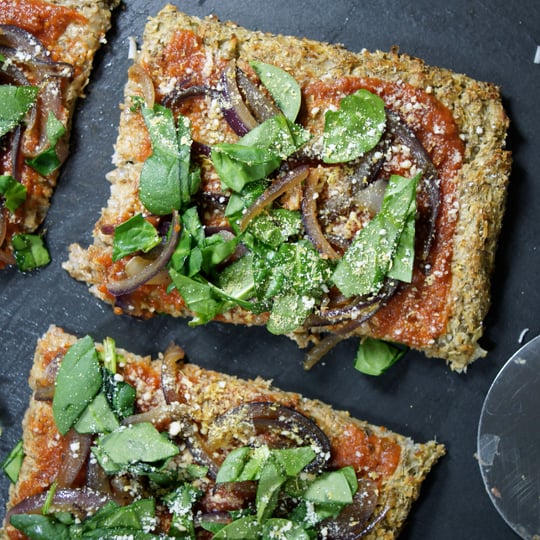 This year's food blogosphere trend seems to be cauliflower pizza crust. The reason I have not tried this creation is that these crusts almost always feature eggs. Now Megan has created a vegan version of cauliflower crust. Nice work, Megan!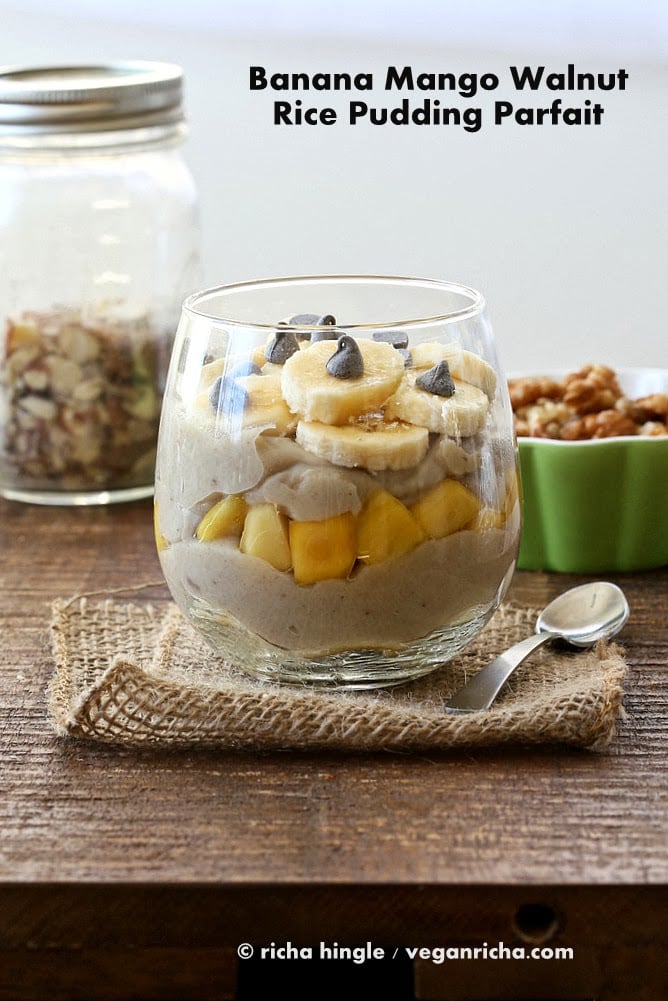 And let's end things on a sweet note, right? Richa's brown rice pudding with banana and walnuts looks phenomenal.
Reads
1. This week, Marion Nestle covered Brazil's new dietary guidelines. These are intended both to help protect against malnutrition and also to prevent obesity, which is steadily climbing in the country. The guidelines emphasize whole foods, eating in company, avoiding unnecessary fat and sugar, and being critical of food advertisements. They are pretty awesome. As Nestle notes, "Now if only our Dietary Guidelines Advisory Committee would take note and do the same?"
2. I'm sure that many of you saw this article already, but if you haven't, it's an interesting read. The author assesses how many foods currently sold at Walmart would be banned from Whole Foods, based on that store's "unacceptable ingredients" policy. As it turns out, a whole lot–about 54%. There is of course some question about why and how Whole Foods decides which ingredients are acceptable and which aren't. But even so, this is yet another expose of how many additives and various forms of refined sugar sneak into conventional processed foods.
3. A video about empathetic responses (including reassurance) among elephant herds. Too sweet, and such clear evidence of the emotional sophistication of these beautiful (endangered) creatures.
4. I am just about in love with Richard Gunderman's article about burnout among doctors, residents, and medical students. Gunderman, a physician and educator, believes that burnout manifests itself in "high rates of emotional exhaustion, depersonalization, and a diminished sense of personal accomplishment." He goes on to address the issue with empathy and a keen understanding of contemporary medical training. If this isn't enough, he presents one of my favorite novels, Middlemarch, as a potential balm for the burned out young medical professional (and here the former English major and aspiring health care professional in me meet excitedly).
Lydgate, one of the principal characters in Middlemarch, arrives in the small British town after which the book is named to found a charity hospital. Over time, however, he drifts from his original intentions, turning his practice and research to gout (a disease of the wealthy), rather than typhus. "Though outwardly successful," Gunderman writes, "he comes to see himself as a failure. In short, he burns out because he loses his way. To paraphrase the novel, Middlemarch not only swallowed Lydgate whole. It assimilated him very comfortably."
On first glance, reading a gargantuan 19th century novel may not seem like a useful solution to professional exhaustion or disillusionment. But given that this burnout grows out of a system that will be slow to change, if at all, I think that turning to art is perhaps the most reasonable recourse possible for the medical student or doctor who is distressed. What's more comforting when things are tough than to be reminded that our experiences are not unprecedented, or to see our struggles reflected through another person's imaginative and insightful vision?  Gunderman ends by saying,
Everyone needs to make compromises, but such compromises should not come at the cost of abandoning core aspirations. Quite the reverse, the primary goal should be to allow such aspirations to develop and express themselves in the challenging world of contemporary medicine. Books like Middlemarch are no panacea, but they offer precisely the imaginative nourishment so often missing from contemporary medical education, a powerful antidote to the insidious forces that produce burnout.
5. An interesting article about how certain patterns of abnormal brain activity might predispose certain people to eating disorders. The idea that there might be neurological underpinnings to disordered eating is not new, but our understanding of the interplay between brain activity and diseases like anorexia and bulimia remains limited. I always welcome news of research like this, and believe that it has the potential to help a lot of people.
Speaking of eating disorders: National Eating Disorder Awareness (NEDA) week begins on Monday. As always, I have some thematically appropriate posts planned for the week ahead, including a great green recovery submission. That said, I do want to know if you all have any particular topics you'd like me to address? I asked on Facebook, and so far there seems to be a lot of interest in orthorexia. So, let's put that on the agenda.
Any other ideas? Leave a comment or email me (gena@thefullhelping.com). I'd love to know what's on your mind.
xo