Happy Saturday, everyone. I'm happy to see that the slow cooker chili was a hit (a few folks have already let me know, via Instagram and FB, that they made it, and they seem to have loved it as much as I have). I'll definitely be posting more slow cooker recipes in the coming year, as that kitchen appliance is quickly becoming a grad school lifesaver! (And I'll always try to give a stovetop version of things, too).
By the way, if you make a recipe and enjoy it, or if you come up with a cool modification, please let me know here on the blog or on social media. I always get a kick out of hearing how my recipes could be modified or tweaked in fun and interesting ways!
This has been a nonstop week, between exam cramming and new clients and teaching a class yesterday at ICE (which was a blast). We featured recipes from Food52 Vegan, and at the end of class all of the students and I were able to sit down to a shared meal. I loved that the class was broken up into seasoned vegan home cooks, longtime vegans who aren't really in the habit of cooking but want to learn, omnivores with curiosity about meatless meals, and total kitchen newbies. It was a diverse, enthusiastic group, and we had a lot of fun together.
And now, I'm gathering some culinary inspiration from friends around the web. Here's what I'm finding.
First, some breakfast fare. These whole grain pancakes from Sophie of Wholehearted Eats are delicate enough to double as hearty crepes, and they're ingenious–just a super simple ingredient list of quinoa, millet, buckwheat, chia, baking powder, and sea salt. Proof that pancake recipes don't need to be fussy in order to turn out beautifully. The sunny citrus accompaniments are a nice touch, too.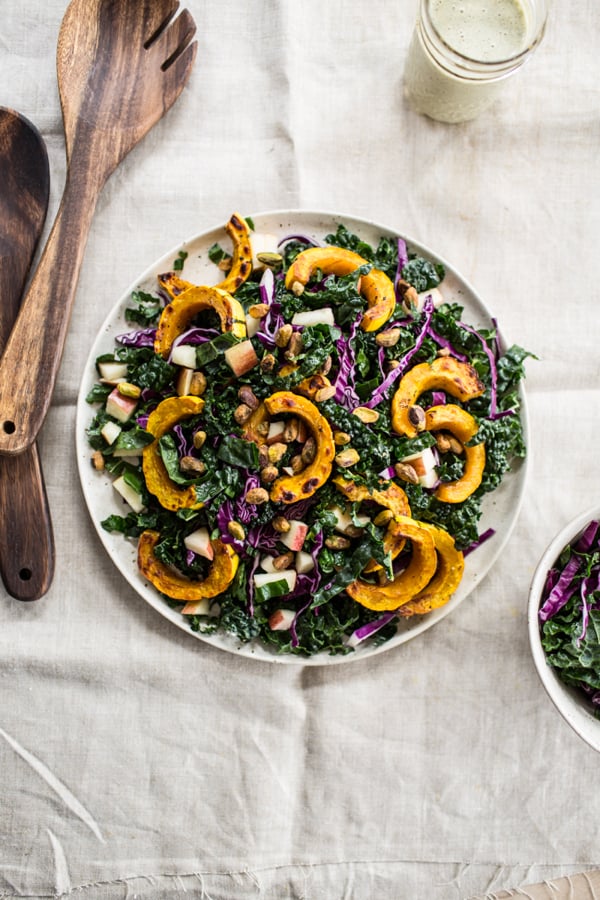 I was excited to see that my friend Ashley was inspired by the lemon hemp dressing on my blog (which is at this point practically a weekly staple for me, and I know it's a reader favorite, too) to create a delicious orange maple hemp dressing, and an even more delicious (not to mention visually stunning) kale and delicata squash salad to accompany it.
Alexandra's Leblebi (North African chickpea soup) looks like the perfect hearty and easy meal to whip up when you've got a bag of dried chickpeas at home. Paired with flatbread or pita, it's a perfect lunch or dinner.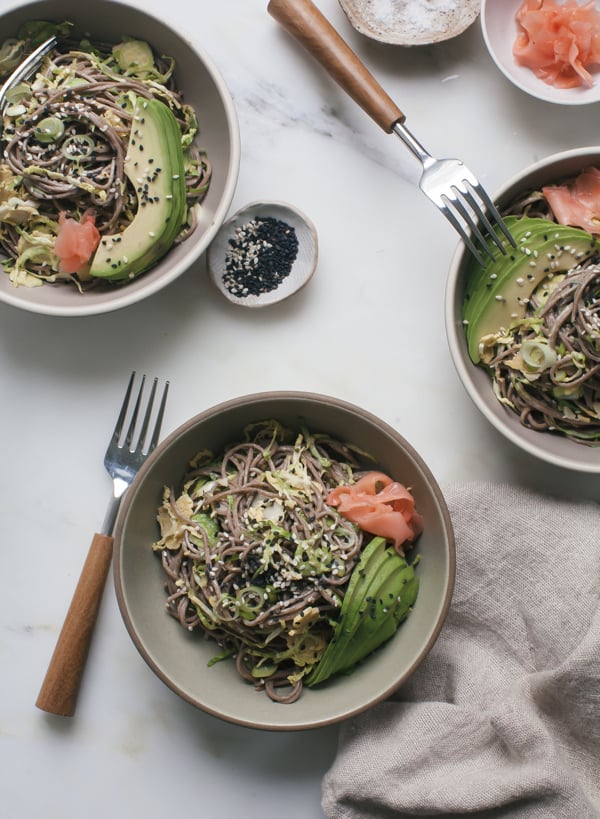 It's still brussels sprout season, and these tasty brussels sprout and soba noodle salad bowls are a great way to show those crucifers off. I love Adrianna's colorful avocado, sesame, and ginger garnishes — they add brightness and texture to these simple and homey noodle bowls.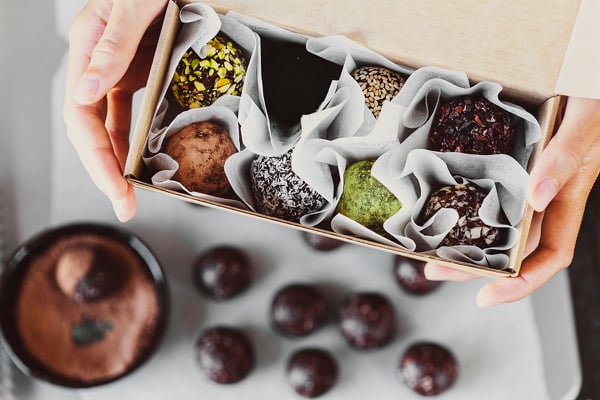 Finally, dessert. One of the recipes we made in my cooking class yesterday were the Mexican chocolate date "truffles" from Food52 Vegan; I chose them because they're simple, no-bake, no-fuss, and I know the whole class could participate in the fun of rolling them together.
These cacao almond truffles from the lovely folks at Cocoon Cooks show off the same idea: an easy, healthful way to chocolate dessert bliss. What a great idea for easy Valentine's Day giving!
Reads
This month, my Food, Nutrition, and Behavior class has been focusing on the origins of taste and taste perception. We're delving into the question of whether or not taste for sugar is innate, and if so, what purpose does it serve? How and why does taste evolve as we get older, and are there any genetic pre-determinants for our predilections for things like bitterness or spiciness? What's the evolutionary explanation for liking spicy foods?
1. It's all really interesting stuff, and because it's on my mind, I took note of NPR's interview with food writer Bee Wilson, whose new book, First Bite, covers many of these topics. Wilson also touches on parental feeding styles (authoritarian and permissive) in the interview, which ties in nicely with some of what I learned in my human development class last semester.
2. While we're on the topic of taste, this article by Mary Roach came out in 2007, but it's still an engaging and curious exploration of how and why taste can differ dramatically from person to person. There's evidence that there are genetic underpinnings of some of our tastes (the taste for bitterness, for instance), and amniotic fluid contains flavor molecules that can ultimately influence a newborn's taste. But even from sibling to sibling, there can be vast differences, as Roach demonstrates when she compares her own adventurous eating preferences to her brother's very conservative ones.
3. Since sweetness seems to be a universal human preference, let's talk ice cream. Ben & Jerry's revealed its four new vegan flavors this week, and I have to say, they all sound delicious (coffee caramel fudge, anyone?).
4. Some good potential policy news: President Obama is proposing in his 2017 budget that all families who qualify for subsidized school meals be given a special electronic benefits card that will allow them to buy an additional $45 in groceries per child each month when school is out.
Many low-income children who receive free and reduced price meals during the school year have a difficult time obtaining enough food during the summer, when schools are closed. This is especially difficult in rural areas, where transportation to feeding sites can be a problem. Hopefully the proposed initiative might help to keep kids well fed all year round.
5. Finally, some levity. This Buzzfeed article pokes fun at the way that male and female scientists' biographies are relayed differently. I'll let the article do the talking!
On that note, friends, I wish you a lovely, restful weekend. See you on Monday with a new weekly dinner menu plan.
xo