It seems to be a pattern lately that I'm not getting weekend reading up until Monday, which to some extent defeats the purpose. But is there ever a bad time for delicious recipes, mouth-watering photos, and thought-provoking reads? Nope. I hope you'll all enjoy this week's picks.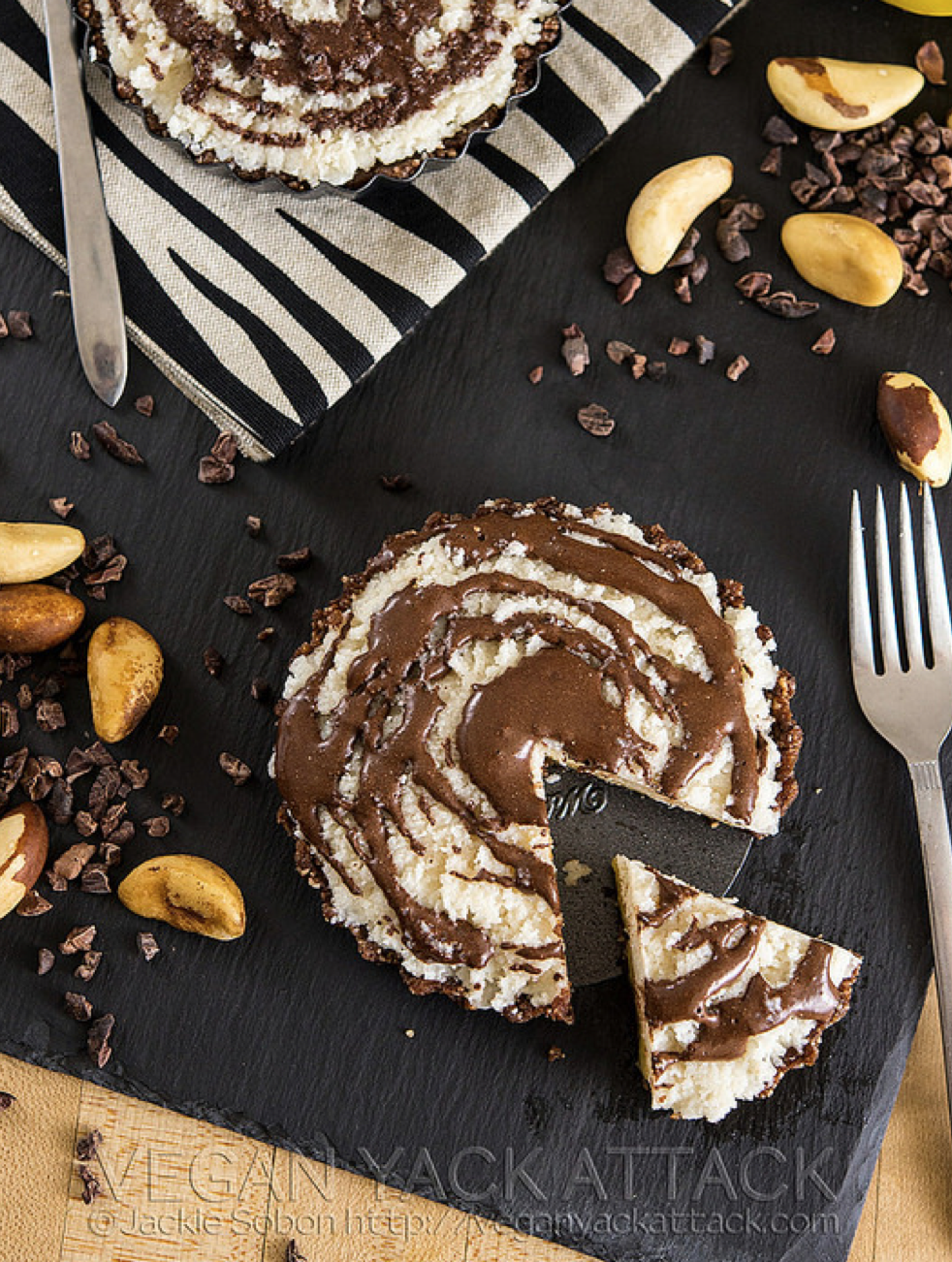 Rather than ending with dessert, which is what I usually do, I think I'll start with it. My friend Jackie shared a recipe from the lovely Emily's new book, Rawsome Vegan Baking, and it looks cray cray: jungle pie with coconut crust, banana slices, and chunky coconut topping. Emily, you are a magician.
Moving on to something savory, this warm lentil salad with smoked tofu looks delicious, and caught my eye.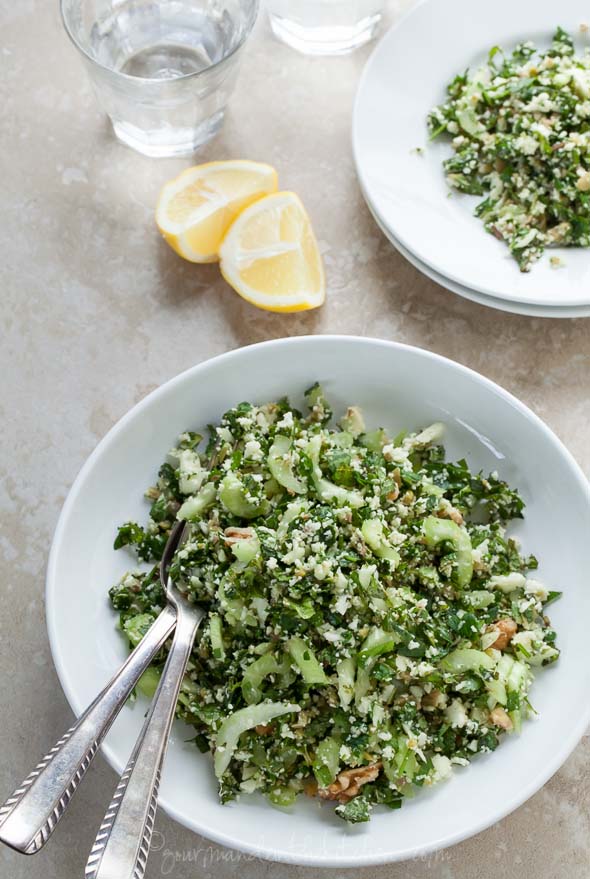 Sylvie's cauliflower tabbouleh is fresh, healthy, and very pretty. What a great idea–I've done hemp tabbouleh and grain tabbouleh, but cauliflower rice is new to me.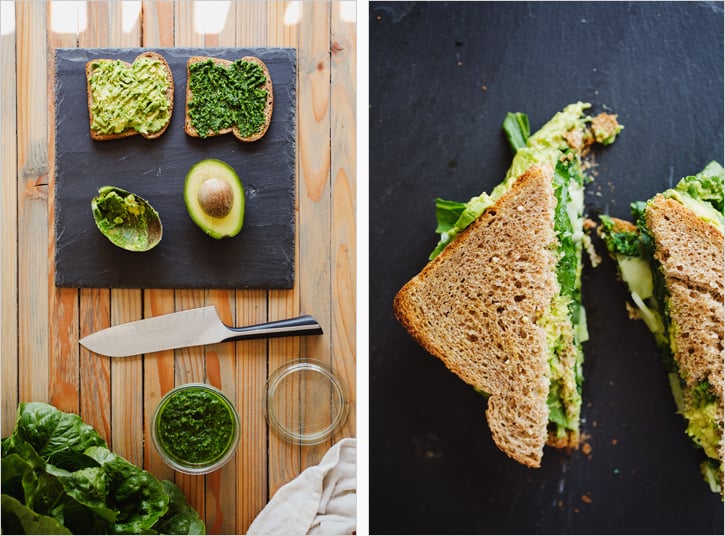 And, oh my lord, Sara has created my dream sandwich. Avocado, green harissa, fresh herbs. I die.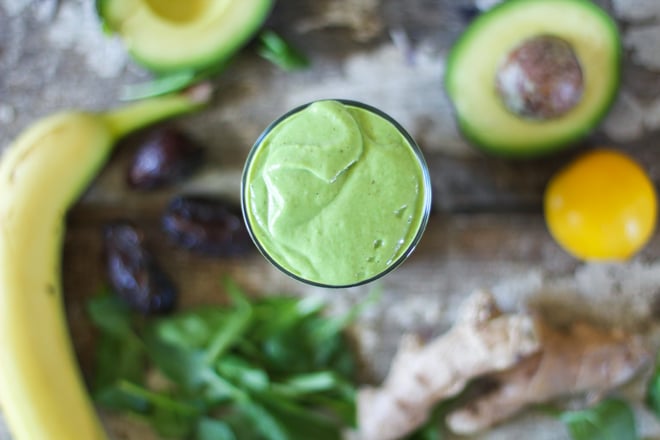 Finally, my friend McKel's creamy ginger smoothie looks so, so good (avocado, ginger, lemon, banana — all of the best stuff). Can't wait to make it.
Reads
1. This week, Moby posted an article in Rolling Stone about why he's been vegan for 27 years. One reads these "why vegan" stories all of the time, but I was really impressed with how succinctly, powerfully, and passionately he managed to sum up his answer. Very heartfelt and inspiring.
2. On a more somber note, my friend Carrie wrote a lovely post about losing (and mourning) a companion animal. I was so sorry to hear of the loss of her cat Roxy recently, but I was also tremendously impressed with how powerfully she has channeled her grief into ten practical, compassionate, and helpful pieces of advice.
3. A cool little slideshow on eight health technologies to watch out for, including a smart pill bottle, a FitBit that helps you become more active, and a Jawbone UP that tracks sleep.
4. This week, my friend Mike began a blog of his own, called Plant Based Riot. One of his first posts is about how to eat vegan at a steak house, and it's very funny, not to mention genuinely helpful and spot-on. I've written a lot about dining in non-vegan restaurants as a vegan (like Mike, I used to have a lot of work lunches), and I think Mike does a great job of summing up the best strategies. But in a lot of ways, it was his last point–"it's just one meal"–that I think is the most important. He writes,
As a plant eater, you are not at a steakhouse for the food so don't sweat it if the food isn't what you had hoped for. It's just one meal. Move on. In fact, take it in the other direction and really try to appreciate the mushy broccoli. Be grateful that in a sea of meat you are able to enjoy a simple, yet miraculously nutritious plant. Enjoy your conversations more. Take in the so-called ambience if it exists. Don't worry about your food. You can overeat a bunch of popcorn covered in Nooch when you get home.
Couldn't have said it better. Dining out is about the food, but it's also about the experience of being in company and in a new setting. The world will go on if a meal is just OK–a lesson I learn more and more with each year.
5. This week, I was introduced to Aeon magazine, and I have a feeling it's soon to be a regular read. It features essays on ideas and culture, most of them underscored by scientific inquiry. This week, I particularly enjoyed Ilana Yurkiewicz's article, "Why Rude Doctors Make Bad Doctors." Yurkiewicz certainly isn't out to skewer the medical community, and in fact begins the article by saying,
the majority of doctors, nurses, and other health care professionals I've worked with have been courteous and respectful: strong teachers and compassionate caregivers…I've been amazed by residents who work 24-hour shifts and somehow still have the energy to teach those who do not yet know as much as they do. I both admire them and am grateful for them.
My brief work in hospitals has made me feel the same mixture of things: admiration, respect, surprise at how many exceptional health care professionals there are. But I also appreciate Yurkiewicz's criticisms of behaviors that are curt, competitive, dismissive, short-tempered, and the medical culture that protects and even reinforces them. The article is comprehensive and tough-minded, and it's worth reading.
Alright, folks. It's time for bed. See you tomorrow!
xo