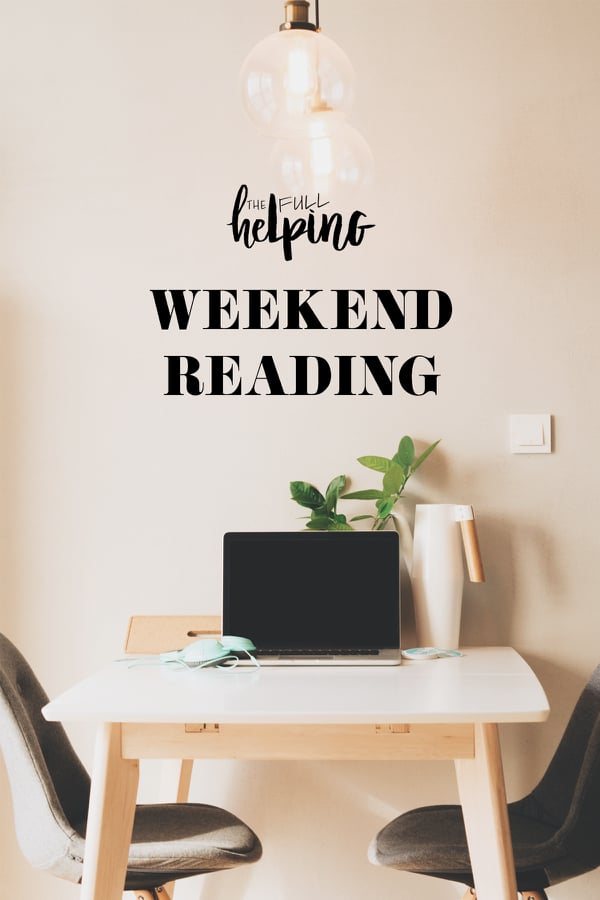 It's been a wordy week around here, so I'm keeping it short and sweet for today's weekend reading. But, thank you all so much for the kind support of NEDA week and for a compassionate, honest dialog about recovery and healing. It means everything. To those of you who contributed to my GoFundMe campaign, deep gratitude: today's the last day, and while there's still time to give, I've met my goal for supporting NEDA.
There's a quotation by Franz Kafka that keeps coming back to me as I reflect on the last couple of days and the recovery theme:
"You can hold yourself back from the sufferings of the world, that is something you are free to do and it accords with your nature, but perhaps this very holding back is the one suffering you could avoid."
I've been thinking a lot this week about holding back, how that impulse sat at the heart of my eating disorder. At the same time, I've been thinking about how the impulse to share and connect, to be expansive and brave and bold, lights the path for recovery. The "take up space" and "be love" affirmations are connected to this, the project of allowing the spirit to radiate outward.
Until the last few days, I hadn't written much about ED recovery in the past year. Doing so has reminded me that speaking up about this topic is a part of how I stay rooted in my healing. So, a big thank you to all of you for bearing witness and creating a safe space to talk about it, to keep it real, and to not hold back. It means so much.
Now it's nice to be settling back into the Sunday ritual of rounding up enticing vegan recipes and scoping out a few reads. I'll be sharing a simple curry dish with you all this week, too.
Recipes
First up, an awesome lunch idea from my friend Ali: avo toast with white balsamic, golden beets, and just a sprinkle of arugula.
I've tried lots of different vegan falafel recipes, but quinoa falafel will be a first for me. Love this idea from Alissa of Connoisseurus Veg!
A cozy butternut squash and kale minestra soup from Sara of Sprouted Kitchen. The croutons are an awesome touch; I'm going to make them with nutritional yeast instead of parm to veganize the meal!
Speaking of squash, and parm, what a lovely, wintery vegan pasta dish! Roasted delicata, pappardelle, sage, Brussels sprouts, shallots, walnuts—so rich and comforting.
It was a rainy week here in NYC, so I was excited to see these sunny cupcakes on my computer screen: Erin's coconut cupcakes with blood orange buttercream.
Reads
1. I've spent a lot of the past year trying to reconcile my hunger for intimacy and companionship with the conviction that I need to foster a sense of wholeness in solitude again. This article definitely resonated, and Becky Mandelbaum also has interesting insights into the interplay of solitude and creative work.
2. Simple and intuitive advice from dietitians, each focused addressing a high-impact behavior change. I like that these tips are focused on the big picture, on meal patterns, rather than individual foods or nutrients.
3. African-American women in the US are four times more likely than white counterparts to die during pregnancy and childbirth. This article helps to explain some of the reasons, and it profiles the innovative work of Jennie Joseph, who is making pregnancy safer for women of color in her prenatal and postpartum clinic.
4. Omid Safi has written a lovely and lyrical blog post for On Being, in which he likens the resilience and healing network of redwood trees to the human experience. He writes,
"Each of us go through 'terrible damages' — a divorce, a heartache, a breaking, a clinging depression, an exile, a financial ruin, a lingering disease, a loss of a loved one, a death, a loss of dignity, a violation.
May it be that despite such terrible damage, the tree of our life does not die.
May it be that there is a vitality in our roots, and that the charred tree of our experiences gives birth to a hundred new blooms dancing around us, newer versions of ourselves that leap to life from what we would have deemed to be our death."
I was touched by Safi's acknowledgment of the deep wounds that all people are bound to encounter as part of being human, and his hope that we keep going—together and individually—in spite of it.
5. This isn't a NEDA Week post, but it's the last day of NEDA week, and I wanted to share a powerful essay by actress Karla Mosley. Her reflections on the pressure she felt growing up to be small and inconspicuous and pleasing certainly resonate:
"I understood that I had to be palatable. That I had to be as "good" as possible, and that meant as unnoticed as possible. And so I'd go to my friends' houses and do their chores; I'd make their parents like me. I was learning to ask myself, How can I be like everyone else? How can I be unnoticed? How can I be as small as possible?"
Mosley goes on, though, to explain how her disorder was also complicated by race and her career in acting. She shares an insight into the difficulty of recovery that rang true to me, and may ring true to many of you as well:
"I had to learn to challenge beliefs that I didn't know were disordered because they had been with me for so long. And everywhere I went, I kept hearing the song "Superstition" by Stevie Wonder. He sings, "If you believe in things you don't understand, you suffer." I believed I was supposed to harm myself in order to change, that I'd lose my career, or relationships, or happiness if I didn't. Stevie was right. And I'm still untangling those backward beliefs that I probably made up when I was 10 years old."
Untangling belief is so hard, but such worthy work. Big kudos to Mosley for speaking up like this.
And on that note, I'm off to get a little rest before a busy week. Wishing you all a peaceful Sunday night.
xo