I was expecting a wait when I went to vote early yesterday. I wanted to do it in person, and I knew that the lines at the polls would be long, especially with social distancing in place. It was chilly, but not freezing. I brought a hat, a sweater, and an old vegan leather jacket that's surprisingly cozy at this time of year.
I wasn't expecting the line to take four hours. But that's how long I waited, along with hundreds of neighbors. I read today that nearly 200,000 people in New York City cast early ballots over the weekend, and from what I hear, the lines were even longer on Saturday.
At the beginning, of course, spirits were high. It was a bright fall day, crisp but not too cold. It was hard to tell where the line actually went or how long it was, wrapped as it was between two avenues and four city blocks. As we figured out what we were in for—aided by people in the home stretch of the line who told us to expect five hours—we laughed nervously. A woman near me was reading Moby Dick. My neighbor and I joked that she'd probably finish it by the time she cast her ballot.
As the hours went on, we all became colder and grumpier and more quiet. People started stretching their calves and hip flexors, bopping around in place to help beat the chill. I get cold easily, and at one point, when my teeth had been chattering for more than thirty minutes, I seriously considered calling a friend nearby and asking her to bring me an extra layer. Many people in the line had brought folding chairs, canes, and walkers.
In spite of the stiff limbs and boredom, there were a lot of heartwarming moments. People made jokes. Strangers got to know each other, chatting in the way that I've seen New Yorkers do so many times when it's necessary to make the best of something: a stuck subway car, a crowded bus, a really long wait at the post office. I thought back to walking home from work during the blackout of 2003, a little nervous but soon comforted by the upbeat mood of the giant crowd I was moving in. The difference was that we'd all chosen to be there yesterday; we simply hadn't predicted for how long.
Volunteers from a local church strolled by with cups of soup from their pantry, handing it out to people in the line. A local deli did something similar, bringing by free hot sandwiches for anybody who was interested. Kids stopped by to keep their parents company. Seniors were joined by younger companions and family members. Conversations sprung up everywhere. I heard two complete strangers bond over a discussion of their favorite non-dairy milks.
For the first hour or so I thought about heading home. I figured I could return on a weekday, when the lines might be shorter. But once I'd started chatting with the other people in line, once I'd gotten the feeling that we were all in it together, I figured an extra hour on my feet wasn't the worst thing in the world. By the time I got to the home stretch, and then when I entered the warmth of the school basement where we were all casting our votes, I felt so glad to have stuck it out.
It would have been easy to mail in or drop off an absentee ballot this year. But on the heels of everything else that's happened in 2020, I'm glad that I chose to vote with other members of my community. It felt important to me to do that. In the grand scheme of things it's not a big deal to stand on a long line in chilly weather. But the spirit of making the best of things that was on display in that line felt like an extension of what I observed throughout quarantine last spring: neighbors helping neighbors, people finding ways to stay upbeat in spite of their boredom and worry.
I'm hoping with all my heart that change is on the way, starting next week and extending into next year. But I also hope that we're all able to hang on to whatever sense of togetherness and perspective that this unforeseen year has created. I hope that better things are in store for us, and that we'll cherish them all the more because of what we've just passed through.
All I wanted to do when I got home last night was wrap myself in a blanket and eat soup, so: happy Monday, friends! Here are some recipes and reads.
Recipes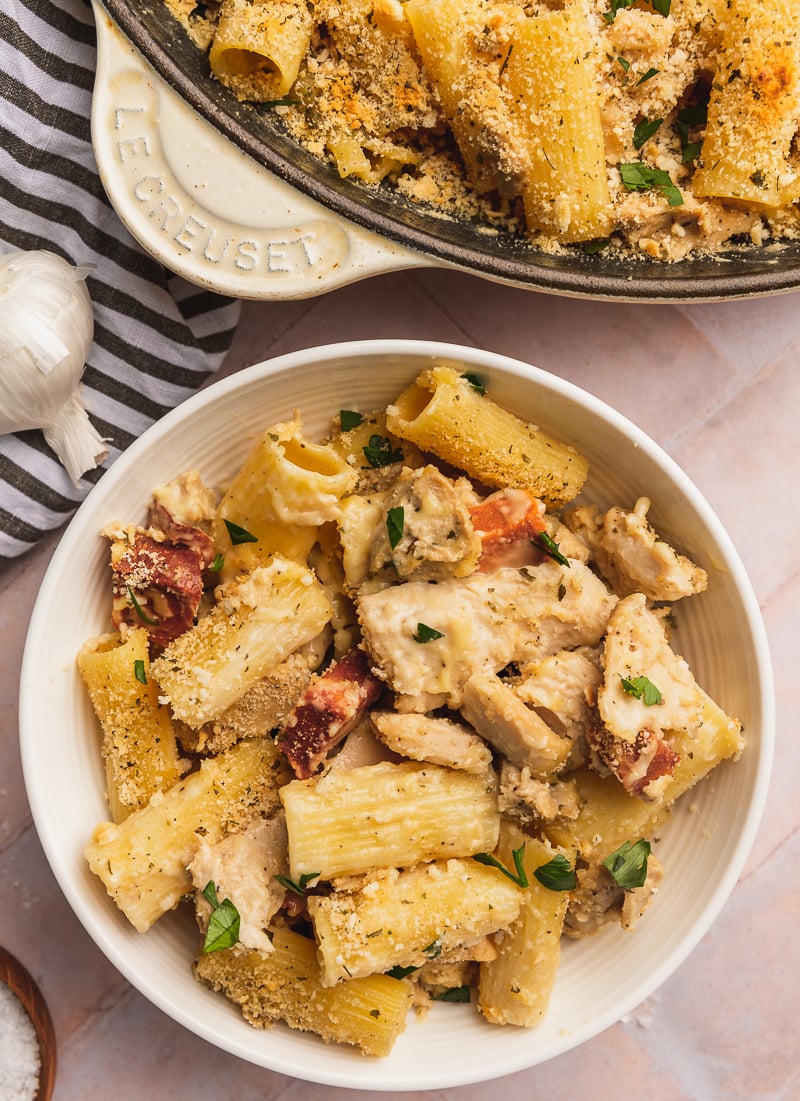 I'm all about the comfort food this week. Starting with Valerie's cozy vegan chick'n cordon bleu skillet.
Look at the swirly goodness in Nyssa's roasted cauliflower and mushroom soup!
Love the looks of (and all of the ingredients in) Andrew's cheesy vegan potato broccoli casserole.
Ranch pasta is such a great idea. This one is not only vegan, but also no oil.
Oh how I wish I were digging my own spoon into Abby's deep dish peanut butter cookie at this very moment!
Reads
1. Some early reporting on early voting this year.
2. If you're feeling tense before the election, some tips on helping to maintain a sense of calm.
3. This is wild: according to The New York Times, doctors may just have found new salivary glands in the human head.
4. An in-depth look at one couple's crusade against prion disease.
5. I've been wondering this myself: do colds (and other coronaviruses) offer protection against Covid-19?
I've got a sweet, autumnal treat for you, and I'll be back here in a couple days to share it.
xo