Happy Sunday, friends, and happy Easter and happy Passover to those of you who celebrated over the weekend. I had something to celebrate in the form of a visit from my best friend, Chloe, who came up from New Orleans for a couple of days. It was great to see her, and it even compelled me to take some time off yesterday, which felt very…healthy. And sane. Now I'm refreshed, ready for a new week, and enthralled by these recipes and reads.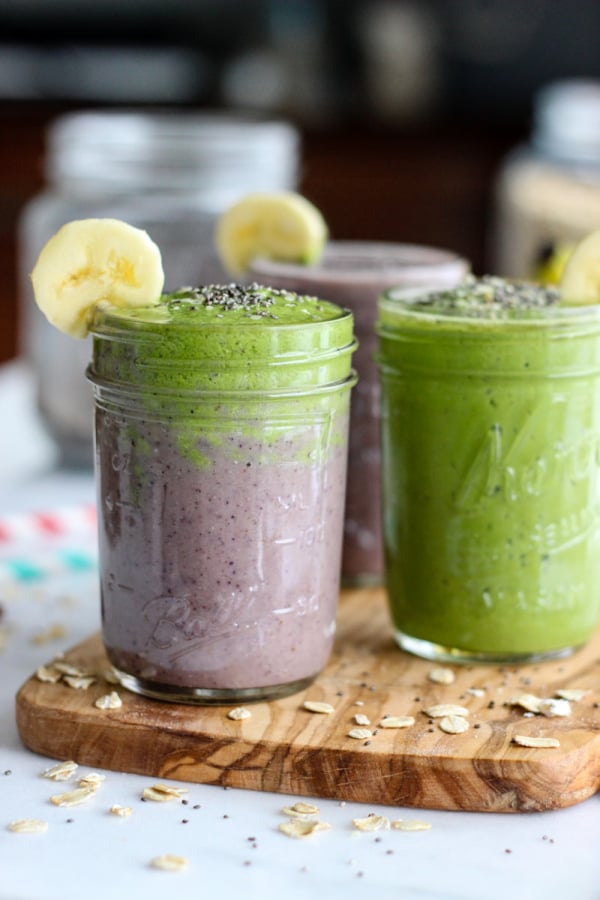 I'm feeling very smoothie-inspired by these beautiful, bi-colored acai and green warrior smoothie concoctions from The Yooper Girl.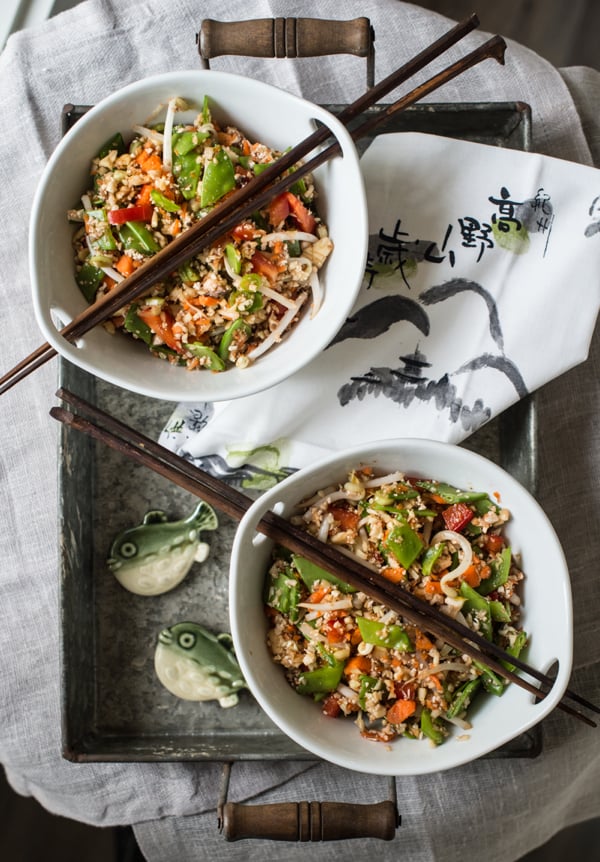 A beautiful raw food entree from Susan of Rawmazing: raw veggie rice with tamari orange sauce.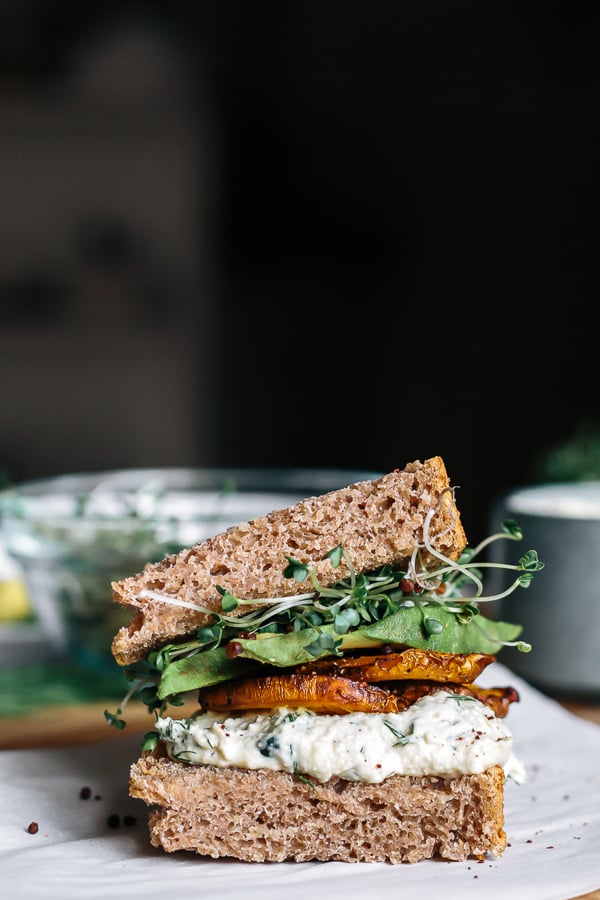 I don't even know what to say about this sandwich. It is a mixture of sunflower seed tzatziki, golden beets, sumac, avocado, and sprouts. It contains so many things I love that I'm a little overwhelmed. And I would like to invite Jessie of Faring Well over right now so that we could make the sandwiches together. It's too bad she lives all the way in Colorado.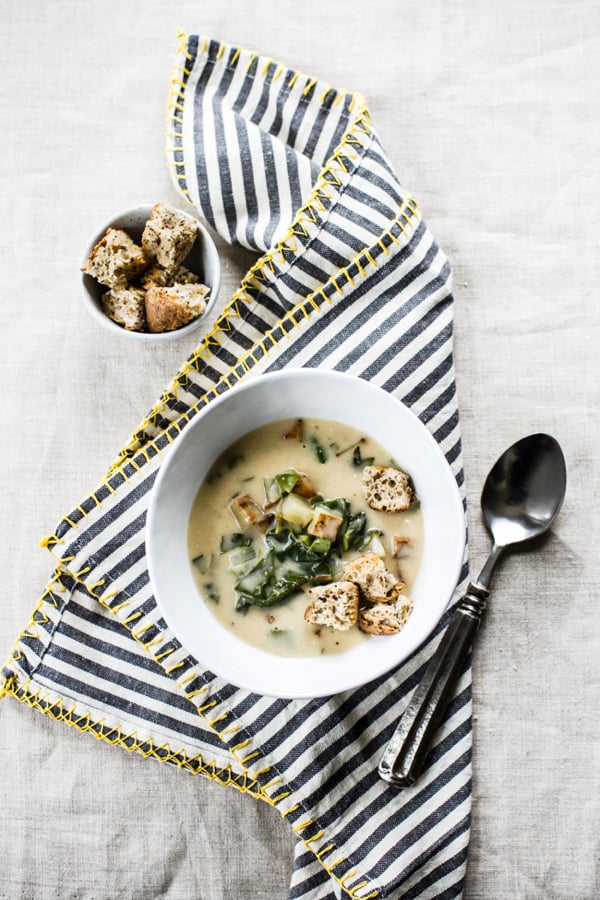 Speaking of people who live in Colorado, I'm totally smitten with my friend Ashley's veggie loaded potato soup. There's goat cheese in the recipe, but cashew cheese and tofu feta would be fine, fine substitutes. It's on my must-make list for Steven's and my Saturday night soup + salad ritual.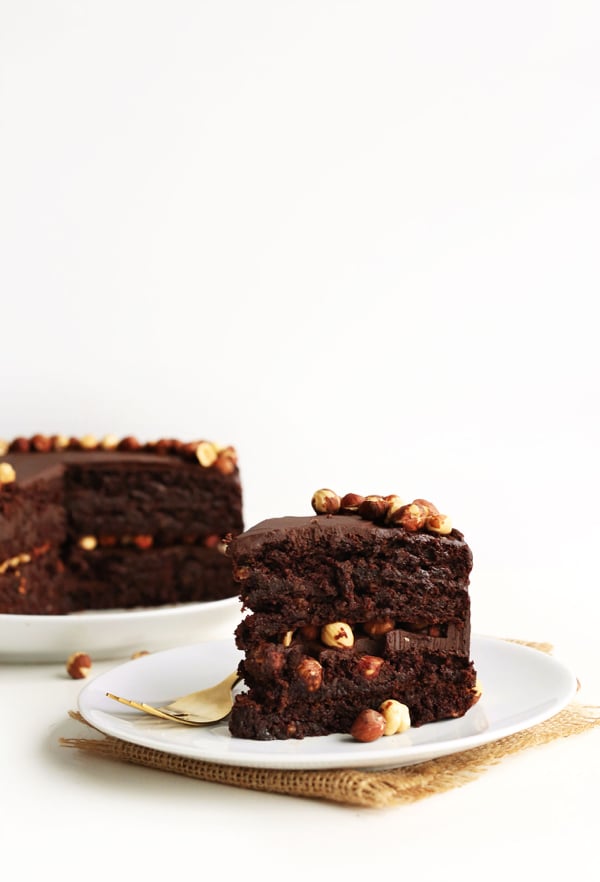 Dessert. Dana of Minimalist Baker has done it again with this beautiful, one bowl chocolate hazelnut cake. Which is gluten free and vegan. And did I mention beautiful?
Reads
1. I wasn't surprised to read this New York Times piece about fish oil supplements. It looks like there's a dearth of evidence to support the bolder claims made by manufacturers of these pills (namely, that fish oil lowers the risk of heart attack and stroke).
I don't think that the article gives us cause to disregard the potential health benefits of DHA, including its potential role in mitigating inflammation, but I do think it's good reminder that, when confronted with a host of claims about one single nutrient that are almost too good to be true, we should retain a level of discernment.
2. Speaking of health claims, a new study suggests that consumption of leafy green vegetables may help to prevent aging of the brain. The study involved 950 participants and spanned the course of five years; subjects who consumed one or two servings of foods such as spinach, kale, mustard greens and/or collards daily experienced slower mental deterioration than those who ate no leafy greens at all. While Vitamin K was singled out as a potential source of the protective benefits the greens offered, architects of the study were wary of the idea that a Vitamin K supplement alone could replicate the findings they reported. The likelihood, they say, is that a constellation of nutrients–obtainable only through consumption of the whole foods–is at play.
3. Meehan Crist has written a lyrical, thoughtful essay about cadaver dissection. "Here's the truth," she says. "When I saw the serrated blade working into the dead man's forehead, something in me rebelled. It looked wrong. To saw into a human head goes against an instinct buried so deep I hadn't even known it was there. No wonder medical students are taught to think cadaver instead of body. They could not do their work otherwise. There is judgment that must be overcome to stick knives and fingers into human flesh."
I saw a cadaver once. It was my only med school interview, and we were given a student tour that included (surprisingly, I thought) cadaver lab. Our student tour guide told us the age of the cadaver she'd been working on all semester, as well as the name they'd given her. If I'd harbored any deep rooted fears that I'd be incapable of handling cadavers in medical school, they were put to rest. I felt an immediate wave of fear and sadness when I saw the body, but I also felt an undeniable wonderment and curiosity. And I wasn't sure how I ought to feel about that. But of course, I never got around to the real task.
I like the way Crist breaks down her response to the project of dissection. From a vegan perspective, I was also interested to read that Galen preferred animal dissection to human, but that it was only when human bodies were dissected once again (in the 1500s, by such anatomists as Vesalius) that our understanding of the brain truly evolved.
4. An interesting Slate article about whether or not overweight individuals should be pressured as a matter of course to diet. This is not a novel debate: as anyone who has read Health at Every Size knows, the idea that weighing less is synonymous with being healthier is highly contested. I found the book persuasive; the parts that resonated most were Linda Bacon's critique of diet culture, which creates its own set of potential health problems (not to mention shame, guilt, a reinforcement of reprehensible social norms, and much more).
There are reasons why certain BMI ranges are encouraged within the public health sector, but BMI is also a highly and famously imperfect measurement of well-being. I wonder what other, more nuanced, more meaningful health assessments might become available to us in the future, and I can't help but wonder whether these will look beyond weight. (As a side note, I also wonder whether we'll be able to stop stigmatizing being overweight in particular; I work with a great many underweight individuals, many of whom suffer serious health complications as a result. The conversation should extend in both directions.) This is an interesting public health topic, and the Slate piece is worth checking out.
5. I try not to assign too much shame to my experience of disordered eating, but like most people who have had EDs, there are things that make me cringe now when I look back on them. One of them is my former propensity toward "fat talk." Like so many women, I was guilty of an incessant and public running dialog about my body and how much I disliked it. I used words like "fat" and "huge" and "blimp." I complained to friends and to significant others. I didn't take into account the feelings or reactions or triggers of those I spoke up in front of. It was narcissistic, ignorant, and inconsiderate. At times, it was cruel.
A yoga teacher and friend once said to me that this kind of talk is a form of self-mutilation, and I never forgot her words. Today, no matter what language my inner critic may summon up against me on a bad body day, I try not to allow thoughts to influence the language I use around other people. I try to contribute to a kinder and healthier cultural conversation about our bodies and how we regard them. I try to make up for the many years in which I was very much a part of the "fat talk" problem.
So it's no surprise that I appreciated Renee Engeln's ope-ed about "Fat Talk" in the New York Times some days ago. It begins with a discussion of Facebook's choice to remove a "feeling fat" emoticon from its status updates (this emoticon, amazingly, had full cheeks and a double chin). Engeln states,
Is it really such a big deal if you tell everyone how fat you feel? After all, a simple "I'm so fat!" can result in a chorus of empathetic voices, saying, "Me, too!" or "You're beautiful just the way you are!" And that will help you feel better, and help others feel better, too — right?
Wrong. As someone who studies this type of public body self-disparagement, known as "fat talk," I can say that it probably will make you feel worse. And it may drag down other people with you.
She goes on to list some facts and figures about the impact and the cost of fat talk, which is common among all ages and all shapes, and is, unfortunately, highly contagious. She concludes,
We can't control a lot of things in this world. We can't stop advertisers from Photoshopping images. We can't stop the fashion industry from preferring skinny models. But we can control the words that are coming out of our own mouths. And when women question whether their bodies are good enough, they may well be causing other women to do the same.
It doesn't really matter, in the end, that Facebook banned the double-chinned emoticon. What matters is that, for our own good and the good of others, we women stop talking this way, one way or another. Emoticon or no emoticon, we must change the conversation.
Powerful, important words. And I'm so glad that I can hear them now.
Before I sign off tonight, two things: first, thanks for your wonderful comments on Kathy's green recovery post. Keep 'em coming.
Also, I wanted to mention that I'm now offering free, 30-minute phone or Skype consults for those of you who are interested in my nutrition counseling services. It's a big deal to select a nutritionist to work with, and I want to give all of you a chance to ask me questions about my approach and tell me what you're hoping to change in your relationship with food–free of charge. If you're interested, check it out.
Have a lovely evening, all.
xo