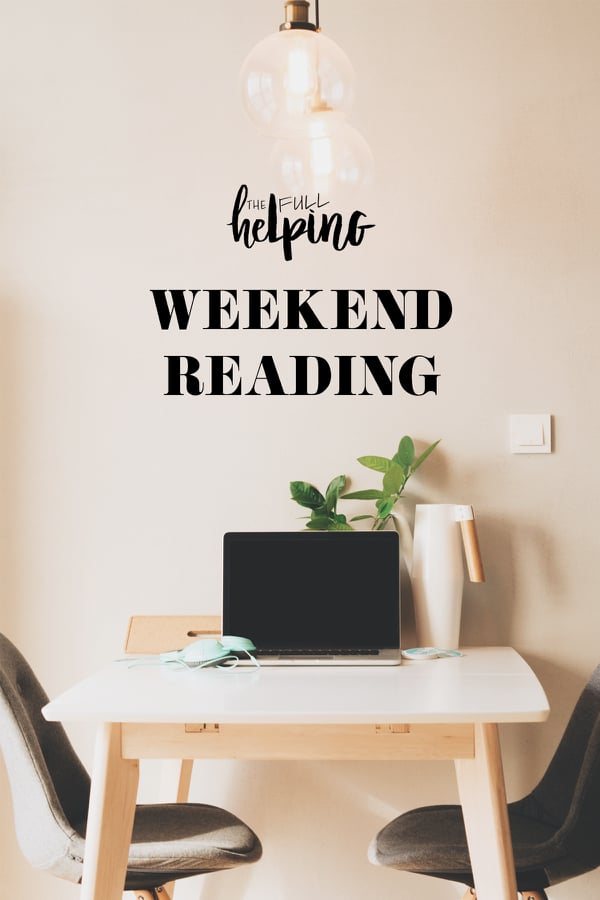 This past Friday, Angelica Kitchen, one of New York's oldest and most beloved vegan restaurants, closed its doors. The eatery had served seasonal, farm fresh, and affordable plant-based food for over 40 years. It was one of my favorite places in the city, a cozy refuge where traditionally prepared legumes, grains, and vegetables were always on offer.
This week, I'm sharing James Oseland's elegy for Angelica, among other reads. Oseland remembers the restaurant with fondness, and he mourns the fact that it is one of many eateries being forced out of business by high rents and a rapidly changing cityscape. He writes,
Angelica Kitchen was both a marvel and marvelous: one felt a connection to the past there even though the restaurant sat firmly in the present. You'd see people new to the city, younger faces, but also plenty of old-timers like myself. The clientele flowed through, but its soul was frozen in time. It had been updated — it moved to a new location, it became larger and leaner and fancier than it had once been — but by and large it was the same restaurant it had always been.
It's all true. There are new plant-based eateries in town, but I doubt that any of them will be able to fill the hole that Angelica is leaving behind. A lot of the newer spots are upscale, focused on small plates and elegant vegetable preparations. I appreciate that these restaurants are challenging mainstream notions of what vegan dining looks like, but the food feels a little fussy to me. I'll miss Angelica's simple, heaping plates of grains, beans, tofu, and greens.
I'll miss what Angelica represents, too: community, nourishment, and a back-to-basics, time-honored approach to cooking. It always seemed as though the restaurant would be there forever, a welcoming fixture in an ever-changing neighborhood. I'm used to watching businesses come and go, but I've been surprised at how much this closing has affected me. Or maybe it's just my mood these days.
Steven and I are broken up. It's been about a month now. I wasn't going to write about it, at least not for a while, but it's starting to feel a little disjointed to show up here each Sunday and chat about the spring weather and new recipes without at least acknowledging the thing that's mostly on my mind.
I've been through enough breakups to know that the process will run its course, that feelings will ebb and flow, and that everything will be OK. But it would be dishonest to say that this breakup feels like any other I've experienced. The sense of loss is so much deeper. There's more confusion to sift through, more blame and self-doubt and regret. Whereas other breakups have seemed to run a predictable course—a mourning process that gives way to hope and even excitement at the prospect of a fresh start—this one is proving volatile and bewildering so far. I'm taking care of myself, going to therapy, reaching out to friends. Still, I'm incredibly lonely, in a way I never have been before.
At one point I thought I'd mention the uncoupling in my birthday post this June. I've always used those posts as an opportunity to reflect on the year behind me, and I suppose I hoped that, by then, this story would have a beginning and a middle and an end. I thought I might be nearing closure of some kind, that I'd have wise and philosophical things to say.
I can't predict how I'll feel in a few months, but right now it's hard to imagine that I'll have reached a stage of wise philosophizing. Instead, I suspect that I'm at very the start of what will be a lengthy process. So for now, the best I can do is simply say what's happened. I've talked about authenticity a lot this year, and one of my own challenges in being authentic is to express myself without wrapping all of my feelings in elegant words or neat narrative scaffolding—to let my sentiments be rough-hewn or even incomplete. This post is a part of that, I guess.
Angelica Kitchen was Steven's and my favorite place to eat together, our cherished spot for date nights and spontaneous outings. This adds an even more poignant layer to the restaurant's closing. I suspect that many New Yorkers have their own special memories of Angelica, their own associations and reasons for holding the restaurant dear. It's been really heartening to see how many folks came out to support the eatery in its final days, the outpouring of love that sprung from the community here.
Food has been an enormous source of comfort in the last four weeks, and I'm particularly excited about the recipes I'm sharing today. Hope they inspire, entice, or offer you comfort, too.
Recipes
Jodi's fig anise cookies are sort of a cross between a cookie and a sweet cracker, and I can't imagine anything nicer to nibble on with a cup of afternoon tea or coffee. Perfect for edible gifting, too. So excited to try them.
It's not quite berry season here in NYC, but as soon as the time is right, I'll be making Emilie's bright and colorful quinoa and spinach salad with raspberry vinaigrette.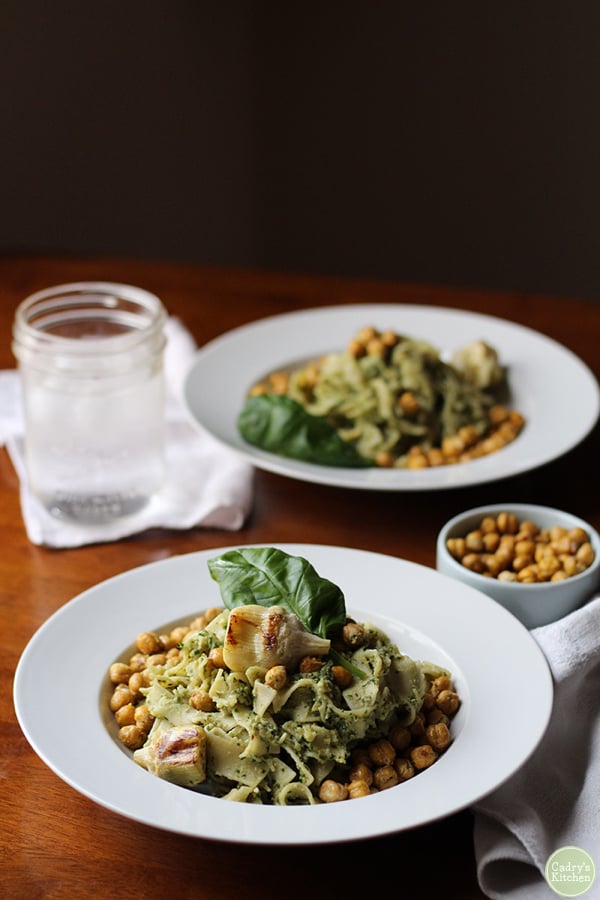 Valentine's Day has come and gone, but Cadry's artichoke pesto pasta is a perfect recipe for all of the spring months. It's the sort of recipe that feels fancy enough for company, but is so easy to make.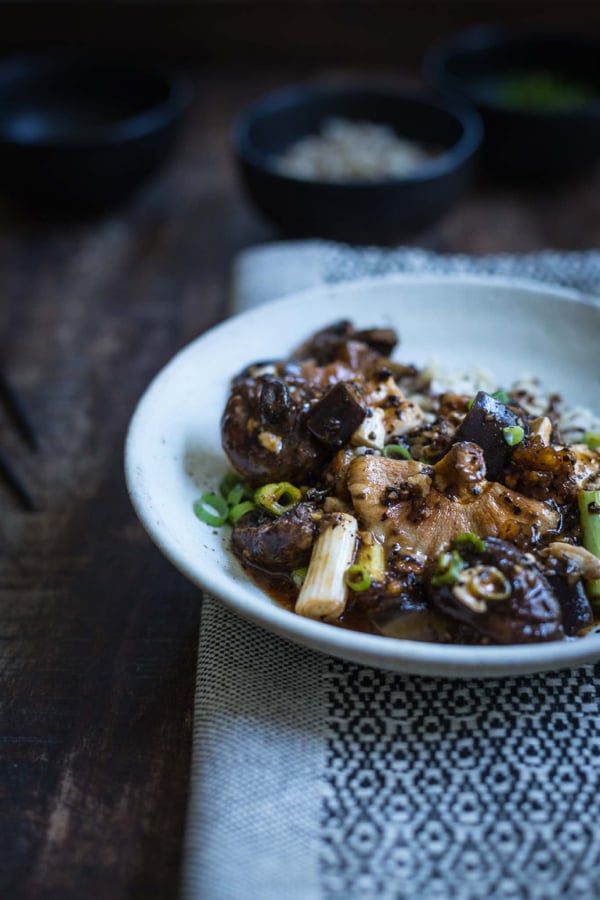 I've had a recipe for mapo tofu bookmarked in Fuchsia Dunlop's book, Every Grain of Rice, for ages now, but Amanda's vibrant mapo tofu recipe is now giving it a run for its money. Amanda describes the recipe as being "a little bit spicy," which is just perfect for me. And I love the addition of mushrooms for umami.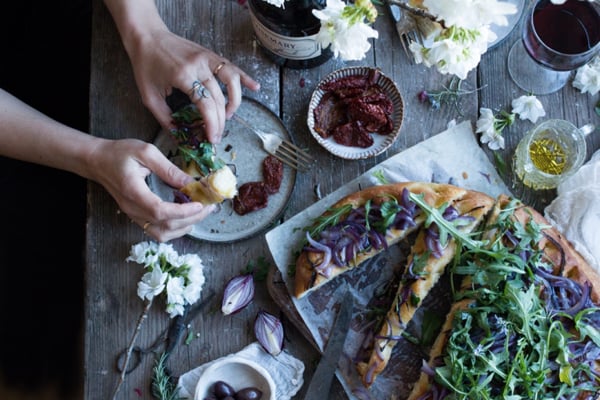 Next week, I'm going to be sharing some thoughts on my recent adventures in homemade bread baking and why its becoming a cherished domestic ritual. For now, I'm sharing Kimberly's beautiful red onion focaccia, which is so perfect for slicing and sharing.
Reads
1. Most of us have read about, or even experienced, some of the dangers of yo-yo dieting. These include an increased risk for disordered eating and a greater likelihood of future weight gain. A new study suggests that yo-yo dieting can also have grave consequences for cardiac health.
The study indicates that yo-yo dieters have more than twice the risk of death, heart attack or stroke compared with people who maintain a relatively stable body weight; for each 1.5- to 2-pound fluctuation, the risk of a cardiovascular event increases by 4 percent, and the risk of death by 9 percent. The lead researcher, Dr. Sripal Bangalore of NYU's Langone Medical Center, posits that fluctuations in weight place stress on the body, and that it might also cause hormonal changes that affect the heart.
Experts note that yo-yo dieting might be an indication of larger health complications, which could help to explain study findings. But in any case, the study presents yet more evidence that dieting and weight change should be approached seriously and with expert support, if possible.
2. I suspect that many of the food lovers reading would say that food food counts as health care. But a new study is aiming to prove it.
3. During my post-bacc training, and especially as I observed physicians at work in the hospital setting, I learned that diagnosis is a medical art in itself. The question is now emerging of whether sensitive diagnoses can ever be automated or generated by artificial intelligence.
4. A new study suggests that race is a greater determinant of future diabetes risk than weight. The study found that, in a sample of 803 individuals, Americans of South Asian descent were twice as likely as whites to have risks for heart disease, stroke and diabetes, when their weight was in the normal range.
Similarly, Americans of Hispanic descent were 80 percent more likely than whites to suffer from the so-called cardio-metabolic abnormalities that give rise to heart disease, stroke and diabetes, compared with 50 percent more likely for those who were Chinese and African-American. Those characteristic risks include hypertension, elevated blood glucose, low HDL cholesterol (the "good cholesterol") and high triglycerides.
Weight is often regarded as the major predictor of Type II diabetes and metabolic syndrome, but this study gives support to the idea that social determinants of health and epigenetics may play an equally, if not more important, role in the genesis of these diseases.
5. Finally, James Oseland's farewell to Angelica Kitchen, a place that he says always made him feel "at home."
It made me feel at home, too.
Thanks to you all for listening today. And speaking of feeling at home, I'll be back with a homey soup recipe in a couple of days.
xo