Hello all! Happy Sunday, and happy Mother's Day to all of the moms reading. I look forward to giving my own mom a big hug later today. In the meantime, here are the recipes and reads that have caught my eye this morning.
To begin, a light and colorful superfood salad. Berry, arugula, and quinoa salad with lemon chia dressing from Floating Kitchen.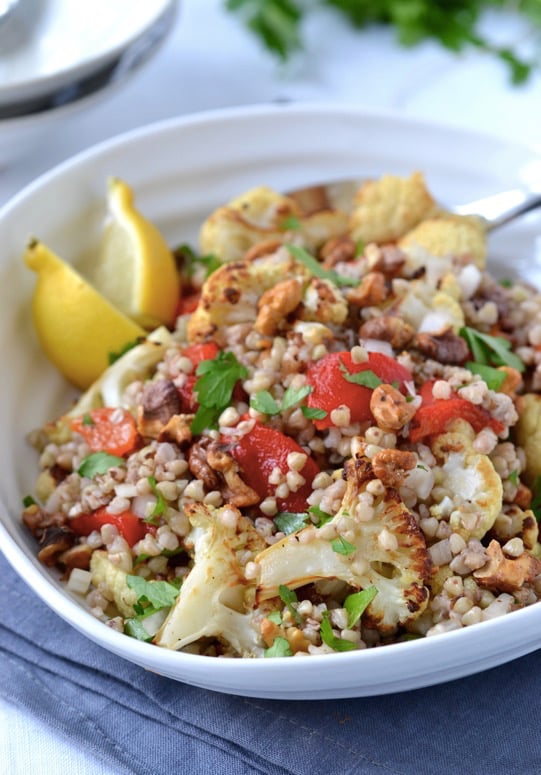 Another salad, this one hearty and rustic and full of texture: roasted red pepper, cauliflower, walnut, and buckwheat salad from the lovely Ms. Emma of Coconut and Berries.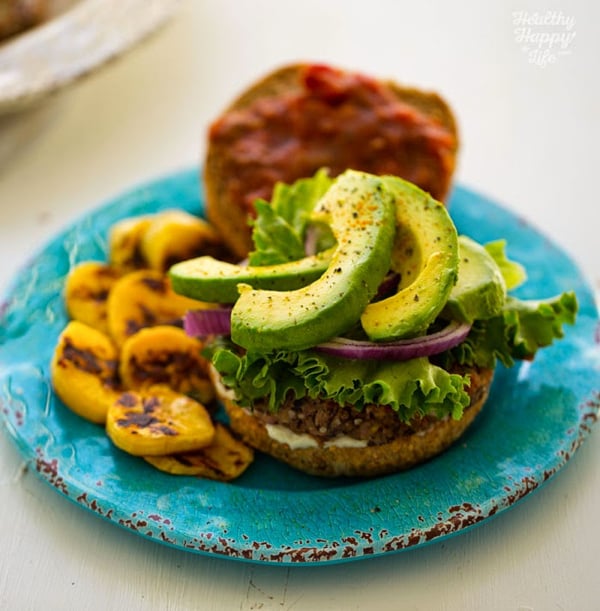 I wish I'd seen Kathy's awesome black bean and plantain veggie burgers with avocado before Cinco de Mayo. Yum!
And dessert. Oh, dessert. To start, these amazing chocolate cashew cream cupcakes from Raw Revive. Would you even know these are raw and vegan? So artful.
This vegan masala chai cake from the folks at Dreamy Leaf looks like heaven. I'm sure my Mom would have loved for me to cook this for her for mother's day — sadly, work no left no space for baking projects this week. Bad daughter. But it's going on my recipe queue, and to her front door, soon.
Reads
1. A thoroughly researched and forceful article from Atul Gawande on unnecessary medical care. So great to see this topic getting the attention it deserves, all with nuance and careful consideration.
2. A fascinating article, via NPR, about the measles vaccine and why it seems to reduce likelihood of numerous different childhood infections (not only measles). A new study, published in Science, suggests that measles may deplete the immune "memory" that develops after the body has fought off a particular type of infection. Consequently, children who have received the vaccine may have more robust immune responses overall than children who have been unvaccinated and have had measles infection.
3. A very important story, via NPR, about misconceptions surrounding miscarriage. Between 15 percent and 20 percent of clinically recognized pregnancies end in miscarriage, defined as a pregnancy loss earlier than 20 weeks of gestation. When Dr. Zev Williams shares these numbers with his patients, they often express shock at this level of prevalence. So the OB-GYN, who directs the Program for Early and Recurrent Pregnancy Loss at Einstein College of Medicine of Yeshiva University and Montefiore Medical Center in New York, thought to conduct a survey that would assess how miscarriages are perceived. He and his colleagues asked 1,084 adults about miscarriage. 15 percent of those respondents had suffered a miscarriage or had a partner who had. The results of Williams' survey echoed what he'd heard from patients in his office: Some 55 percent of all respondents believed that miscarriage occurred in 5 percent or less of all pregnancies.
The article goes on to detail how these widely held misconceptions can contribute to the pain and isolation that accompanies miscarriage for so many women. The article also notes that, "because early pregnancy loss is so common, women are often advised not to share their pregnancy news with friends and family until the start of the second trimester. At that point the chance of miscarriage has drastically declined. But that secrecy means women who do miscarry in the first trimester may not get the support they need."
When NPR asked readers on its Facebook page to "tell us what they wished people knew about miscarriage," it got an overwhelming response. Many women noted that they are compelled to talk about their experiences, so that other women who suffer miscarriages won't feel stigmatized or alone. Whether or not a woman wishes to share her experience openly is deeply personal, but I am glad for studies like this, which help to dispel misunderstandings, lift taboos, and create support.
4. A new study that tracked the diets and mental states of some 27,860 people, age 55 and over, suggests that healthy diets have a protective effect against cognitive decline. Cool stuff.
5. A new take on calorie counts, via the New York Times. The article profiles the work of nutrition research who say that the method most commonly used to assess the number of calories in foods is flawed, overestimating the energy provided to the body by proteins, nuts and foods high in fiber by as much as 25 percent. While the calorie counts for more processed foodstuffs (especially carbohydrates) are relatively accurate, these researchers argue that the calories from harder to digest foods (like meat or nuts) usually fail to represent the energy expenditure associated with digestion. There is some debate about how publicized this information should be, since it is widely thought that public health experts should be encouraging Americans to eat less, not more. As a nutritionist who works with a significant number of individuals who struggle with restrictive tendencies, though, I think this is valuable information to be aware of.
And that, friends, is that. I wish you a lovely day, and I'll be back soon!
xo