It's a gray, chilly morning here in NYC. The weather keeps creeping upwards into the seventies, teasing us with a hint of summer, and then drops down to mid-fifties and fog. It looks as though we'll have a burst of warmth later this week, but Steven and I will be traveling for a wedding at that point.
The upside of gray weather is that it always encourages me to turn inwards. I've tried to use my little pause before summer class to cultivate some quiet introspection and creative energy, and I've certainly been feeling both of these things, even if they come and go as they please. Class starts up again tomorrow (medical nutrition therapy, which I'm looking forward to), so this is my last Sunday to stay paused and focus on work before multitasking begins again.
For now, as I savor a quiet few hours, some reads and food images from friends.
Don't Lindsay's Mexican chocolate muffins look delicious? They're vegan and gluten free, and Lindsay folds figs and chocolate into the batter before spooning it into the muffin tins, creating a decadent swirl of sweet, chocolate-y goodness. Can't wait to try them.
Summer is peak time for entertaining and gathering with friends, and Jackie's soyrizo stuffed mushrooms are a perfect offering for cookouts, parties, and al fresco lunches. Spicy, hearty, and super flavorful.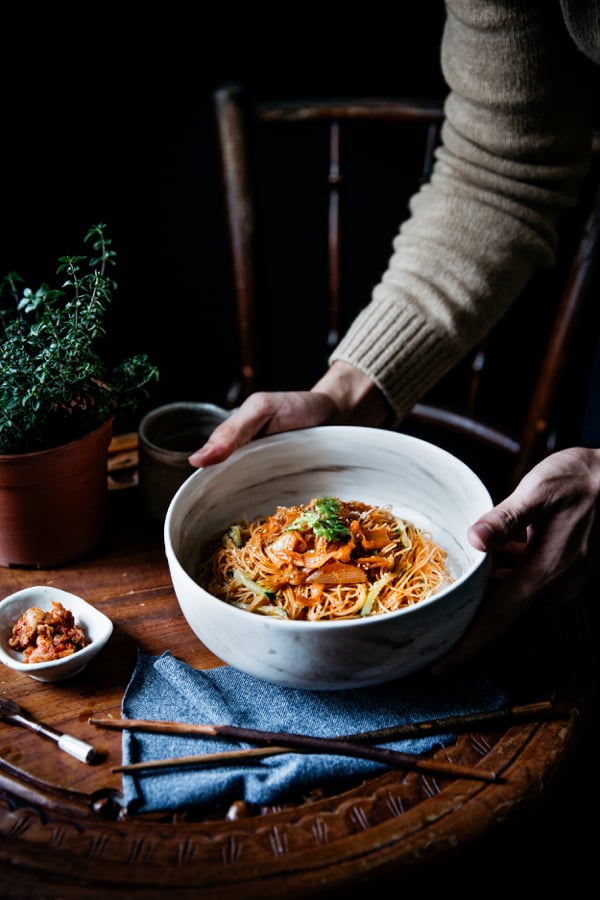 I love kimchi in and on just about everything, but I'd never have thought to pair it with noodles until I saw this post. What a cool idea. In place of the suggested parmesan topping, you can try my hempesan.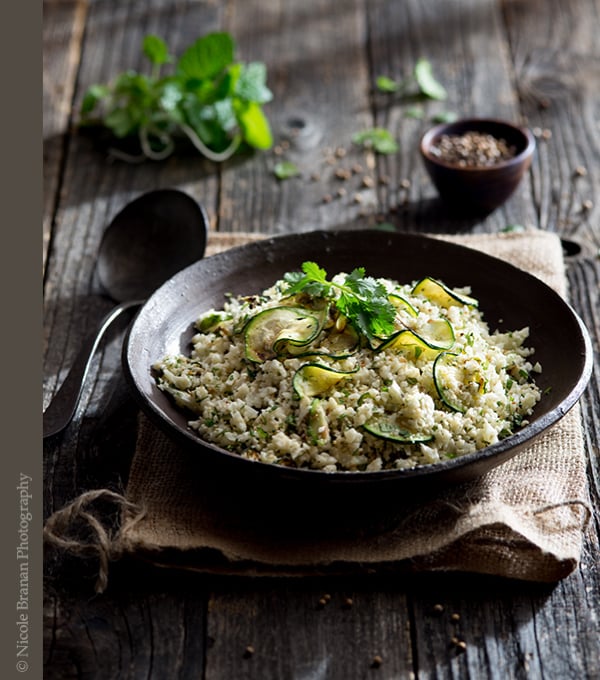 Nicole's beautiful herb roasted cauliflower rice with coriander and grilled zucchini is making me so very excited for summer and all of the produce bounty that comes with it. She actually roasts the cauliflower after turning it into rice, which is a technique I haven't tried with cauli rice yet, but I can imagine it makes the rice especially sweet and tender.
It's not yet popsicle weather here, not by a long shot, but that doesn't mean I can't give myself something to look forward to. I'm a total sucker for chai flavors, which is why these vegan chai coconut popsicles immediately caught my eye! The chocolate drizzle makes them even more tempting.
Reads
1. To start, some cool interactive data on how the American diet has changed since the late seventies. You can see numbers rising and falling by year for different foods, from legumes to oats.
I was surprised at how sharply oil consumption has gone up. And I was less surprised, though very sad, to see how much chicken consumption has gone up. Because it takes more chickens to feed a single family home than it would take many other types of animal flesh, raising rates of chicken consumption might signal a higher number of overall animal deaths.
2. I really enjoyed Lauren's post on how to stop fearing carbs, and I thought it was worth sharing. "I know I shouldn't be eating carbs" or "I know I should try to cut back on carbs" is something I hear all the time from a new client. It's one thing to decrease carb consumption if you know for a fact that there's a medical reason for you to avoid them. But the assumption that carbs are bad, and that we should all eat less of them, doesn't match the body of evidence we have that associates whole grains and legumes with reduced risk of chronic disease and leaner BMIs.
Complex carbs are an incredible source of energy in the diet–which may be why so many folks who try to adhere to "lean protein + vegetable" meals find themselves battling continual food cravings and hunger. In my work, I see countless clients who have tried to eliminate or reduce carbohydrates struggling with persistent peckishness and sugar cravings (which makes sense: the body always fights back against restriction). Oftentimes, the simple addition of more whole grains, starchy vegetables, and legumes helps to bring things into balance. And it can add a great deal of pleasure and freedom back into the diet, too.
Lauren has some good tips on how to destigmatize and embrace carbs, in spite of all of the pressure these days to flirt with low carb eating styles. And she also gently encourages an intuitive, body-conscious approach to eating overall. Worth reading–and if you'd like to explore the intuitive eating approach, I also recommend checking out Anne, Rachel, and Alex's very cool new Joyful Eating program, launching in late June, which encourages mindfulness and body respect through food.
3. I enjoyed reading this post on how the idea of a "career path" is changing for millennials and contemporary professionals.
I grew up aspiring to the idea of a single career that would expand and progress linearly as I got older–and when I worked in publishing, I suppose I was on that track, no matter how much transition the industry underwent while I worked in it.
It has been difficult for me to reconcile a somewhat risk-adverse personality–not to mention my tendency to take comfort in rituals and sameness–with being self-employed. But building my business and embracing the idea of myself as a free agent has also encouraged a great deal of personal growth. It's both inspiring and comforting to be reminded that so many folks are opting out of traditional trajectories these days and embracing the idea of career shift as a means of continual self-reinvention.
I wouldn't say that there's "no such thing" as a career path anymore, but I do think it's cool that we're redefining what that path needs to look like.
4. From the New York Times' well section, some interesting research that links denser breast tissue to saturated fat consumption.
I happen to have very dense breast tissue, which I'm conscious of because it's a risk factor for breast cancer (which has also impacted members of my family). The tissue was significantly denser in my teens and early twenties, and this article made me wonder if perhaps my vegan diet has contributed to some mitigation of the density. Breast density can also shift around with age, so it's hard to say–but compelling information, nonetheless, and another good reason to celebrate plant-based diet!
5. Finally, a helpful and illuminating article on the many benefits of exercising self-compassion. The piece features tips and information from Kristen Neff, author of a book entitled Self Compassion (which I'm now curious to read). It underscores how self-compassion can foster resilience, positive body image, and non-judgmental inner dialog, and it's worth reading if you sometimes struggle to be kind with yourself.
On that gentle note, everyone, I wish you a really super Sunday. See you this week with some new eats–including one of my all-time favorite vegan kitchen staples!
xo