Happy Sunday! I hope everyone reading has had an enjoyable weekend, and if you've got a holiday tomorrow, I hope you'll spend it restfully. Steven and I are about to embark on a long day of travel as we return home from a friend's wedding, and the following recipes and articles have been keeping me company so far.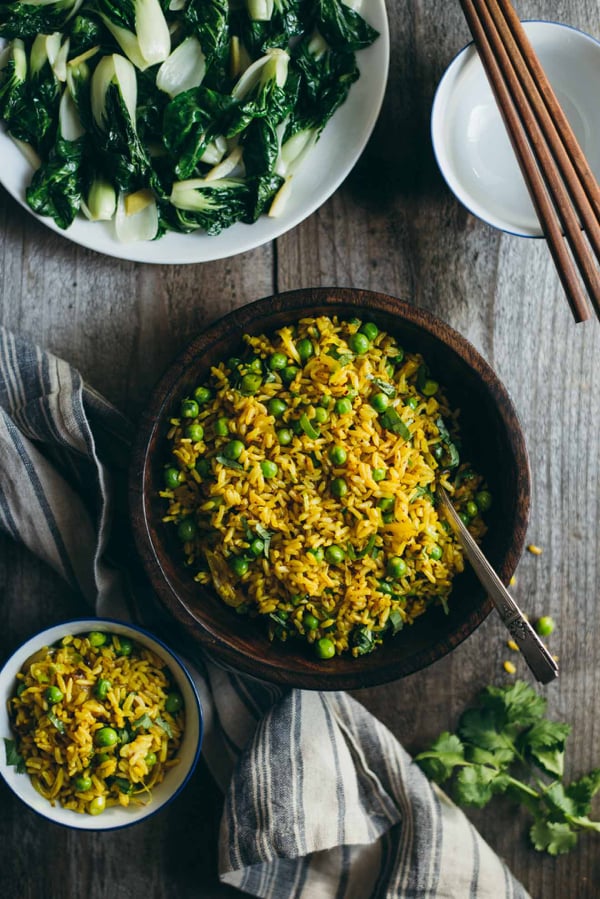 To begin, I really love Lisa's simple recipe for Burmese fried rice. It features ginger, scallion, and peas (all things I love), and I always really appreciate Lisa's notes on mastering her recipe mistakes as she was cooking.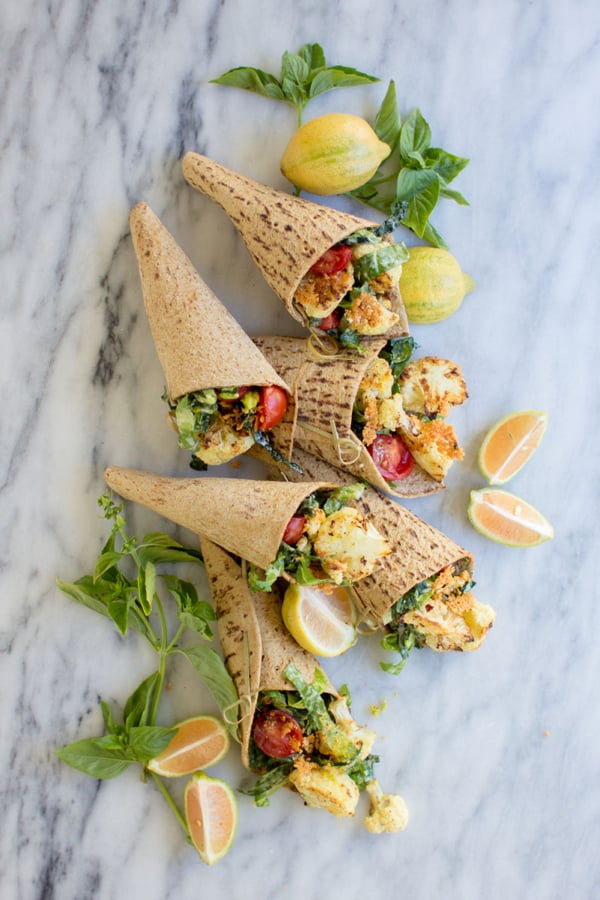 Meg's creative recipe for crispy cauliflower caesar wraps recently caught my eye–what a great lunch idea! For a vegan caesar dressing, you can use this recipe, and you can also sub the parmesan she mentions with my hempesan to make the recipe totally vegan.
Sometimes it's the simplest recipes that make us most excited. In this case, it's Lily's recipe for toasted pepita guacamole. It's a traditional recipe in many ways, but I love the touch of toasted pumpkin seeds for crunch and texture.
And while we're on the topic of Mexican-inspired recipes, I'm drooling over Sophie's crispy yam tacos with chipotle dip. The crispy bit comes from coating the sweet potato wedges in polenta before baking them. Totally ingenious, and I bet they'd make a perfect appetizer all on their own.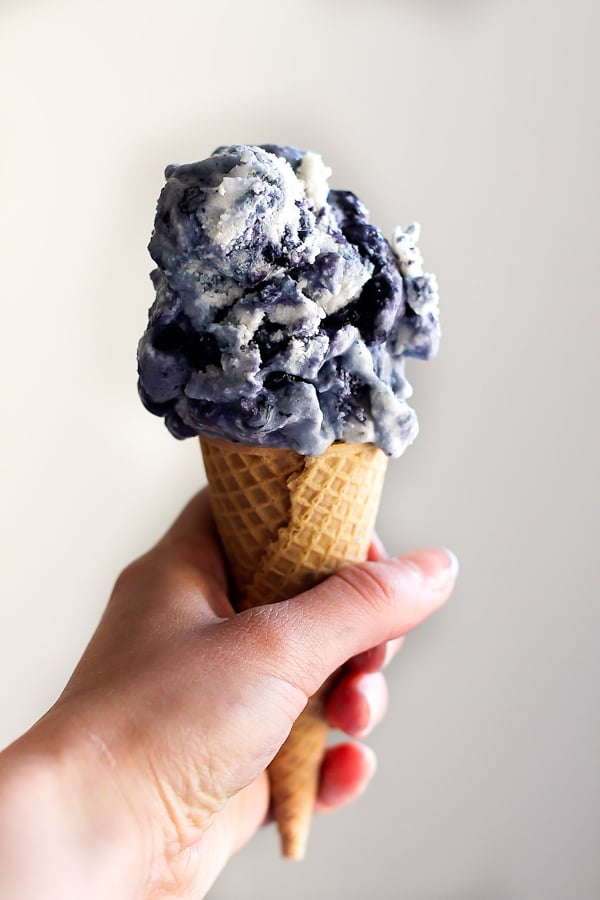 Finally, I just love Monique's vegan recipe for wild blueberry lavender ice cream. It's made with almond and coconut milk, which get swirled with a sweet blueberry compote before freezing. The finished ice cream looks so rich and delicious–and so perfect for summer.
Reads
1. First up, an easy primer in choosing the right cookware for any recipe, via Food52. (It answered a lot of questions I've had about different types of pots and saute pans!)
2. A lot of folks are chatting about Sheryl Sandberg's Berkeley commencement speech this week, and I agree that it's worth reading and re-reading for its words on resilience and grief.
But I was particularly struck by Maria Popova's commencement address at UPenn's Annenberg School for Communication, and I think it's worth sharing, especially with an audience of readers who are highly communication/media savvy. Popova has a lot of beautiful things to say about the dangers of self-comparison in our increasingly connected and social media-suffused world, as well as some wonderful remarks about the power of creativity and the importance of resisting cynicism. Really great stuff.
3. More and more thoughtful folks are writing about veganism these days, both from within and from outside the movement. I was particularly struck by this op-ed/essay from Canadian writer David MacFarlane, whose daughter is vegan. It's candid, humble, intellectual honest, and really thoughtful. I even took the time to share it with my mom, who isn't vegan, but who eats more and more plant foods these days. She appreciated it, too.
4. I'm quick to tell new clients that there is almost no food I will ever tell them they have to avoid in order to be healthy (with the exception of food allergies, of course). But I do make an exception, and strongly discourage, artificial sweeteners in any form–unless a client is a diabetic and consuming the as part of a medically supervised diet.
I've argue this point not on the grounds that artificial sweeteners are "unnatural" or contain ingredients you can't pronounce. For me, the bigger issue is is concern that artificial sweeteners can and do trigger an insulin response (because insulin is released in part because of the activation of sweetness receptors in the mouth), which is then misfired because the body receives no actual sugar to digest. This is true even with artificial sweeteners that are marketed as "natural," like Stevia. This Time article, which covers new research on artificial sweeteners, sums up the potentially problematic mechanism:
While they don't contain any calories, some studies have found that paradoxically, people who rely on them the most tend to gain more weight than those who use sugar. That may be because of the way our bodies react to sweet tastes. Artificial sweeteners and non-caloric natural sweeteners like stevia, Azad and others believe, still trigger the brain's sweetness receptors, and the body prepares itself for the influx of calories that come from sugar. The pancreas still releases insulin, which breaks down sugar, but when that sugar doesn't come, the body's metabolism still craves the calories it expects and goes searching for them, often from other foods. People who consume more sugar-free sweeteners tend to eat more calories overall, some research finds, which can make them heavier. The repeated surges of insulin that go unanswered are like the body crying wolf; eventually, the cells realize there's no sugar to break down and become less efficient in responding to the signal to pump out more insulin.
Of course, for some individuals, the benefits of artificial sweeteners may outweigh the potential dangers. But my feeling is that, for most people, consumption of real sugars in healthy moderation is the way to go.
5. Finally, I loved seeing this New York Times piece on Beyond Meat's new Beyond Burger, which sold out in one hour when it debuted at the Boulder Whole Foods! Plant based options have come such a long way, and they'll only continue to make waves.
On that exciting note, I wish you all a great Sunday (and Monday). I'll see you on Tuesday with an awesome new breakfast recipe!
xo