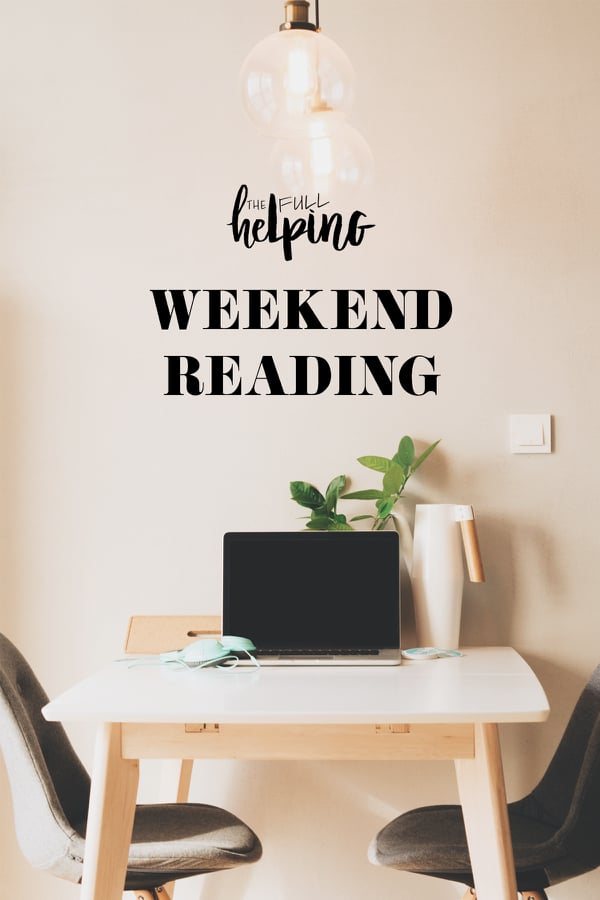 The process of clicking around in search of links for these weekend reading posts is always full of surprise and discovery. It's often filled with emotion, too—grief, sadness, or excitement, depending on what I find and how it strikes me. This week, my heart ached and then celebrated along with Lily, who bravely shared her story of returning to the kitchen space after her mother's death on Food52.
"My mother was my portal into the world of the senses," Lily writes. "She taught me to cook without recipes, to experiment freely with whatever ingredients were on hand, to look first to the earth, and second to the demands of hunger. But in 2008, when she died, the kitchen suddenly became a foreign space filled with hotspots of loss."
It's no surprise that the loss of her Mom temporarily severed Lily's connection to cooking: "In the months after her death, I felt infantile, my twenty-four-year-old self reduced to the lowest common denominator of adult capacity. There were days when I couldn't bear to step into the kitchen at all, so weighty was the pall of her absence."
One of the most difficult dimensions of loss, at least in my experience, is how thoroughly it can transform spaces that have always felt familiar and safe. I remember setting foot into my grandmother's apartment for the first time after she passed away and feeling shocked at how different it seemed to me. It had always been a safe, cozy, sunny place, a place that was animated by my Yaya's undeniable joie de vivre. Suddenly it felt dark and crowded, overrun with the belongings that my mom and I were tasked with sorting through and giving away. It even looked different to me: smaller, older, a little dingier. Without her big, warm, welcoming presence, nothing was the same.
Physical spaces can take on new meaning and be perceived differently after all kinds of loss. The spaces you shared with a lover and partner suddenly feel barren—maybe even unapproachable—once the bond has dissolved. (I'm experiencing this with many familiar spots and corners of the city right now.) Family estrangement can do it, too. Even when a relationship ends by choice, the sudden changes in one's immediate landscape can feel shocking.
I really can't imagine the depth of Lily's grief or the strength that it took for her to step back into the kitchen as she mourned, but I do know that food can hold remarkable healing power. I know that, when you're feeling lost, recipes can bring you home. So I found myself nodding and smiling when Lily described how tofu—an ingredient she'd been introduced to by her "hippie at heart" parents as a small baby and immediately named "fuff"—was a part of her healing process.
Tofu was so woven into the fabric of Lily's childhood that she was able to make it even when cooking anything else felt impossible. A familiar recipe served as a portal through which Lily was able to let memory in and start to feel again, little by little:
This, then, was how I put myself back together again in the kitchen, summoning those moments when the wholeness of our family was so plain and joyful it didn't hurt. Remembering her as she was before, relearning the tastes and textures and foods that she gave me. Now, when I make tofu, I feel her in me. Drain the water. Slice the curd. Marinate. Remember. Feel it all.
Lily's words resonate not only because they're rich and honest (and because I love tofu), but also because I know how foreign the kitchen can feel in the wake of painful life events. I've watched many clients go through periods of total alienation from cooking when they're suffering, either because food and cooking are too imbued with memory to be bearable or because other forms of self-care need to come first.
I've also had the privilege of bearing witness as cooking and food become a part of peoples' healing process, a step in finding the way back to pleasure and self-nourishment. And I've known that type of healing firsthand, too. I'm getting small doses of it now, as I cook and bake my way through this breakup.
It's so clear that Lily has inherited her mother's sensuality, passion, and love of food. (And love of tofu.) These qualities shine through her recipes and her writing all the time. The kitchen may have felt barren to her for a while, but she's returned to it with so much spirit and love.
I hope you'll enjoy her essay. After you read it, you can dive into her recipe for black sesame tofu with pickled veggies and tahini cilantro sauce, which is one of many memorable recipes I've been gazing at in the last week!
Recipes
It says a lot about Jeanine's lovely coconut mango breakfast muffins that they are making me crave two ingredients (coconut and mango) that I don't usually use in baking. These look so sunny and sweet and perfect for summer.
Also on the breakfast lineup: Alanna's genius clumpy granola, as featured on Food52. In the great granola debate—clumpy vs. crumbly—I am strictly a clump person, so this recipe is right up my alley.
I love a good vegan taco salad, especially when it's packed full of protein and nutrient-rich tempeh. Heidi's latest recipe looks so good, and I love the idea to add roasted cherry tomatoes.
Steaming is one of my favorite ways to make spring produce, like asparagus and broccolini, shine. I can't wait to try Andrea's recipe, which features an accompanying lemon miso sauce. Such a simple, healthy side dish.
This vegan bibimbap recipe is super flexible and easy, not to mention colorful. A tasty, spicy sauce formula never hurts, either.
Reads
1. I've learned a lot about rest in the last couple of years. One important lesson has been that rest doesn't only take the form of sleeping or napping; it can also take the form of reading, walking, or unhurried, exploratory thought.
This article is slightly prescriptive and medicalized for something that's addressing the power of daydreaming and other forms of cognitive rest, but I like the general idea and the habits it describes.
2. Many of you may have seen that the USDA removed a number of animal welfare reports from its website in February, causing outcry from animal rights advocates. This Washington Post article explains how an animal showhorse lawsuit may have been involved, and it also highlights broader and timely issues to do with transparency and government agencies.
3. A factory in the small, agricultural municipality of Hinwil, Switzerland, will be the first to practice direct air capture. This is a process in which ambient carbon dioxide is trapped by filtration, then converted; in this case, the freed CO2 will be pumped over to a greenhouse for use in fertilization of vegetables and lettuce.
As this article notes, there are tons of questions about the viability and cost of these kinds of factories, but their technology may be necessary if nations are to comply with the goals set out by the Paris Agreement. I think there's something lovely about the idea of all of those greenhouse emissions being used to grow plants!
4. This is the story of how a graduate student who was conduction fieldwork in Panama stumbled on a finding that's now making herpetologists rethink frog parenting. But, as the article notes, it's also "a reminder that fieldwork remains a valuable tool for discovery in an era of indoor genetic labs."
5. Finally, Lily Diamond's reminiscences on finding her way back to cooking, one block of tofu at a time.
I hope you enjoy the reads. I'll be back this week with a decadent, delicious vegan baked treat!
xo