Happy Sunday, all. My thumb is finally healing and the stitches are out, so this past weekend has been full of recipe testing. The fridge is stocked with a strange (but tasty) assortment of sweets and salads and soups. In particular, I've been whipping up my first few batches of summertime pesto, and I'll be sharing the fruits of that labor here on the blog on Thursday.
For now, here are some of the recipes that stood out to me this week, plus some of what I've been reading.
Recipes
To begin, Abby's perfectly crumbly, tender, sweet vegan blueberry crisp bars. Exactly what to make if you happen to have an abundance of fresh blueberries on your hand.
Nicole's spicy taco salad is full of texture and flavor, and it features a vegan cheese sauce that just so happens to be nut free. It's gorgeous, and I can't wait to try it.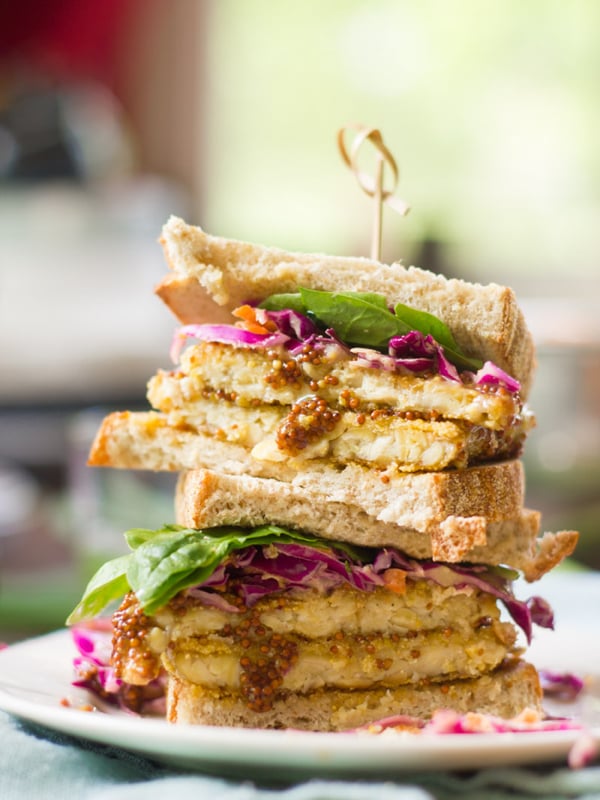 Alissa's crispy maple dijon tempeh sandwiches have me wishing that it were already lunchtime over here. Look at those layers of sweet, tangy, cornmeal crusted tempeh! The tempeh itself can be featured in a ton of different ways, so I'll probably make a double (or triple?) batch when I try this.
I'm crushing on Sonja's creamy, herby, and ridiculously simply vegan almond milk pasta, a sort of cross between alfredo and something lighter and fresher. I normally make creamy pastas with cashew cream, but now I'm excited to try a new method.
The best part of making cupcakes: having cupcakes to eat. The worst part? If you live alone, or with only one other person, the cupcakes may be a little stale before you have a chance to finish them all, and wasted cupcakes are sad indeed. Jess has gone ahead and solved this conundrum by giving us a scrumptious vegan vanilla cupcake recipe for two: perfect for small batch treat-making.
Reads
1. Some great news for animals this week: on Tuesday, the Senate approved legislation that will overhaul government regulation of toxic chemicals, offering more protection to land, water, and consumers. This is good news from an environmental standpoint, but the measure is also a step forward for animal rights.
The bill includes a provision aimed at reducing the Environmental Protection Agency and chemical firms' use of animals to test the safety and effects of chemical products. It states that the EPA should use non-animal alternatives where possible, and it must come up with a plan to develop and adopt more non-animal methods, such as computer modeling or cell-based tests.
Animal models are famously imprecise, slow, expensive, and often inapplicable, not to mention cruel. Even so, millions of rats, mice, birds and fish continue to die each year in US lab tests and experiments. This legislation marks an important and symbolic first step in our awarding more respect to the beings that suffer in these experiments. Huge props to Senator Cory Booker for spearheading this effort!
2. A truly fascinating article about Nestle's new initiative to sell medicine in the form of food products and snacks. To quote the article:
Nestlé's goal is to redefine itself as a scientifically driven "nutrition, health, and wellness company," the kind that can thrive in a world where regulators may look at Butterfingers not so differently from Benson & Hedges. If this vision is realized, a visit to the family doctor in a decade's time might end with a prescription for a tasty Nestlé shake for heart trouble or a recommendation for an FDA-approved tea to strengthen aging joints. The company would expand from the vending machine and supermarket to the pharmacy, doctor's office, and hospital. At the same time, it would keep its core food and sweets businesses. In other words, Nestlé would sell a problem with one hand and a remedy with the other.
In a very broad and metaphoric way, I believe that food is medicine. But imagining commercial food products as pharmacological items gives me the creeps, and there's something pretty troubling about the idea of a corporation marketing foodstuffs that can alternately exacerbate and "treat" a disease like Type II Diabetes.
3. I touched on the importance of Vitamin D, the "sunshine vitamin," in my recent post on calcium in the vegan diet. If you're curious about this nutrient, the Washington Post has an interesting article about its strange history.
4. Last week, I linked to an article by neuroscientist Sandra Aamodt, author of the new book Why Diets Make us Fat. I'm excited to read the book, but I also enjoyed NPR's coverage of the book and profile of Aamodt, whose work has emerged from her own painful history battling society's fixation with thin bodies. The article describes the personal origins of this line of inquiry and work:
Before she was a neuroscientist, Aamodt was a young girl who just wanted to be thin. So, like many teenage girls who hate their bodies for falling short of cultural beauty ideals, she started cutting calories — and ended up trapped in a vicious cycle of yo-yo dieting bordering on disordered eating.
Fast-forward through three decades of starving and bingeing. Finally in 2010, she made a New Year's resolution to break the cycle.
"As I started to look into the research showing that almost all dieting is yo-yo dieting in practice, I realized that my story was typical, a result of my brain working as it should to protect me from starvation," she says.
In my work, I continually see the longterm consequences of dieting, calorie restriction, and erratic eating patterns borne out in binge eating, yo-yoing, and perpetual shame. It is a painful and damaging culture that warrants a drastic reconsideration. I'm glad that books like this are leading the way.
5. Finally, I loved this list of the ten best tips from registered dietitian nutritionists. Here's what I loved best: the tips are focused on dietary patterns and habits, rather than on specific foods (which is to say, the article avoids the trap of framing any one food as being a "superfood," or any other food as being "the devil," or "the problem").
I also love that these RDNs can see beyond the intricacies of nutrition science and describe the act of eating as being tied into lifestyle and culture. Favorite pieces of advice include "make time to eat with those you love" and "one meal won't make or break your health." Great advice, worth reading and sharing.
On that note, I wish you all a very happy Sunday. I'll be back this week with a delicious, seasonal berry dessert and a quick and easy vegan pasta salad.
xo