Hello, friends. Happy Sunday, and thanks for all of the enthusiasm for Richa's book on Friday! Keep those giveaway entries coming.
Steven and I are winding up a few weekends of day trips and overnights with family, and I'm in the midst of two big work projects and my first RD class (Food Safety and Management–not the most scintillating, but at least it's going quickly). All in all, it feels as though June is flying by, and I'm hoping that I'll have a chance to slow down and savor the summer a little more come July.
In the meantime, there's always time for weekend reading.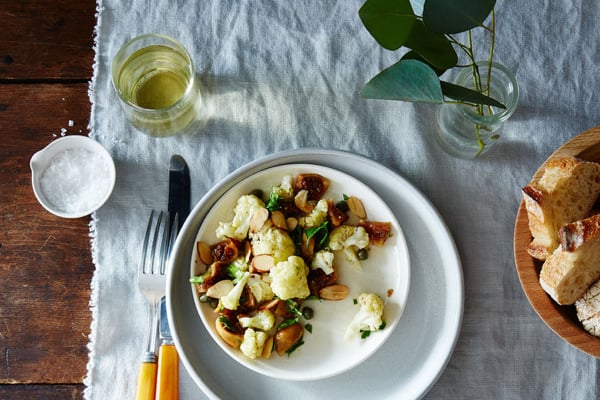 To begin, I'm absolutely loving all of the texture and contrast in this unusual spiced cauliflower, pickled fig, and almond salad.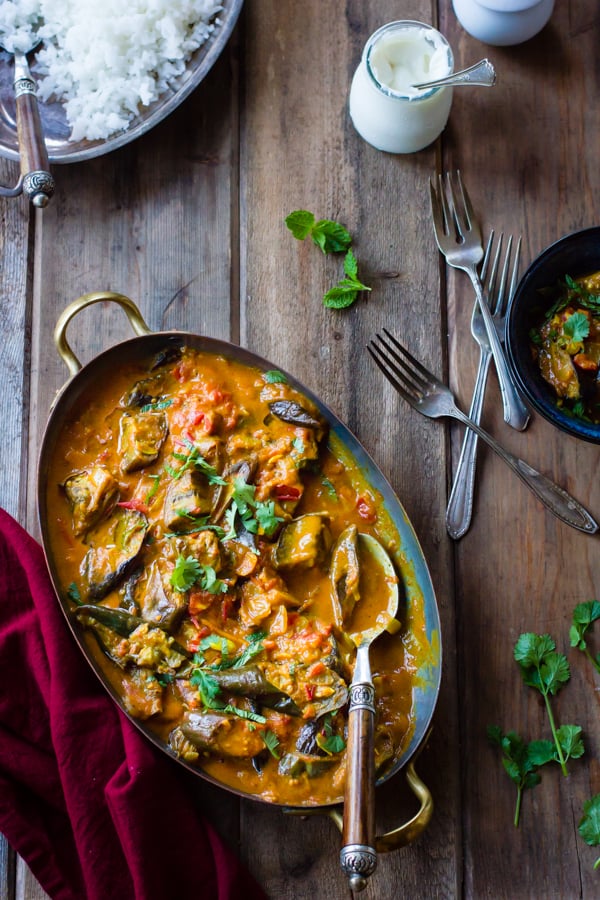 I want nothing more than to dig into Alanna's delectable looking curried roasted eggplant with smoked cardamom and coconut milk. What a flavorful dish–perfect to pair with some basmati rice!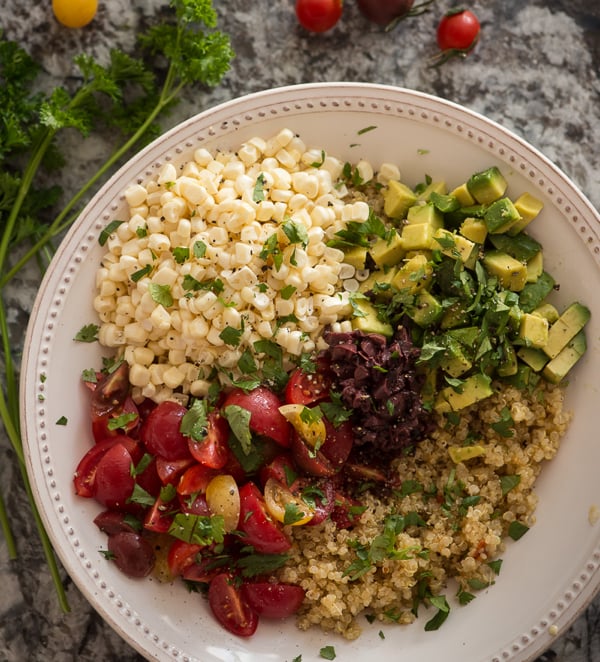 My friend Susan (who writes Rawmazing) has created the ultimate raw and cooked Buddha bowl. Get the recipe, along with her recipe for fresh, homemade bouillon.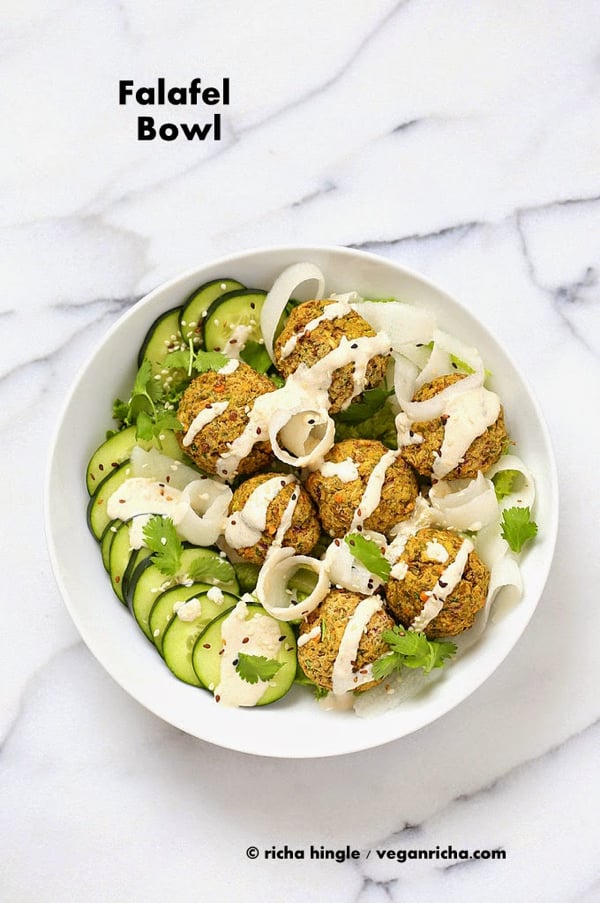 This week, I reviewed Richa Hingle's fablous new cookbook, Vegan Richa's Indian Kitchen, on my blog (and if you missed it, check it out, because I'm giving away a copy of the cookbook and sharing her recipe for mango curry tofu). While I celebrate Richa's publication, I'm also eyeing her recipe for lentil split pea falafel. Yum!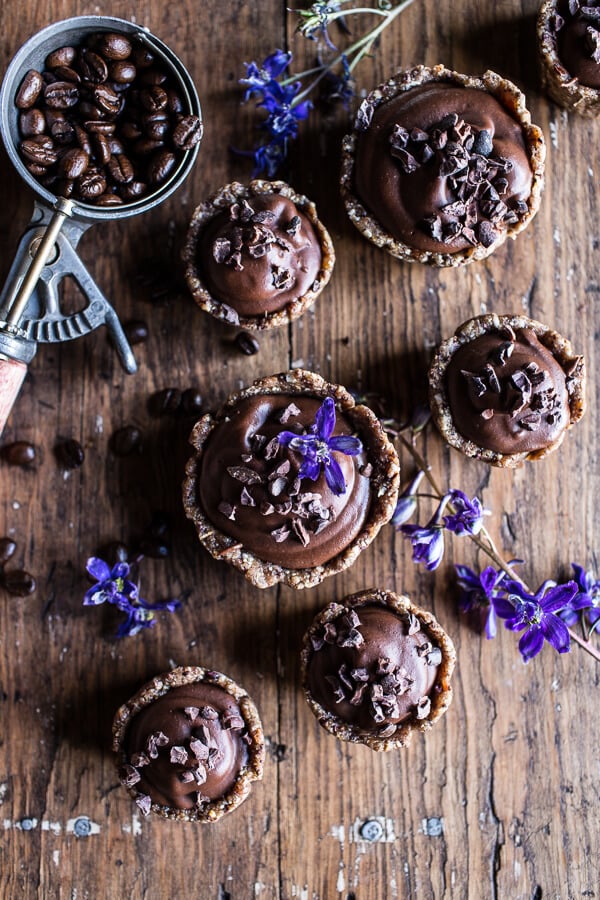 And finally, dessert. Who could possibly resist these no-bake chocolate mocha fudge and coconut mini tarts from Half Baked Harvest?
Reads
1. A great article about balance from The New York Times. Not the kind of balance I'm usually writing about, which is an attitude (a balanced approach to food, say), but rather physical balance, which becomes so critical as we age.
2. If you've read Melanie Joy's wonderfully succinct and powerful Why We Love Dogs, Eat Pigs, and Wear Cows: An Introduction to Carnism, then you may recall Joy's assertion that people typically rationalize consumption of meat with "the three N's of justification": natural, normal, and necessary. The first line of reasoning holds that eating meat is so deeply rooted in our biology that not eating it is an affront to nature. The second is that eating meat is simply what civilized people do: it is normal behavior. The last is that eating meat is necessary, vital for our strength and good health.
A new study has dug a little deeper into these three N's, adding a fourth: nice, or the idea that meat eating is pleasurable. Though taste and pleasure may be what drives most people to eat meat, it is rarely the reason cited. As this study revealed, most people (36% in one survey and 42% in an other) cited necessity as the primary reason for meat consumption.
On the one hand, this is troubling, because it is not evidence based. Vegan diets have been endorsed as safe for all phases of life by the American Dietetic Association (1)–a position that took a great deal of accumulated nutrition research into account. Many studies have shown that vegetarian and vegan diets are associated with lower rates of heart disease, overweight, obesity, and certain cancers.
The good news is that the necessity argument can be argued against with scientific evidence. Reasons for meat consumption are complex, and meat eating is often deeply rooted in culture, in feelings of social connectedness, and in tradition. That fact must be taken seriously and treated with respect by anyone who advocates for a plant-based diet. But the idea that meat eating is necessary for good health is certainly something that plant-based advocates can counter with the weight of evidence behind them, and that's a step toward a more honest dialog about eating animals.
3. A cool interview with Liz Prueitt, co-owner (with her husband, Chad Robertson) of the popular bakery Tartine, about how she's handled balancing motherhood with her career as a pastry chef. I love Prueitt's honesty about the challenges of being a working mom.
4. A truly fascinating article about the complex biological processes that occur after death–which of course often give birth to new forms of life.
5. A cool story, via NPR's morning edition, about why indigenous cultures tend not to see many cases of chronic back pain.
Before I go, I just wanted to share with you my recipe for this week's New Veganism column: vegan roasted vegetable lasagna. I am truly proud of this hearty, flavorful, summery dish, and I hope some of you might try it soon!
Have a lovely evening. I'll be back this week with a new salad recipe and a new green recovery story.
xo
 1. Craig WJ. Mangels AR. American Dietetic Association. Position of the American Dietetic Association: vegetarian diets. J Am Diet Assoc. 2009 Jul;109(7):1266-82.