Good morning, everyone. To those of you who are celebrating Father's Day today, I hope you have a lovely time. My weekend has been evenly split between work for my MNT class and celebrating the upcoming arrival of my best friend's first baby (her shower was yesterday!).
Between the shower and Father's Day today, I've been thinking a lot about being a child and being a parent, about the role of family in our lives. This past year presented me with some family difficulties, so it feels like a tender topic on this particular Sunday. But to watch Chloe prepare for the arrival of her newborn gives me a lot of joy, because I know she'll be a great mom. I can't wait to meet her little one.
And in other news, here are the foodie links and reads that I've been checking out this past week.
Recipes
I'm not a huge pizza lover, and this is mostly due to the fact that I've never had much talent for making good crust. I do love non-traditional crusts, though–tortilla pizza, polenta tart/pizza, that kind of thing, provided they're easy and low stress–and Aimee's socca pizza with cashew cheese sauce is totally calling my name.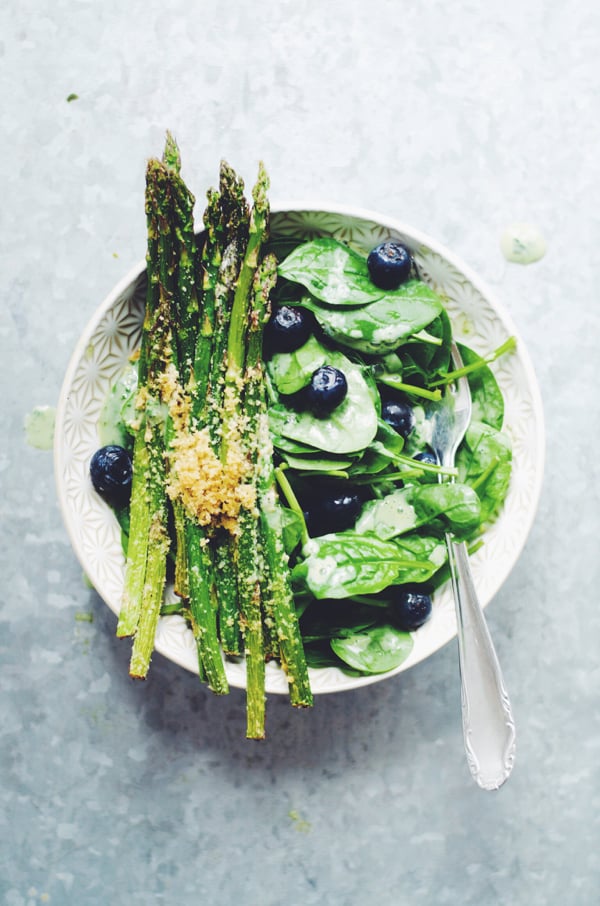 Sometimes it really is the simplest things that are the most enticing. Like this recipe for cheesy vegan asparagus, which is really just asparagus roasted with olive oil, salt, pepper, and nutritional yeast. If I were to make this, I could probably polish off the entire tray's worth of asparagus without any help from Steven–but he loves asparagus as much as I do, so I wager I'll double the recipe when I try it.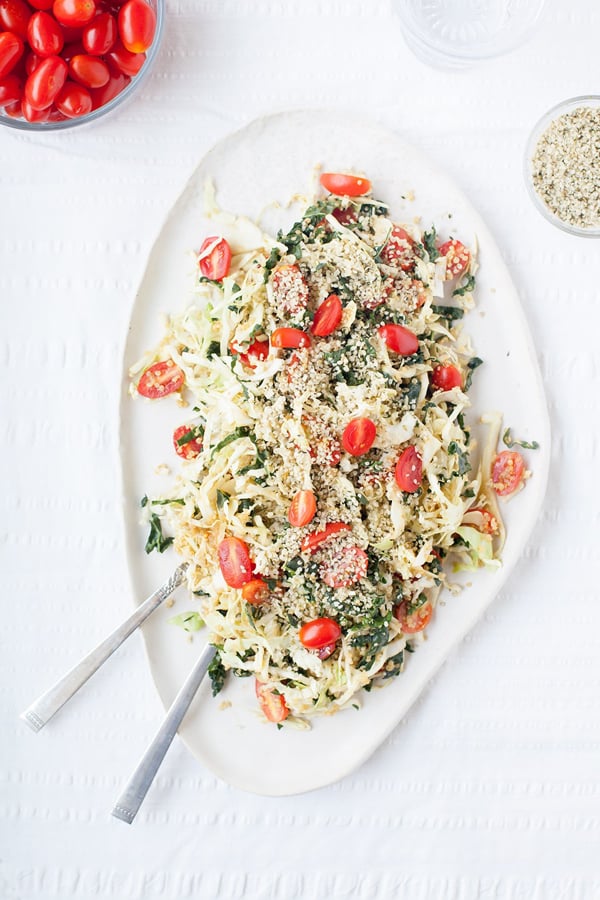 Speaking of nutritional yeast and other favorite things, I love this recipe for kale and cabbage salad. It's a mixture of cabbage, dino kale, and cherry tomatoes, topped with hemp hearts and a nutritional yeast vinaigrette. Super nutritious, refreshing, and a creative way to add protein to a simple slaw. Can't wait to try it.
I'm swooning over all of the goodness in Emma's roasted shiitake brown rice salad. Aside from the fact that I could eat brown rice with every meal, I'm loving the combination of earthy roasted shiitake mushrooms and fresh spring chives, plus the miso dressing. Dishes like this prove that it's possible to build so much depth of flavor and umami without any animal protein.
Finally, I'm all over this summery recipe for vegan mint chip nice cream, courtesy of Holly at The Modern Proper. Cashews, coconut, dark chocolate–basically, all of the delicious vegan desserty things. And there's no ice cream maker required–it just solidifies in the freezer. Yum.
Reads
To begin, I want to share a blog post that my friend Maria wrote. Like all of Maria's posts, it weaves together food, personal reflection, and experience in surprising ways. The post is wrapped around Maria's experience picking up AA Milne's The House at Pooh Corner (you can see one of the original Ernest Shepherd illustrations from the book above) years after reading it for the first time.
It's a book that has special associations for many of us, and for Maria, rediscovering it recently just so happened to be intertwined with learning that a former home is about to undergo change. She reflects on Pooh's asking Christopher Robin "Where are we going"–a question that feels a little paradoxical because the boy and his bear are headed off to have "yet another encounter with mystery and enchantment." In other words, the experience couldn't be what it is if the "where" were known ahead of time:
For those of you who have read the book, you know the crux of this conversation that underlies the inevitability of growing up is reluctance about having to leave a part of  life behind in the process that is described by Christopher Robin as "doing nothing." It is the thing he likes best in the world, and the thing that "they" (the grown-ups) don't let you do as much of anymore. Once I started to read this part, a flood of unexpected tears started pouring down my cheeks. Oh, how I had hoped for my little blue house to sit there, doing "nothing" but seeing the sun and the garden and its new owner through the day, allowing her to do "sweet nothing" under the pear tree or the ornamental hawthorne, stalwart, amidst the change around it. And how now, like Christopher Robin, I am having to move my vision of it sitting there, forever, in the form I remember it, to an enchanted place of its own, not unlike where Christopher Robin leaves Pooh, where we are assured a boy and his bear will always be playing.
Maybe it's my mood these days–a little sad, a little uncertain, and more than a little confused about my own future–that makes these lines resonate as deeply as they do. But we all, I think, wish sometimes that we could freeze a part of life that is by its very nature destined to change. Maria's post speaks to that, and more.
2. In health news, a new study from the Harvard T.H. Chan School of Public Health links consuming a plant-based diet to a substantially lower risk of developing type 2 diabetes. The study feels relevant because we're currently studying Type I and Type II diabetes and care in my medical nutrition therapy course, and we're encountering all of the many challenges that come up for dietitians as they try to administer dietary advice.
As a future practitioner, it's so great to know that there's a dietary pattern out there that offers real hope to those who are struggling with this difficult illness–and it happens to be a dietary pattern that I'm passionate about and eager to share through food and recipe ideas. Of course, there are other proven approaches to managing Type II DM, but the more options available to patients, the better.
3. Another new study, published in The BMJ, is linking consumption of whole grains to substantial reductions in the risks for coronary heart disease, cancer, stroke, and all-cause mortality. Specifically, the British researchers found that when subjects consumed 90 grams of whole grains per day, or about 3 servings, the relative risk of coronary heart disease dropped 19%, the risk of overall cardiovascular disease dropped 22%, mortality from stroke 14%, cancer 15%, and all cause mortality by 17%.
They also found that the relationship between whole grain consumption and disease likelihood reduction was linear, which is to say that the more whole grains people eat, the more disease risk falls.
Whole grains may well be my favorite foods, and while their health benefits have been demonstrated in a  body of evidence that spans well beyond this single study, I love learning more about their dietary value. If nothing else, it's motivation for me to keep crafting tasty whole grain recipes for my clients! Here's a link to the BMJ study.
4. Sad news: scientists are saying that the Bramble Cay melomys, an Australian rodent, is the first documented mammal species to have made extinct by human-caused climate change. The rodent was known to have lived on Bramble Cay, an atoll in the Torres Strait, and rising sea levels were the cause of extinction.
So sad, and likely not the last instance of mammalian extinction we'll hear about in the coming years.
5. Finally, my editor at Food52 sent me a link to this fascinating article about ED recovery during Ramadan, which is currently underway.
The article touches on so many important topics: the association between spirituality and fasting, which is common to many faiths; the lack of support, understanding, and specialist treatment for EDs in many south Asian Muslim communities; and, in a very broad way, the complexities that can arise when recovery seems to conflict with tradition or family life.
The article focuses on Sofia, a young Muslim woman (now college aged), who has been restricting food since the age of 12. Of Ramadan, she says,
"A lot of Muslims use Ramadan as a way to become closer to God, and I tried my best to do that too…but it also meant that I would actually be encouraged not to eat," she says. "I'd look forward to losing lots of weight, and [get] really scared that by the time I broke my fast I'd gain it all back again – so I'd make sure, sometimes, that I wouldn't even eat more than just a date or two after breaking time…
…It's really difficult to eat in public, especially because I'm still uncomfortable around a lot of foods. And what people usually don't understand is how seeing all that food can make you feel so pressured. Last Ramadan I remember having to force myself to eat because everyone kept telling me to – and I couldn't say no to them. When we came back from the mosque, I spent most of the night crying, because I felt I had no control."
Sofia has been exempted from fasting because of her health history, but this too presents difficulties:
She adds: "I know in my head that I need to stick to the diet and do what my doctor says. But it's still uncomfortable preparing food while my family aren't allowed to eat or drink." At times she "feels guilty while she's eating", she says, and there are moments when she's tempted to go back to fasting again.
It's an important article for anyone who feels that faith or culture have intersected with the recovery process, and I'm glad that Sofia had the courage to share her story.
I hope you all enjoy the end of this weekend. I'll be back this week with a new slow cooker recipe (hooray! all the leftovers!) and a summery salad that I'm super excited about.
xo