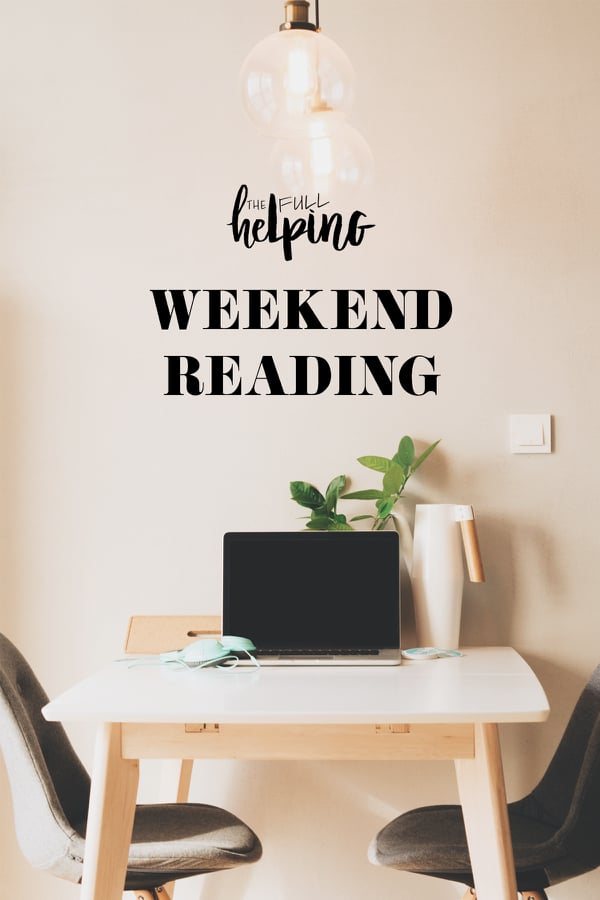 Happy Sunday, and happy 1st of July! Summer sure is flowing along.
This week, Maria Popova sent out a "mid-week pick-me-up" email linking back to a post from the Brain Pickings archive. It featured a 1958 letter from John Steinbeck to his son, Thom, who had written home from boarding school with a confession of having fallen in love with a young woman named Susan.
It's worth reading the post, and the letter, in its entirety. I'd read it the first time Maria posted it, but it touched me every bit as much the second time around as it did the first. It's not just what Steinbeck says about love, which I think is great. It's also how he says it: simply, generously, vulnerably.
Steinbeck acknowledges the inherent specialness and value of Thom's feelings, regardless of whether they blossom into something shared or experienced between people:
"It sometimes happens that what you feel is not returned for one reason or another — but that does not make your feeling less valuable and good."
At the same time, he invites his son to see and respect Susan; he encourages to embrace a kind of loving that includes "the greater respect which is recognition of another person as unique and valuable."
The part that really struck me this time was this gentle suggestion:
"don't worry about losing. If it is right, it happens — The main thing is not to hurry. Nothing good gets away."
Reading this, I thought of how often I greet what feels promising with urgency and fear of loss. This is something I've written about before, prompted by principles I've come across in my yoga practice—holding lightly, allowing things to come apart and turn into something else. But cultivating an unhurried approach to life is a practice that I need to revisit consciously from time to time.
There's a seasonal component to all of this: it's summer, and even the introverted and domestic among us often feel called to get outside and seize the day and do it all. Only weeks after writing about slowing down and taking care, I find myself feeling a lot busier and buzzier than I'd planned. That's alright; it's a sign of my feeling better and wanting to engage with the world around me, and I like that. I'm simply aware of my own tendency to rush after things, for fear they'll slip through my fingers if I don't.
I'll be holding Steinbeck's words close to me in the coming week, and as we move into the peak of summer, letting them turn over in my mind. When I think about it, it certainly rings true that really valuable and durable things—relationships, opportunities, gifts, desires—become manifest no matter the timing. They're not fragile, and they're not limited by contingencies. They have a way of finding us.
Wishing you all goodness that reveals itself exactly when it's meant to. And a happy 4th of July, too.
Recipes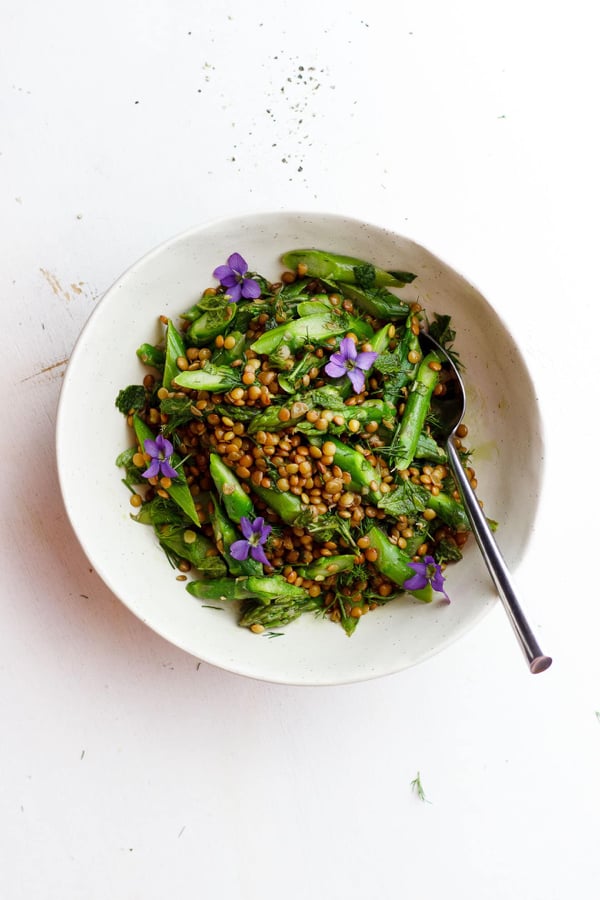 The first recipe that caught my eye this week—despite the fact that asparagus is now scarce where I live—is Sherrie's simple, herby asparagus lentil salad.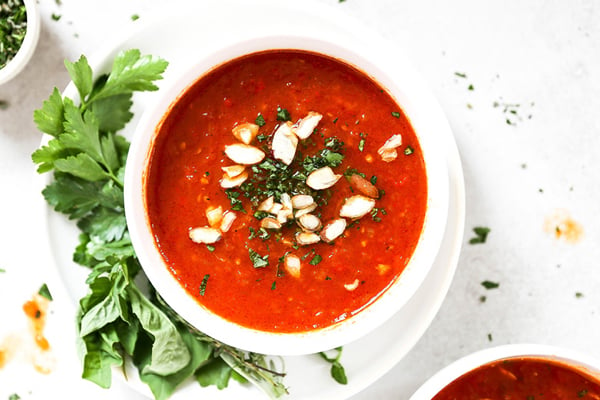 I'm in love with the electric color of Liz's roasted tomato red pepper soup.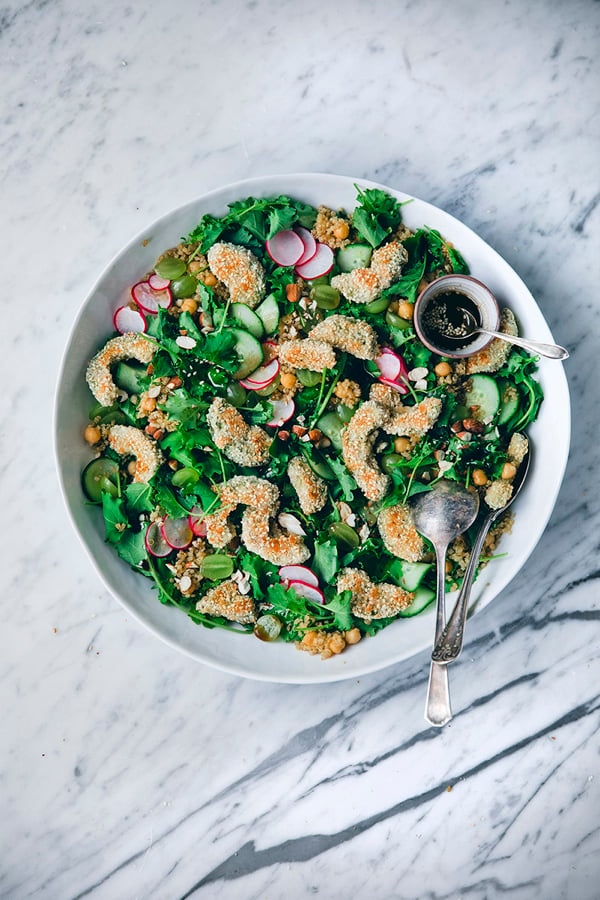 A creative green salad featuring sesame crusted avocado wedges—what a cool idea! Luise uses aquafaba to make almond flour and seeds stick to the avocado before baking it.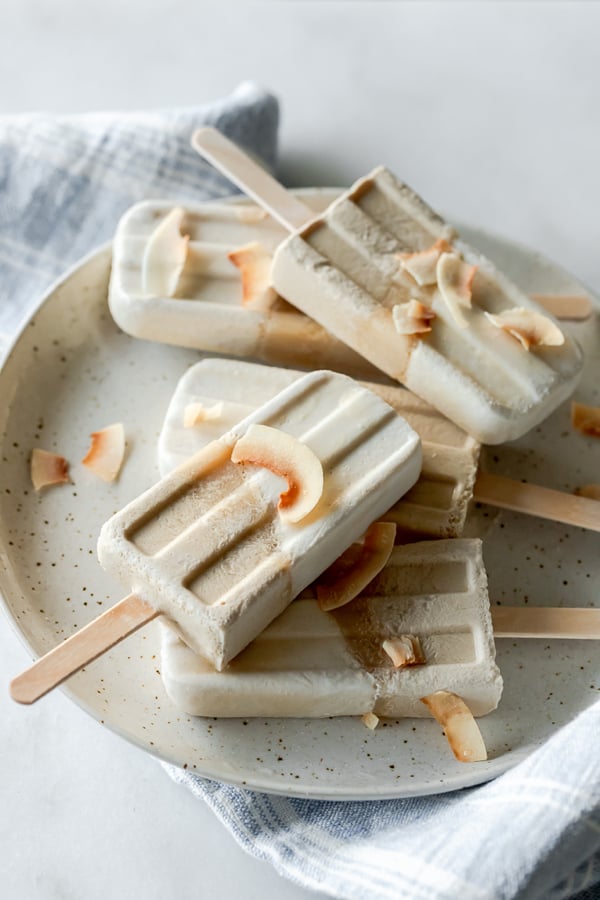 Two summery desserts today—because why not? Frozen desserts are on my mind this week (I've got a vegan dessert platter post coming up soon that features some of my favorite ice-cold vegan treats), and I love the look of these dairy-free toasted coconut latte popsicles.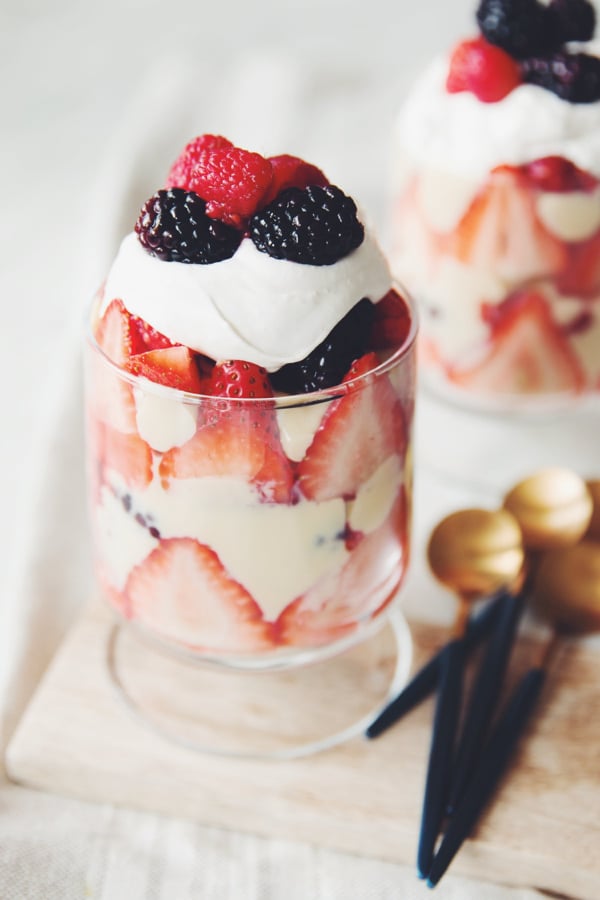 I know that trifles are traditional English desserts, but the color scheme sure does make them a fitting choice for the 4th of July. I love Lauren's vegan version (which features the vanilla cake from her fabulous cookbook).
Reads
1. A cool look at how pitch and emphasis can entirely alter the meaning of a spoken phrase—and how scientists are using that information to explore the possibility of speech prosthetics for those who've lost their voices to illness or injury.
2. Heartbreaking reporting on the loss of monkeys and other wildlife animals to electrocution on unprotected power lines in Costa Rica.
3. Also on the topic of animals and conservation, a tribute to an unlikely whale rescuer, Joe Howlett, a fisherman who knew ensnared whales were usually trapped as a by-product of the netting that was a part of his professional livelihood. I didn't realize how endangered right whales are becoming and how many of them endure injuries in netting each year.
4. The current issue of Lapham's Quarterly is dedicated thematically to water. Donovan Hohn's introductory essay pays tribute to water and its many contradictions and mysteries. I love that Hohn references Adrienne Rich's wonderful poem, "Diving into the Wreck."
5. Gretchen Rubin interviews Vivek Wadhwa and Alex Salkever, who are the authors of Your Happiness Was Hacked: Why Tech is Winning the Battle to Control Your Brain—and How to Fight Back. I have technology to thank for a lot of goodness and richness in my life, but like many people, I can be compulsive about checking alerts and apps on my smartphone, which often keeps me from focusing on other stuff (reading, unwinding, settling into a piece of music or a movie).
I like the authors' thoughts on building healthy habits and especially this piece of advice from Salkever:
"Don't beat up on yourself if you don't succeed in building healthy habits. Establishing and maintaining healthy habits is very hard, really a lifelong process that never stops. But make sure the habits you prioritize the highest and work the hardest to fulfill are the ones that make you happiest."
On that note, it's time to act on some of the habits that bring peace to my Sundays (like Salkever, I include doing dishes on this list, and I've got a little stack of them that need my attention). I'll be back in a day or two with a delicious vegan pasta salad that's perfect for 4th of July get togethers. Till soon!
xo