Happy Sunday, everyone. It's so hard to believe that we're headed into the last days of August–the summer months always seem to fly by. I'm gearing up for my first full semester of my R.D. program, which means reconfiguring my work/client schedule, and also trying to keep up with publication of Food52 Vegan. September will be busy, but full of exciting things!
Here are the recipes and reads that I've been digging into this weekend.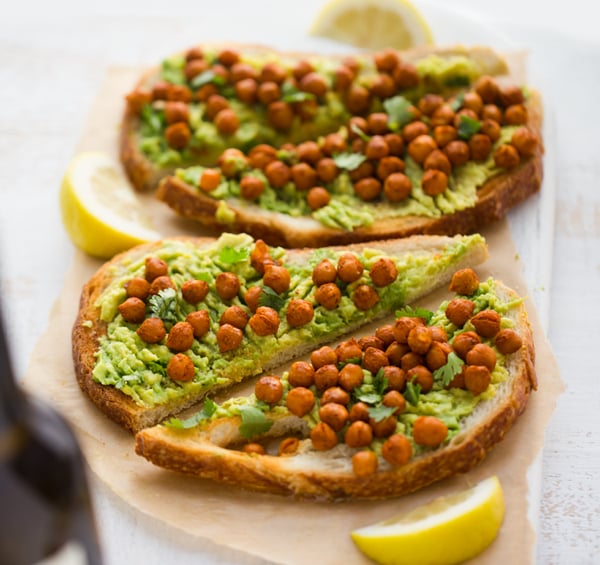 First up, comfort food snacking, courtesy of my friend Kathy. Her avocado toast with spiced chickpeas is something I could eat just about every day, morning, noon, or night!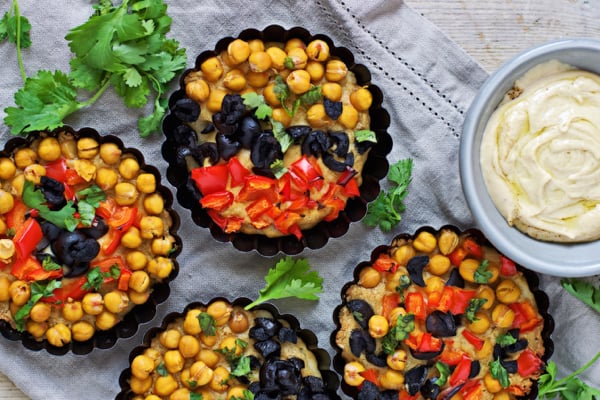 On the topic of chickpeas, I love these hummus pizza tartlets from Florian of Contentedness Cooking. They look super fancy, but the recipe is actually really simple.
A beautiful and hearty side dish from Dolly and Oatmeal: warm fingerling potatoes with garlic turmeric sauce. I love the splash of color from chives, black sesame seeds, and red cabbage. This would pair so well with grilled veggies, massaged kale, or perhaps some barbecue tofu!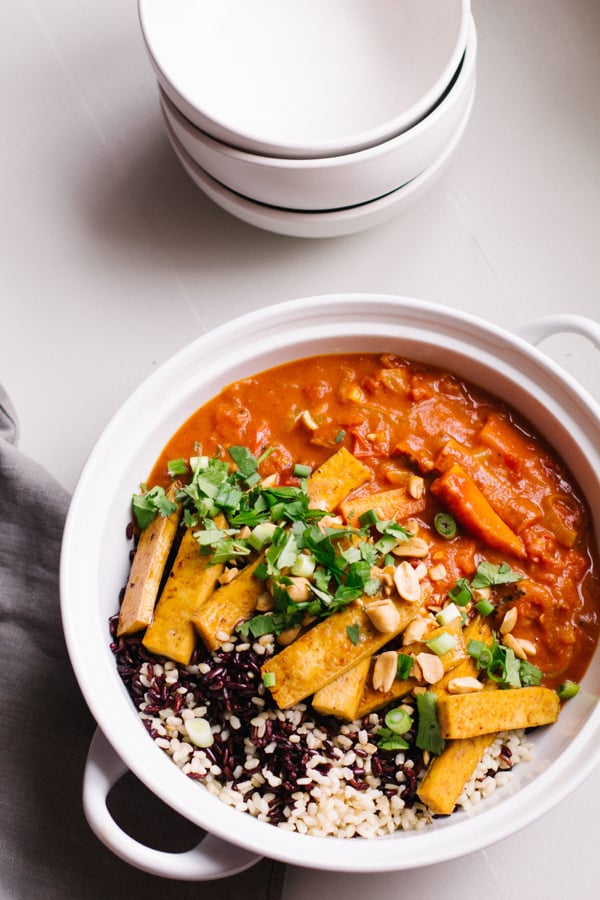 A super vibrant and flavorful meal from Sobremesa: carrot coconut curry with crispy tofu. A perfect dinner for any time of year.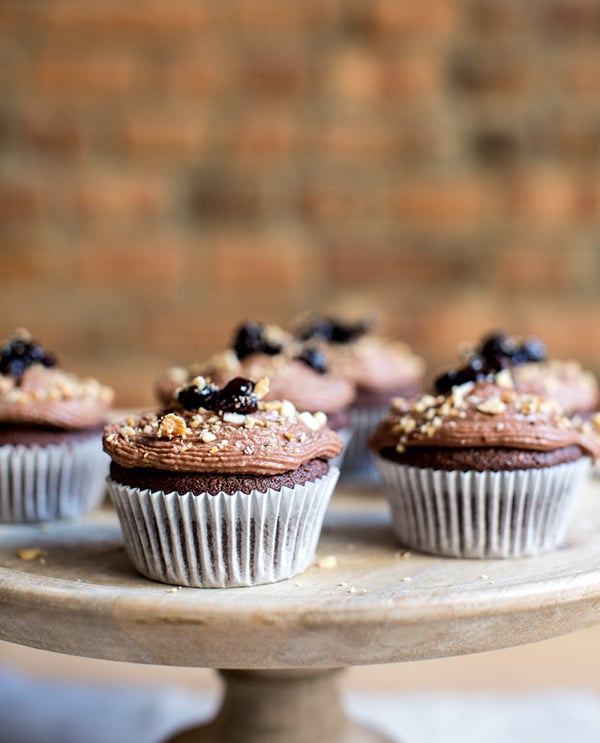 Finally, a decadent chocolate dessert, courtesy of Jodi of What's Cooking Good Looking. The cupcakes are stuffed with a spiced cherry filling and topped with a rich chocolate ganache–all 100% vegan. Need I say more?
Reads
1. The first read is a cardiology fellow's perspective on failures in care for patients with heart disease. I was interested to read his thoughts on the gaps between palliative care offered to cancer patients and palliative care offered to those with cardiovascular disease, who very seldom are given a chance to spend their final days at home.
2. On a slightly more hopeful note, a cool article about four new advances in the treatment of Alzheimer's Disease. These are still novel approaches, but their discovery points to a bright horizon for Alzheimer's patients and their families.
3. Many studies have demonstrated that animal agriculture has a grave impact on the environment. I was interested to read about a new study examining the relationship between animal farming and loss of the Earth's biodiversity. The article, published in Science of the Total Environment, suggests that animal agriculture is "the single biggest threat to much of the world's flora and fauna."
4. The Atlantic featured an interesting article this week with Siobhan Mor, who is the co-author of a new study underscoring the potential benefits of studying wildlife health as a means of preventing pandemics in the human population. Mor's assertion is that a huge number of infectious diseases originate among cattle, livestock, or wild animals, and yet we rarely study or investigate them until there is a human outbreak. Observing/studying diseases that are transmitted between animal populations may help to prevent outbreaks before they happen–and help animals, too. I was concerned that the article might prevent destruction of animal populations as a form of preventive control, but Rom is actually subtly critical of human behaviors regarding animal life. She says,
"[T]he reality is, we need to realign our goals. It's not about eradicating the animals that have the disease; it's about managing our behaviors and our interactions with those animals. A lot of human diseases that originated in wildlife have actually stemmed from human activity. We've cleared [much of] the earth's surface in order to make way for our domestic animals and urban environments, and to produce our food supplies. So that obviously had a massive impact on wild species that have lost their habitats, and that means two things. It means domestic animals are in closer contact with the wildlife species, because they're effectively moving into the wild habitats. But also, for displaced wildlife, it means that they're in search of other areas to find food and shelter. It means that wildlife are now potentially in urban environments as well…it's not about necessarily controlling a disease in wildlife. It's about being more conscientious about our impact on wildlife and when we're encroaching on their habitats, and modifying our behaviors around them."
5. Finally, an interesting article in Aeon about the idea of introducing food/cuisine into the cultural canon. Traditionally, certain genres of visual and performing art have been considered "canonical," whereas food has been considered part of a folk or pop tradition. This article asks,
"[C]an we have a canon of taste? Can we approach cuisine as we do architectural restoration, classical music or great masterworks of art? Above all, can they bring lost flavors to people who consider the culinary pursuit an art?"
The author of the article, Jill Neimark, seems to think so, and she profiles a number of chefs and gastronomes who are on a mission to introduce artisanal techniques and recipes and heirloom seeds–foods that capture terroir–into our cultural canon. One needn't be a professional foodie for this cause to resonate. I like Neimark's thoughts on eating an heirloom apple variety near her home, in Georgia:
"Last summer, I stopped by a white-frame house on a curving, shady lane by Lake Allatoona in Georgia. A stately apple tree stood out front. The owner had set out a roadside stand with baskets of fresh Granny Smith apples laid upon white towels. I took 10 scarred, unpolished, unshining, lopsided green apples and left a dollar. I ate them all in a single day and went back for 10 more. Those apples were like the famed wrinkle in time that lets you step instantly across light years. I merged with my child self, tasting a tart and succulent fruit with indescribable base notes and top notes that I could never put into words. My apple. My childhood. My forgotten self.
All commercial apples, including Granny Smiths, have been hybridised to a sugary monotone that has turned them into an Andy Warhol version of themselves, without the artist's clever humour. I hate today's apples. I am not a chef. I am not a curator of cuisines. I don't read cookbooks. And yet I know exactly what Shields, Roberts, Barber and Adrià are after. I think we all do."
Enjoy the articles, everyone. Also, if you're looking for more health/food/environment/science reads, check out Wired's list of the 27 best science feeds (Twitter, blogs, etc.). It's a wonderful roundup of a lot of great voices–I can't wait to explore them in detail.
Happy Sunday, and I'll return soon, with food 🙂
xo