Happy Sunday, everyone, and thanks for your kind words on Friday. I made it to New Hampshire and back, and today I'm catching up on work and enjoying a break in the heat.
I'm also enjoying the following recipes and reads.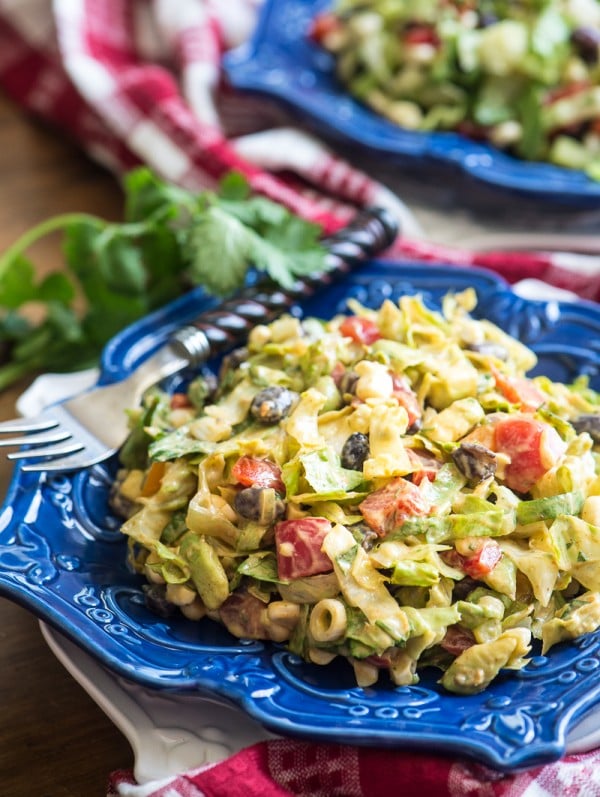 Susan's perfect summer dinner salad looks, well, perfect! What a gorgeous creation.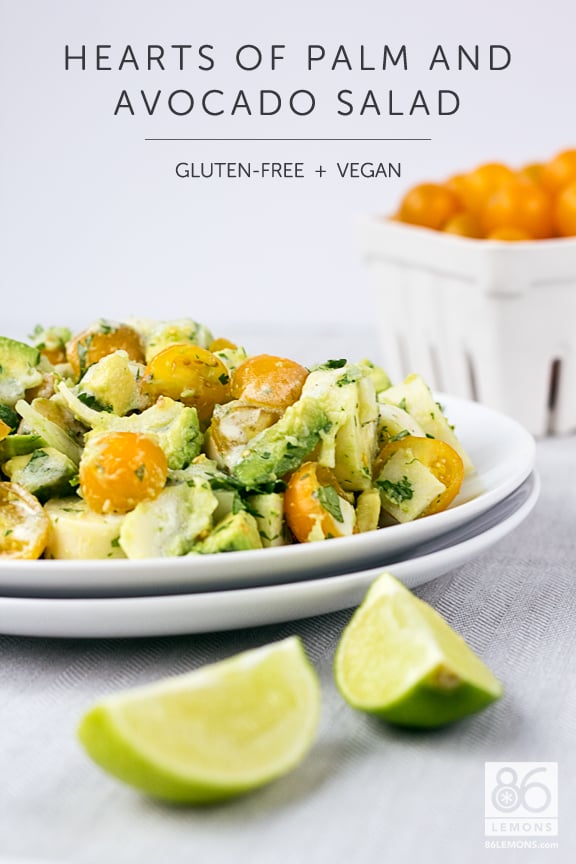 Speaking of salads, I love this marinated hearts of palm and avocado salad from 86 Lemons.
Kale falafel? This one's new to me. Delightful idea (and beautiful, colorful execution) from Shannon of Yup, It's Vegan.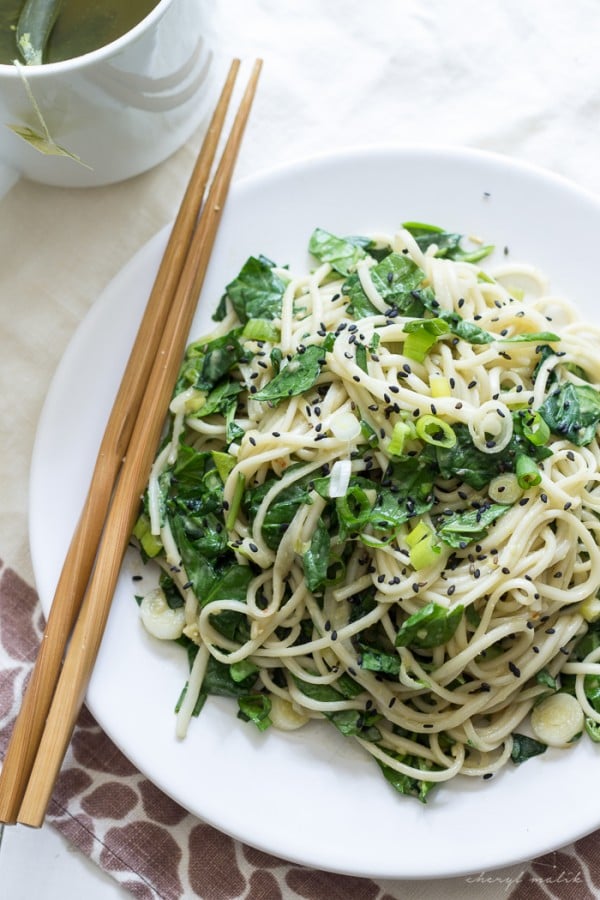 These peanut spinach udon noodles look so incredibly good, and the recipe's easy enough for a quick weeknight meal, too.
Aine's roasted cauliflower fattoush is full of texture and bold flavor. What a great recipe idea!
Reads
1. Oh dear. This week seems to have brought yet another volley in the great low fat v. low carb debate. This time, the spark was a study conducted on 119 test subjects, funded by Tulane and published in the Annals of Internal Medicine. I can't access the study through my student account yet, and I didn't want to comment until I'd read it in depth (so that I'd have a sense of the methodology used), but from what I can tell, it was well organized and had sufficient duration to be telling (subjects gave feedback at 0, 3, 6 and 12 months).
Half of the group (sixty subjects) were given a low-carbohydrate diet that included, on average, animal protein and higher fat meals three times daily. The other half were given a standard low fat diet, the type that has been embraced by much of the nutrition community since the 90s (<30% of daily calories from fat). The low-carb group experienced greater weight loss and better cholesterol and triglyceride markers overall.
I'm really interested in the study, but I fear that it will become yet another data point used to vilify carbohydrates and endorse a modified Atkins perspective (a la Gary Taubes). I'm not sure, based on my reading of the evidence, that such a takeaway is necessary. For one thing, I want to see what sort of carbohydrates the low-fat group was given; if it was high in cereals and refined breads/quickbreads, then I'm not surprised that triglyceride levels were higher, because the link between refined carbohydrates and high triglycerides is becoming increasingly well established.
The main reason this study doesn't make me jump to the "carbs are bad" conclusion, though, is that the carb-eating group was also on a low fat diet. While I know that many people feel good consuming lower fat diets, my experience as a nutritionist has given me overwhelming anecdotal reason to believe that low fat diets tend to backfire on weight loss; satiety is often a problem, and so folks tend to overeat as a means of compensation (or focus on sugar for the energy that healthy fat isn't supplying). A number of important studies (the Lyon heart study, for instance), seem to support the idea that a Mediterranean-style diet, with inclusion of healthy fats, is most helpful for weight loss and cardiovascular health. I would wager that the carb-eating group might have had more success if they, too, had been permitted 40% of calories from fat. I'd also wager that the low-carb group might have done well with some amount of high quality carbs (whole grains and psuedograins, fruits, root vegetables), and I also suspect that it wasn't so much the presence of animal foods that yielded their superior results, but a shift away from sugar, refined grains, coupled with satiety from fats that were mostly healthy (the group was permitted quite a bit of meat, but they were encouraged to get most fat from olive oil, nuts, seeds, and fish).
In other words, I think this study supports a couple of important conclusions: 1) dietary fat isn't necessarily bad for you 2) avoiding refined carbohydrates, and focusing on fat and vegetables, can be helpful for weight loss, at least in a short-term context, and 3) low fat diets may not support either weight loss or cardiovascular health most effectively (a departure from what many health care professionals have previously believed/endorsed). But I don't think the study is reason to put down your bowl of quinoa, or reach for the nearest steak.
2. OK, I'm a little obsessed with bacteriotherapy (also, I'm weird). This is a fun new article, via The Atlantic, about this brave new world of GI medicine
3. A nice roundup of after school (or after work!) snacks, via Food52. One of the snacks featured is my recipe for raw snack balls with apricots, dates, and cashews, which was featured in my New Veganism column last week! Check it out.
4. Yoga Journal and Lululemon are doing an interesting, four part series that explores "power, privilege, and practice." I really recommend you check out hte various interviews that Yoga Journal has featured as part of the series. My favorite so far is with Kerri J. Kauer, who edited the Yoga and Body Image Anthology. When asked what visible barriers she sees working against diversity in the yoga world, she responded:
"I believe the main visible barriers that work against diversity are mediated images of yoga that people see in magazines, on social media and in advertisements for yoga apparel. We are a consumer capitalist culture, so this is what is on the frontlines for people to "consume" if they know nothing else about yoga. The images tend to reflect a homogenous group that look like thin, young, white, cis-gendered, hetero women. I've spoken to so many people who believe yoga is not "for them" because their bodies (e.g., queer, fat, black, old, differently-abled) do not fit into this ideal. The lack of this imagery not only works to exclude diverse students of race, body shape and size, but also sends subtle—but just as dangerous—messages about the health, motivation or desire of those who are excluded."
When asked what invisible barriers she sees, she said,
"Some invisible barriers include language around gender, sexual orientation, ability and body image. I have heard so many comments throughout studios where teachers assume something about a body based only on narrow and essentialized understandings of gender (e.g., "all women move like this"), or make comments about "one more Navasana to get that bikini belly" and these comments can be incredibly offensive and exclusionary. That's not entirely their fault either. There are very few 200-hour teacher trainings that include diversity and social justice components to their curriculum. Social class is also an invisible barrier, and people that might greatly benefit from yoga often can't afford drop-in rates, or packages to have the experience of practicing with a community and a knowledgeable teacher."
These insights resonate with me tremendously. And, if I can add my two cents as someone who writes about body image a lot, I personally find it incredibly problematic when any sort of mediated body "ideal" is assumed by a yoga instructor, and then implicitly endorsed by his or her emphasis on the type of figure that yoga practice will enable (i.e., the navasana and bikini belly exaple that Kauer brings up). Great read.
5. BKS Iyengar passed away over two weeks ago, but I haven't mentioned yet how glad I was that so many publications addressed his life and legacy. I particularly liked Michelle Goldberg's coverage in the New Yorker, and this piece from NPR.
Since we just touched on yoga and body image, I should mention that Iyengar's words about yoga and the body have been very meaningful to me. I found yoga to be transformative for many reasons, but I think the most important one is that it forced me, for the first time in a long time, to fully inhabit my body. When I started practicing, I still had such tremendous disconnect from my body from all of the ED years, and the type of exercise I was used to (fast, hard, burn-focused) only seemed to deepen that fissure. It's very hard to attend a yoga class and try to hide from your body, the way I used to; this is why I hated yoga, at first. It was painful and hard to have to face my body, day after day, on the mat. Over time, though, yoga has helped me to conncet with my body, to experience it authentically, and even, on a good day, to see it as something beautiful, strong, and transcendent.
Much of what Iyengar has to say in Light on Life throws these same ideas into relief. Two of my favorite quotations:
"Yoga allows you to rediscover a sense of wholeness in your life, where you do not feel like you are constantly trying to fit broken pieces together."
and
"It is through your body that you realize you are a spark of divinity." 
Yes, yes, yes.
Happy Sunday.
xo