I've been trying to be structured with my work days, so that my job will bleed into nights and weekends less often than it does. Even so, I took a personal detour midday on Thursday, so that my mom and I could visit the Morgan Library.
The Morgan is a museum and research library that was once the personal collection of Pierpont Morgan. It's home to Medieval manuscripts, printed books, and a number of Old Master paintings.
There's currently an exhibition there of works by Hans Holbein the Younger. Since my mom is on a precious two-week spring break from teaching, we were keen on seeing it together.
We walked through the lush, ornately decorated library rooms, then gazed at Holbein's remarkably evocative, human portraits from the 16th Century. It felt so striking to me that we were in the middle of midtown Manhattan, only thirty minutes from my apartment.
After we looked at the art, we took some time to sit and chat over coffee. I was reminded of how knowledgeable my mom is about visual art, ancient and modern. She's been an art teacher and a working artist for pretty much my whole life, but I haven't always taken the time to ask her questions or benefit from her expertise.
I visit my mom often, but this was the kind of special outing that we've had precious little of since before the pandemic. These cultural experiences were a big part of my upbringing, a thing my mom and I did often, but I rarely make enough time for them these days.
It wasn't the only outing this week. My closest friend here in the city celebrated a birthday last Monday, so we went out to dinner. There's a new restaurant we both wanted to try, but it was tough to get a table there. On Monday I got an alert saying that bar seating had open up, so we ended up there for a delicious meal, surrounded by the pleasant bustle of people enjoying a night out.
Tomorrow I'm squeezing in a book signing and my usual yoga practice. In April, I'll go to the opera for the first time in years.
While New York City was suspended in an eery state of quiet in 2020, I thought about all of the reasons that I love living here. I love it in spite of the small living spaces, the fact that a truly wild amount of my income goes toward paying rent, all of the shlepping grocery bags around on foot, and the sometimes unpredictable subways (which lead to equally unforeseeable commute times).
The main reason is that it's home, of course. My family, chosen family, friends, and community are here.
But aside from that, much of what I love about my daily life in the city is the abundance of opportunities to be transported, to have experiences with food and art and fellow humans.
At any moment, there's a multitude of opportunities for my life to collide with the lives of strangers who are into the same things that I'm into. It's all always unfolding right under my nose, a mere subway or bus ride away.
In spite of all this, I get consumed by the routines of daily life, as we all do. I'm a homebody a lot of the time. I bury myself in my work.
Now that the city has rebounded not only from the first wave of Covid, but also from Omicron, I'm committed to embracing and experiencing more of the things that I value about my life here.
This commitment is tied to a deeper one, which is my desire to live more, overthink and hibernate less. I want to say yes to time with the people I love. I want to have more special afternoons and open-ended conversations with my mom, rather than rushing through cursory visits. I want to taste food that's fun and different from what I make for myself, to hear great music, to look at art and interact with random strangers.
Basically, I want to get out of my head and into the world.
I never mind coziness, nor do I avoid periods of rest or going inward. But whenever I lean into experiences that are new and different, whenever I'm willing to connect—whether more deeply with the people I love, or momentarily with people I may never see again—I grow.
Wishing you a week of experience and connection. Happy Sunday, friends. Here are some recipes and reads.
Recipes
I've never tried a vegan version of fried chicken, but this may be the one!
I never turn down a simple bowl of pasta puttanesca.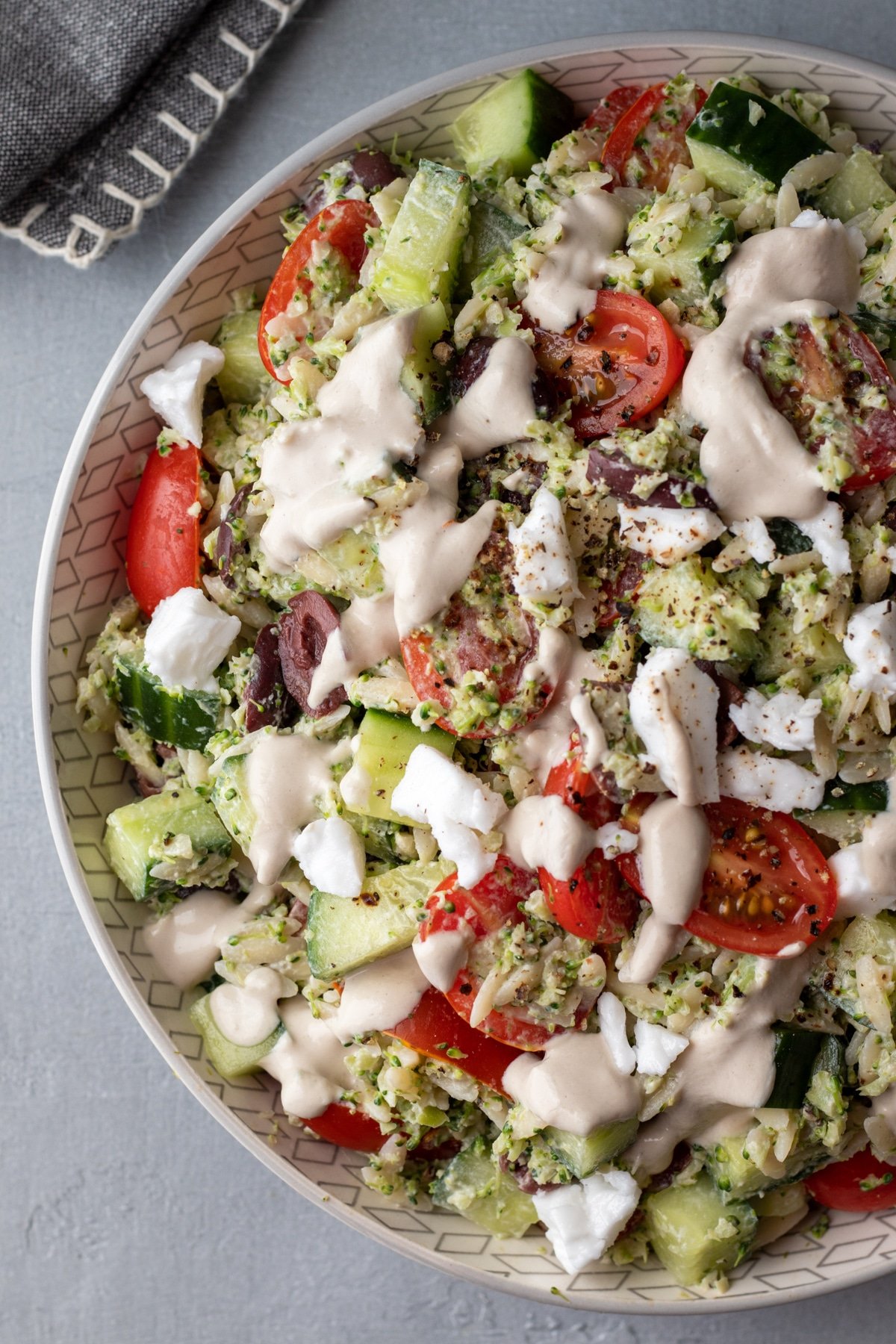 Spring is my favorite season for fresh, colorful orzo salads. This lemony version looks lovely.
The viral tortilla wrap hack trend may be slightly behind us. But I just stumbled on Erin's version, which she posted along with a list of additional variation ideas, and it looks so good.
This blood orange cake is the perfect, uplifting dessert recipe to carry us through the tail end of winter and into early spring.
Reads
1. A trip back in history to explain how the placebo effect got its name.
2. I very much appreciate this article on how vague, not-very-meaningful nutrition maxims—such as "don't eat processed foods"—can actually hinder athletic performance. The article gives good advice for maintaining balance and dietary adequacy, and I'd say that it extends to folks who aren't athletes, too.
3. A fascinating, firsthand account of aphantasia, or "mind blindness," which is a condition in one can see clearly with the eyes, but not in the mind. Approximately 4% of people are thought to experience it.
4. I'm not sure what trigger warning to give this essay, except to say that it's a harrowing recollection of physical and sexual abuse, childhood anorexia, and psychic recovery.
I want to share it, though, because I think that many people who've had anorexia—especially if the onset was in childhood or the pre-teens—will understand the description of refusal to eat as a protective mechanism.
They may also understand this account of psychic growth:
…the other kind of growing, the psychic kind, is a separate matter. It is the work of a lifetime. And it is difficult work, because it requires you to lay down the tools you have always relied upon for self-protection.
5. I absolutely love tofu skin, and I don't purchase or cook with it often enough. This article is the nudge that I need.
Wishing you a restful, restorative Sunday. I'll be checking in again soon!
xo