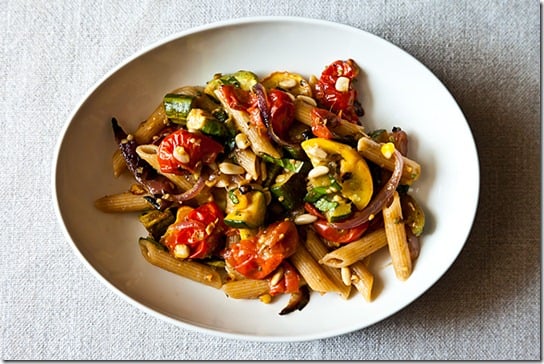 All photos courtesy of Food 52
This recipe might as well be called "summer in a bowl." It's magnificently flavorful, sweet and savory, and it showcases all of my favorite summer produce: summer squash, plump, cherry tomatoes, sweet corn, and fresh herbs. It is honestly so good that I made it on a Friday and had gobbled up most of it twenty-four hours later, tempted along the way to lick the plate clean. Roast vegetable pastas are almost always a success (what's not to love in that combo), but I think the caramelized tomatoes and sweet corn is what makes this particular dish sing.
I created this recipe for my newest column for Food 52. The column is entitled "when a vegan comes to dinner," and it's a short, helpful musing on how to cook for vegans if you don't happen to be vegan yourself. I know for a fact that vegan entertaining can be remarkably simple, but that's not something I would have known until I became vegan myself. Before then, I would have assumed that cooking for vegans would mean purchasing a ton of specialty ingredients and foods. Ironically, it wasn't until I went vegan that I realized how accessible and everyday vegan food can be; how familiar and easy. Pasta. Rice. Beans. Salads. Soups. All things we know and love already.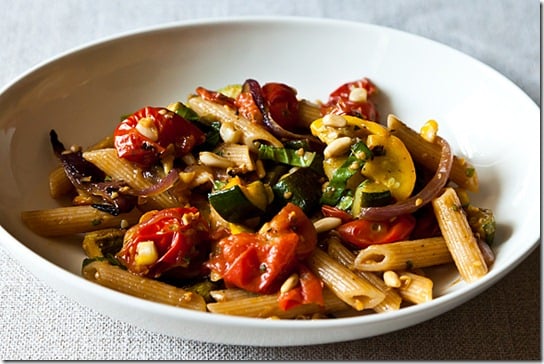 As I've said many times, sure, it's fun to get deeper into plant-based food and learn about specialty ingredients (like superfoods) and specialty prep methods (cashew cheese, spiralized zucchini). But veganism, per se, needn't feel as divorced from omnivorous dining as it often does to people.
And that's the point of this particular column. To remind folks that vegans and omnis actually have quite a bit of common ground! And one piece of that ground is simple, comforting, and much loved pasta. In many ways, it's the ideal "starter dish" for folks who are just learning to cook for vegans—or who are trying to go vegan, and are cooking for themselves! Most all of us grew up loving the variety and taste of pasta dishes, and so they're automatic crowd pleasers, in addition to which they're often easy to make, and endlessly versatile.
To check out my recipe for penne with sweet summer vegetables, pine nuts, and herbs, click here. And please feel free to add your thoughts to the discussion of how eaters of all kinds can share a table with their vegan friends!
xo