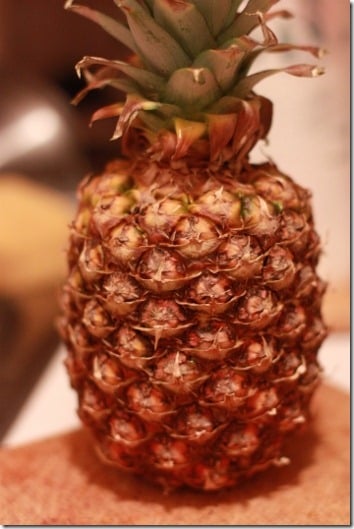 Glad that I'm not the only one who has recipe failures!
In yesterday's post, I mentioned that I rarely eat dishes that didn't turn out the way I wanted them to: I'm just too picky an eater, and I value the experience of eating too much, to suffer through a mediocre meal. I do, however, try to take advantage of good ingredients when they fall into my lap, even if I I didn't have my heart set on them.
For example: two week ago, M got a pineapple in his produce box, and shared it with me. I'd like to say that I immediately put it to good use, but I didn't. See, pineapple isn't one of my favorite fruits (if you're new to my blog, hi! And FYI, I'm a super picky eater when it comes to fruit, which most of my regular readers know already), and it simply didn't cross my mind to do anything with it except juice it. But since I've been too busy running hither and yon to juice anything, the pineapple sat.
And sat.
And sat.
Until today, when I realized how absurd it was that I hadn't yet used this lovely looking piece of fruit.
Now, I know myself well, and I knew that the chances I'd eat the pineapple straight up (with my breakfast, for example) were slim to none. So I decided to do the thing I knew would guarantee speedy pineapple consumption: I decided to turn it into a salad and dressing.
Some people blend greens up with fruit to hide their taste; I blend fruit into greens to hide its taste. To each his own.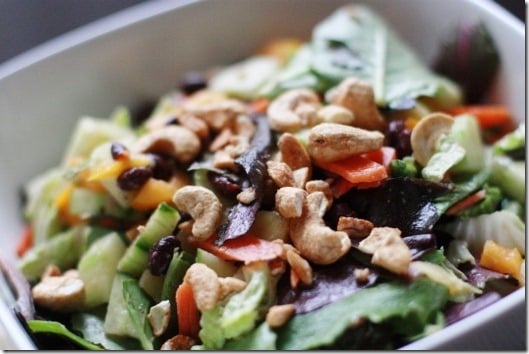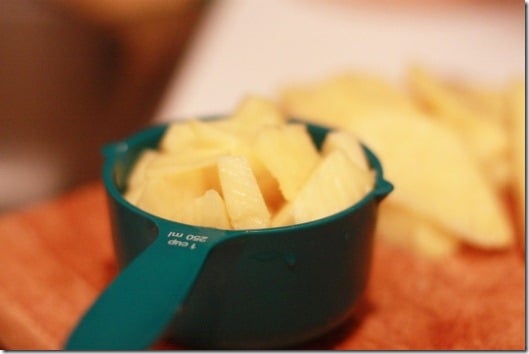 Sunshine Salad with Pineapple Ginger Dressing (Mostly raw, vegan, can be GF)
Salad serves 2; Dressing yields about 2 2/3 cups
For the salad:
1 box organic baby romaine
1 cup cilantro, finely chopped
1 cup fresh pineapple, chopped
2/3 cups black beans
1/2 cucumber, chopped
1 cup cabbage (napa cabbage works well) shredded
1 large carrot, shredded
Handful snow pea shoots, chopped (optional)
For the dressing:
2 heaping cups fresh pineapple
1/3 cup sesame seeds
1/2 cup water
1 inch ginger, fresh
1 tbsp low sodium tamari
1/4 cup seasoned rice vinegar
2 tsps sesame oil
To serve:
1/4 cup cashews
1) To assemble salad, simply toss all ingredients together.
2) To make dressing, blend all ingredients together in a high speed blender till smooth. Add more water if the dressing is too thick for your taste.
3) Dress the salad in about 1/3 cup dressing, sprinkle with cashews, and serve.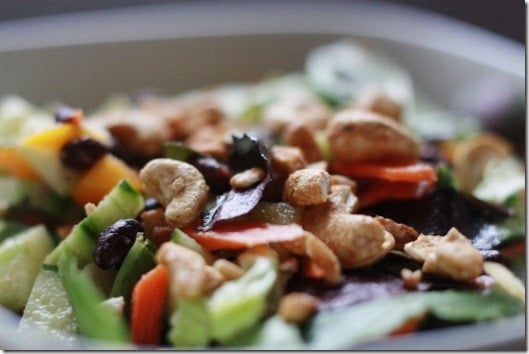 Why should you love this salad? Well, it's fresh. It's filling. It's both salty, and sweet. It's full of healthy fats from the cashews and sesame seeds, protein from greens+beans, and all sorts of vitamins and antioxidants. The pineapple is an excellent source of vitamin B1 (Thiamin) and Vitamin C, and it's also chock full of enzymes. The cucumber is hydrating and refreshing, and the cabbage is rich in Vitamin K and cancer fighting compounds called glucosinolates. In short, this is a nutrition powerhouse.
Why else should you love this salad? Well, of you're avoiding oils or on a low-oil diet (which I'm not, but it seems that many of my readers are lately), you should also take heart in the fact that there's only a small amount of oil in the dressing, which can be omitted if you'd like, and that the dressing itself is whole foods and low fat. Readers without Vitamixes should also rejoice in the fact that you can easily substitute tahini for sesame seeds, in order to make blending in a conventional blender easy.
I've got something for everyone today. Even those of us who didn't think we liked pineapple very much…
Until after lunchtime.
xo