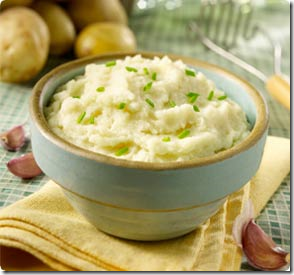 Two weeks ago, I wrote a post on how to call restaurants ahead of time and politely request a vegan meal. I loved the conversation that followed, in part because it got me thinking about how we feel when we eat things we didn't intend to. Jen, for example, wrote in with a story of how, during her vegan days, she was served mashed potatoes that had milk in them, even though she'd called the chef ahead of time and been explicit about the dairy restriction. She felt a bit distraught:
My dad tried to console me by saying that maybe the chef used soy or almond milk…but obviously I didn't believe that. I highly doubt soy or almond milk had any place in that kitchen. I was devastated, because I had SO recently become a vegan, and felt like a failure for making such a rookie mistake by not double-checking.
Jen, who is a very smart and witty reader, is of course speaking with a humorous twinkle when she talks about "rookie mistakes" or "failure." But I do get plenty of comments from readers who have gotten non-vegan foods accidentally and truly do feel like "failures," even if they didn't intend to consume any animal food. These are usually new vegans, who are very determined to stay the course, and the idea of having deviated from a vegan diet feels disappointing and like a setback. Today, I want to dispel the idea that vegans should feel guilty when they accidentally eat non-vegan food, both because it's obvious that mistakes made in a restaurant kitchen are not a diner's fault, but also (and more importantly) because I think that this kind of guilt may miss the point of trying to eat a vegan diet.
Let me 'splain: in a previous post, my reader and friend Sayward pointed out that the definition of the word "vegan," at least as it was coined by the founder of the Vegan Society, is thus:
"'veganism" denotes a philosophy and way of living which seeks to exclude — as far as is possible and practical — all forms of exploitation of, and cruelty to, animals for food, clothing or any other purpose . . ."
Possible and practical—think about those words. It is possible for me to to eschew animal foods, animal materials in clothing, and products that are manufactured with animal testing in my everyday life. It is also possible for me to sit out of dissections in school, even if there are uncomfortable exchanges with professors as a result. But there are also situations in which veganism is impractical to a prohibitive degree: to use another example from Sayward, let's imagine if all vegans refused ever to ride in cars because of animal byproducts in tires. That would be not only impractical, but nearly impossible in the world in which we live. It might also prohibit us from doing things that help us to advocate veganism: it might prevent a PETA staffer from getting to work, or someone who wants to work at a farm sanctuary an hour away from participating, or a vegan doctor from seeing patients, or a vegan chef and his or her kitchen staff from serving vegan food that helps to convert many eaters. So in this instance, even if we object to tire production and fight for it to change, we give ourselves leeway to travel by car.
As vegans, we do everything we can to object and diminish cruelty to and exploitation of animals. But we also have to remember that we are human beings with practical limitations: we'll do everything we can, but we won't ask ourselves to do the utterly impossible.
So how does this relate to the restaurant situation? Well, there's nothing practical or possible about being able to read a chef's mind, or being able to see through the kitchen wall. If you asked for your meal to be vegan, and you specified what "vegan" means, and you took every pain you could to ensure a vegan plate, and you still got animal foods in your dinner, it's hardly your fault. This has happened to all of us: just last summer at the HLS, I ate oats that had butter and dairy in them. I had asked servers twice if there was any milk or dairy or cream in the oats, and been told no, but the servers were misinformed. And by the time I found out, breakfast had been served.
Was I annoyed? Sure. Would I have stopped eating right away if I'd found out in the middle of the meal? Yup. But did I think this was a big deal? Nope. I'd done due diligence by inquiring about the food, and I knew that the whole thing was just an honest misunderstanding. If I were to fall apart every time this happened, I'd become awfully paranoid, and for no good reason: my goal as a vegan is to do everything in my power to avoid eating animal foods. When things happen without my knowledge or intention, I simply move on.
Veganism is not an exercise in self-purification. It is not a test of personal virtue. It is not a contest over who can eliminate the most animal foods the quickest. It's not a way to rank your own success or failure as an eater. It's not a badge of pride or specialness or superiority. In fact, it's not really about you: it's about doing what you can to protect and respect animal life with your food choices. In the scenarios when something is out of your control—like being served food that is labeled vegan, but really isn't—try to relax, and cut yourself some slack. You did the best you could. And the nice thing is that you'll have many more meals in which to be conscious of animal life.
Have a sense of perspective. One of my favorite parts of my own vegan transition was realizing that I was actually empowered to do something good for myself, for animals, and for the planet three times every single day for the rest of my life. How exciting! Remembering that veganism is something I'm committed to in a long term way makes it easy for me not to sweat the accidents and miscommunications that are bound to happen once in a while. They're mere specks in a much bigger picture. And even though my actions matter profoundly, it's my intentions that matter most of all: do I intend to eat animal foods? Do I intend to buy cosmetics that are tested on animals? No. I may be misinformed sometimes, and eat or purchase non-vegan things as a result, but it's never my intention for that to happen. Wasting time with guilt trips in these instances doesn't help me, and it doesn't help animals.
Hope this is an interesting offshoot of our previous conversation. I'd love to hear some feedback: vegan readers, have you ever eaten or bought non-vegan stuff by accident? I'm sure you have—we all have! How did you feel? And non-vegan readers, can you think of parallel scenarios where you regretted—perhaps too harshly—a purchase or food consumption that wasn't really your fault?
xo