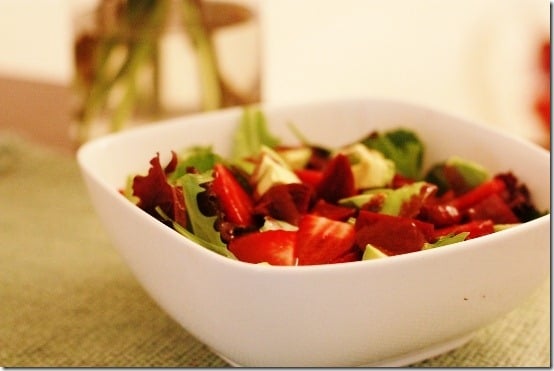 Hey all! I promised you hummus today, so you may be wondering why I'm offering you a chocolate vinaigrette instead. The answer is that I changed my plan on a whim. Last night, I learned that one of my former college professors, the poet Paul Violi, had passed away at the age of 67. Today, as I go about business as usual, I'm thinking about him.
I was fond of Professor Violi: he was wry, amicable, and obviously very kind. He taught me and other undergraduates American poetry without unnecessary reverence or deference; he rarely taught us a poem that didn't invite us—if not downright beg us—to read with a humorous touch. He chatted with us after class let out, and during breaks. He was a forgiving grader. And he and I both happened to frequent Le Monde, a cheesy imitation French sidewalk café in Morningside Heights.
I spent nearly every night of my undergraduate career at Le Monde, smoking camel lights and sipping wine, either alone (in which case I fancied myself very independent and sophisticated), or with my friend Gabi (in which case we were probably talking about boys). Sometimes, I brought one of my books to the café, sat at the bar, and read. Sometimes, Professor Violi would be there, too, doing the same thing. On those nights, we'd usually have a short and amusing chat—maybe about what we were reading, maybe about the weather, maybe about class that day. I'm sure that these exchanges made me feel precocious and special; I'm sure he was just being polite, and would have liked to read in peace. But if my chatter was an imposition on his time, he never let on.
Young students tend to forget that their teachers have professional lives that extend beyond the classroom. I knew Professor Violi was a working poet while I was his student, but it was only years after I studied with him that I realized what a major force he was in the world of contemporary American poetry. In the whole semester I studied with him, I'm ashamed to say I never once looked up one of his poems.
Years later, when I worked at FSG—a career I may not have pursued without inspiration from Professor Violi and others—I read some of Violi's poems with a newfound admiration. I was thrilled to discover that they were energetic and playful and sly. Take this poem, for instance—one of his most famous:
Appeal to the Grammarians

by Paul Violi

We, the naturally hopeful,
Need a simple sign
For the myriad ways we're capsized.
We who love precise language
Need a finer way to convey
Disappointment and perplexity.
For speechlessness and all its inflections,
For up-ended expectations,
For every time we're ambushed
By trivial or stupefying irony,
For pure incredulity, we need
The inverted exclamation point.
For the dropped smile, the limp handshake,
For whoever has just unwrapped a dumb gift
Or taken the first sip of a flat beer,
Or felt love or pond ice
Give way underfoot, we deserve it.
We need it for the air pocket, the scratch shot,
The child whose ball doesn't bounce back,
The flat tire at journey's outset,
The odyssey that ends up in Weehawken.
But mainly because I need it—here and now
As I sit outside the Caffe Reggio
Staring at my espresso and cannoli
After this middle-aged couple
Came strolling by and he suddenly
Veered and sneezed all over my table
And she said to him, "See, that's why
I don't like to eat outside."
The poem is playful and agile; what begins as a series of musings on the problem of language is quickly mapped onto the absurdities of everyday experience. If you'd like an even funnier example, check out "Extenuating Circumstances" or "Excess." Violi's poems are high and low, articulate and blunt, sincere and cheeky, all at once.
As an undergraduate, I assumed that "great" poetry had to be magisterial and grave: it had to have the poignancy of "In Memoriam" or the ominousness of "The Second Coming" or the psychedelic intensity of "Kubla Kahn." It couldn't possibly be worth studying, I reasoned, if it didn't have…well, gravitas. Then I read John Donne and Robert Burns ("Bobby Burns," as Professor Violi once hilariously called him) and Alexander Pope and Frank O'Hara, and I realized that great poetry can be playful and sensual and full of whimsy. It can be satirical, and it can be pleasing. Great poetry can be a lot of things. Violi's work has its moments of sadness, to be sure, like this stanza of "Little Testament":
"It's not the four million tons
of cosmic dust
that gravity gathers
and drops on earth each day,
it's your own squandered magic,
the weight of your own quiet voice.
It's the peculiar sense of nothing
when the middle of nowhere shifts again.
It's the quiet, disappointing extreme,
another long-deserted drive-in movie
at high noon…"
But even those moments are softened with a disarming candor and familiarity.
When I was a teen, I marveled at how the adults in my life could laugh even when things were gloomy, or how they could see the world, not in the black-and-white and very moral terms in which I saw it, but rather in all sorts of amusing shades of gray. The older I get, the more I understand the necessity of good humor. I'm still a serious girl, but I allow myself to chuckle at most things. And when I read Violi's poems, I feel particularly grateful that one of the true marks of growing up—at least as I understand it—is developing a rich capacity for amusement.
Since I tend to process things through the recipes I create and the food I eat, I thought I'd make today's recipe a little whimsical, in honor of my late professor and his work.
Whenever possible, I aim for my food to be optimally nutritious. Sometimes, though, it's important to make food that's as playful as it is useful. Here at CR, we all love to eat salad. But most of us also know how to savor some of the sweeter things in life, like chocolate. And why shouldn't we appreciate them both at the same time? Forget green smoothies: this salad is the quickest way to make greens alluring. It's also a reminder that even the things we take seriously—like healthy eating—can be infused with a sense of fun.
Strawberry, Avocado, and Roasted Beet Salad with Chocolate Vinaigrette (mostly raw, vegan, gluten and soy free)
Serves 1
For the salad
4 large strawberries, sliced
3 baby beets, roasted, baked, or steamed, and quartered
1/2 small avocado, chopped
3-4 cups baby romaine or spinach greens
Optional: 1 tbsp cacao nibs
Chocolate Balsamic Vinaigrette
1/2 cup oil; you can use flax, hemp, a healthy EFA blend, or olive
1/4 cup balsamic vinegar
3 tablespoons raw cacao powder (substitute regular cocoa powder if you don't have cacao or it's outside of your budget)
1/4-1/2 tsp sea salt
Dash pepper
1) Combine all dressing ingredients in a blender or by hand. Set aside.
2) Toss all salad ingredients together, and drizzle with 1-2 tbsp dressing. If you like, sprinkle the salad with 1 tbsp cacao nibs, for crunch and taste!
This salad is chock full of heart healthy EFA's (essential fatty acids) from the flax oil, polyunsaturated fats from the avocado, antioxidants and Vitamin C from the strawberries, and Vitamin A and folate from the greens. But these health benefits faded into the back of my consciousness as I focused on the creaminess of the avocado, the sweetness of the baby beets and strawberries, and the rich, deep flavors of the cacao dressing. I was in heaven.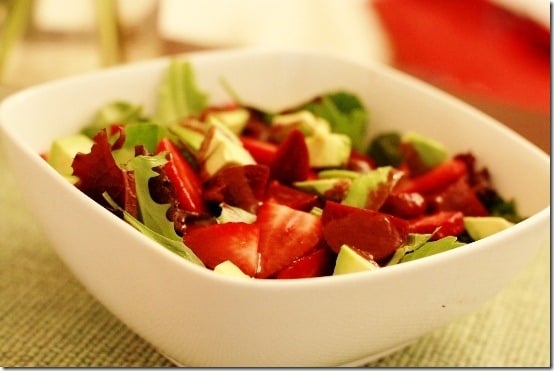 Note that while this salad gets an A+ for heart healthy fat and antioxidants and vitamins, it's not my own definition of a meal sized salad. So you may want to beef it up by serving it alongside some beans/hummus, a slice of sprouted grain bread with almond butter, a cup of my wall of green soup, a slice of my hemp bread, or some steamed sweet potato topped with mashed black beans. Whatever you like—as I'm sure you already know, there are few things in life that don't go well with chocolate.
May you all start your weeks off with both a sense of seriousness, and a sense of fun. And may you take Professor Violi's wise words to heart:
For we were made to reach for things.
For imagination extends life.
For our reach must exceed our grasp.
For in confinement imagination thrives.

-Paul Violi, 1944-2011
xo