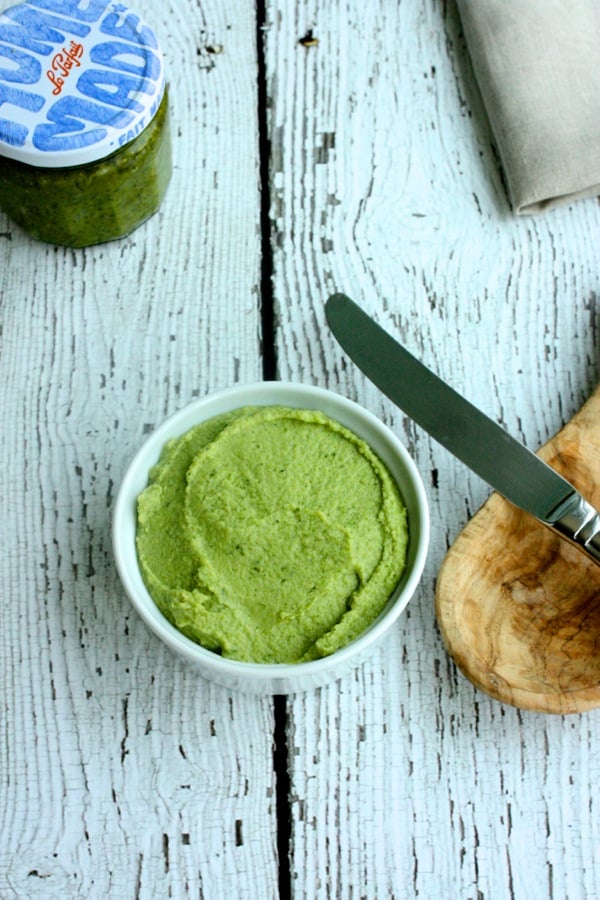 I devour vegan pesto all year long, but summer is of course the season in which making big batches of it in my food processor feels most appropriate. Summer is also a good time for herb-infused white bean dip, which is another personal favorite (check out this New Veganism recipe if you're curious). I've had a can of cannellini beans sitting around for well over a month now, and when some fresh broccoli crowns arrived in my most recent From the Farmer delivery box, an idea began to form. Mightn't broccoli be a good (and colorful) addition to white bean dip? And if so, wouldn't pesto be a delightful topping?
Yes. This dip is uber nutritious, thanks to a winning combination of protein and fiber rich legumes and micronutrient-rich broccoli. This combination also makes the dish rich in iron (the beans alone boast about 10% of your daily value). You can play around with texture and add more broccoli if you'd like to, but I thought two (heaping) steamed cups were just about perfect. Certainly enough to impart a delightful color.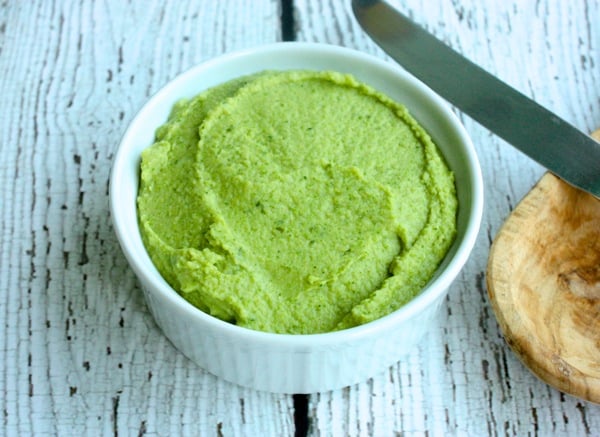 Here's the recipe.
White Bean and Broccoli Dip with Pesto
Author -
1 1/2

cups

1 can cannellini (aka white kidney) or Great Northern beans

2

heaping cups broccoli

chopped into pieces and steamed till tender

1/2

teaspoon

sea salt

adjust to taste

1

clove

garlic

minced

1 1/2

tablespoons

fresh lemon juice

1

teaspoon

fresh thyme

Optional: 1-2 tablespoons nutritional yeast

2

tablespoons

extra-virgin olive oil

To Serve:

1/4

cup

pesto of choice (I recommend my favorite vegan pesto or my super healthy hemp pesto
Add the beans, broccoli, salt, garlic, lemon, thyme, and nooch (if you're using it) to a food processor. Pulse them a few times. Run the motor and allow the processor to turn the ingredients into a smooth, creamy dip (it should have the same consistency of hummus). You'll probably need to add about 1/3 cup water as you blend; use your judgment for this.

Once the dip is smooth, scrape the bowl down. Run the motor again, and drizzle in the olive oil.

Transfer the dip to a serving bowl. If desired, top it with a heaping few tablespoons of fresh pesto. Or, you can swirl the pesto in with a knife. Serve.
This is what you'll get once your pesto has been swirled in nicely. Such a perfect summer appetizer!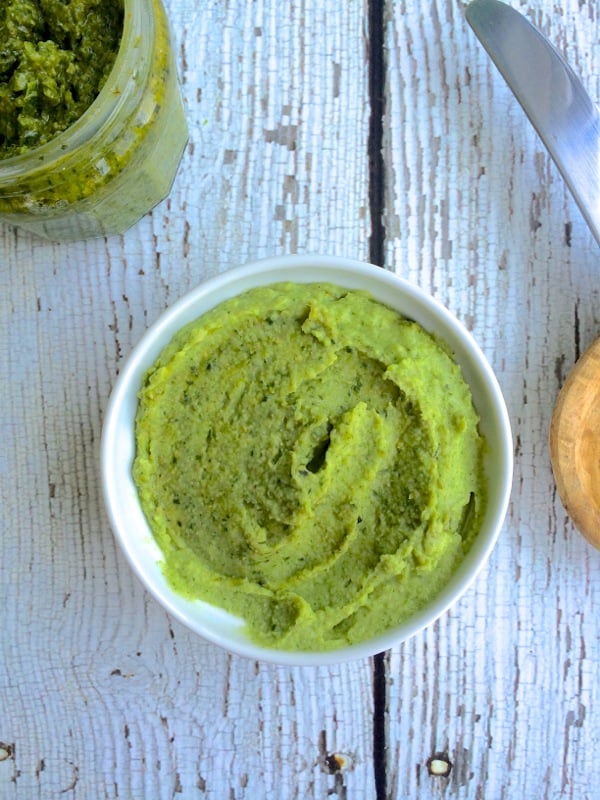 Hope you enjoy this. I'm adding it immediately to my hummus (and hummus-like things) repertoire.
So, this has been a big week for me–copies of the book have finally shipped! I'm incredibly excited, and also totally nervous to see how folks will like it. Some of the jitters have been assuaged by my friend Ashley's marvelous post today, in which she gave the book a very kind review. She also made one of my favorite of the book's recipes: the "zucchini pasta with quinoa meatless balls." And of course, because she's Ashley and she's an unbelievable photographer, she made the recipe look ah-mazing: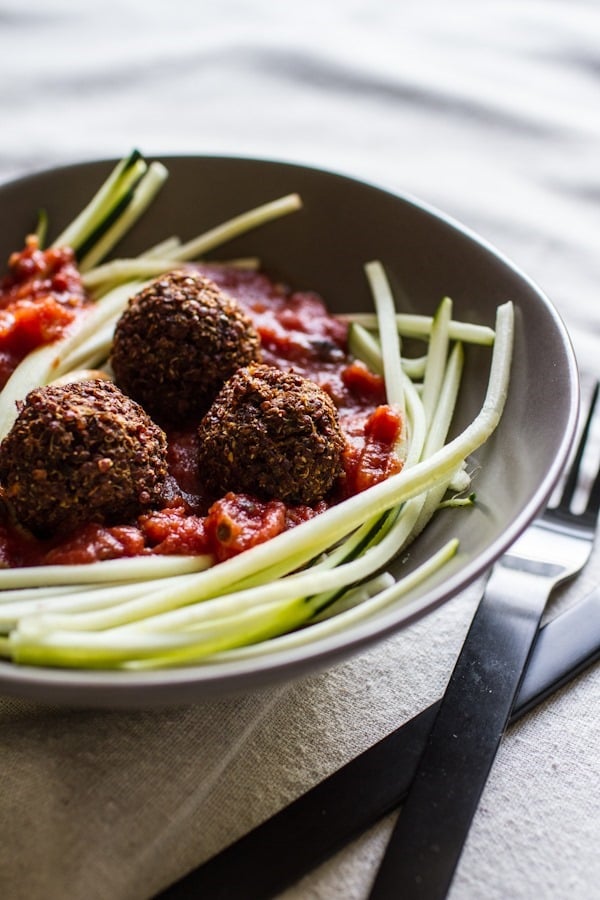 So. Pretty.
Ashley's giving away a free copy of the book, so please check her post out if you're interested in entering to win! While you're visiting her site, explore the exquisite, creative, and lovely food, and also take a peek at her book, Baked Doughnuts for Everyone. It's a user-friendly and wonderful collection of doughnuts that are a little lighter and more creative than the norm, and I reviewed it some time ago!
Thank you for such a lovely review, Ashley.
As a reminder, you can order my book through Barnes and Noble, Amazon, Books-a-Million, IndieBound, or iBooks. I so hope that you guys will like it 🙂
Till soon,
xo