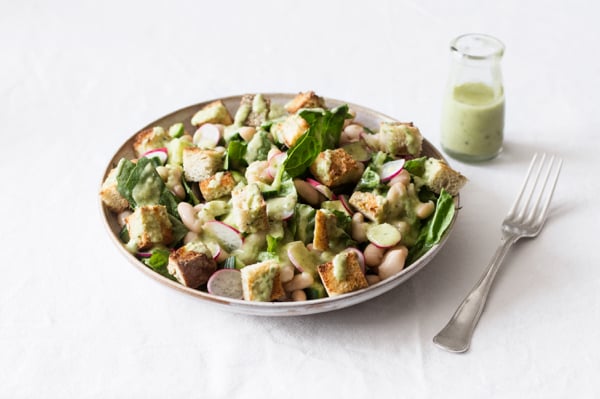 This evening, I was chatting with Diana about the challenges of blog posting (namely, the feelings of guilt that ensue when one doesn't have a chance to post as planned). I'm definitely susceptible to these, though lately I've realized that thoughtful posts will happen when they happen; I can't will them into being simply in order to maintain a blogging schedule. On nights like tonight, when I'm a little tired, it's nice to keep things simple. I'm sharing a white bean panzanella with creamy avocado dressing that's super simple, yet anything but ordinary.
The salad is like a traditional panzanella salad in that it contains torn bread pieces and cannellini beans. There's also basil in the dressing (which is so good, I made a second batch immediately upon tasting).
Aside from that, I suppose it's not much like a panzanella salad at all: there's no tomato, which is a customary part of the dish, nor tuna, which is a popular variation. Instead, these panzanella flavors are Gena-fied: creamy avocado, cucumbers, and sprouts. Sprouts on a panzanella salad? Yup. It's how I do.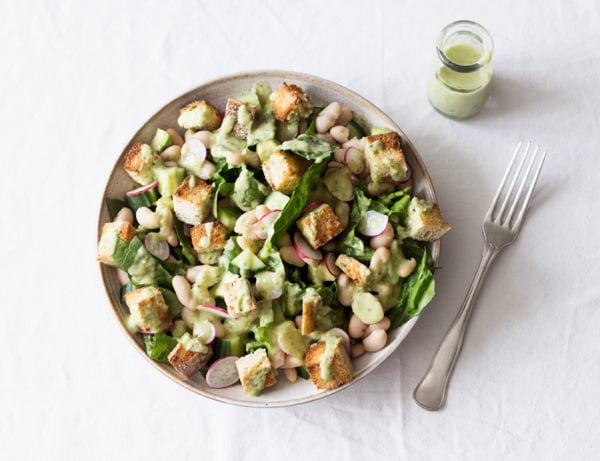 White Bean Panzanella with Creamy Avocado Dressing
Cuisine:
vegan, soy free, gluten free option, tree nut free
Author:
Prep time:
Cook time:
Total time:
For the salad:
1 cucumber, peeled and chopped
6 cups chopped romaine lettuce
4 radishes, thinly sliced
1 avocado, pitted and cubed
1 1/2 cups cooked cannellini or navy beans (or 1 can beans, drained and rinsed)
4 slices toasted and cubed bread of choice
For the Creamy Avocado Dressing:
1/2 small avocado
1/2 cup water
2 tablespoons olive oil
2 tablespoons minced shallot
2 tablespoons lemon juice
1/2 teaspoon salt
2 tablespoons fresh basil
1/8 teaspoon black pepper
Blend all ingredients together in a blender till smooth.
Toss the salad ingredients with as much dressing as you care fore (enough to coat everything well). Serve.
It may be one of the oddest renditions of panzanella you've seen (where are the tomatoes, after all? The vinegar?). But I promise that it's so, so good.
With that, this little blogger is ready for bed. Happy Saturday, all.
xo
Images courtesy of Lighter.