Until this year, I wrongly assumed that plums were a winter fruit. I associated them with the Nutcracker, Christmas, visions of sugar plums, etc., and failed to realize that they're actually a beautiful late summer and early fall fruit. Now that they're all over farmers markets here in DC, I realize my mistake. And I'm happy to be wrong, because it means that I'll have juicy plums to bake with for the next couple months–starting with these wonderful whole grain vegan plum muffins.
I guess it's not surprising that, when stress comes knocking, I cook. What is genuinely surprising is that I, who never liked baking before this year (and in fact used to find it stressful) have come to find that the therapeutic powers of a pair of oven mitts and a whisk are often just as powerful as the relief that comes from cooking a great meal.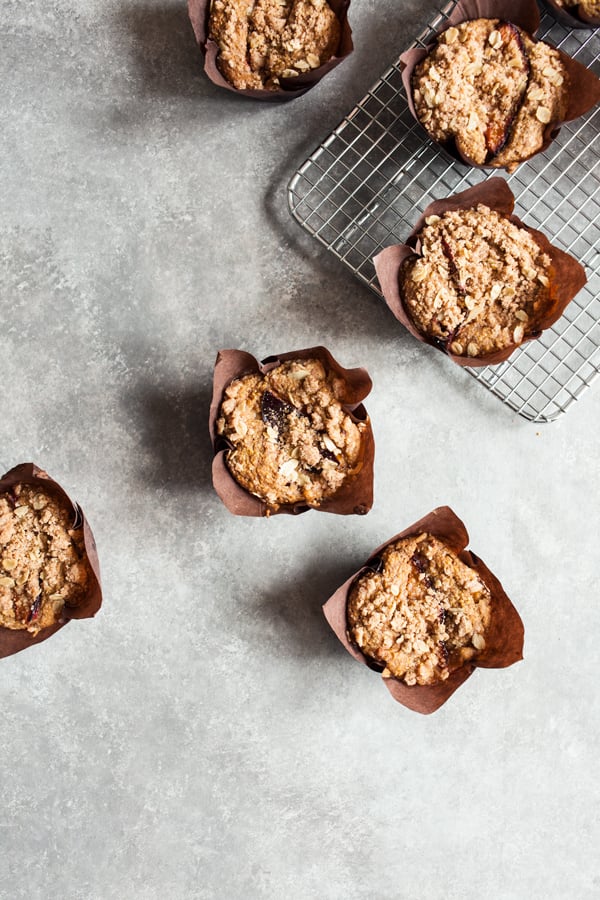 In fact, they're sometimes more so: there's something intensely calming about the precision of baking. It's methodical and ceremonious. Quantities are predetermined and knowable; results, if you do what you're supposed to do, are guaranteed. Compare that to the spontaneous art of cooking, which seems to mimic more closely the unpredictable nature of real life. I love baking for some of the same reasons I love to read metered verse: creativity is everywhere, sometimes even subverting form, but the rhythm and cadence are always there, repeating themselves regularly. And their cycles give me comfort when life seems to be at its most unknowable or uncontrollable.
Anyway, my second chem midterm is tomorrow, and I'm nervous: if our quiz today was any indication of how I'll perform on the exam, I may be writing another black and blue post tomorrow night. As I attempted to manage the stress of a bunch of deadlines yesterday, I thought I'd pour some of my nerves into the measuring of flour and sugar.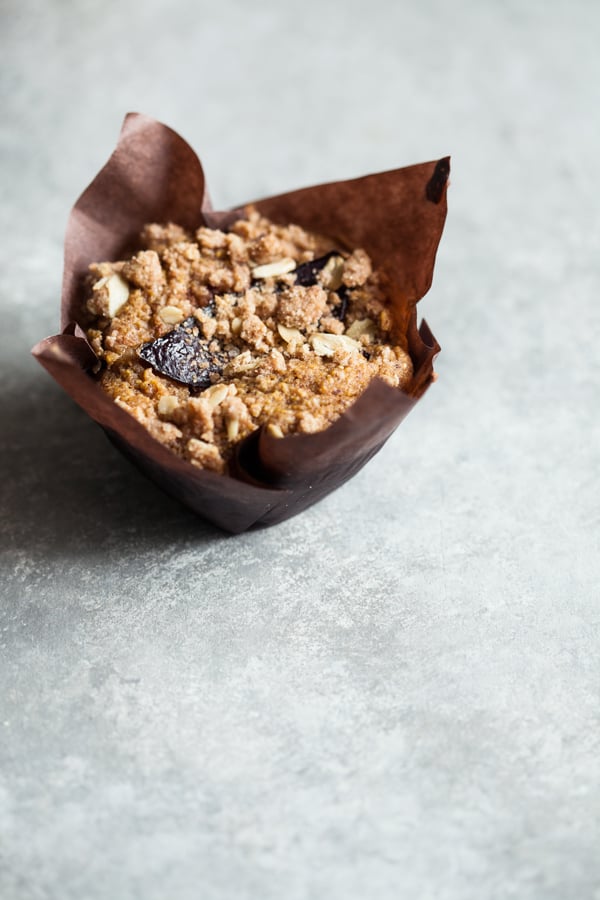 I love these wholesome muffins, which are  studded with chopped plums and seasoned with the tiniest hint of cinnamon. I like to use whole grains, or combinations of whole grains, when I bake: I love the flavor and nuttiness that spelt, whole wheat, and other wholesome flours give my baked goods. These muffins feature a combination of spelt, oat, and cornmeal, but you could definitely substitute the spelt flour for gluten-free all-purpose to make them gluten free (and if you do that, be sure to use certified GF oat flour, too).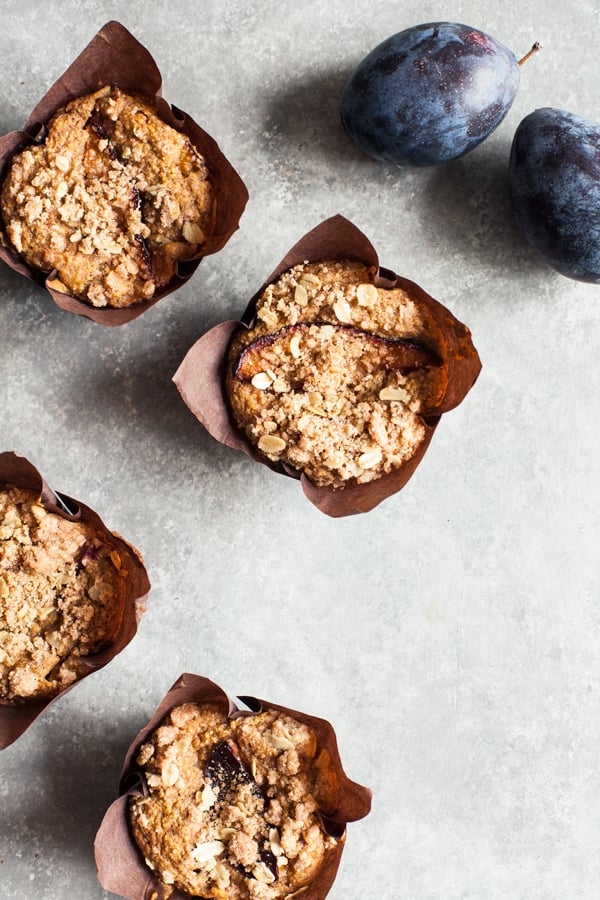 As you can see, I top each muffin with a thin slice of plum and a bit of homemade streusel topping–nothing fancy, just flour and oats and vegan butter–but both of those flourishes are optional. Skip them if you don't feel like the extra step, and if you do that, you can probably use one less plum.
If you're feeling the way I feel this week–just a little rough and anxious around the edges–then the decorating process might give you a little relief. It worked for me.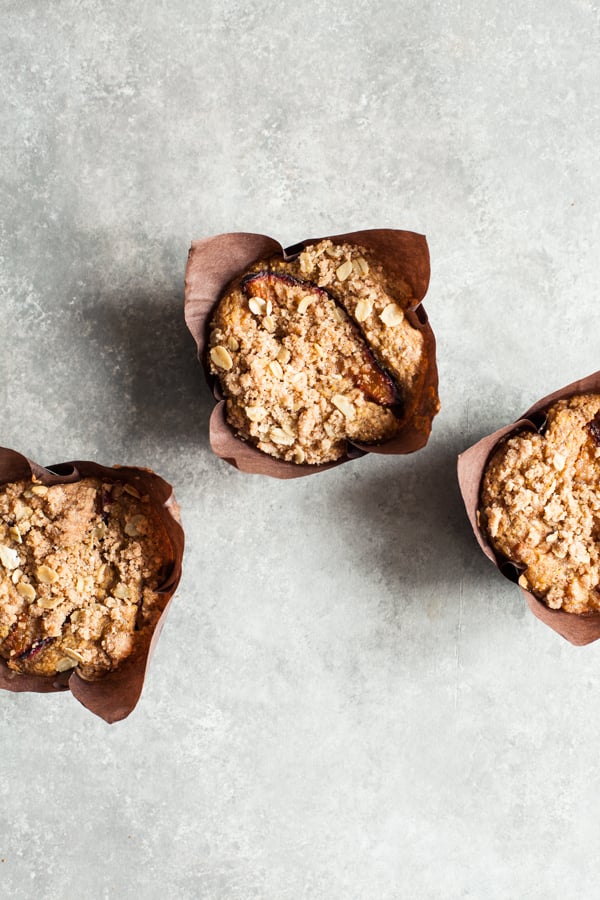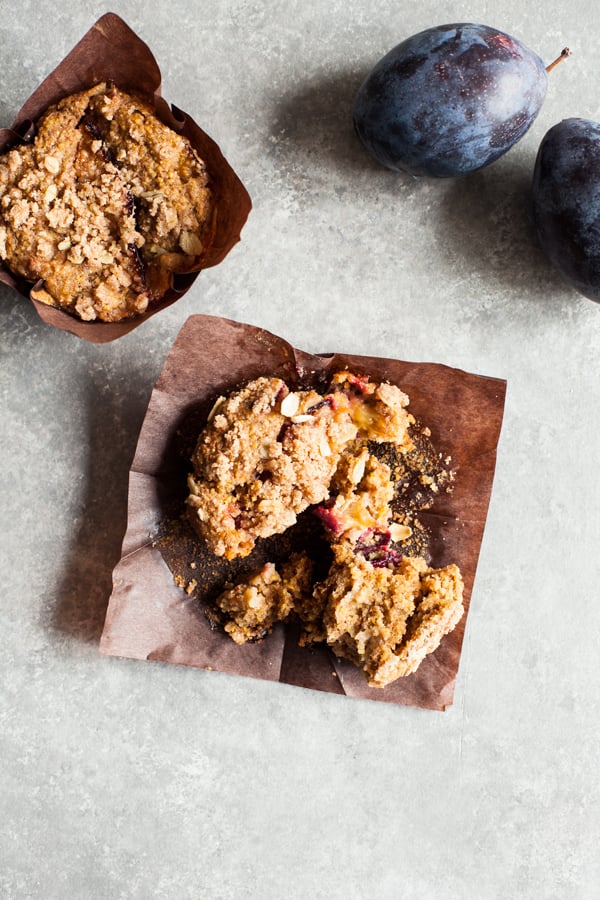 Whole Grain Vegan Plum Muffins
Recipe Type
:
breakfast, baked good
Cuisine:
vegan, gluten free optional, soy free optional, tree nut free
Author:
Prep time:
Cook time:
Total time:
Dry ingredients:
1 cup oat flour
3/4 cup spelt, whole wheat, all purpose, or gluten free all purpose flour
1/2 cup cornmeal
1/2 cup coconut sugar, cane sugar, or demerara sugar
1 teaspoon baking soda
1 teaspoon baking powder
1/2 teaspoon salt
1/2 teaspoon cinnamon
4-5 medium sized plums
Wet ingredients:
1 tablespoon ground flax seed, mixed with 3 tablespoons warm water
1 1/3 cups plain almond or soy milk
6 tablespoons vegetable oil
Streusel topping (optional):
1/4 cup spelt, whole wheat, all purpose, or gluten free all purpose flour
2 tablespoons rolled oats
1 1/2 tablespoons vegan buttery spread (such as Earth Balance), chopped into small pieces
1 1/2 tablespoons brown sugar, coconut sugar, cane sugar, or demerara sugar
Pinch each of salt and cinnamon
Preheat your oven to 350F and lightly oil or line a 12-muffin baking sheet with liners. Cut the plums in half and remove pits. Slice one or two plums thinly to create 12 thin slices for topping the muffins and chop up the rest (you should have about 1 1/4 to 1 1/2 cups chopped fruit).
In a large bowl, whisk together all of the dry ingredients except for the plums. In another bowl, combine the flax "egg," non-dairy milk, and oil. Pour the wet ingredients into the dry ingredients and mix until just combined. Gently fold in the chopped plums.
If you're making the streusel topping, combine the ingredients in a small bowl and use your fingers to mix and crumble them up evenly (the butter should be in pea sizes or smaller).
Divide the muffin batter into your 12 tins or liners. Top each with one slice of plum and then distribute the streusel topping over the muffins. Bake for 25-28 minutes, or until the tops are firm and gently golden, rotating the baking sheet once halfway through cooking. Transfer the muffins to cooling racks before enjoying.
Store muffins in an airtight container in a cool, dry place. They will keep for up to four days, or they can be individually wrapped and frozen for up to three weeks.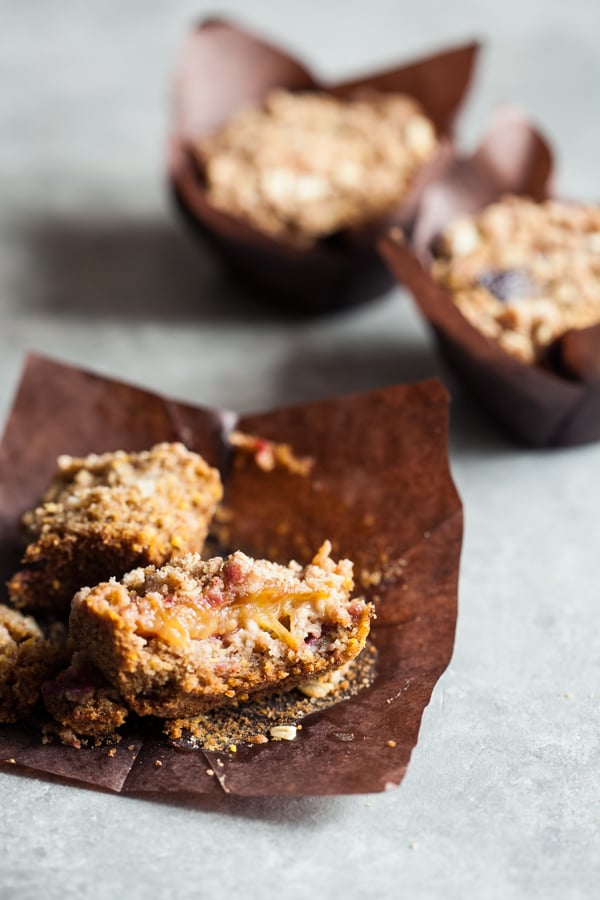 What a scrumptious morning treat. And now I've got some in the freezer to enjoy in the coming weeks–they'll be a perfect, portable snack.
With that, I have a chemistry textbook to attack. Wish me luck at 8 tomorrow!
xo