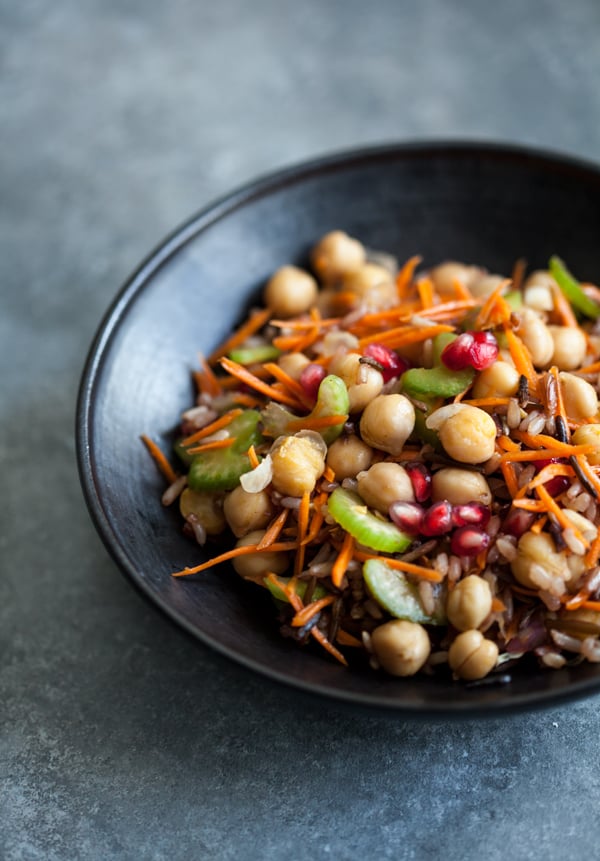 Wild rice salads are sort of ubiquitous around the holiday season, but no matter how many recipes I see, I still find myself pinning and bookmarking them. I've found that they're a wonderful vegan option for family or social gatherings–familiar enough to entice everyone at the table, yet a good canvas for experimentation. As you'll see, this particular wild rice salad offers a nice marriage of tradition and novelty, at least in comparison to other recipes I've made.
The unique bit here is the addition of chickpeas, which don't always find their way into rice salads, as well as a little spice in the dressing. I added garam masala, which infuses the dish with the characteristically autumnal flavors of cinnamon, nutmeg, cloves, cardamom, mace, peppercorns, coriander and cumin. I only add a little, so that the flavors don't overwhelm the salad. But the addition is a nice touch, and it gives the dish a sweet and savory emphasis.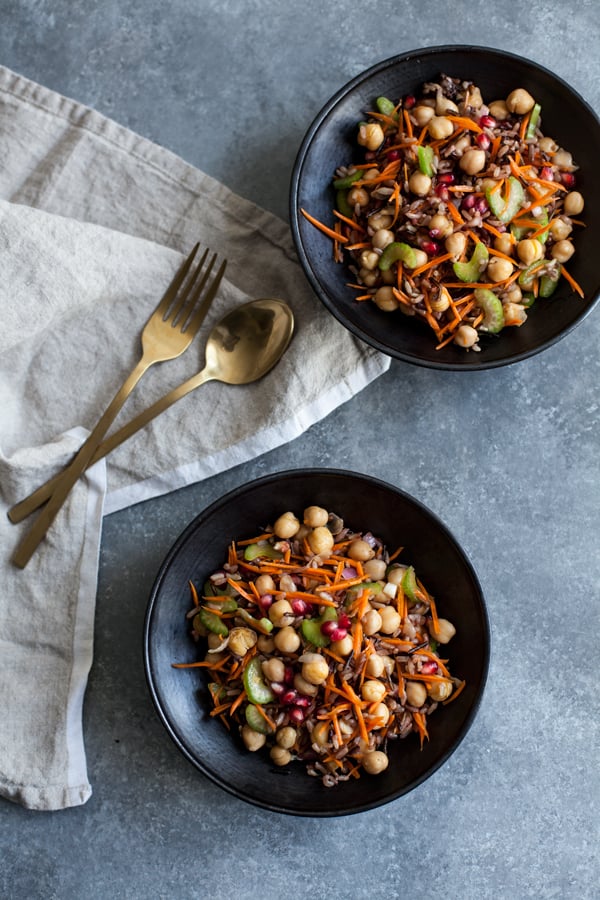 I also added pomegranate seeds here in place of dried cranberries, which is what I've used in countless wild rice salads of yore. I liked the seeds so much better–they add a terrific crunch to the dish, and their sweetness is more subtle than that of dried fruit. I'd definitely try this salad with currents, raisins, or cranberries in the future, but this time around, I loved what the pomegranate seeds contributed.
Much as I enjoy traditional wild rice, I tend to use wild rice blends for grain salads, mostly for the texture contrast. My favorite is the Lundberg Wild Blend Rice, which is easy to find and has a combination of long grain brown rice, wild rice, sweet brown rice, wehani rice, and black rice. It's toothsome, filling, and super tasty, and I like to batch cook it both for wild rice salads and to have around as a staple for grain bowls. You can use traditional wild rice in this recipe, too–just substitute your brand of choice. If you don't have wild rice at home, you could use long grain brown rice or brown basmati rice as well.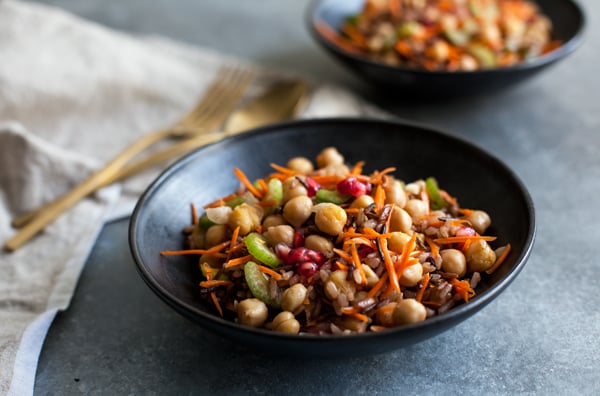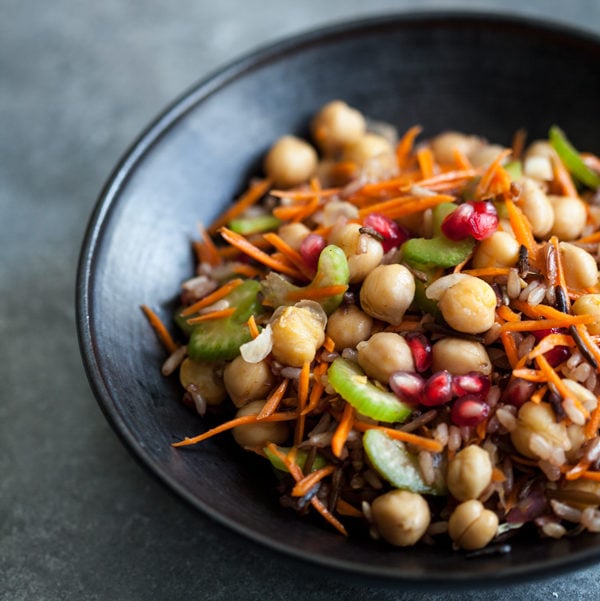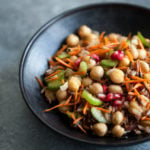 Wild Rice and Chickpea Salad
Author -
1

dry cup wild rice or a wild rice blend

3

cups

cooked chickpeas

or 2 cans chickpeas, drained and rinsed

1 1/2

cups

tightly packed

grated carrot

1

cup

chopped or thinly sliced celery

1/2

cup

pomegranate seeds

substitute a scant half cup dried cranberries

1/4

cup

sliced green onion tops

2

tablespoons

chopped shallots

3

tablespoons

olive oil

walnut or hazelnut oil

1 1/2

tablespoons

apple cider vinegar

1

teaspoon

maple syrup

3/4

teaspoon

garam masala

1/2

teaspoon

salt

Black pepper to taste
Cook the rice according to package instructions. Fluff, cover, and set aside to cool.

When the rice is cool, combine it in a large mixing bowl with the chickpeas, carrot, celery, pomegranate seeds, and green onions.

Whisk together the oil, vinegar, syrup, garam masala, salt, pepper, and shallots. Pour the dressing over the salad ingredients and toss to combine. Adjust seasonings to taste and serve. Salad leftovers will keep in an airtight container in the fridge for up to four days.
Leftovers will keep in an airtight container in the fridge for up to three days.
A word about the oil offering in this recipe: I used hazelnut oil, and I loved the contrast of the nutty flavor with the sweet pomegranate seeds and the garam masala. Nut oils, like hazelnut, walnut, and pumpkin seed oil, add a lot of flavor to dishes, and in spite of the fact that they're expensive, a little goes a long way. So, you can store them in the fridge and use them sparingly for quite a while.
With that said, extra virgin olive oil will be just fine here, and if you wanted to infuse this dish with some healthful Omega-3 fatty acids, you could also use hemp or flax oil.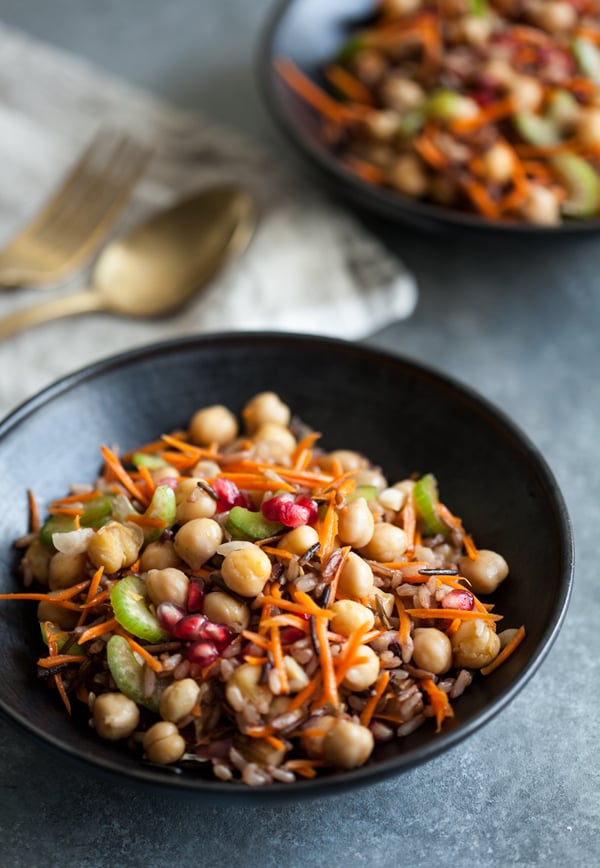 Carrots, celery, pomegranate, and a nutritious grain + legume blend: this salad is festive, nourishing, and flavorful all at once. Hard to beat–and the easy cooking process is an added plus. I hope you enjoy it as much as I have. Can't wait to serve it more often this winter.
I'm back in NYC as of today, and playing a semi-frantic game of catch up. But it's well worth it to have traveled to Austin this past weekend. My Food52 colleagues and I got to sign copies of Vegan, Baking, and Genius, and I also did a demo for a packed crowd at the Central Market cooking tent at the fair! I shared the French lentil salad, the cucumber avocado soup with mango salsa, and the Mexican date truffles from the book. It was really fun.
Yesterday evening, I taught some of those same recipes and a few others at the amazing Central Market location on North Lamar. It's an incredible store, and the folks in my class were a pleasure to hang out with. Two of the women in the class brought teenage daughters who were newly vegan, in the hopes of learning more recipes that they could cook together and share. It was so touching, and it reminded me how important support and resources are for young vegans everywhere.
And that's the news. I'll be back on Friday with a new book review and giveaway for you all. Till then,
xo